BEST Homemade Margherita Pizza
My search for the best homemade margherita pizza (made in a standard oven with everyday ingredients) is over! You'll want to make this homemade pizza recipe over and over again. For step-by-step dough instructions, check out the margherita pizza video below!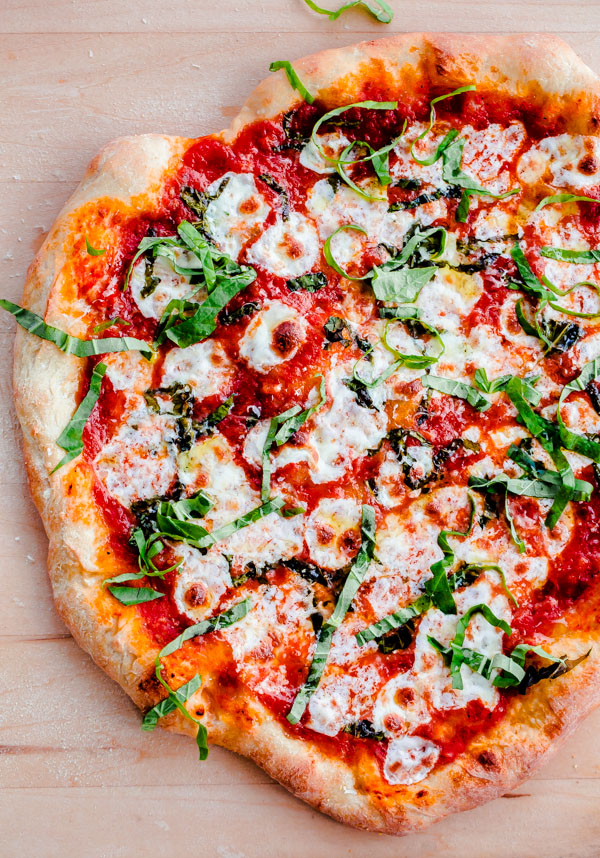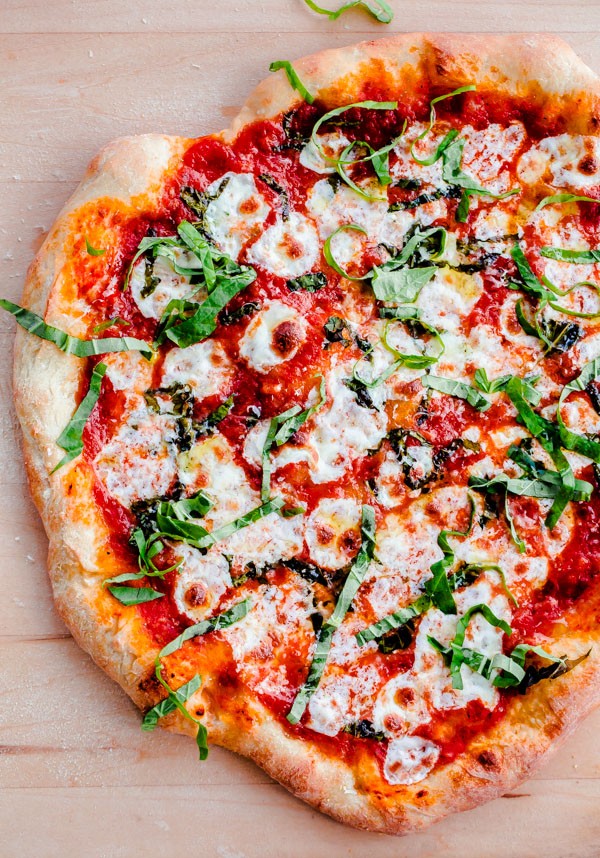 The time has come! I've been teasing you on Instagram for weeks, and I sincerely apologize. I was busy eating this margherita pizza.
Ok, so let me be honest. I rarely ever, EVER tell you that a recipe is the best of anything. Let alone, put it in caps! Sure, I'll say that something is delicious, but declaring such bold statements generally makes me extremely uncomfortable. I'm terrified that you will go home and make said best-ever-recipe and be disappointed. I would hate that.
But I'm feeling very good about this best margherita pizza recipe and I'm confident that you will love it.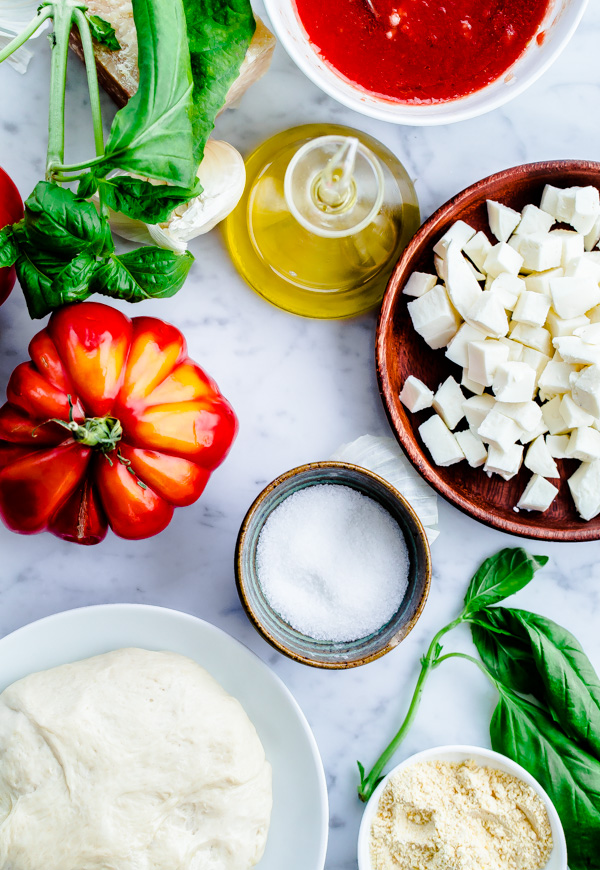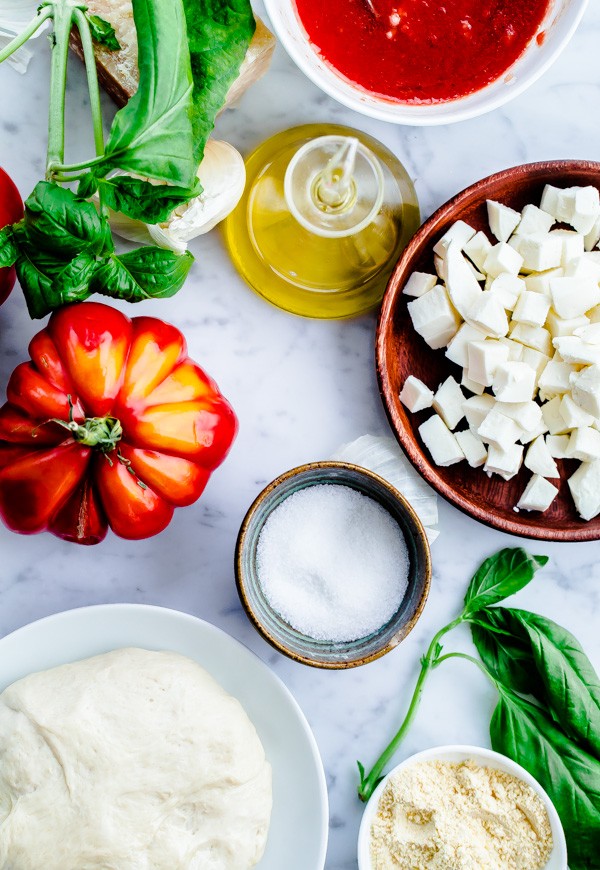 I'm not an authority on homemade pizza by any means, but I've definitely eaten my share of pizza, both excellent and not so great.
The best margherita pizza that I've ever eaten in my entire life was in Naples, Italy a few years ago during our trip to the Amalfi Coast. We stood in line in a cobblestone street just off of Via Tribunali in the historic neighborhood (known for having the best pizza places in the entire world), and snagged a table at the famous Gino Sorbillo.
It's always a good sign when you're in Italy and a million other Italians are standing in line for the exact same pizza. No tourists, just Italians. It wasn't fancy in the slightest. There was a disco light hanging from the ceiling and the cups were of the flimsy plastic variety.
Oh, but it was glorious. The pizzas cost only three euros and arrived flopping off of the plates. Literally, flopping. They were huge. I ate every last bite of that pizza and came back for another one the very next day.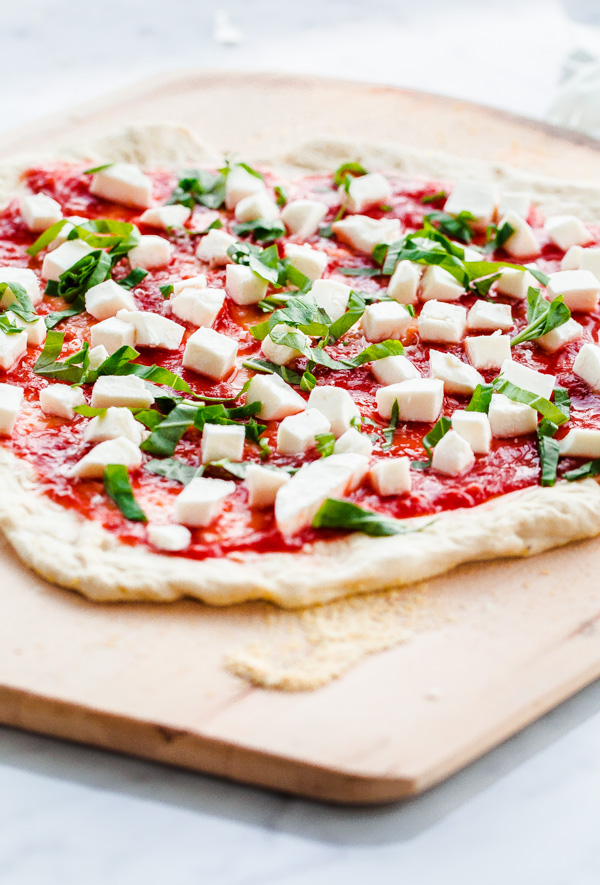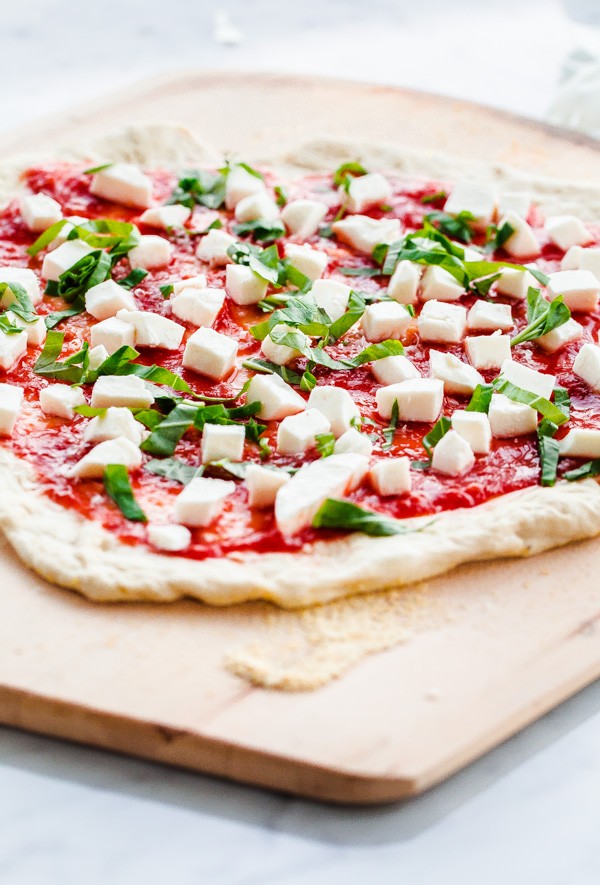 So, when I say that today's recipe is the best homemade margherita pizza, I'm taking all of these pizza-eating experiences into account. I'm not going to claim that this pizza tastes identical to a true Neapolitan pizza or that you'll never taste a better pizza outside of your kitchen again. That would be ludicrous (and slightly obnoxious) and just not true.
But I do believe that this is the best margherita pizza that you'll be able to make in your own kitchen, with a standard oven, with normal everyday ingredients (no fancy flours required), and without preparing an incredibly time-intensive pizza dough days in advance.
Homemade Pizza Equipment Recommendations:
First things first. Let's talk equipment. A baking stone or steel is a must for great pizza at home. I used to own this one and though its bulky and sometimes annoying, I store it in my oven 99% of the time so that it doesn't take up valuable storage space (just be sure to remove it from your oven when you are baking or cooking other recipes!). I recently replaced it with this baking steel and love it even more.
Pizza stones can be expensive, but I genuinely believe they are 100% worth the investment if you are interested in making pizza or bread at home. Baking stones absorb the heat from your oven and allow you to mimic brick-ovens, which generally reach temperatures in excess of 800 degrees Fahrenheit. They help you achieve crispy crusts by pulling moisture from whatever dough you are baking, including pizza crusts.
I also recommend a pizza peel, because it will make pizza-making so much easier. Wooden or metal, it will allow you to slide the pizza quickly onto the baking stone and make it much easier to remove the pizza from the oven once it is done.
If you don't own a pizza peel (or don't want to own a pizza peel), you can use the back of a large baking sheet or flat cookie sheet to transfer the pizza onto the stone – but it is cumbersome!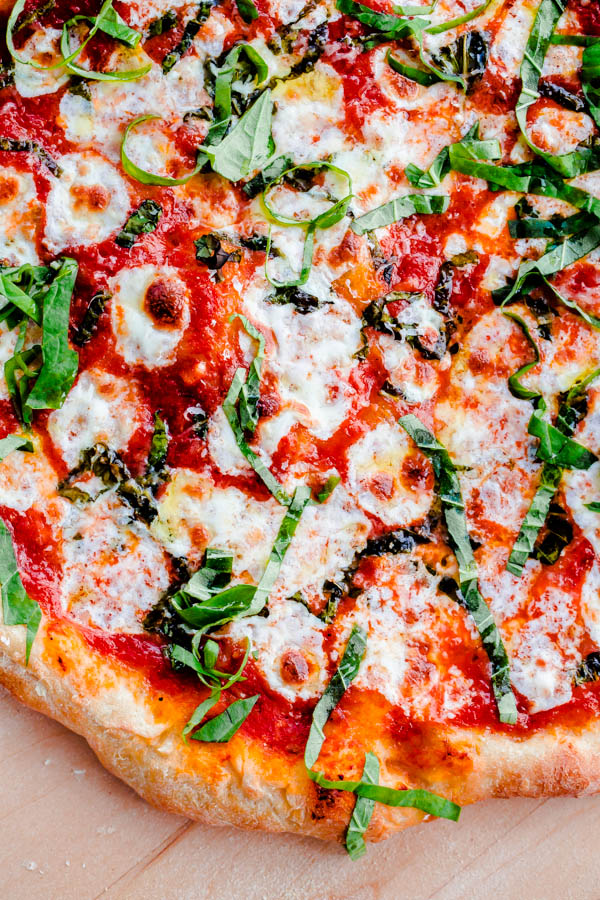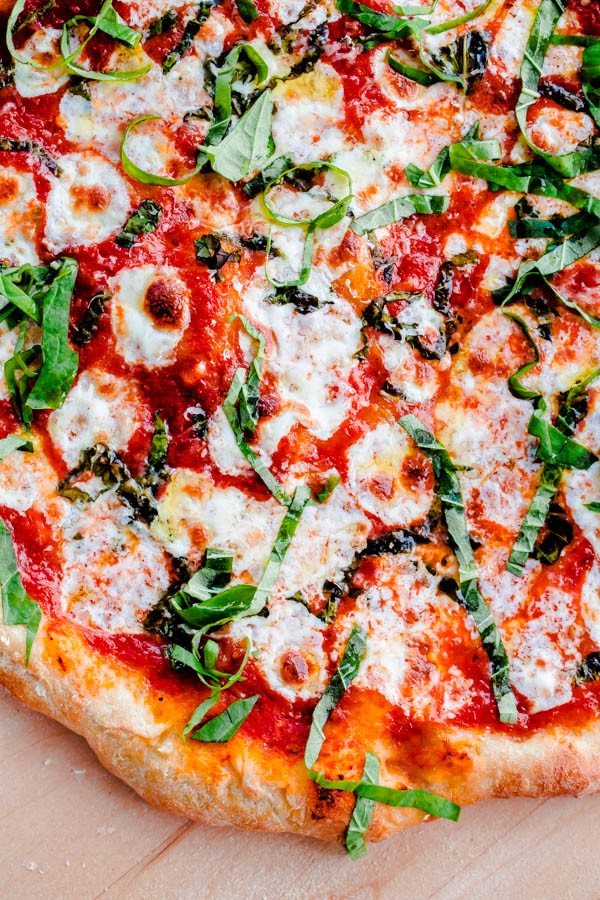 Tips for Margherita Pizza Success:
For the best margherita pizza, you will want to preheat your oven to the highest temperature possible. For my oven, that is 550 degrees Fahrenheit. I allow my baking stone to preheat for at least 30 minutes (regardless of whether my oven is ready as it takes time for your baking stone to come to temperature). The higher the temperature the better. This recipe makes two 10-inch pizzas, and they should be able to properly cook in 7 to 8 minutes at that temperature.
[I have heard of some substitutes for pizza stones (such as using a cast-iron pan, which does work or preheating a baking sheet), but I generally find that they involve a very, very hot piece of equipment (that you're then transferring the pizza onto) and it involves a lot more hassle.
It is essential that your pizza dough is very thin when it goes into the oven. The edges can be slightly thicker, but you should be able to see some light through the dough (in the center), otherwise you won't be able to achieve a thin, yet crisp pizza crust.
Margherita Pizza Toppings:
Ok, that was a lot of discussion about pizza equipment. Let's get to the toppings! I've experimented a lot with homemade pizzas over the years and have generally been disappointed in my early attempts at margherita pizzas for various reasons.
What Tomato Sauce Is Best For Pizza?
I have learned along the way that raw tomato sauces are the way to go. They are also extremely easy, flavorful, and authentic. Pureed San Marzano canned tomatoes (if you can't find San Marzano, Italian plum tomatoes are the next best option), garlic (pressed or grated with a microplane), a touch of olive oil, salt, and pepper. That's it!
Whatever you do, avoid putting a thick layer of sauce on the pizza as it will result in a less crisp crust. It should be very thin.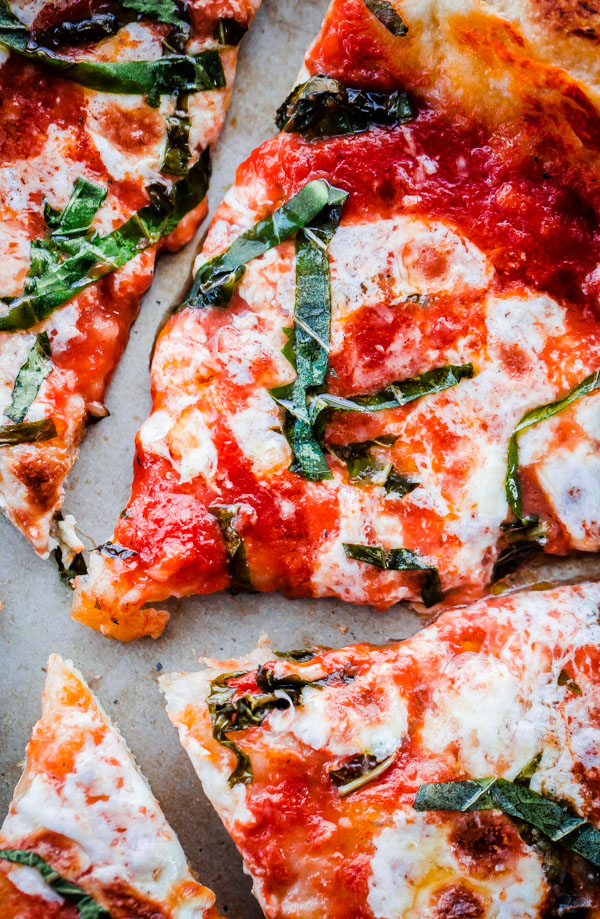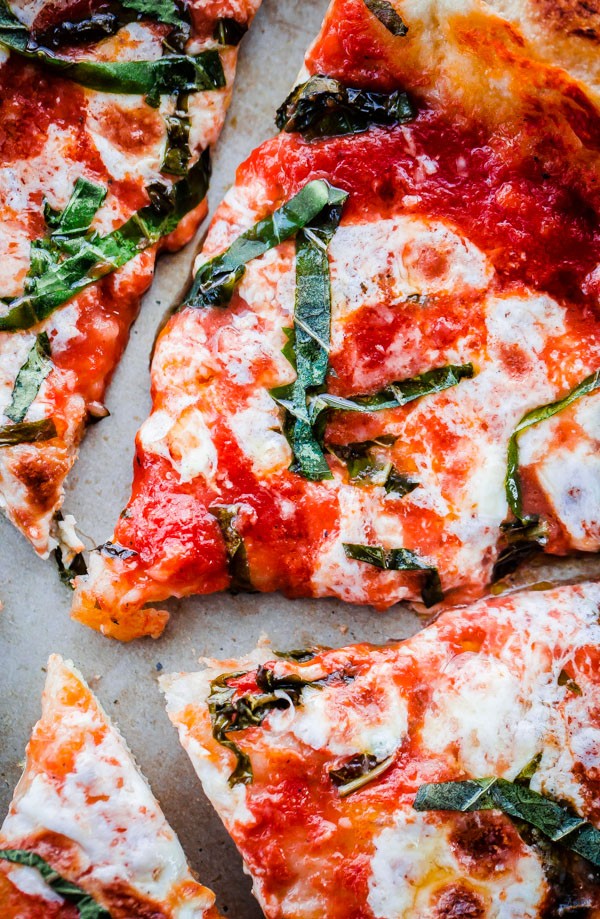 What is the Best Mozzarella for Pizza?
Mozzarella! Buy fresh mozzarella, preferably not packed in water. Avoid the cheap variety that you find in the refrigerated section of your grocery store alongside the milk and yogurt (please don't buy grated cheese).
Go to the special cheese section and buy the good-quality cheese. It makes a huge difference. I recommend BelGioisio mozzarella, which is widely available.
Instead of thinly slicing the cheese and placing it in large slices over your pizza, I strongly recommend cutting it into 1/2-inch cubes and sprinkling it evenly over the pizza. Alternatively, you can tear it by hand into small pieces, no thicker than 1/2-inch. This extra step helps distribute the cheese and moisture evenly.
If you can only find water-packed mozzarella: Be sure to pat the cubed mozzarella dry with paper-towels before it goes onto your pizza. Otherwise, it can leach water during the cooking process, and result in a soggier crust.
Other Margherita Pizza Toppings:
Finishing touches! Fresh torn basil, a sprinkling of freshly grated parmigiano-reggiano cheese, and a little drizzle of good-quality extra virgin olive oil. Whatever you do, don't over-do it with the toppings.
Minimalism is essential when it comes to a great pizza at home. Go forth and make pizza!!! If you want to make other variations, you'll love this red pepper pizza. If you prefer pizzas without tomato sauce, try this arugula pizza or this mushroom pizza.
NOTE: If you want to save time (and be able to make this pizza on a weeknight, which is totally do-able!), this pizza dough can be prepared and frozen ahead of time. See the recipe notes for more details!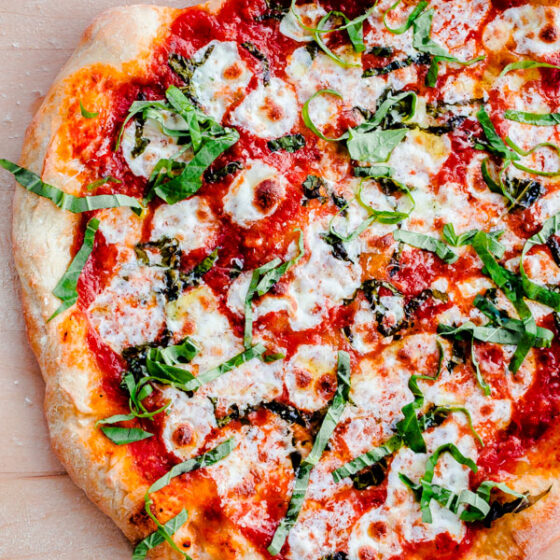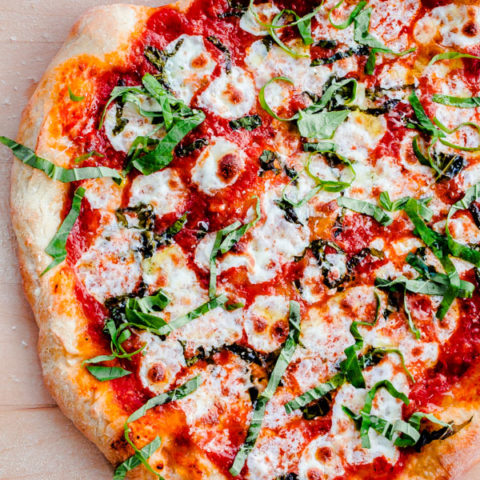 Best Homemade Margherita Pizza
Yield: Two 10-Inch Pizzas (2 to 4 Servings)
My search for the best homemade margherita pizza (made in a standard oven with everyday ingredients) is over! This classic pizza is topped with a simple fresh pizza sauce made from canned tomatoes, mozzarella cheese, and fresh basil. You'll want to make this homemade pizza recipe over and over again.
Prep Time: 20 minutes
Cook Time: 15 minutes
Resting Time: 2 hours
Total Time: 2 hours 35 minutes
Ingredients
Homemade Pizza Dough:
2 and 1/2 cups (300 grams) unbleached all-purpose flour
1 teaspoon granulated sugar
3/4 teaspoon kosher salt
7 ounces warm water (105 degrees F – 115 degrees F)
1 tablespoon extra virgin olive oil
2 tablespoons semolina or all-purpose flour, for the pizza peel (divided)
Pizza Sauce:
1 cup pureed or crushed San Marzano (or Italian plum) canned tomatoes
2-3 fresh garlic cloves, minced with a garlic press
1 teaspoon extra virgin olive oil, plus more for drizzling
1/4 teaspoon freshly ground black pepper
2-3 large pinches of kosher salt
Toppings:
2 – 3 tablespoons finely grated parmigiano-reggiano cheese, plus more for serving
7 ounces fresh mozzarella cheese, cut into 1/2-inch cubes (*preferably fresh mozzarella not packed in water)
5 – 6 large fresh basil leaves, plus more for garnishing
crushed dried red pepper flakes (optional)
Instructions
Prepare Pizza Dough: In a medium bowl, whisk together the all-purpose flour, sugar, yeast and salt. Add the warm water and olive oil, and stir the mixture with a wooden spoon until the dough just begins to come together. It will seem shaggy and dry, but don't worry.
Scrape the dough onto a well-floured counter top and knead the dough for three minutes. It should quickly come together and begin to get sticky. Dust the dough with flour as needed (sometimes I will have to do this 2 to 3 times, depending on humidity levels) – it should be slightly tacky, but should not be sticking to your counter top. After three minutes, the dough should be smooth, slightly elastic, and tacky. Lightly grease a large mixing bowl with olive oil, and place the dough into the bowl.
Cover the bowl with a kitchen towel (or plastic wrap) and allow the dough to rise in a warm, dry area of your kitchen for 2 hours or until the dough has doubled in size. If your kitchen is very cold, one great tip that I do all the time is to heat a large heatproof measuring cup of water in the microwave for 2-3 minutes. This creates a nice warm environment and I'll immediately remove the cup and place the bowl with the dough in the microwave until it has risen. [If you are preparing in advance, see the note section for freezing instructions.]
Preheat Oven and Pizza Stone: Place the pizza stone on the center (or top third) rack of your oven, and preheat the oven and pizza stone to 550 degrees Fahrenheit (for at least 30-45 minutes). If your oven does not go up to 550 degrees, heat it to the absolute maximum temperature that it can go. If it can heat to higher than 550 degrees Fahrenheit, even better!
As the oven is preheating, assemble the ingredients. In a small bowl, stir together the pureed tomatoes, minced garlic, extra virgin olive oil, pepper, and salt. Set aside another small bowl with the cubed mozzarella cheese (pat the cheese with a paper towel to remove any excess moisture). Set aside the basil leaves and grated parmigiano-reggiano cheese for easy grabbing.
Separate the dough into two equal-sized portions. It will deflate slightly, but that is OK. Place the dough on a large plate or floured counter top, cover gently with plastic wrap, and allow the dough to rest for 5 to 10 minutes.
Assemble the Pizza: Sprinkle the pizza peel (alternatively, you can use the back of a baking sheet – but it will be harder!) with a tablespoon of semolina. Gently stretch one ball of pizza dough into roughly a 10-inch circle (don't worry if its not perfectly uniform). If the dough springs back or is too elastic, allow it to rest for an additional five minutes. The edges of the dough can be slightly thicker, but make sure the center of the dough is thin (you should be able to see some light through it if you held it up). Gently transfer the dough onto the semolina-dusted pizza peel or baking sheet.
Drizzle or brush the dough lightly with olive oil (teaspoon or so). Using a large spoon, add roughly 1/2 cup of the tomato sauce onto the pizza dough, leaving a 1/2-inch or 3/4-inch border on all sides. Use the back of the spoon to spread it evenly and thinly. Sprinkle a tablespoon of parmigiano-reggiano cheese onto the pizza sauce. Add half of the cubed mozzarella, distributing it evenly over the entire pizza. Using your hands, tear a few large basil leaves, and sprinkle the basil over the pizza. At this point, I'll occasionally stretch the sides of the dough out a bit to make it even thinner. Gently slide the pizza from the peel onto the heated baking stone. Bake for 7 to 8 minutes, or until the crust is golden and the cheese is bubbling and caramelized and the edges of the pizza are golden brown. Remove the pizza carefully from the oven with the pizza peel, transfer to a wooden cutting board or foil, drizzle the top with olive oil, some grated parmigiano-reggiano cheese, and chiffonade of fresh basil. Slice and serve immediately and/or prepare the second pizza.
If you're serving two pizzas at once, I recommend placing the cooked pizza on a separate baking sheet while you prepare the other pizza. In the last few minutes of cooking, place the prepared pizza into the oven (on a rack below the pizza stone) so that it is extra hot for serving. Otherwise, I recommend serving one pizza fresh out of the oven, keeping the oven hot, and preparing the second pizza after people have gone through the first one! The pizza will taste great either way, but it is at its prime within minutes out of the oven!.
Notes
Tips for Success:
Semolina flour has a higher burn point than regular flour, and ensures that the dough will not stick to the peel when transferring the pizza to the oven.
There is no need to dissolve the yeast in warm water before using (as commonly believed). Active dry yeast has been reformulated in recent years to contain significantly smaller granules and will not have trouble dissolving into the dough. However, it is important to ensure that your active dry yeast is indeed alive and well. Double check your expiration date and when in a doubt, proof it.
If preparing the dough in advance: once the dough has rested for two hours, separate into two portions, wrap each piece of dough well in plastic wrap, and place them in a freezer-safe bag. The dough can be chilled in the refrigerator for up to 24 hours or frozen for 3 months. Thaw the dough in the refrigerator, and allow it to stand at room temperature (in a greased bowl, covered with a kitchen towel) for at least 30 minutes before using.
Recommended Products
As an Amazon Associate and member of other affiliate programs, I earn from qualifying purchases.
Nutrition Information:
Yield: 3
Serving Size: 1
Amount Per Serving:
Calories: 750
Total Fat: 29g
Saturated Fat: 13g
Trans Fat: 0g
Unsaturated Fat: 13g
Cholesterol: 69mg
Sodium: 1598mg
Carbohydrates: 89g
Fiber: 5g
Sugar: 6g
Protein: 33g