Pan Seared Salmon with Caper Herb Vinaigrette and French Lentil Salad
This post is sponsored by All-Clad. Crispy pan seared salmon topped with a zesty caper herb vinaigrette and served alongside a flavorful French lentil salad.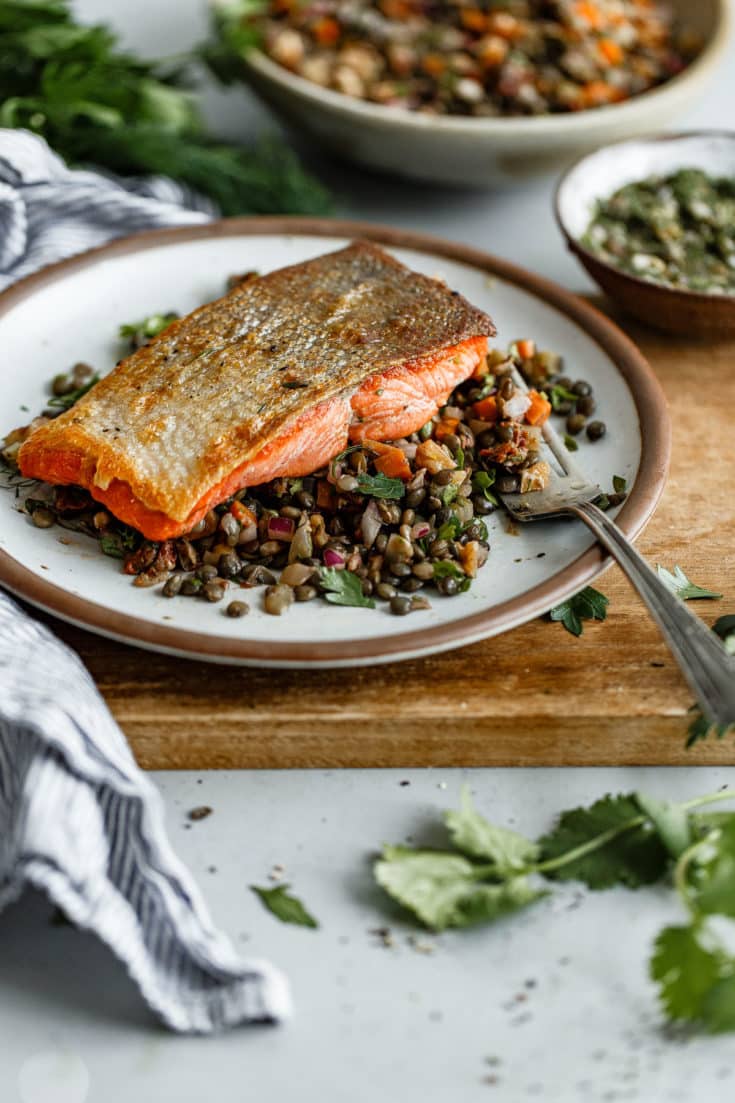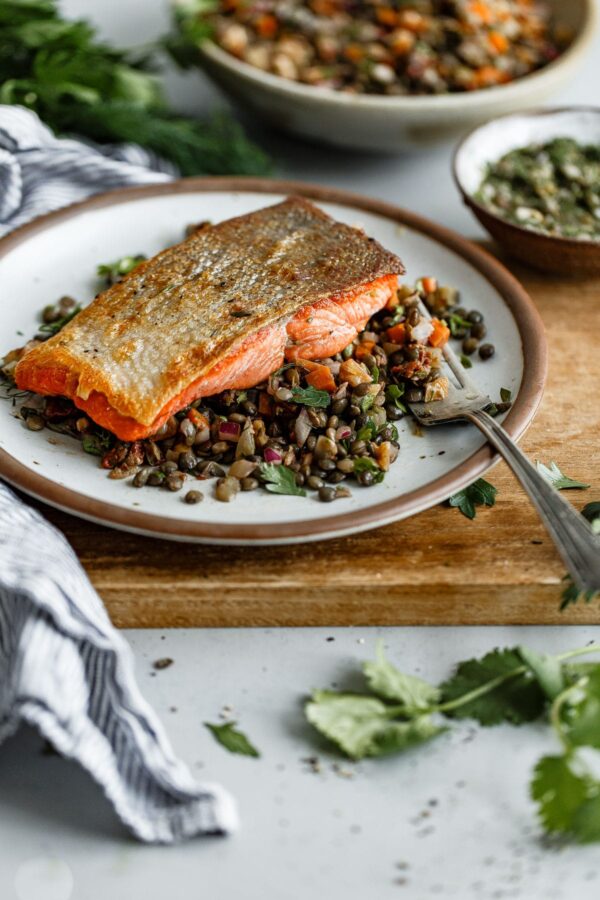 I love a hearty, flavorful, and summer-friendly main course, and this crispy pan seared salmon with herb caper vinaigrette and French lentil salad checks all of those boxes.
While this recipe isn't quite a one-pot meal, it is a complete meal and a great one at that. Elegant, yet unpretentious and simple enough to be prepped and served on a busy weeknight.
The flavors, colors, and presentation remind me of a classic French bistro or cafe!
While this dish truly shines during these hot summer days – when fresh herbs are abundant – you'll be able to find the ingredients for this dish year-round.
Let's get cooking…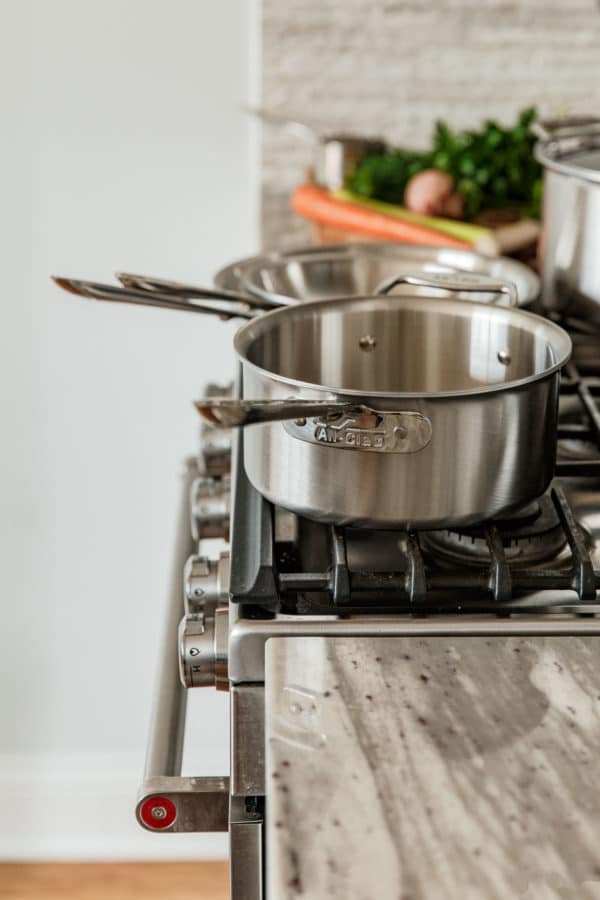 For this pan seared salmon recipe, I've teamed up with All-Clad to showcase their beautiful D5 Brushed Stainless Cookware.
I've been cooking with All-Clad's pots and pans for more than 15 years and am so thrilled to partner with them for today's recipe.
We registered for the All-Clad D5 stainless steel line for our wedding back in 2015, and I've been cooking with these pots and pans ever since.
If you're currently planning your wedding and registering for All-Clad cookware (highly recommend!), be sure to check out this page for more information on how you can be eligible to receive a complimentary, engraved skillet with your monogram and wedding date.
These pots and pans are without a doubt my most-loved kitchen items, and I use them every single day!


Whenever I'm asked for cookware recommendations, I always recommend All-Clad. They also make wonderful gifts! The quality, durability, and cooking performance is unparalleled. Quality cookware makes a huge difference in the kitchen.
Whether you're a professionally trained chef or enthusiastic home cook, these are investment pieces that will last a lifetime. D5 Brushed Stainless Steel Cookware is a wonderfully versatile collection for all of your culinary cooking adventures.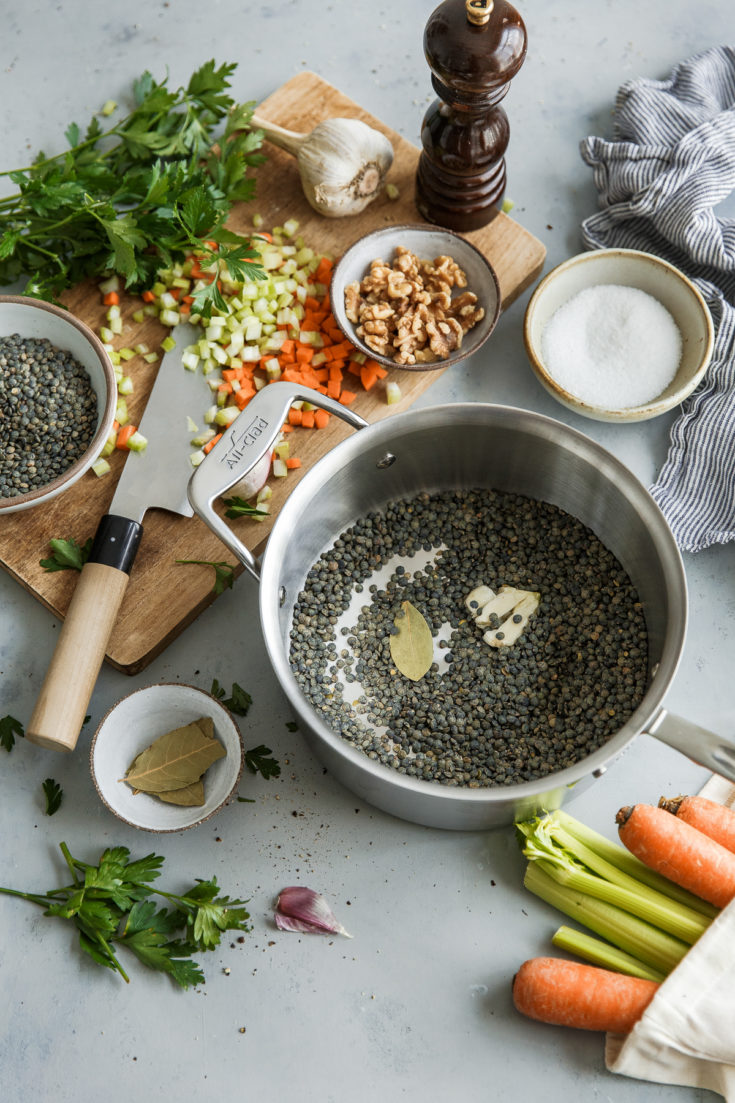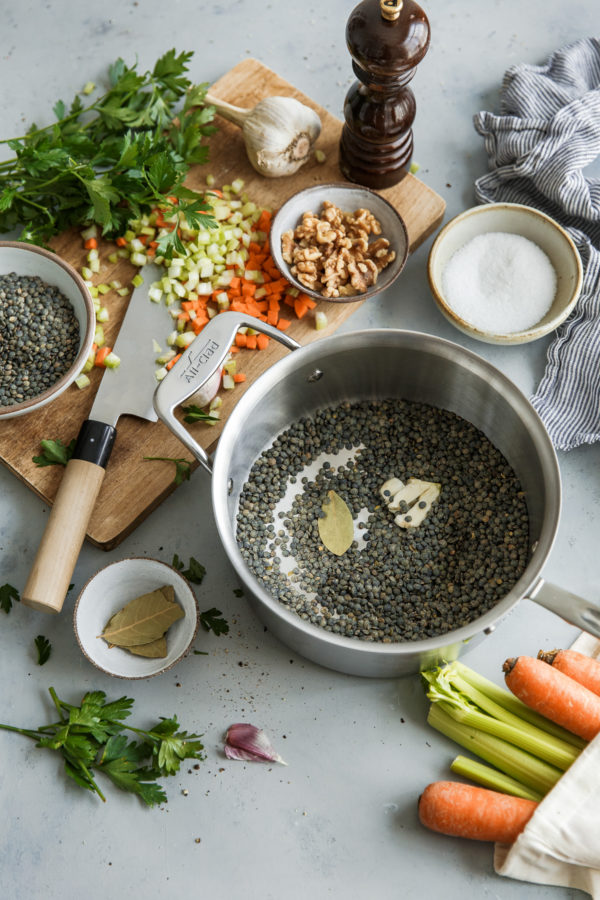 5 Reasons Why I Love My d5 All-Clad Cookware:
the handles are large, ergonomically designed, and are very comfortable to lift and hold. this is such an important feature in cookware, especially when you are bringing them in and out of the oven. never overlook comfort!
the D5 cookware line features a patented technology of five alternating layers of responsive aluminum and durable stainless steel for even and fast heating from the center to the edges of the pan.
the 'lip' edges of the pans are designed for drip-free pouring, which helps eliminate any additional mess.
oven and broiler safe to 600 degree Fahrenheit, stick-resistant, non-reactive, and dishwasher safe for easy cleaning.
All-Clad cookware is made in Canonsburg, Pennsylvania from American steel. Not many kitchen products are made in the USA anymore, and I love that these pans help support local communities.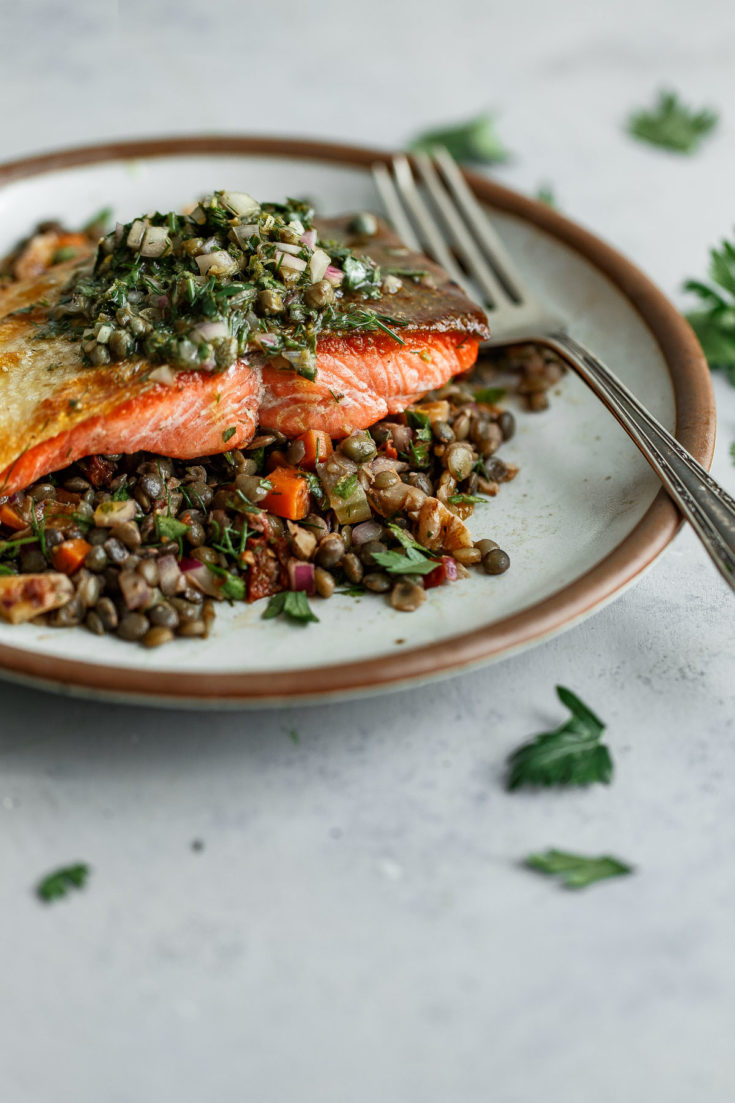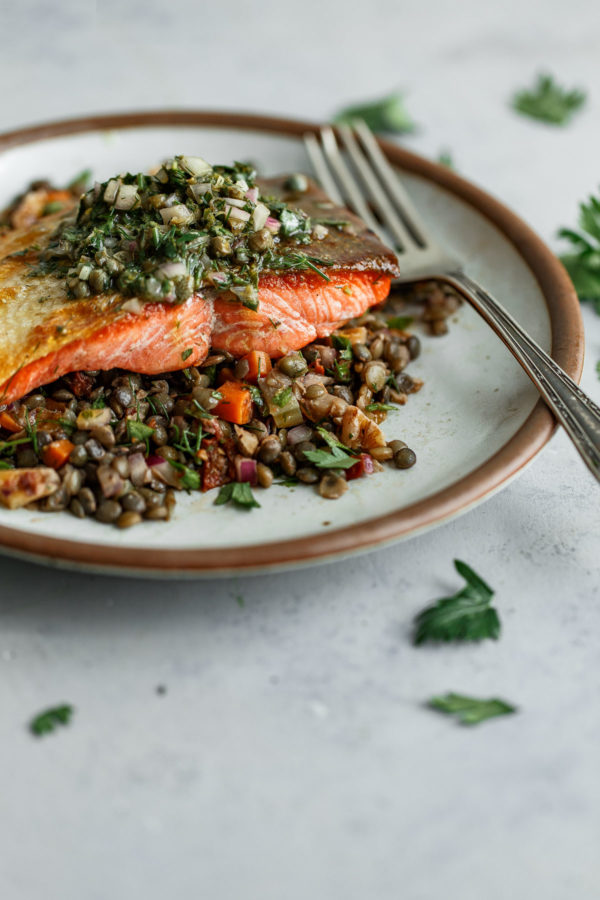 French Lentil Salad Ingredients:
The inspiration for today's main course came from one of my favorite classic pairings: salmon with lentils.
For this rendition, we'll be serving the pan seared salmon with French lentil salad, tossed with red onions, sun-dried tomatoes, toasted walnuts and a simple Dijon vinaigrette made from lemon juice, red wine vinegar, and extra virgin olive oil. For added texture, we'll mix in chopped toasted walnuts!
The lentil salad pairs beautifully with the salmon, but is equally as delicious served and enjoyed on its own or as a side dish to other meals. You could even go wild and add some feta or goat cheese (always acceptable in my kitchen).
For this preparation, seek out French green lentils (referred to as Le Puy lentils). Unlike other varieties of lentils (such as red split lentils), Puy lentils require no soaking, can be cooked in just 20 minutes or less, and hold their shape extremely well.
While the salad can be served at room temperature just after it is prepared, the salad tastes even better as it sits and the flavors develop – which provides the flexibility of preparing it a day or two in advance!


How to Pan Sear Salmon in a Stainless Steel Skillet:
Most home cooks are nervous to sear fish in stainless steel cookware. They're afraid that the fish will stick, and they'll be left with a huge mess to clean up! My goal with today's post is to squash those qualms and concerns.
Unlike non-stick cookware, stainless steel can be heated to higher temperatures, which is essential for proper searing and for achieving that perfectly crisp salmon skin that we all know and love.
If you are experiencing sticking or issues with flipping seafood in a stainless steel skillet, it is most often due to the pan and/or cooking fat not being preheated properly – or premature flipping.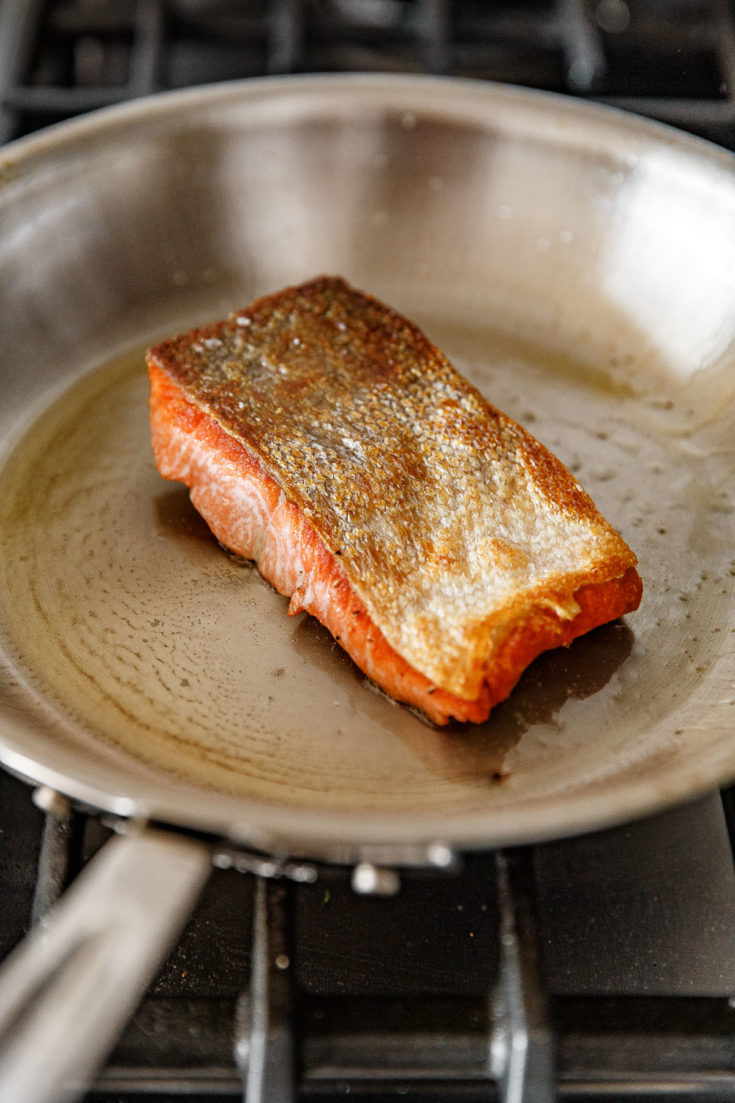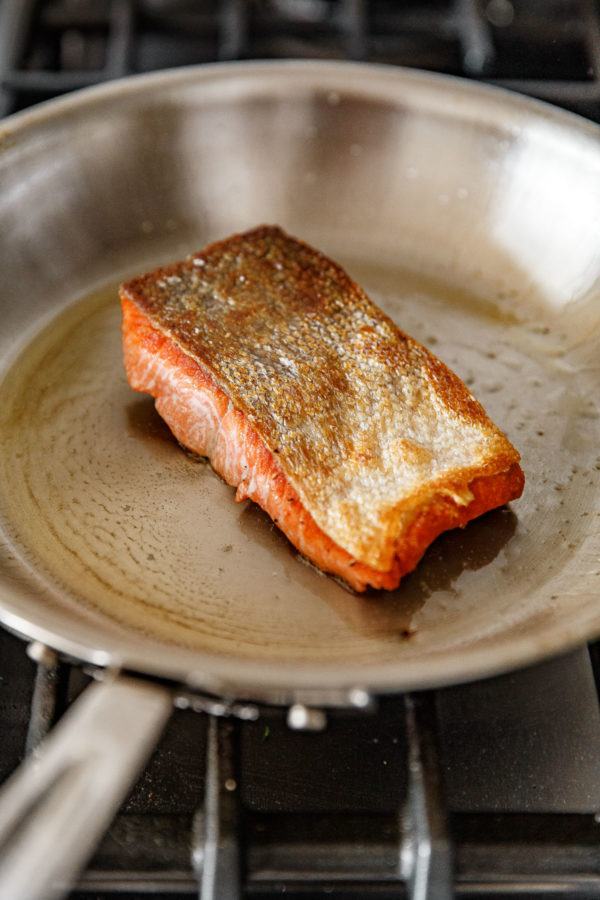 Tips for Pan Searing Success:
allow your salmon to come to room temperature before cooking. if your fish is very cold, it will have a greater tendency to stick and will drastically reduce the temperature of the pan.
dry the salmon fillets on both sides with a paper towel. any moisture on the fish flesh or fish skin will cause the oil to splutter and will prevent the flesh or skin from crisping up properly.
season your fish just before adding it to the skillet.
preheat your skillet over medium-high heat (depending on your stove, this might take a couple minutes). water should dance on the pan once it's ready.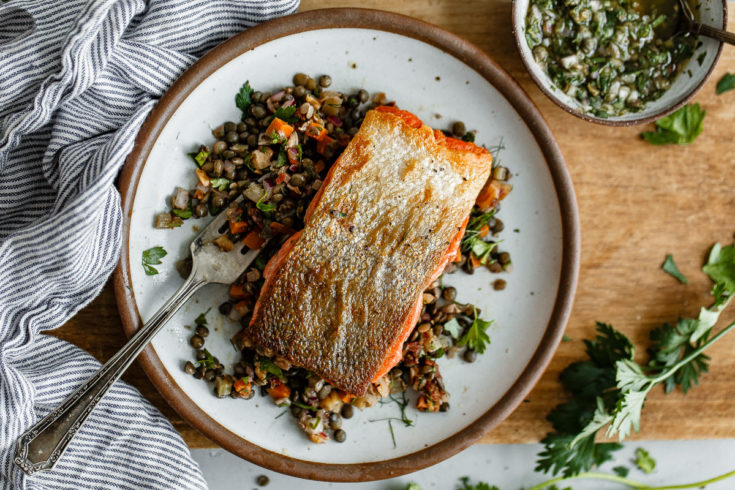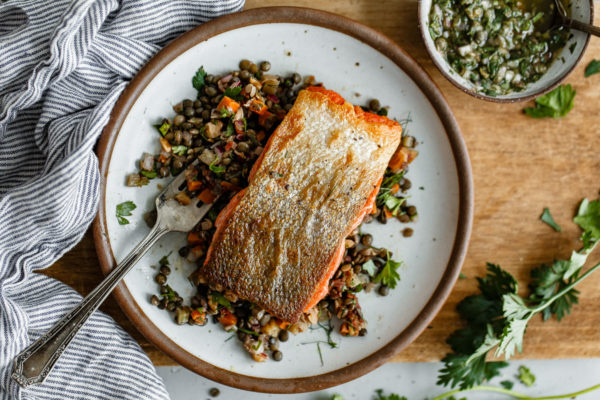 add the cooking fat and allow your oil to heat through until it is shimmering in the pan, but not smoking.
carefully place and set your salmon fillet, skin-side down, into the hot oil away from you. this protects you from any potential oil splattering. reduce the heat slightly.
press the fillet down with the back of a fish spatula for about 5 to 10 seconds. this will prevent the skin from buckling.
cook your salmon fillets almost entirely skin-side down. not only does the skin act as heat barrier, but this will enable you to achieve crispy salmon skin. flip the fish and allow it cook flesh-side down for just seconds. if the fish is showing resistance to flipping, give it more time.
avoid over-crowding your pan! this is one of the biggest culprits in proper searing. when in doubt, sear in batches or use two pans.
serve your pan seared salmon fillets crispy, skin-side up. this will ensure the skin stays crispy for serving!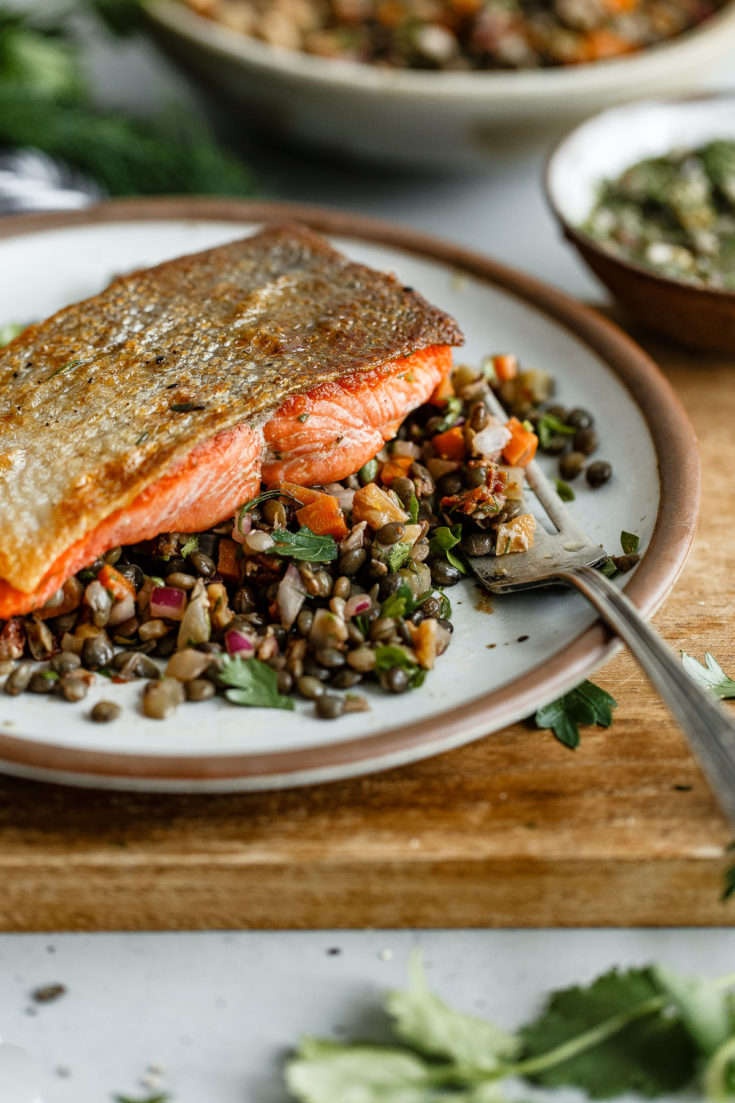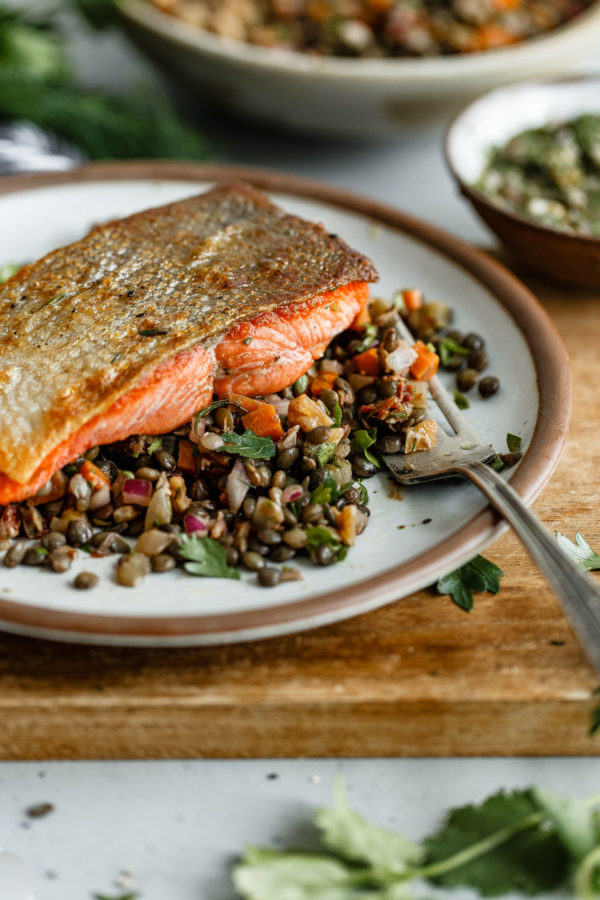 How Long to Cook Salmon:
Salmon should be cooked until the internal temperature reads about 120 Fahrenheit – or to medium rare doneness.
You want the salmon to be slightly opaque in the center. The difference in texture and flavor between medium-rare and overcooked salmon is night and day. This is particularly important for leaner salmon cuts, such as sockeye, which has a tendency to dry out faster.
Depending on the thickness of your salmon fillets and several other factors, the exact cooking time will vary. Use your judgement and watch the fish carefully.


Caper Herb Vinaigrette: What You'll Need
In addition to the lovely French lentil salad, we'll also be serving the salmon with a lovely caper herb vinaigrette made from diced shallot, capers, fresh herbs (cilantro, dill, parsley, and basil), lemon juice, and extra virgin olive oil.
It comes together quickly and can be prepped ahead and stored in the refrigerator too. In many ways, it reminds me of a saucier version of a classic Gremolata sauce.
Herbaceous, bright, and puckery from lots of lemon zest and lemon juice, it pairs wonderfully with seafood.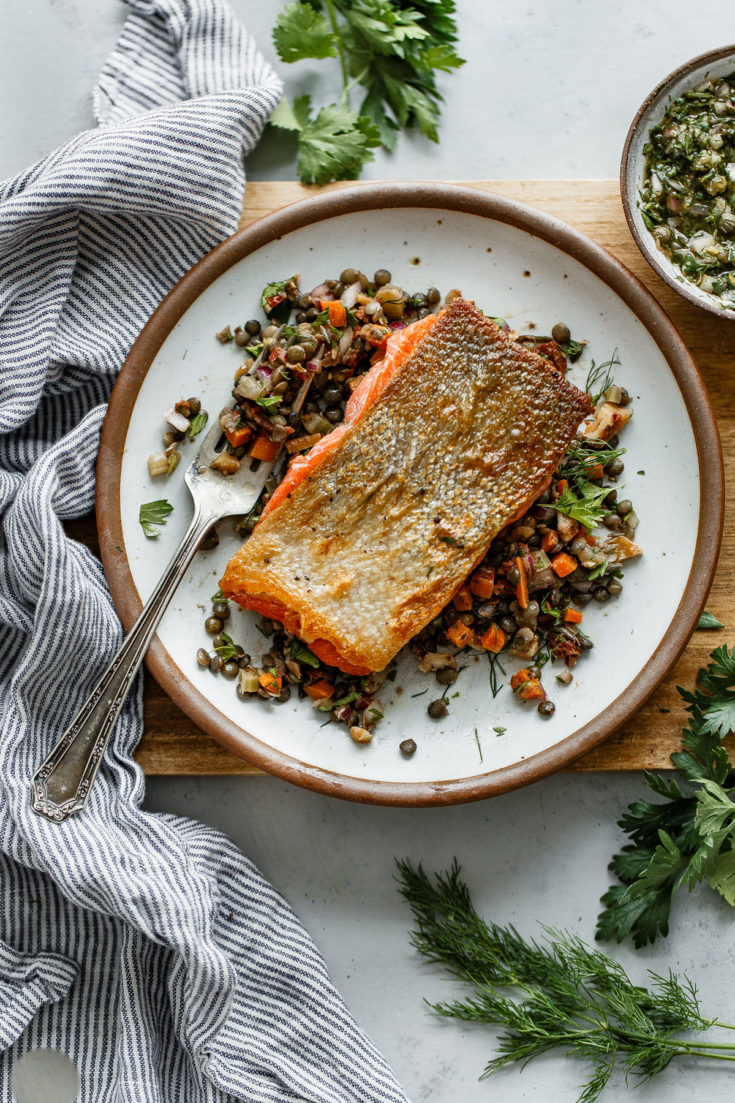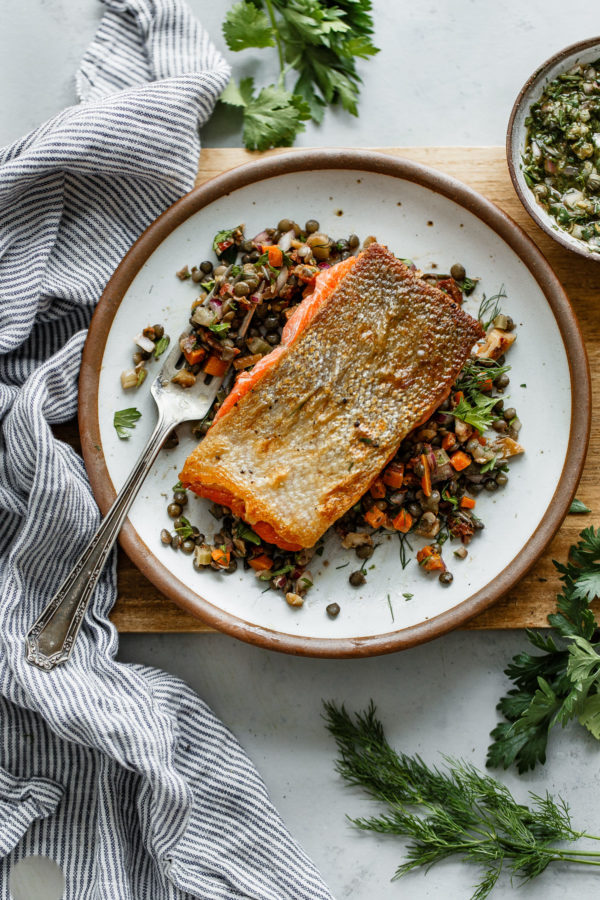 This seared salmon with lentils makes a lovely, light, elegant main course dinner, particularly during the summer season!
While this meal requires a few components, the lentil salad and caper herb vinaigrette can be prepped a day or two in advance. Each component stands on its own, but pairs wonderfully together, which I absolutely love.
Serve the lentil salad on its own (feta cheese or goat cheese would be a delicious addition!) or skip it altogether, and serve the salmon with roasted fingerling potatoes or charred green beans.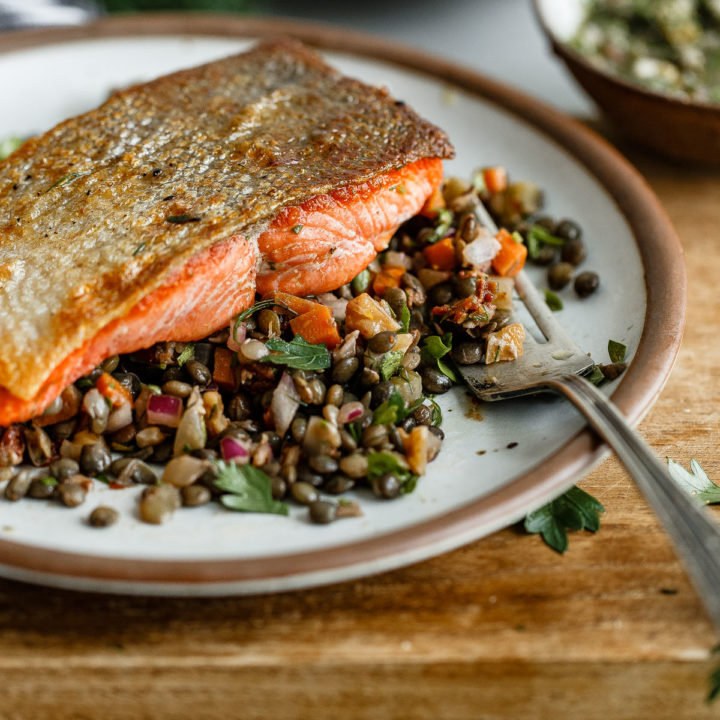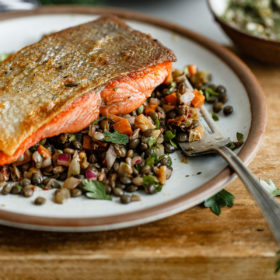 Pan Seared Salmon with Caper Herb Vinaigrette and French Lentil Salad
Crispy pan seared salmon topped with a zesty caper herb vinaigrette and served alongside a flavorful French lentil salad. A healthy and nutritious main course recipe that is naturally gluten free and dairy free.
Ingredients
French Lentil Salad:
1 large celery rib finely diced
1 medium carrot peeled, and finely diced
1 dried bay leaf
1 large garlic clove smashed
1 cup French (Puy) green lentils picked over and rinsed
½ cup raw walnuts
1 teaspoon Dijon mustard
zest of ½ lemon, plus 1 tablespoon lemon juice
1 tablespoon red wine vinegar
1 tablespoon extra virgin olive oil
½ small red onion finely diced
5 oil-packed sun-dried tomatoes finely chopped
¼ cup finely chopped flat leaf parsley
1 tablespoon finely chopped fresh dill
freshly ground black pepper
Caper Herb Vinaigrette:
1 small shallot finely diced (roughly 1/4 cup)
2 tablespoons drained capers roughly chopped
zest of ½ lemon, plus 3 tablespoons lemon juice
¼ cup extra virgin olive oil
¼ cup chopped cilantro leaves
2 tablespoons finely chopped fresh dill
1 tablespoon finely chopped flat leaf parsley
1 tablespoon finely chopped basil optional
freshly ground black pepper to taste
Pan Seared Salmon:
4 (4-5 ounce) wild Alaskan salmon fillets
avocado oil or other high smoke point cooking oil, for cooking
Instructions
Prepare the French Lentil Salad: Combine the diced celery, diced carrot, bay leaf, smashed garlic clove, rinsed and drained French green lentils, and 1 teaspoon (Diamond Crystal brand) kosher salt in a medium saucepan. Add cold water to cover the lentils by 2 to 3 inches.

Bring the mixture to a boil, stir, reduce the heat to a simmer, and cook the lentils for about 20 minutes or until tender yet firm - be sure to check them after the first 15 minutes of cooking. Drain in a fine-meshed sieve and discard the bay leaf. Transfer to quarter sheet pan, spreading them into a thin layer to cool (or alternatively, a large mixing bowl). Allow the lentils to cool to room temperature.

Meanwhile, toast the walnuts on the stovetop. Preheat a small skillet over medium-high heat. Add the walnuts to the pan, and stir continously until fragrant and they are beginning to brown. Remove from the heat and immediatley transfer the nuts to a bowl. Allow them to cool completely before roughly chopping. Set aside.

In a large mixing bowl, whisk together the Dijon mustard, lemon zest, lemon juice, red wine vinegar, and extra virgin olive oil until emulsified. Add the cooked lentil mixture and toss gently to coat. Add the diced onion, chopped sun-dried tomatoes, parsley, dill, and toasted chopped walnuts. Toss gently to combine. Season to taste with salt and pepper. Set aside until ready to serve. If prepping ahead, refrigerate the lentil salad in an airtight container for up to 3 to 5 days.

Prepare the Caper Herb Vinaigrette: Combine the diced shallot, capers, lemon zest, lemon juice, olive oil, and chopped herbs in a small mixing bowl. Season to taste with salt and pepper. It should be puckery and acidic, but feel free to add another tablespoon of extra virgin olive oil if desired to dilute the acidity.

Prepare and Pan Sear the Salmon: Pat the salmon fillets dry (on both sides) with paper towels, and allow to come to room temperature slightly. Just before cooking, season both sides with kosher salt.

Preheat a large stainless steel skillet set over medium-high heat. *Avoid over-crowding the pan by cooking the fish in batches if necessary. Water should dance on the surface on it is ready. Add 1 to 2 tablespoons of avocado oil (or another high smoke-point cooking oil).

Once the oil is shimmering, gently place the salmon fillets, skin-side down, into the skillet. Reduce the heat slightly. Press the fillets down in the pan with a flat heatproof fish spatula for the first 10 seconds of cooking or so – this will prevent the salmon skin from curling as it cooks. Contine cooking the salmon, skin-side down, until the flesh is cooked roughly ¾ of the way up the fillet, and the skin is crispy and rendered. If the fish is sticking, it is most likely not ready to be flipped. Flip the salmon fillets and cook briefly for 10 seconds or so on the fesh side or until an instant thermometer inserted in center of fillets reads between 120°F degrees (medium rare).

Transfer to a plate, skin side up, and lightly sprinkle with kosher salt. Allow to rest for a minute or two as you assemble the dishes.

Assemble and Serve: Place a spoonful of the French lentil salad in the center of each serving plate. Top with the pan seared salmon, crispy skin side up. Spoon a generous spoonful of caper herb vinaigrette over the fish (or serve on the side) and serve immediately.
Serving: 1serving, Calories: 486kcal, Carbohydrates: 22g, Protein: 21g, Fat: 37g, Saturated Fat: 5g, Polyunsaturated Fat: 30g, Cholesterol: 36mg, Sodium: 648mg, Fiber: 8g, Sugar: 4g
This post is sponsored by All-Clad. Thank you for supporting brands I love and use in my kitchen.
This post contains affiliate links, which means that I make a small commission off items you purchase at no additional cost to you. Please read my
privacy policy
for more information.