Charred Green Beans with Cilantro Lime Vinaigrette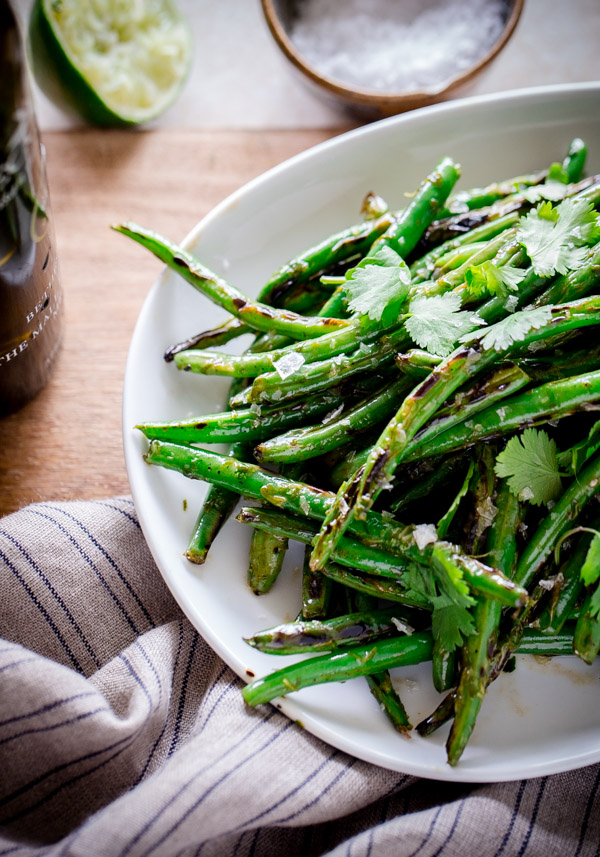 Say hello to my favorite way to cook green beans! Say hello to your new favorite way to cook green beans. Perfect for summer nights, and those of us who love the flavor of roasted vegetables, but hate turning on the oven at this time of year.
I declare 'charred' the new 'roasted'. Let's see if this catches on, shall we? These charred green beans with cilantro lime vinaigrette have quickly become one of my favorite vegetable side dishes (aside from this one, of course). Green beans are one of my go-to summer vegetables, as they so accessible and perfect at this time of year.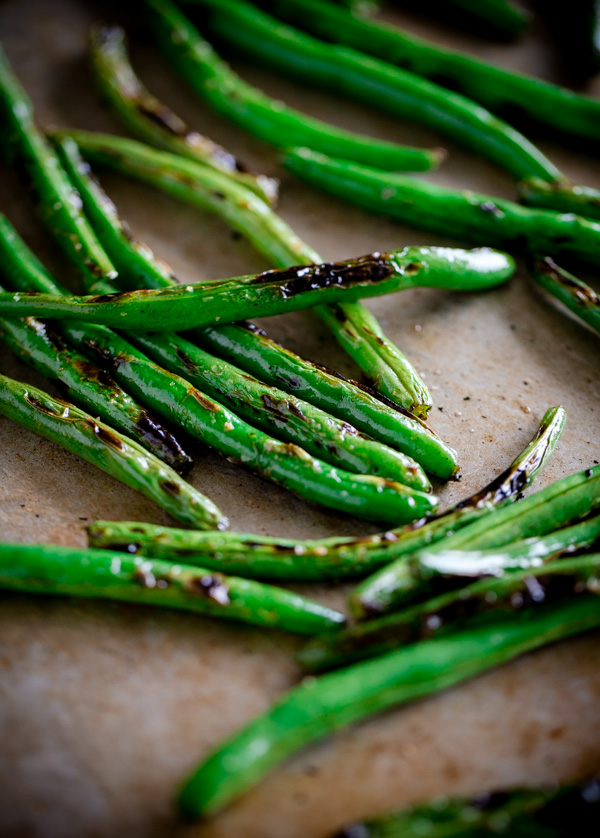 This dish can be prepared in less than 20 minutes, requires only a handful of ingredients, and can be served hot, at room temperature, or cold straight out of the fridge. Really, I promise. If you're doing a summer potluck, cook-out, or going over to a friend's house and offering to bring a dish, bring these green beans.
People will like you (just make sure these are the same kinds of people that like cilantro, because yeah, that might not go over so well).
The vinaigrette is very simple: freshly squeezed lime juice, olive oil, fresh cilantro, salt and pepper. It is nearly identical to the salad vinaigrette used for my guacamole greens salad (another favorite!), if you're curious.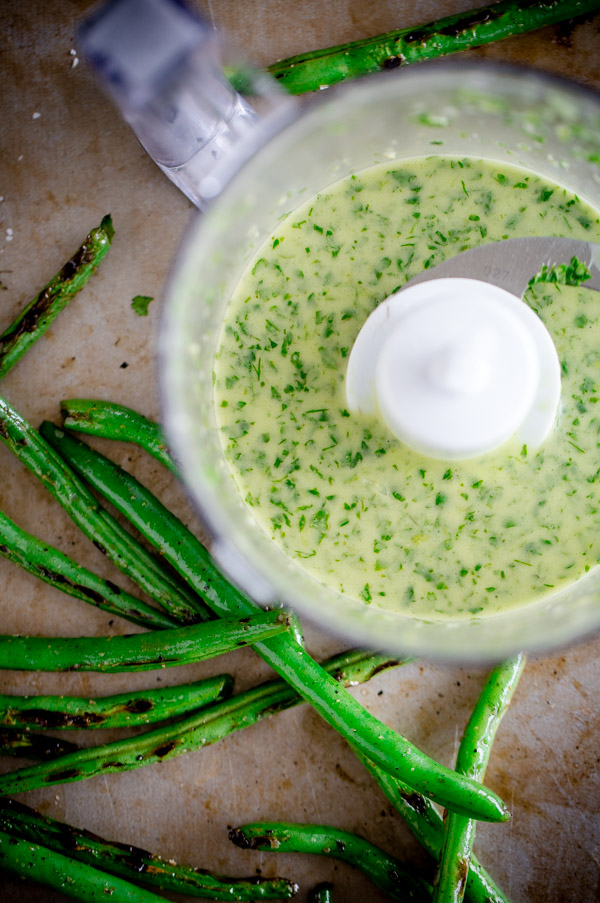 So how exactly do you char green beans?
You use a piping hot (and I mean, PIPING HOT) grill pan! This is awesome for several reasons:
1) It's crazy fast and will take just 15 minutes of cook-time to prepare this dish, 2) it will produce that smoky, char-grilled flavor that can't be achieve through roasting alone, 3) allows those of us without access to an outdoor grill (aka. me) to eat things that taste like they were cooked on an outdoor grill.
In order to avoid over-crowding the grill pan (not something you want to do when charring vegetables), I like to cook the green beans in smaller batches. This recipe uses about 1 lb of fresh green beans, and I cooked them in three batches, ensuring that they all charred and cooked evenly.
Obviously, this recipe could just as easily be prepared on an outdoor grill pan. However, since green beans are relatively small and fall through the grates, you would probably need one of these grill griddles or another similar device.
For those of us preparing this dish with a grill pan (on a regular indoor stove), I have a word of advice! Turn on your kitchen fan. Like now. Don't wait until your kitchen gets all smoky and you inevitably set off your fire alarm, and have to go grab a pillow and wave it like an idiot all over your apartment.
I almost did this myself because I use my stove fan about as often I use that pot I bought for canning and preserving (ie. never).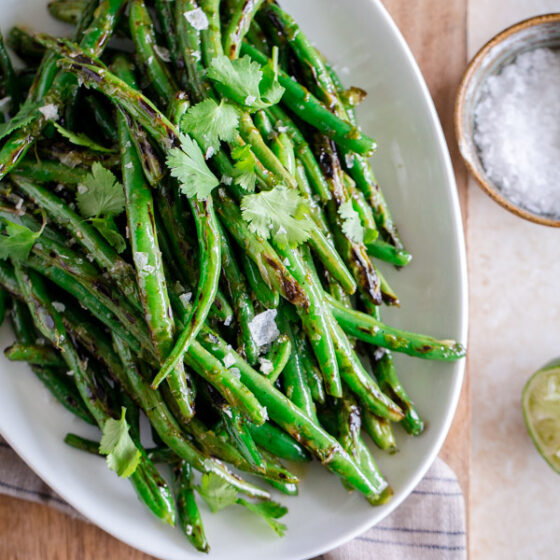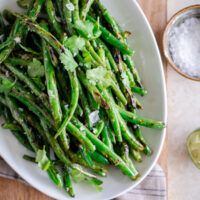 Charred Green Beans with Cilantro Lime Vinaigrette
Yield: 3-4 Servings
Prep Time: 5 minutes
Cook Time: 15 minutes
Total Time: 20 minutes
Ingredients
2 tablespoons olive oil
2 tablespoons freshly squeezed lime juice
1/4 cup packed fresh cilantro leaves, plus more for garnishing
1/4 teaspoon kosher salt
freshly ground black pepper
1 lb fresh green beans, trimmed
olive oil
finishing salt (I like to use Maldon!)
Instructions
Prepare vinaigrette: Combine the 2 tablespoons of olive oil, lime juice, cilantro, salt and pepper in a blender, or small food processor bowl. Puree or pulse ingredients together, until mixture just begins to come together, and cilantro is still finely chopped. Set aside in a small container. Shake before using.
In a medium bowl, toss the trimmed green beans lightly with olive oil (roughly 1 tablespoon or so) and season lightly with salt. Heat a large grill pan over very high heat. The pan should be piping hot–advice: turn on your kitchen fan, as it will get smoky.
Add about a third of the green beans directly to the hot grill pan, spreading them out evenly. Grill the greens beans for roughly 4 to 5 minutes, tossing them every few minutes, until they are evenly charred and beginning to soften slightly. Transfer the charred green beans to a serving platter or separate mixing bowl. Repeat with the remaining green beans.
Allow the charred green beans to cool for 5 to 10 minutes, then toss with the cilantro-lime vinaigrette. Sprinkle with fresh cilantro leaves and finishing salt. The dish can be served hot, at room temperature, or cold straight from the fridge.
Notes
Inspired by Hello Tacos in Chicago.
Nutrition Information:
Yield: 3
Serving Size: 1
Amount Per Serving:
Calories: 171
Total Fat: 14g
Saturated Fat: 2g
Trans Fat: 0g
Unsaturated Fat: 11g
Cholesterol: 0mg
Sodium: 380mg
Carbohydrates: 12g
Fiber: 4g
Sugar: 5g
Protein: 3g
A Beautiful Plate provides nutritional information, but these figures should be considered estimates, as they are not calculated by a registered dietician.