Honey Peanut Butter Custard Popsicles
Creamy peanut butter custard popsicles filled with candied peanut clusters!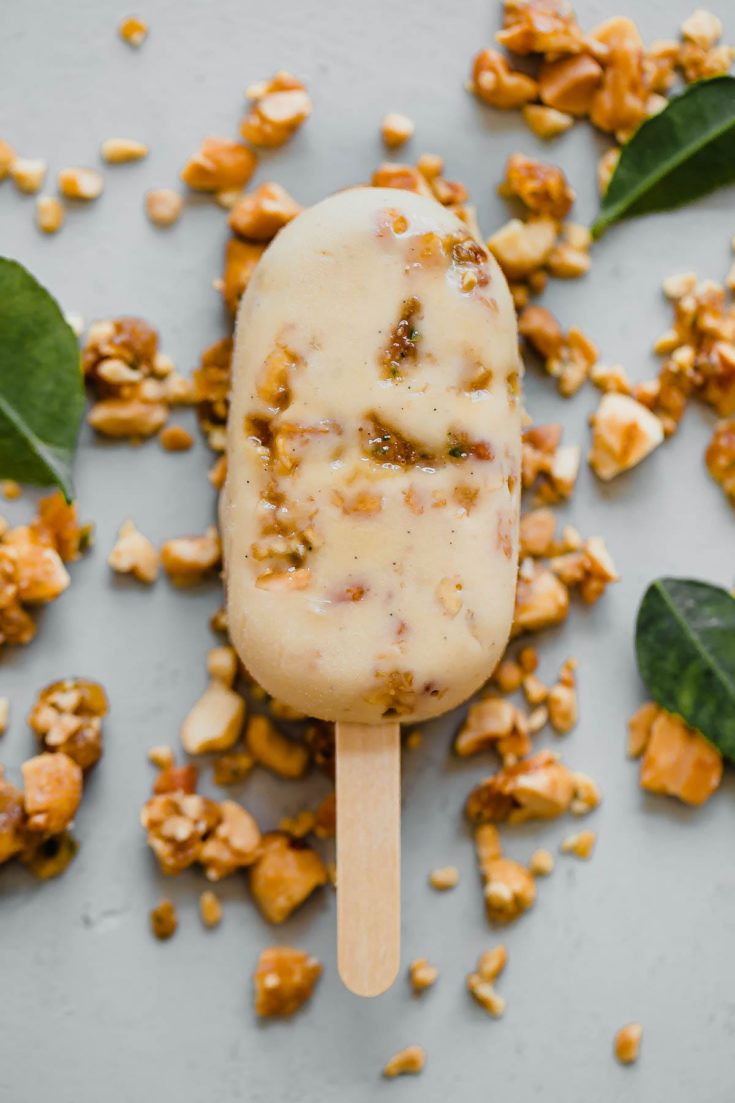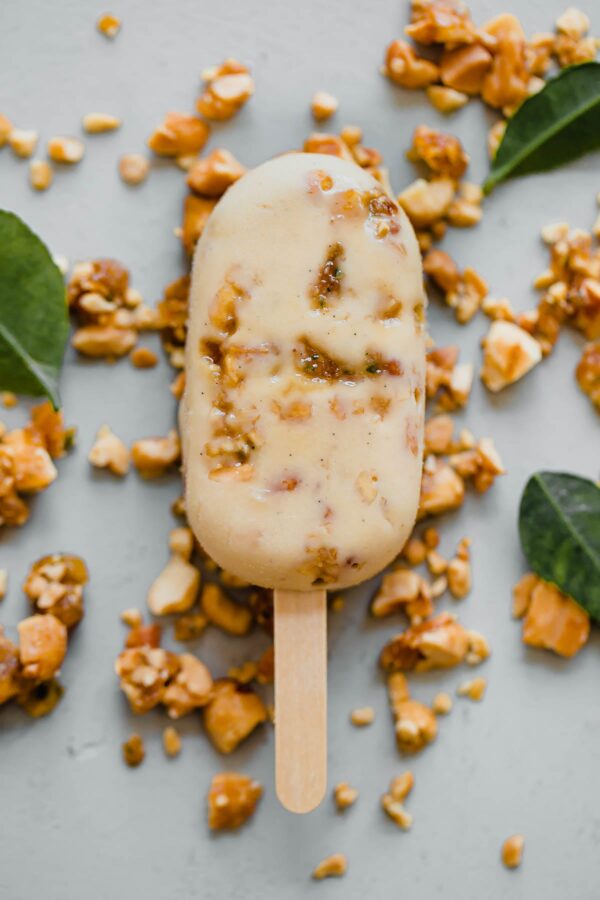 This post is sponsored by Cuisine Solutions.
I'm so excited about today's post, because we'll be chatting about these insanely creamy peanut butter custard popsicles and a new (to this website!) cooking method: sous vide cooking.
When I cooked in a
professional restaurant kitchen
, we used sous vide cooking (
which I'll cover in more detail below!
) to prepare tender, perfectly cooked meats, cook or infuse vegetables and fruits, and intensify flavors.
Years ago, sous vide cooking was reserved for professional kitchens, as it required very expensive equipment and tools. In the last few years, thanks to modern technology and growing interest, affordable and great-quality immersion circulators have become readily available.
If you're an enthusiastic home cook, a sous vide machine (immersion circulator) is an amazing tool to have at your disposal. They are small and easy to store, versatile, and allow for precise, hands-off cooking.


If you catched my
favorite things gift guide
last year, you know that sous vide cooking is a topic that I've been wanting to dive deeper into on this website ever since I got my hands on a home sous vide machine.
I'm so excited to partner with
Cuisine Solutions
, the authorities on professional sous vide cooking, to do just that.
I became familiar with this company years ago, which is based just outside my hometown of Washington, DC, when I attended a molecular gastronomy course in
culinary school
taught by one of their chefs.
The recipe for these honey peanut butter popsicles hails from the latest issue of Cuisine Solution's biannual publication,
Sous-Vide Magazine
. You can purchase the magazine
here
(or find it at specific grocers!). It is a beautiful magazine packed with gorgeous imagery, sous vide-centric recipes and articles, and interviews with professional chefs.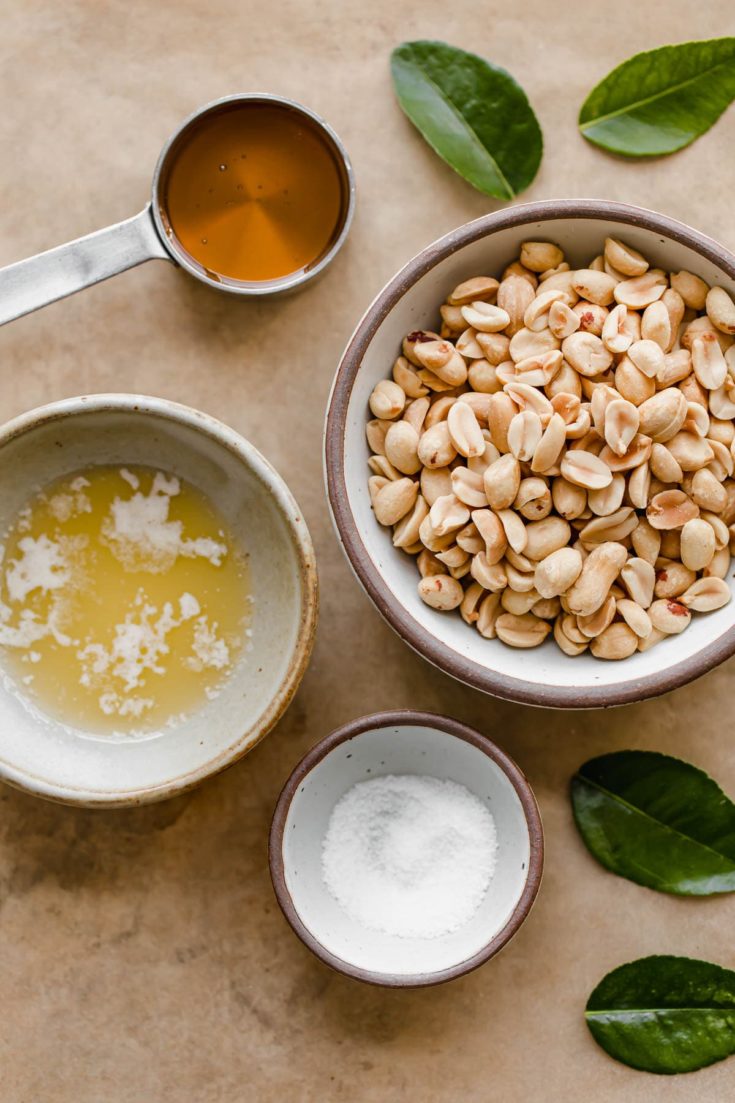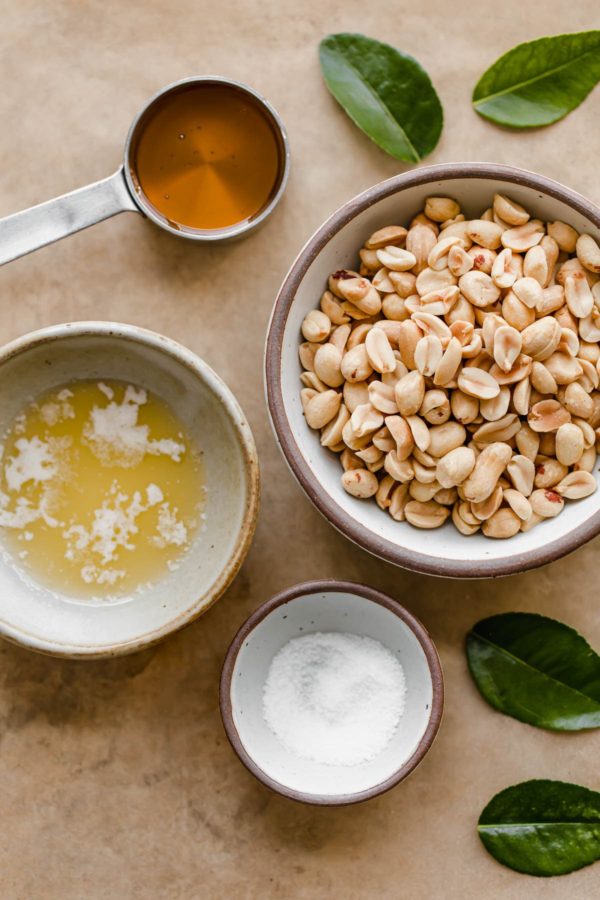 What is Sous Vide Cooking?
Sous vide (pronounced soo-veed) is the French word for under vacuum. It is a cooking method that involves cooking ingredients, which are sealed in a plastic pouch, in a temperature controlled water bath for a specific amount of time.
As long as the container is heat safe, you can create a water bath with many different vessels: a large cooking pot or heat-proof plastic food container.
The sous vide machine, known as an immersion circulator, controls the temperature of the water bath to a precise temperature (generally between 125-195 degrees Fahrenheit). You can set your timer and walk away.


This allows you to infuse flavors and cook ingredients to a specific core temperature (eg. steak to a perfect medium-rare throughout, and simply sear for flavor and color just before serving!) or doneness.
Since the method eliminates the risk of overcooking or overheating, you can also keep the ingredients in the water bath at temperature until ready to serve as well. Are you starting to picture how convenient this tool would be for dinner parties or holiday cooking?
While most people associate sous vide cooking with proteins, specifically cooking meat and seafood, it can be used for so many other applications, including desserts. It is not nearly as complicated or science-y as you might have assumed!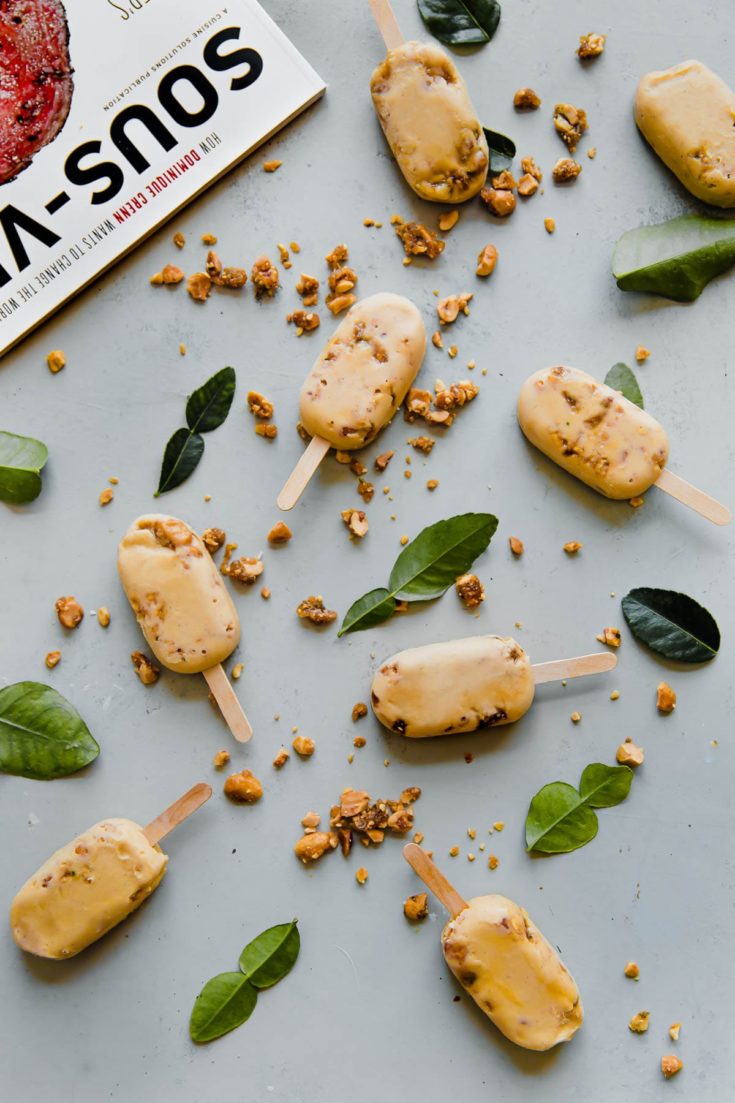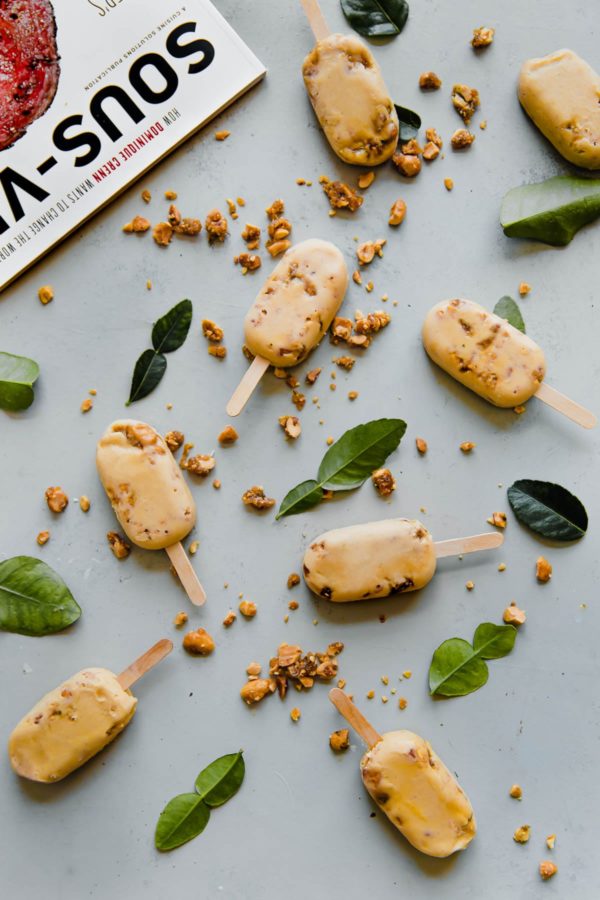 Sous Vide Popsicles: Why Bother?
This isn't my first time making homemade popsicles (remember these mango lassi popsicles?), but it is my first time making sous vide custard.
This popsicle recipe is made with a delicious peanut butter custard made with heavy cream, sugar, and eggs, and it is infused with honey and vanilla bean paste. The delicious peanut butter flavor comes from the addition of natural creamy peanut butter.
Similar to an egg based ice cream recipe, the custard base contains whole eggs, which provides these popsicles with that classic creamy, wonderful texture and flavor.
Most egg-based custards for ice cream or other frozen treats require you to stand over the stove and stir the mixture constantly over low heat. It can be a pretty tedious process, particularly during the summer months when we'd rather not stand over the stove!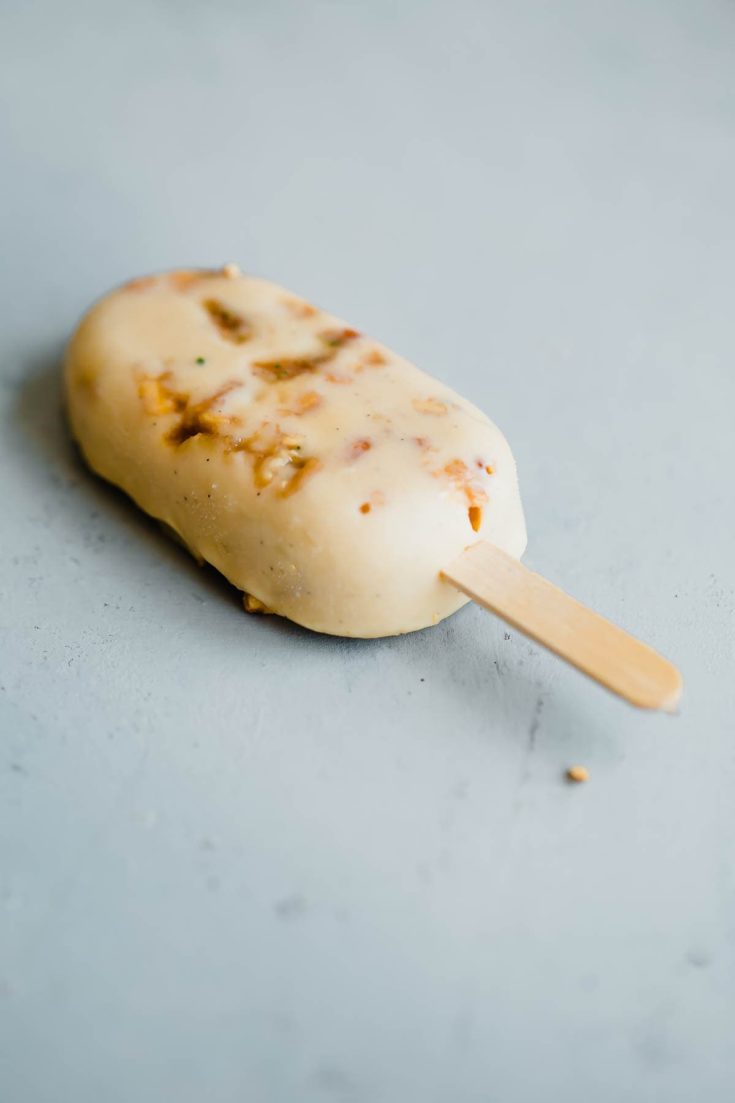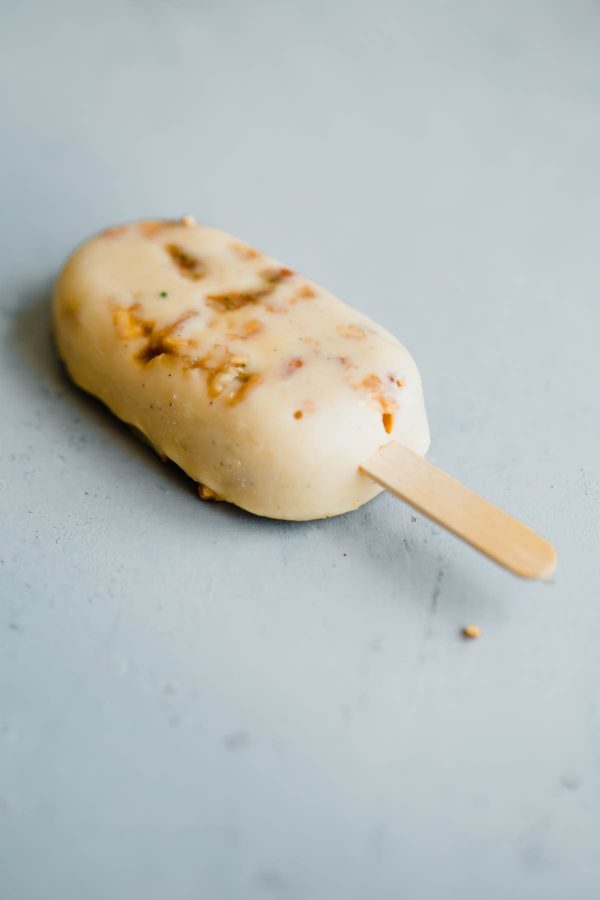 How to Make Sous Vide Custard:
To solve this problem, we'll be using our immersion circulator to cook the custard base. The sous vide method offers several major advantages:
hands-off, effortless cooking. there is always a risk of curdling or scrambling the eggs (been there, done that!) on the stove. the immersion circulator, which can be set to a specific temperature, eliminates this risk and allows you to simply set a timer and walk away.
cooking the custard for one hour at 181 degrees Fahrenheit gently pasteurizes the egg yolks in the custard, and makes these popsicles perfectly safe to enjoy all summer long!
this slow, even, water bath cooking produces an exceptionally silky, creamy texture!
it is very, very easy and fun.


If the peanut butter custard wasn't enough, we're going to be adding candied peanut clusters to these popsicles!
How to Make Candied Peanuts:
Candied peanuts are really easy to make and they add a great salty and chewy texture component to peanut butter popsicles! Since we'll be adding a small handful of candied peanuts to the peanut butter custard base as it cooks, you'll want to prepare these before you start anything else.
To make the candied peanuts, you'll need peanut, honey, melted butter, and salt. This mixture will be tossed together, spread evenly on a lined sheet pan, and baked until caramelized and golden.
Allow the mixture to cool completely, then chop roughly to add to the custard base and filled popsicle molds before freezing.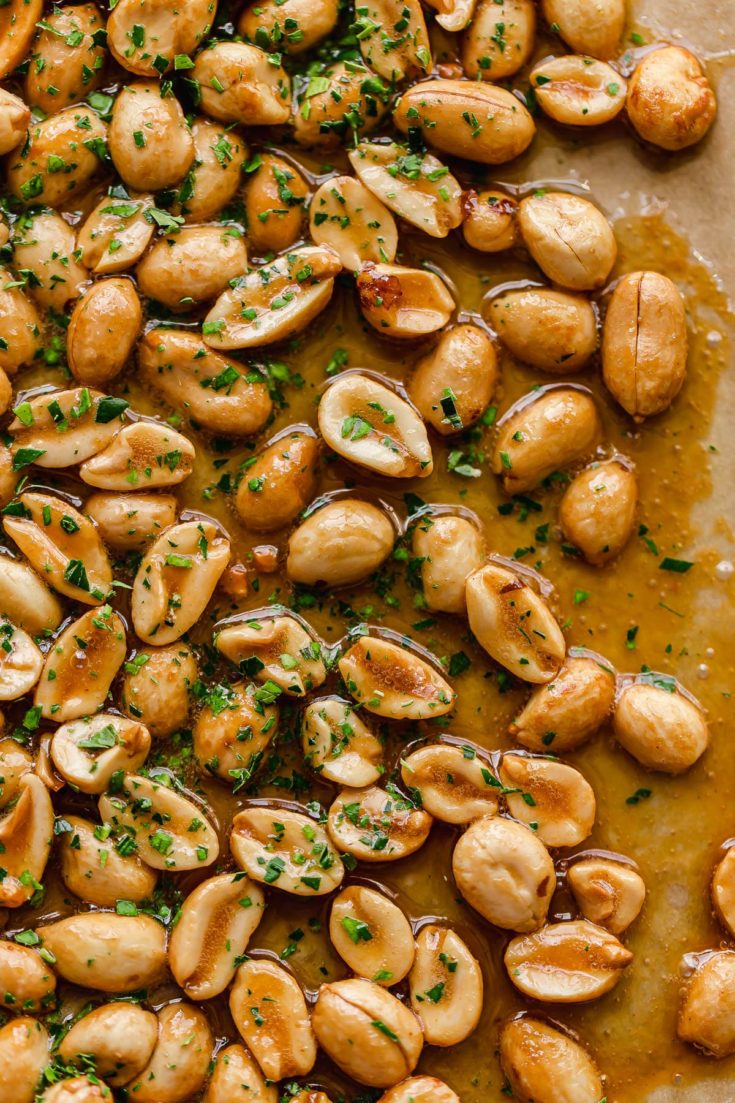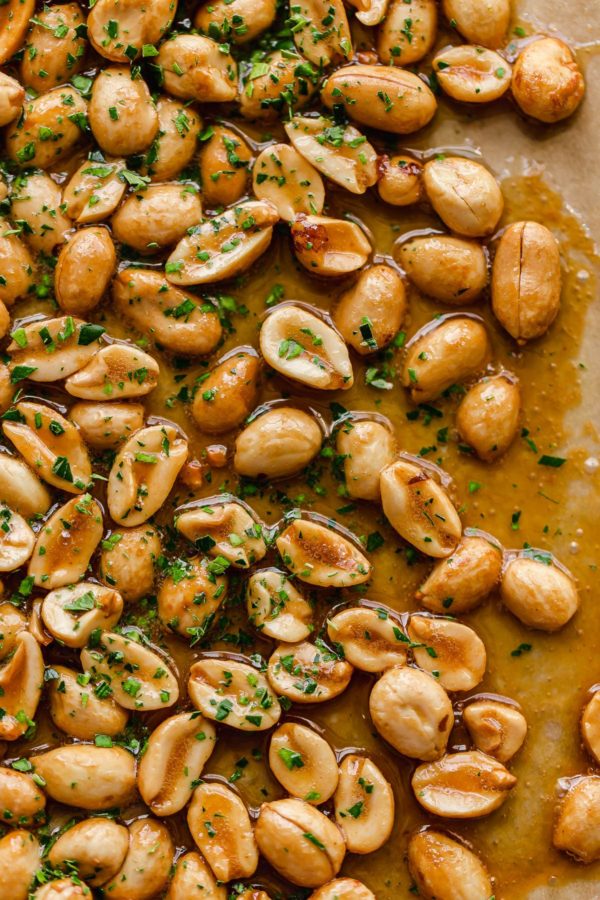 The original Sous-Vide Magazine recipe calls for adding finely chopped kaffir lime leaves to the peanut mixture.
I loved this flavor element in the popsicles – it adds a subtle, yet very unique flavor note – but kaffir lime leaves can be a tricky ingredient to find (an Asian supermarket is your best bet!), so feel free to leave them out.
The popsicles are great either way!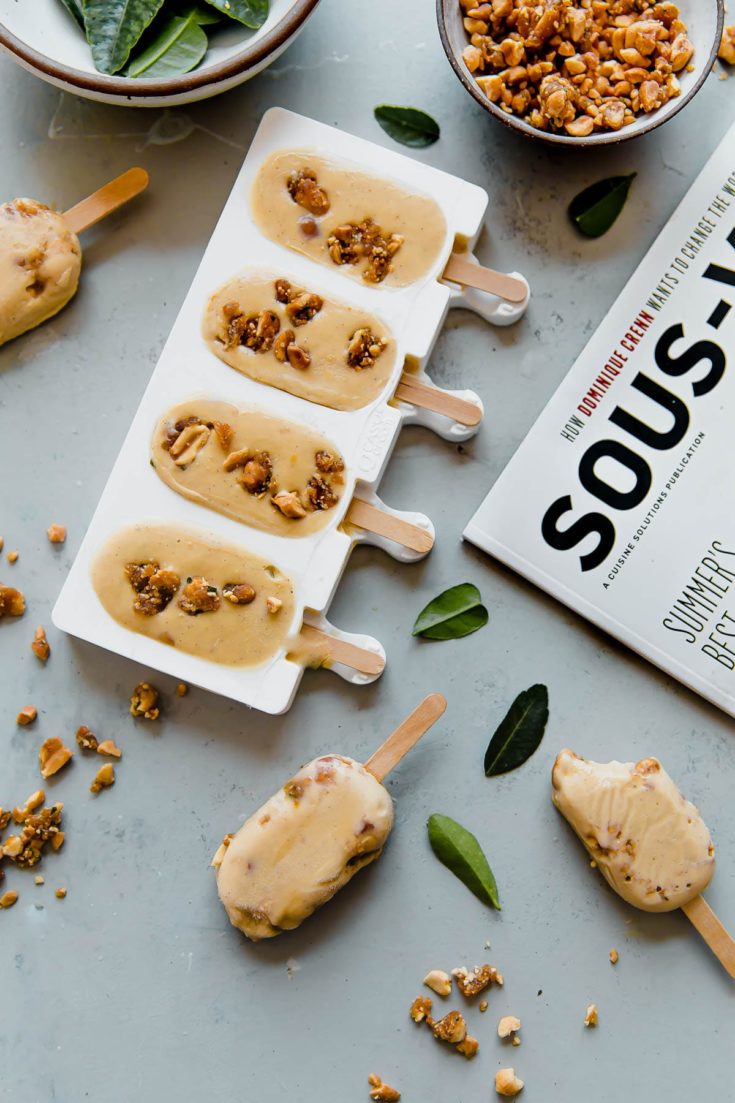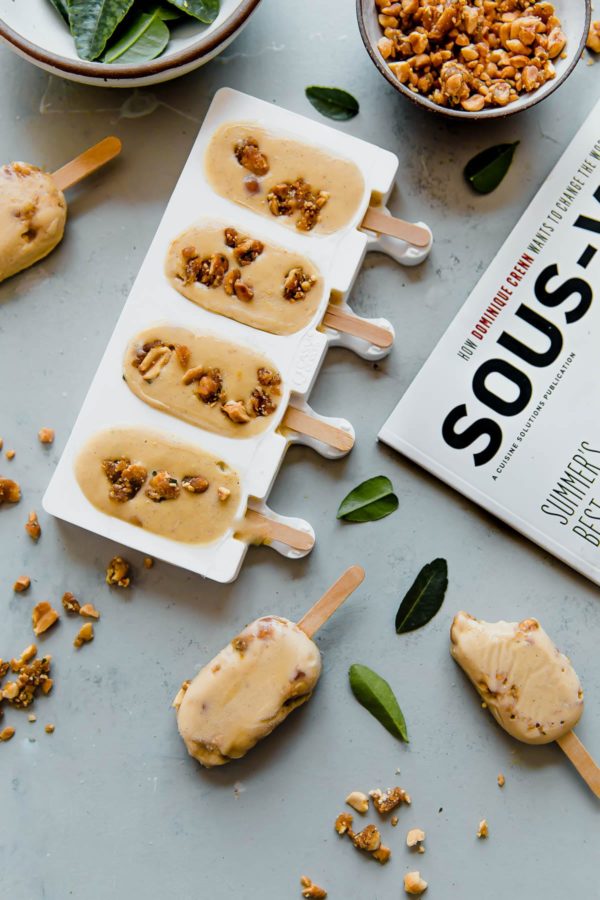 It is worth noting that you'll want to allow these popsicles to freeze overnight for best results.
Why You'll Love This Popsicle Recipe:
This popsicle recipe will yield roughly 8 (4-ounce) popsicles. If you're looking for recommendations on molds, I highly recommend Silikomart silicone molds for custard based popsicles. They make for easy un-molding!
These popsicles are creamy, sweet, rich, and full of peanut butter flavor! The candied peanut clusters provide bursts of toasted, caramelized sweetness, and the kaffir lime leaves add a distinct citrus-y element that keeps you coming back for more.
Due to the higher fat content and sweetness, these popsicles don't get nearly as hard as other fruit-based popsicles, and have a lovely texture straight from the freezer. In other words, these are bite-worthy pops!
---
If you're looking for more sous vide cooking recipes (including an entire section on summer popsicles!) and inspiration, be sure to get your hands on a copy of Sous-Vide Magazine.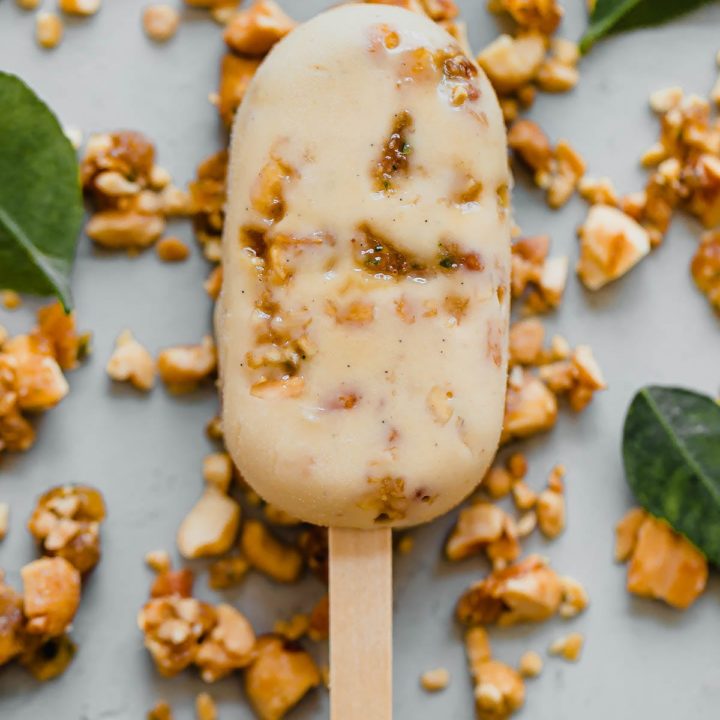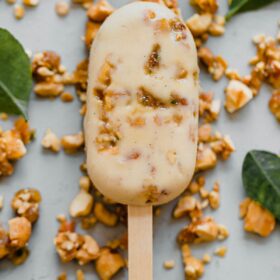 Honey Peanut Butter Custard Popsicles
Creamy peanut butter popsicles filled with candied peanut butter clusters, flavored with honey and infused with kaffir lime leaves. The peanut butter custard gets its silky texture from temperature-controlled sous vide cooking, which has the added benefit of pasteurizing the egg mixture and making these homemade popsicles safe to enjoy all summer long!
Ingredients
Candied Peanuts:
1 cup salted or unsalted raw peanuts
¼ cup honey
2 tablespoons unsalted butter melted
1 teaspoon kosher salt
4 fresh kaffir lime leaves finely chopped (optional)*
Peanut Butter Custard:
4 cups (32 ounces) heavy cream
8 whole eggs
1 cup (200 grams) granulated sugar
2 tablespoons vanilla bean paste
½ cup honey
6 tablespoons unsweetened natural peanut butter
Instructions
For the Candied Peanuts: Preheat the oven to 350°F (176°C) with a rack in the center position. Line a baking sheet with parchment paper and coat with non-stick cooking spray. In a mixing bowl, combine the peanuts, honey, butter, and salt until well-coated. Spread in an even layer on the lined baking sheet and bake for 10 minutes (or longer), or until browned. Meanwhile, chop the kaffir lime leavings, if using, very finely with a knife. Fold the leaves into the peanuts while still warm. Flatten out the peanuts on the tray. Let cool to room temperature, about 30 minutes.

Once cool, use a knife to roughly chop the peanuts, making sure not to over chop them.

For the Custard: Set the sous vide machine (circulator) to 181°F (82.7°C). While the water is heating, combine all the custard ingredients in a blender. Blend thoroughly, making sure not to incorporate too much air. Pour mixture into sous vide pouch, then add 2 tablespoons of candied peanuts. Cook in water bath for one hour. Next, transfer the mixture (*if necessary, use a whisk to stir the mixture until completely smooth) into ice pop molds and add additional candied peanuts, to taste. Freeze for at least four hours, or overnight for best results.
Tips for Success:
if you can't find kaffir lime leaves - and don't want to skip them altogether - you can try adding the zest of a lime.
this recipe yields eight (4-ounce) popsicles; the exact yield will vary depending on the popsicle mold that you own and use.
this popsicle recipe yields a larger quantity of custard - feel free to halve the recipe if desired - and be sure to seek out larger volume sous-vide cooking pouches.
Recipe reprinted with permission (with a few minor edits) from
Sous-Vide Magazine
Issue 6.
Serving: 1serving, Calories: 399kcal, Carbohydrates: 34g, Protein: 14g, Fat: 24g, Saturated Fat: 7g, Polyunsaturated Fat: 15g, Cholesterol: 198mg, Sodium: 458mg, Fiber: 3g, Sugar: 29g
This post is sponsored by Cuisine Solutions. Thank you for supporting brands that inspire me in the kitchen!
This post contains affiliate links, which means that I make a small commission off items you purchase at no additional cost to you. Please read my
privacy policy
for more information.