Porcini Mushroom Risotto for Two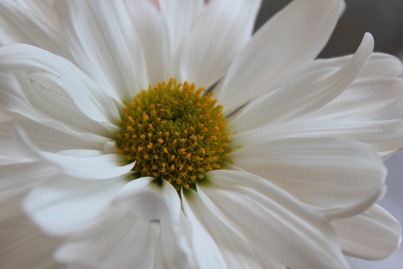 Risotto is one of the best comfort foods out there.  Most people love it and yet, you'd be hard pressed to find someone who has actually cooked it at home in his or her own kitchen (of course, these statistics might be a bit skewed in the food blog world).  Why?  Because it sounds intimidating and time-consuming.   It also sounds like something you could easily screw up.  In the end, it ends up being that once-in-a-blue-moon dish that you reserve for nice restaurants.   However!

Ironically, homemade risotto is pretty straightforward, involves relatively few ingredients, and has endless possibilities.  Don't have any shallots?  Grab a regular yellow onion.  Can't afford expensive dried wild mushrooms?  Use fresh.  No Arborio rice?  Try it with quinoa or orzo.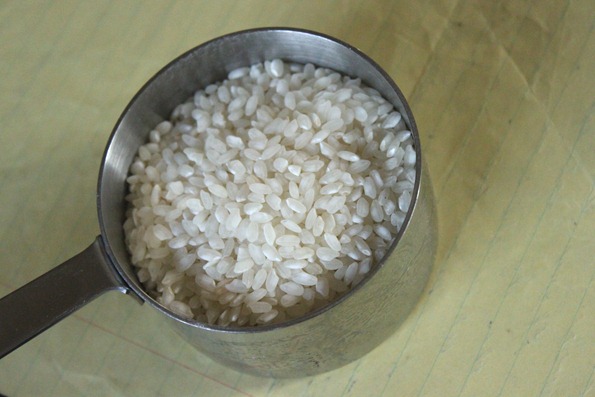 Before this weekend, I fit into the aforementioned group.  I had never made risotto in my life, besides the two or three times I've helped stir the pot for my mom.  For someone who has been making pasta since she could reach the stove and loves Italian food, I wasn't so pleased with that fact.
So this weekend, I faced my fears, grabbed the huge bag of Arborio rice in my pantry, and decided that enough was enough.  Risotto was on the menu. Yes, it involves standing over the stove for about 30 minutes, requires a bit of intuition, but the end product is well worth it.   Here you go!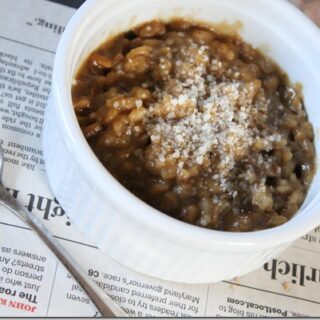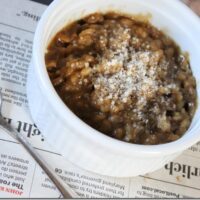 Porcini Mushroom Risotto
Yield: 2 Servings
Prep Time: 10 minutes
Cook Time: 30 minutes
Total Time: 40 minutes
Ingredients
1 cup Arborio rice
1 tablespoon unsalted butter
1 tablespoon extra virgin olive oil
1/2 cup dried porcini mushrooms
3 cups chicken stock (or vegetable)
1/2 yellow onion, finely chopped
freshly ground black pepper
kosher salt
freshly grated Parmigiano-Reggiano cheese
Instructions
Place dried mushrooms in heatproof bowl, boil water, and pour over the mushrooms. Let the mushrooms hydrate fully for 20-30 minutes. Drain mushrooms with sieve, making sure to set aside mushroom "broth" for cooking.
Chop the now hydrated mushrooms. Set aside. Place chicken broth and 1 cup of reserved mushroom broth in separate saucepan. Bring to a low simmer.
Set stainless steel pot over medium heat, add butter and olive oil, and saute onions, stirring constantly, until they become soft.
Keep the heat on medium, add Arborio rice and stir until fully coated. Stir for 1-2 minutes.
Add ladleful (about 1/2 cup) of simmering stock, stirring constantly until the Arborio rice becomes dry. Make sure the heat is the right temperature, so that broth is not evaporating too quickly, but the pot is still active.
Continue this step for about 10 minutes. Stir in mushrooms. Continue to add broth (using the method above) until risotto is al dente (soft on outside with a slight chewy interior). The risotto should be thick, not too soupy or dry.
Stir in a small handful of freshly grated cheese. Season with pepper. Serve immediately! Garnish with cheese.
Nutrition Information:
Yield: 2
Serving Size: 1
Amount Per Serving:
Calories: 396
Total Fat: 18g
Saturated Fat: 6g
Trans Fat: 0g
Unsaturated Fat: 11g
Cholesterol: 28mg
Sodium: 898mg
Carbohydrates: 45g
Fiber: 1g
Sugar: 8g
Protein: 13g
A Beautiful Plate provides nutritional information, but these figures should be considered estimates, as they are not calculated by a registered dietician.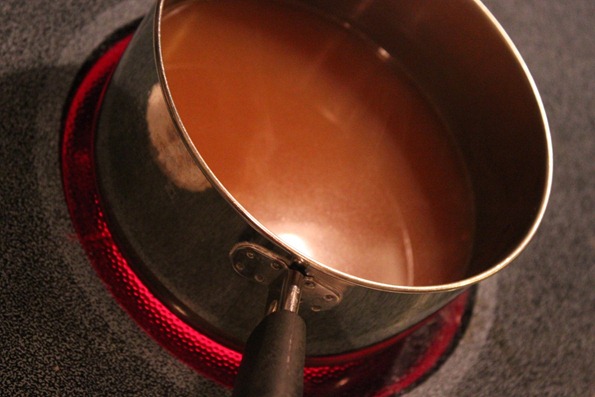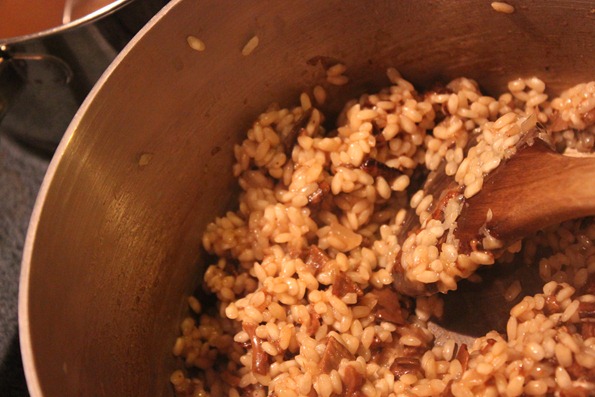 Now revel in the fact that you can now make homemade risotto whenever you want!  Heck, make it for yourself on a Saturday night (ahem, me!) and save the leftovers for a cold, snowy day.