Easy Mushroom Farro Risotto
This mushroom farro risotto, or farrotto, is hearty, bursting with mushroom flavor and fresh herbs, and uses my favorite no-stir cooking method.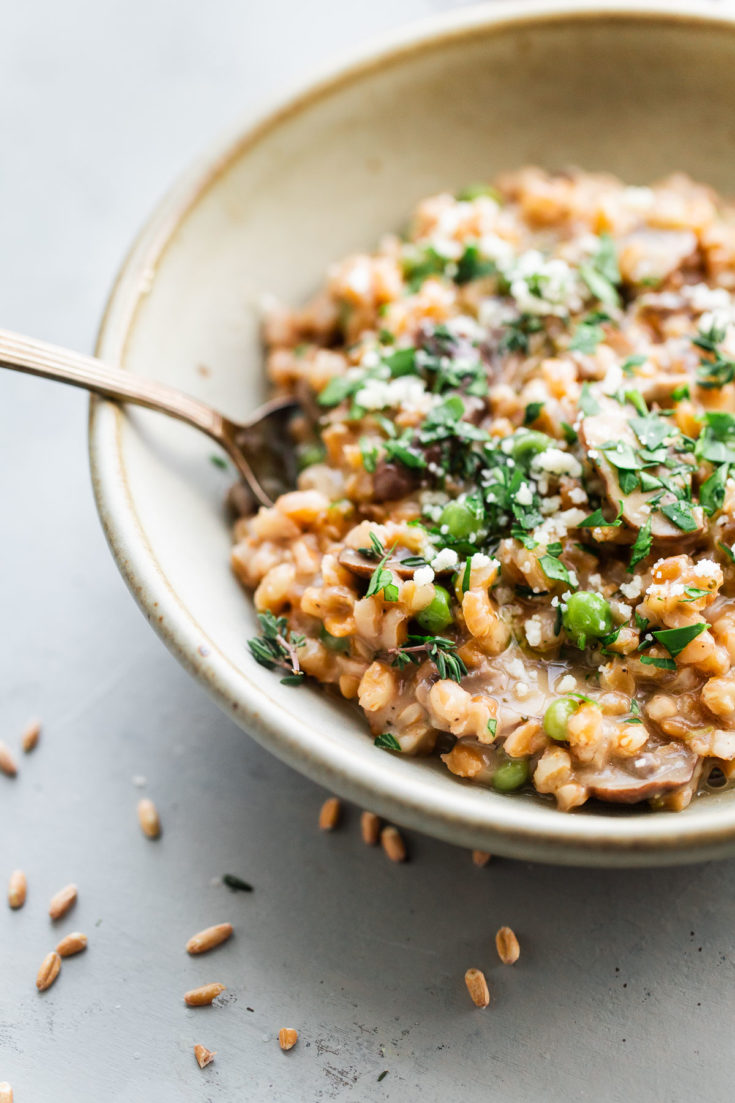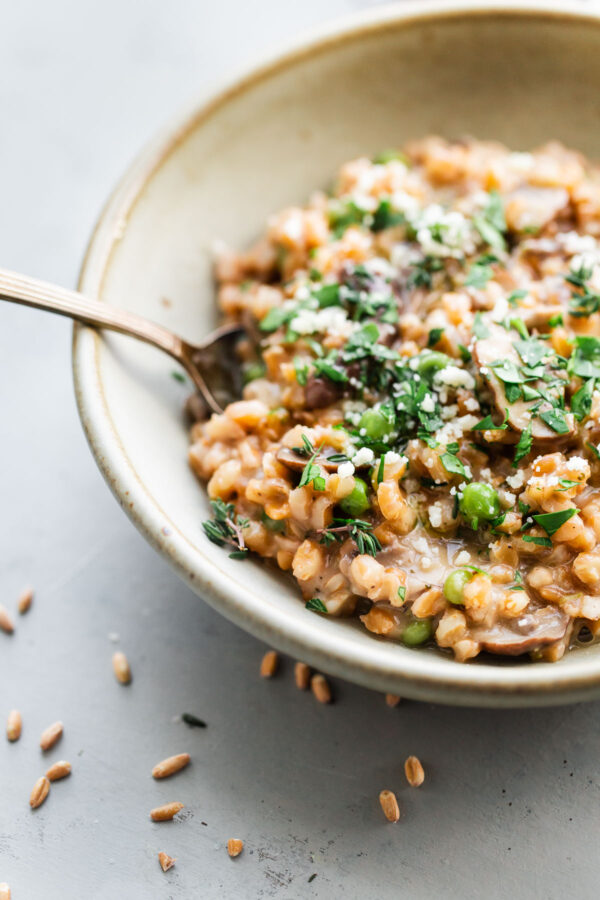 This post is sponsored by Bob's Red Mill.
Since spring is at least three months away (welcome to the midwest), I'm excited to bring you all another cozy, healthier dinner to hold us over on these dark cold days. If you live in a warm climate, bless you. And, also, can I come visit?
Nothing says cozy comfort food like a big pot of mushroom farro risotto. As an Italian, risotto is near and dear to my heart. While it's fun to indulge in a classic risotto every now and then, I might love farro risotto even more!
Farro risotto is hearty, more nutritious, much more forgiving, and offers a wonderful chewy texture that I can't seem to get enough of.
This mushroom farro risotto is creamy, bursting with mushroom and fresh herb flavor, and uses my favorite no-stir cooking method. I love mushrooms any day of the year, but I particularly appreciate them during this season. Their meaty and rich flavor tides me over. Just before serving, we'll stir in frozen thawed peas for some color!
I've teamed up with my long-time friends at Bob's Red Mill, who produce my favorite organic farro, for today's recipe. In case you're unfamiliar with this grain, I'm covering all the basics below, including what it is, what makes Bob's Red Mill farro special, and how to prepare it.
If you haven't tried your hand at farro risotto (or classic risotto!), I hope you'll give this recipe a try! It's a winner! For more guidance, be sure to check out the recipe video as well.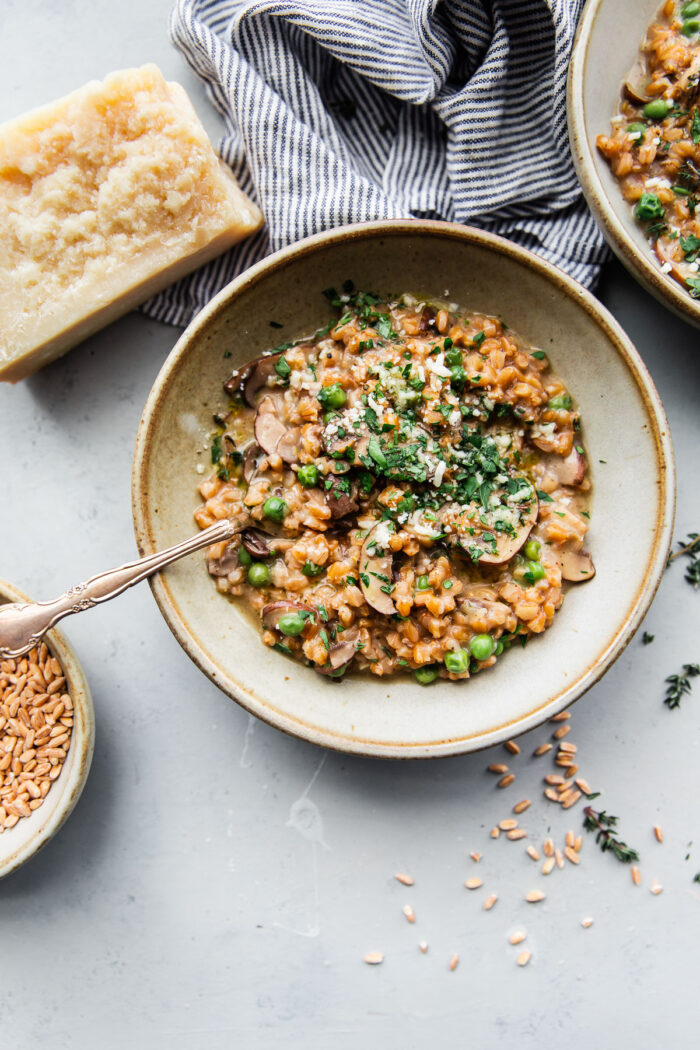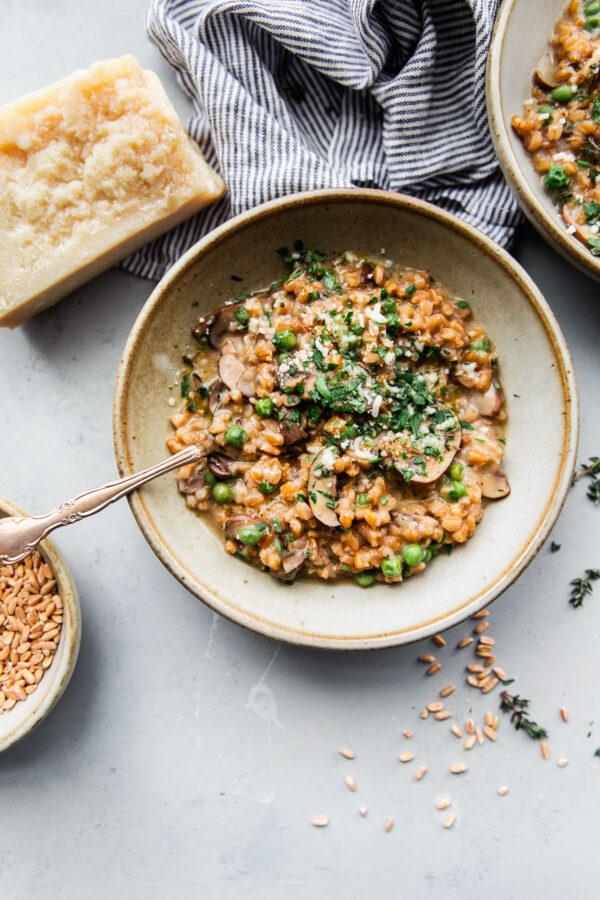 What Is Farro?
Many people think that farro is its own strain of grain, but that is not exactly true. Farro is the Italian term for "ancient hulled wheat grain". It is considered an ancient grain, which is loosely defined as a type of grain that has remained the same for thousands of years.
Farro was a staple food in ancient Rome, partially due its incredible nutritional profile, and is often featured in classic Italian cooking. It comes from one of three wheat varieties: spelt, emmer, or einkorn. Since farro is a wheat product, it is important to note that farro is not gluten free.
A 1/2 cup of cooked farro (1/4 cup dry) provides 7 grams of dietary fiber and 7 grams of protein, as well as potassium and iron.
Once cooked, farro has a great chewy texture (in many ways, it resembles wheat berries and looks similar in ways to barley) and slightly nutty flavor. It is deliciously hearty and filling, and can be used or substituted in a wide variety of dishes: salads, soups and stews, side dishes, and casseroles. I even use it for farro porridge!


What Makes Bob's Red Mill Farro Different?
The most commonly available farro, including Bob's Red Mill Organic Farro, is spelt-based. This version also goes by the name 'farro grande' or triticum spelta.
Unlike some farros on the market, Bob's Red Mill lightly scores the farro grains (as evident by the delicate cuts shown below on each grain). Since it is scored and a very small portion of bran is removed, it is technically not considered whole grain.
With that said, the light scoring preserves the majority of the grain's nutritional content. It also has the added benefit of reducing cook time and promoting starch release. Starch release helps produce a thicker, creamier texture, which makes Bob's Red Mill farro an excellent substitute for rice or choice for homemade risotto.
For that reason, it is my favorite choice and I highly recommend seeking it out if you make this recipe!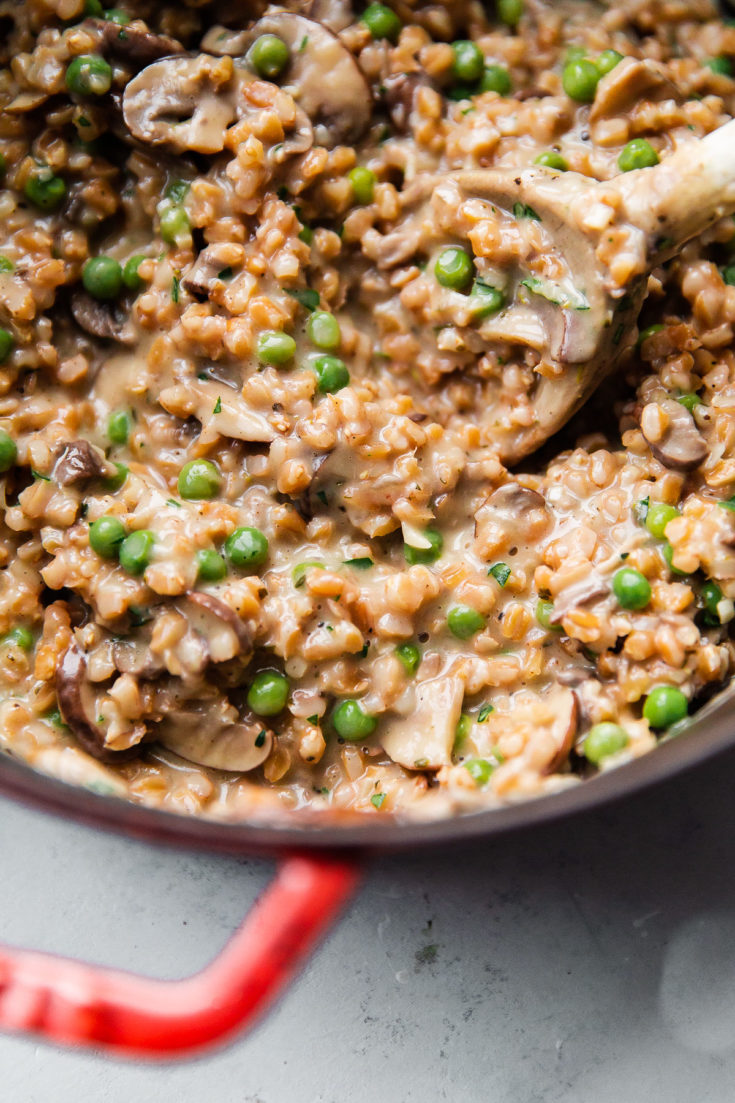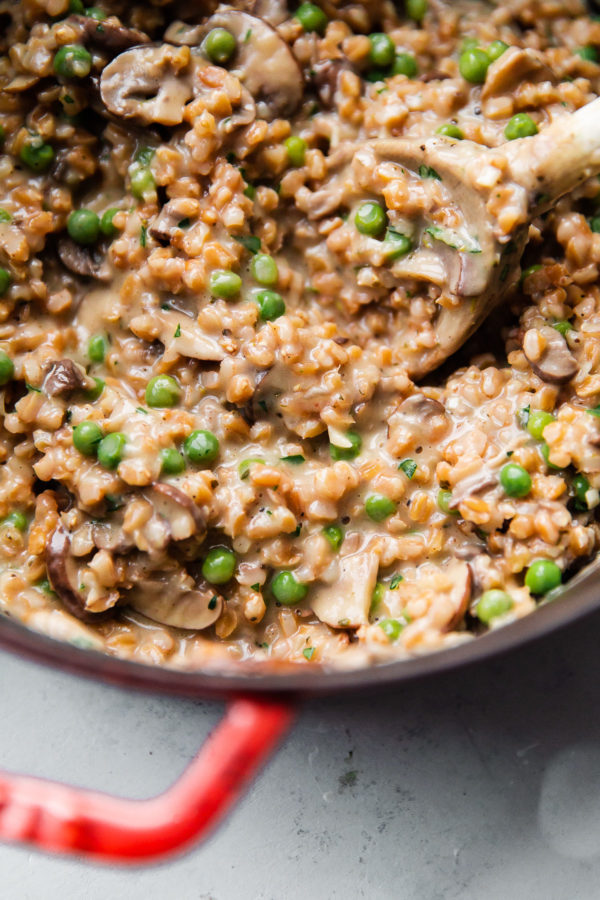 How to Make Farro Risotto
As most of you probably know, traditional Italian risotto is made with arborio or carnaroli rice. Both of these Italian white rices are known for their high starch content, which helps lend risotto its classic, creamy texture.
Classic risotto is made by sautéing aromatics, toasting the grains, deglazing with white wine, and slowly adding hot broth, stirring continuously until each quantity is absorbed, in small batches.
This process allows the starches to release and ensures that the rice doesn't cook past al dente. While it's a fairly easy technique, it is a very hands-on process sand requires a lot of attention.


Farro risotto, often called farrotto, is risotto made with farro. Farro takes longer to cook than rice, but produces a heartier, chewier twist on a classic risotto. It is a healthier and more nutritious alternative that tastes just as good.
They are definitely different, but I love farro risotto just as much as traditional risotto! It tends to fill me up and leave me much more satisfied. Leftovers hold up better and with my no-stir method below, it is also simpler to make.
Let that part sink in. Healthier risotto made simple.
What Makes This Farro Risotto Recipe Different:
Since farro doesn't benefit from the classic risotto cooking method, this recipe uses my favorite no-stir method. This method calls for adding all of the cooking liquid at once, simmering slowly, and stirring just once or twice throughout the entire cooking process.
Wile this mushroom farro risotto takes about an hour of cook time, it only requires about 15 minutes of active cooking time. This leaves you with more times to focus on other things, particular on busy weeknights. Pair it with a salad, and you've got a one-pot dinner on table!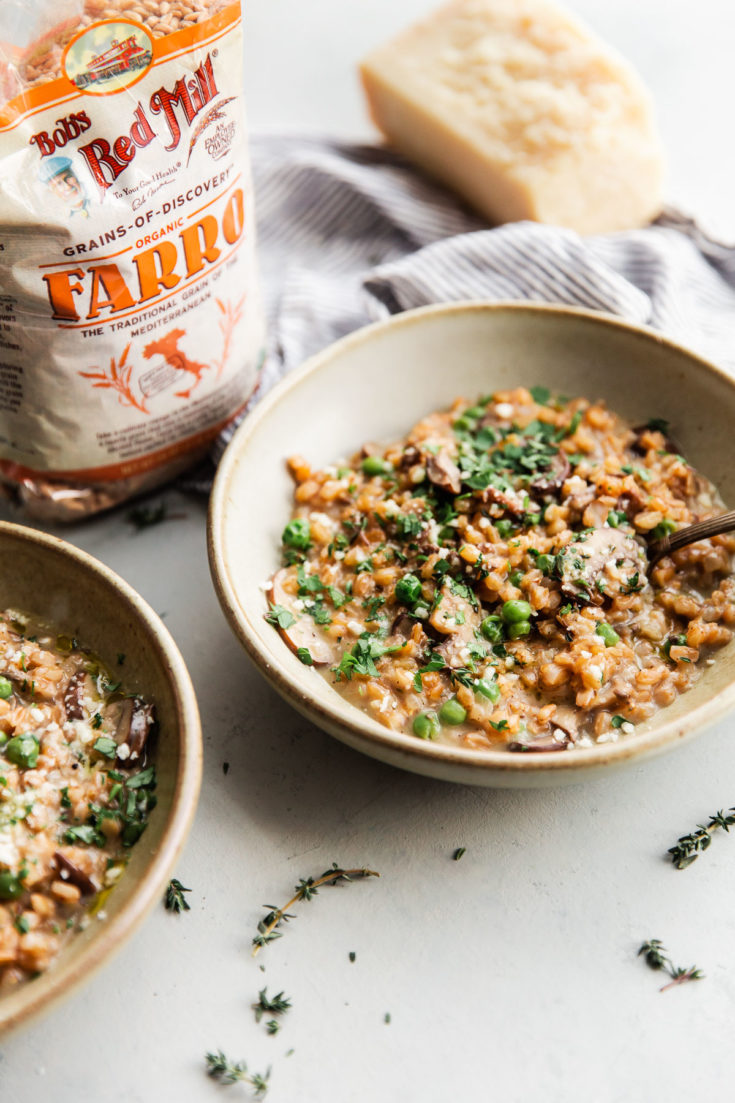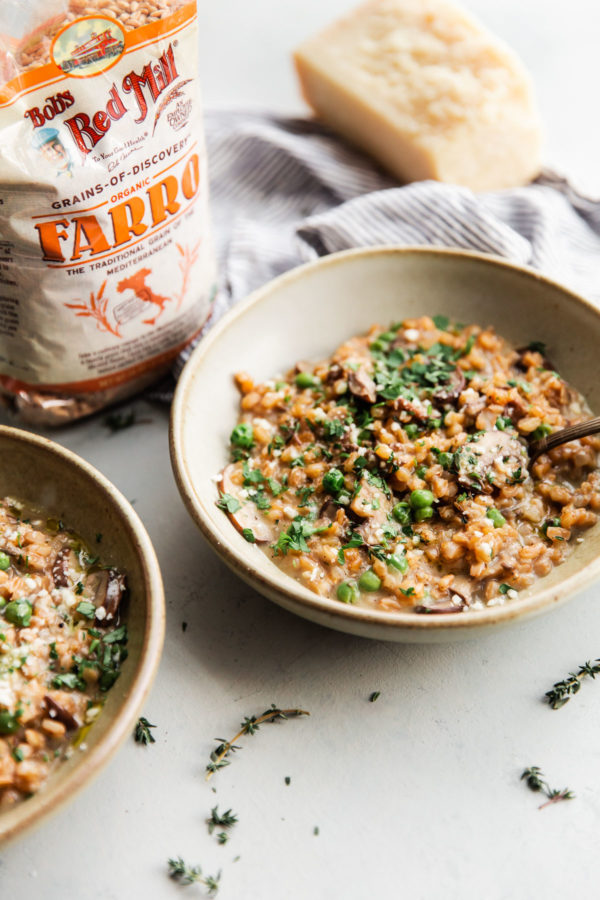 Tips for Mushroom Farro Risotto Success:
To make this recipe more accessible, I chose to exclusively use cremini mushrooms (baby bella mushrooms), which are available at generic grocery stores. For even more nuanced flavor, use any combination of wild mushrooms or added dried porcinis, which provide even more nuanced flavor.
Please don't skimp or leave out the cheese! This recipe calls for stirring in a generous 3/4 cup of grated parmigiano-reggiano cheese once the farro has cooked through. It adds amazing flavor and contributes to the overall texture.
Don't forget to allow the risotto to sit, covered, for about 5 minutes before serving. I've found this extra step helps thicken and release additional starches, and in my experience, results in an improved and more creamy 'classic risotto-like' dish.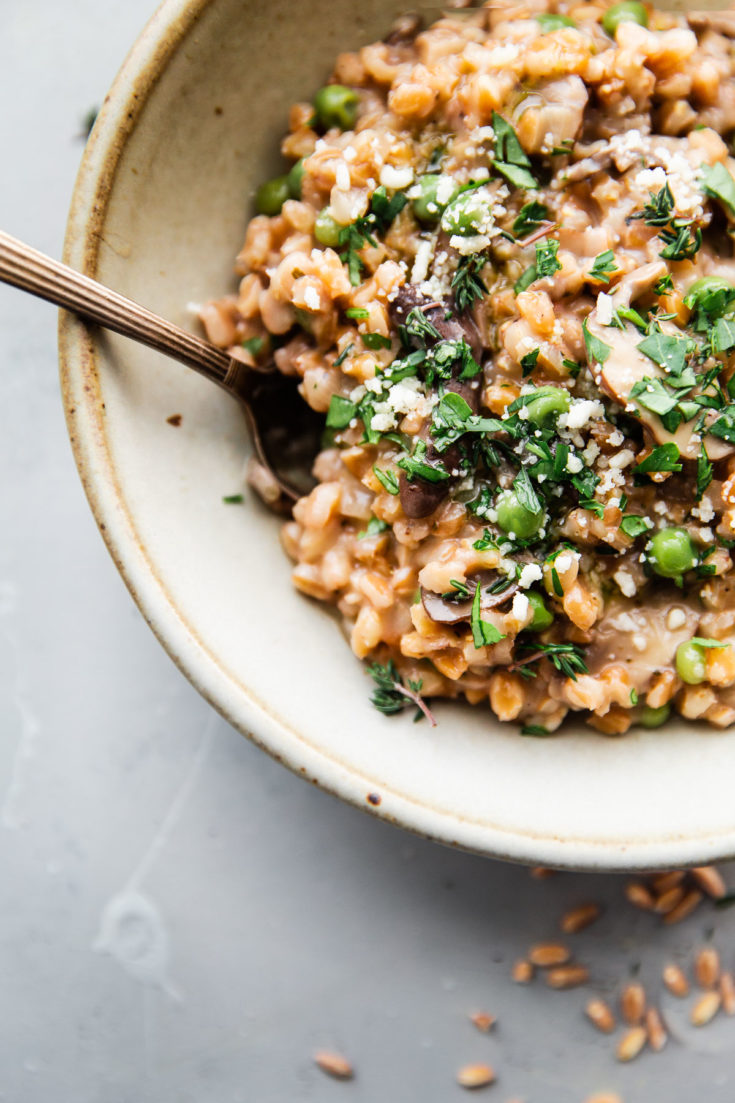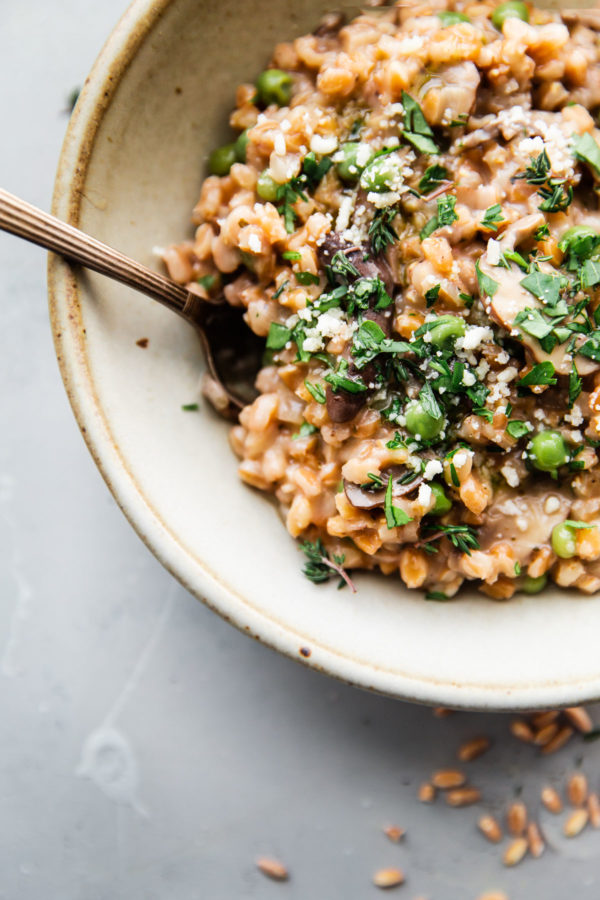 Other Favorite Farro Recipes
Here are a handful of my other favorite recipes that utilize this grain or can easily be adapted to include it: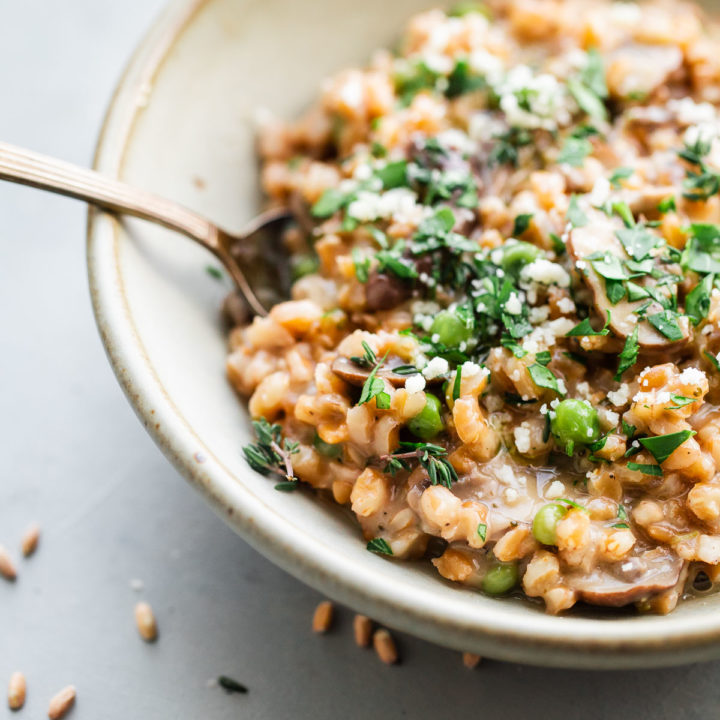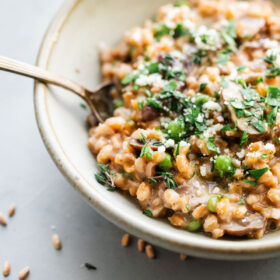 Easy Mushroom Farro Risotto
This mushroom farro risotto, or mushroom farrotto, is creamy, bursting with hearty mushroom and fresh herb flavor, and uses my favorite no-stir cooking method. Just before serving, we'll stir in thawed peas for a touch of color and natural sweetness!
Ingredients
4 cups (1 quart) low sodium chicken broth
3 tablespoons unsalted butter
½ large yellow onion finely chopped (roughly 1 cup)
kosher salt
freshly ground black pepper
12 oz cremini (Baby Bella) mushrooms cleaned, trimmed, and thinly sliced
3 large garlic cloves finely chopped
1 tablespoon finely chopped fresh thyme plus more for garnishing
1½ cups Bob's Red Mill Organic Farro
¾ cup dry white wine such as Pinot Grigio
parmigiano-reggiano cheese rind optional
¾ cup grated parmigiano-reggiano cheese plus more for serving
1 teaspoon freshly squeezed lemon juice
¾ cup frozen peas thawed
flat leaf parsley finely chopped, for garnishing
Instructions
Place the chicken broth in medium saucepan and bring to a low simmer. Keep over very low heat.

In a large Dutch oven (or heavy-bottomed pot), heat the butter over medium heat until melted and lightly bubbling. Add the onion, along with a generous sprinkle of kosher salt, and sauté over medium-low heat for 5 to 7 minutes, stirring often, until the onion is soft and translucent.

Increase the heat to high. Add the sliced mushrooms and stir to combine. After a minute or so, the mushrooms will begin to sweat and release their moisture. Continue cooking for an additional 2 to 3 minutes, stirring occasionally, until the mushrooms have softened. Add the garlic and fresh thyme and sauté, stirring continuously, for 30 seconds or until fragrant. Season to taste with salt and pepper. 

Add the farro and toast over medium-high heat for 1 to 2 minutes, stirring continuously. The farro will crackle lightly and the pan should be mostly dry.

Add the white wine and cook over medium-high heat for 2 to 3 minutes, stirring every so often, or until the wine has been completely absorbed. Add the parmigiana rind (if using) and hot broth to the pot, stir to combine, and bring to a boil. Reduce the heat to a steady simmer, cover, and cook for 45 to 50 minutes, stirring every 15 minutes or so, or until the farro is tender (it will naturally be slightly chewy in center) and the risotto is thick. Note: I like to remove the lid in the final 5 to 10 minutes of cooking, which promotes thickening and helps me more easily monitor the texture (i.e. if a fair amount of liquid is remaining, you can increase the heat slightly to reduce, etc.). 

Over low heat, add the grated parmigiano-reggiano cheese and lemon juice and stir to combine. Fold in the thawed peas. Season to taste with kosher salt and freshly ground pepper. If the risotto tastes at all flat, you most likely need to add another generous sprinkle or two of salt. 

Remove the pot from heat, cover, and allow the risotto to sit for 5 minutes before serving. This extra step helps thicken and release additional starches, and in my experience, results in an improved and more creamy 'classic risotto-like' texture. Remove and discard the parmigiano-reggiano rind, if using.

Serve the risotto in pre-warmed bowls. Garnish with fresh thyme leaves, finely chopped parsley, and freshly grated parmigiano-reggiano cheese, as desired. 
Serving: 1serving, Calories: 327kcal, Carbohydrates: 29g, Protein: 14g, Fat: 13g, Saturated Fat: 7g, Polyunsaturated Fat: 5g, Cholesterol: 32mg, Sodium: 429mg, Fiber: 5g, Sugar: 5g
This post is sponsored by Bob's Red Mill.
Thank you for supporting brands I love and use in my kitchen. Check out more delicious healthy recipes, snag coupons, and find stores near you at
BobsRedMill.com
!
This post contains affiliate links, which means that I make a small commission off items you purchase at no additional cost to you. Please read my
privacy policy
for more information.