Raspberry Pistachio Scones with Lemon Glaze
Raspberry pistachio scones with lemon glaze. Flaky and buttery cream scones filled with fresh raspberries and pistachios, and drizzled with a simple lemon glaze!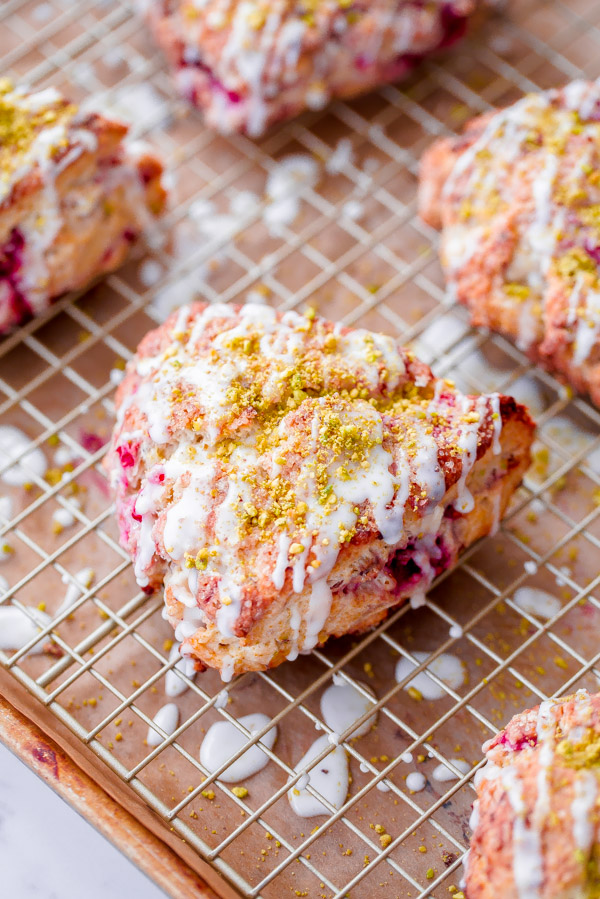 A new recipe! I know you guys have been waiting for this moment for several weeks now, and I truly want to thank you for your patience. Our kitchen is organized. We have unpacked all of our boxes (although we are still living without a bedroom dresser, so that part is not enjoyable) and our new apartment really does feel like home.
For whatever reason, I decided to make you guys scones. Cream-based, butter flecked, glaze drizzled, raspberry and pistachio studded scones.
It seemed only right.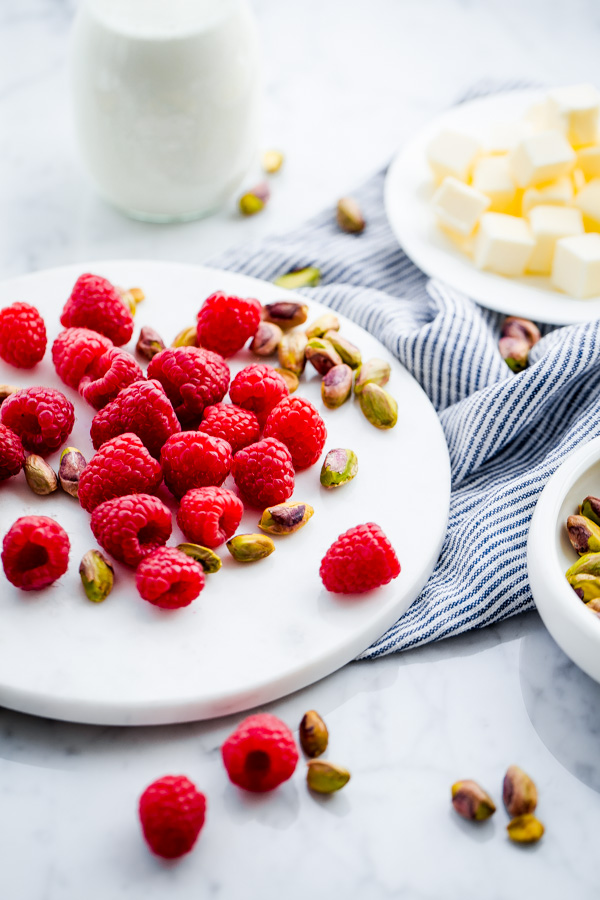 I've definitely come to have a little bit of a thing for scones this year. It started with these brown butter chocolate chip scones followed by these carrot cake ones.
Before that, I honestly didn't make scones all that often. Which is odd because, as strange as it sounds, I kind of grew up eating scones? Obviously, it wasn't my staple diet or anything (um, not recommended), but I've eaten a lot of scones in my day.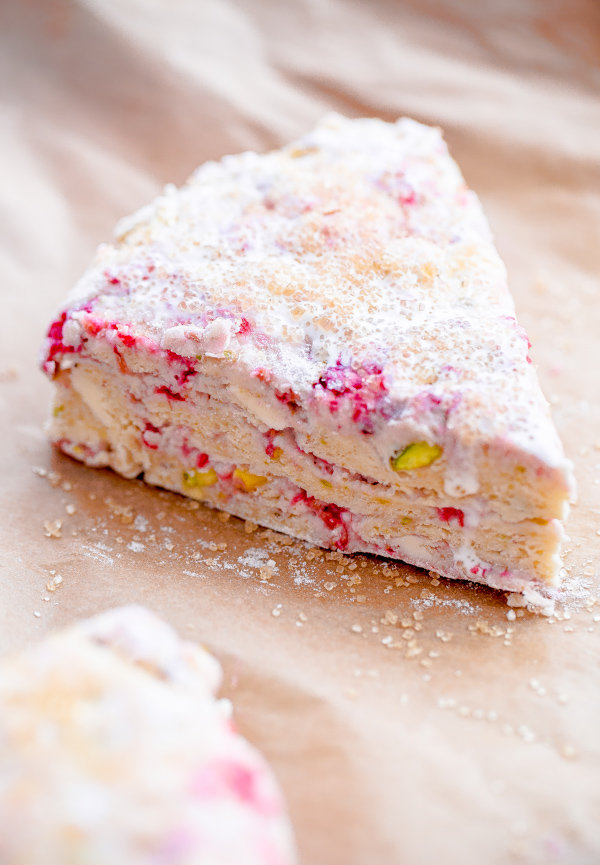 As some of you know (or may remember), my dad is British and practically every summer growing up, my family and I would travel to Cornwall, England to visit my grandmother, whom we affectionally call GrannyBird (you know, because she would 'fly' over the ocean to visit us!). Before she retired, my grandmother ran a very successful bed and breakfast for years and years, and did a lot of the cooking herself.
Like most English people, she takes tea time very, very seriously. So, as you can imagine, our summer afternoons would often consist of cakes, cookies, endless pots of tea, and, of course, scones. Lots and lots of scones. It wasn't half bad.
Cornwall is famous for their cream scones, and they must always (always!) be accompanied by traditional clotted cream (yes, it is as unhealthy as the name suggests) and jam. Oh, and you must always put the jam on first. Never the other way around. I didn't make up these rules. It's serious stuff.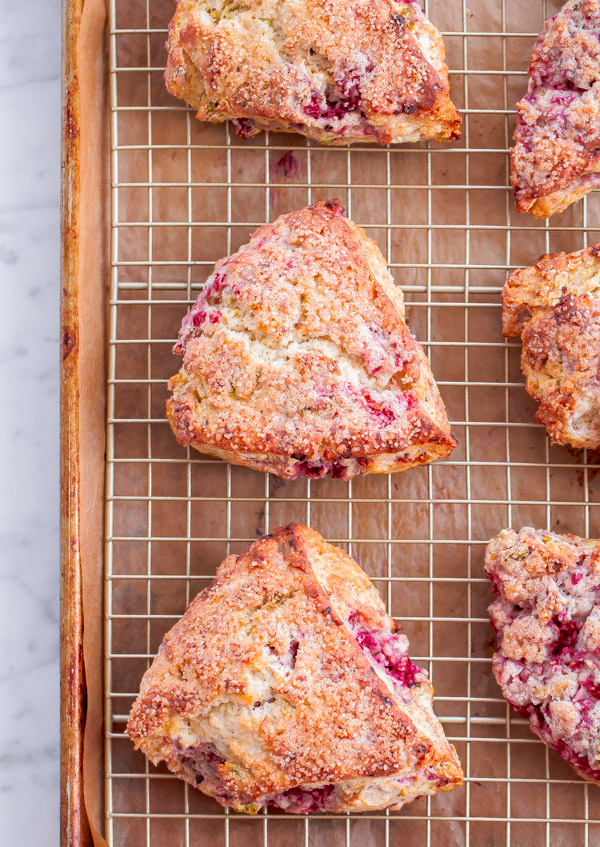 Anyway, the point of all of this is that I've learned a few things from my scone-eating, and now scone-making days:
1) Cream scones totally beat buttermilk scones.
2) Always use extra cold butter and chilled heavy cream for maximum flakiness. When in doubt, stick your cubed butter (and cream, if necessary) in the freezer for a few minutes just to be sure.
3) Never ever (ever!) overwork your scone dough. If they look a little scraggily going into the oven, don't worry. Everyone prefers an ugly, flaky scone over a dense, tough scone.
4) Don't allow scones to rest on a hot baking sheet. It creates steam and makes the bottom of your scones soggy. Grab a cooling rack and immediately transfer them to it.
5) Once you get the hang of it, scones are quite possibly one of the best baked goods to make (especially if you're in a rush) because they take almost no time at all prepare, require no resting time, and if you have a good base recipe, the possibilities are pretty endless.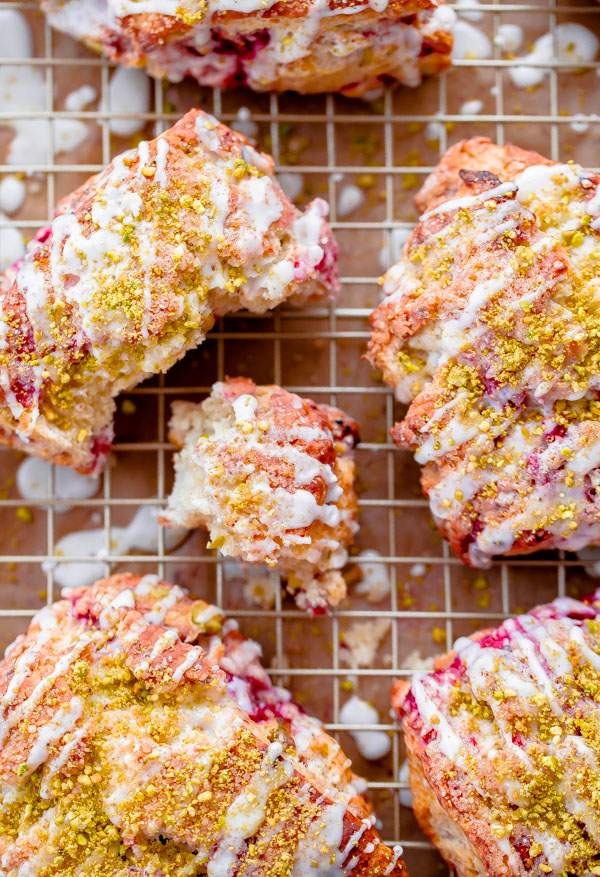 Today's scones are loaded with fresh raspberries and pistachios. As a word of warning, be prepared for some of the raspberries to get crushed as you press together the scone dough. As a result, you'll need to generously flour your hands and countertop to avoid stickiness.
Then I went ahead and topped them with a lemon powdered sugar glaze, and ground up some extra pistachios for a bit of color and spunk! They may not be traditional, but they sure are tasty.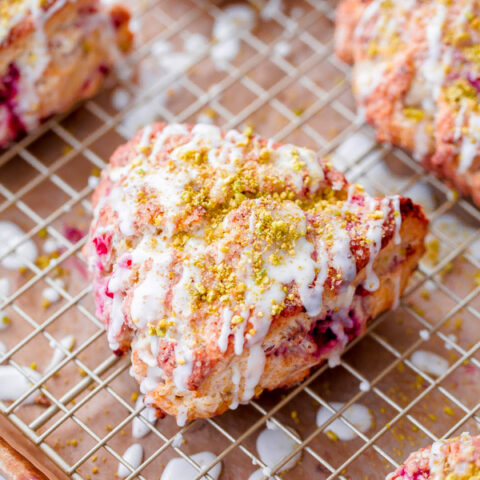 Raspberry Pistachio Scones with Lemon Glaze
Yield: 6 Scones
Raspberry pistachio scones with lemon glaze. Flaky and buttery cream scones filled with fresh raspberries and pistachios, and drizzled with a simple lemon glaze!
Prep Time: 20 minutes
Cook Time: 20 minutes
Total Time: 40 minutes
Ingredients
2 cups (240 grams) unbleached all-purpose flour, plus more for dredging
2 tablespoons (26 grams) granulated sugar
1 tablespoon (14 grams) baking powder
1/2 teaspoon kosher salt
1/3 cup (35 grams) whole pistachios
8 tablespoons or 1 stick (115 grams) unsalted butter, chilled and cut into 1/2-inch cubes
1 cup chilled heavy cream + 2 tablespoons (for brushing)
4 ounces fresh or frozen raspberries
1 tablespoon demerara or turbinado sugar
Lemon Glaze:
3/4 cup (90 grams) powdered sugar
1 tablespoon freshly squeezed lemon juice
1 teaspoon heavy cream or milk
2 tablespoons (20 grams) whole pistachios, ground finely
Instructions
Preheat the oven to 425 degrees Fahrenheit. Line a large baking sheet with parchment paper, and set aside.
Prepare Scones: In a large food processor (fitted with a blade attachment), combine the flour, sugar, baking powder, and salt. Pulse several times until all of the ingredients are evenly incorporated. Add the whole pistachios and cold, unsalted butter and pulse 10 times, or until the butter is no smaller than the size of a pea. Transfer mixture to a large mixing bowl.
Create a well in the center of the ingredients, and pour in the heavy cream. Using a fork, stir 1 cup of cream into the dry ingredients. As the dough starts to come together, gently add the raspberries. Scrape the scone dough onto a clean, well-floured counter-top. Press the dough together gently for 5 to 10 seconds (avoid over-working)–don't worry if some of the raspberries get crushed, sprinkle with more flour if the dough gets too sticky or difficult to handle–and pat the dough into an 8-inch diameter disc, roughly 1-inch thick.
Using a sharp, large knife, cut the dough into six wedges. Transfer the scone wedges onto the parchment paper (or silicone) lined baking sheet, allowing several inches between them. Chill in the freezer for 10 to 15 minutes. Using a pastry brush, brush the tops of the scones with the remaining heavy cream. Sprinkle the scones generously with demerara or turbinado sugar and bake at 425 degrees Fahrenheit for 18 to 20 minutes, or until they are golden brown. Immediately transfer the scones to a cooling rack to cool completely before glazing.
Prepare Glaze and Topping: In a small food processor, process 2 tablespoons of whole pistachios until they are finely ground. Set aside. In a small bowl, whisk together the powdered sugar, lemon juice, and milk. It should be thick, but able to be drizzled from the end of a spoon. If the glaze is too thick, add more lemon juice or milk/cream to thin it out. If the glaze is too thin, add a tablespoon of powdered sugar at a time until the correct consistency has been reached.
Once the scones have cooled, use a spoon and drizzle the tops of the scones with the glaze. Immediately sprinkle with ground pistachios and allow to the glaze to set before serving.
Notes
Tips for Success:
Scones are best served the day of baking. If you plan on preparing the scones a day or two in advance, do not glaze the scones. For the best results: reheat the (unglazed) baked scones in a 350 degree oven for 10 to 15 minutes, allow to cool, and glaze just before serving.
Nutrition Information:
Yield: 6
Serving Size: 1
Amount Per Serving:
Calories: 355
Total Fat: 18g
Saturated Fat: 11g
Trans Fat: 1g
Unsaturated Fat: 5g
Cholesterol: 54mg
Sodium: 227mg
Carbohydrates: 42g
Fiber: 2g
Sugar: 6g
Protein: 7g