Roasted Acorn Squash and Sweet Potato Soup
Acorn squash and sweet potato are roasted and blended together with sauteed onion, garam masala, ginger, and coconut milk to create a healthy and delicious fall soup.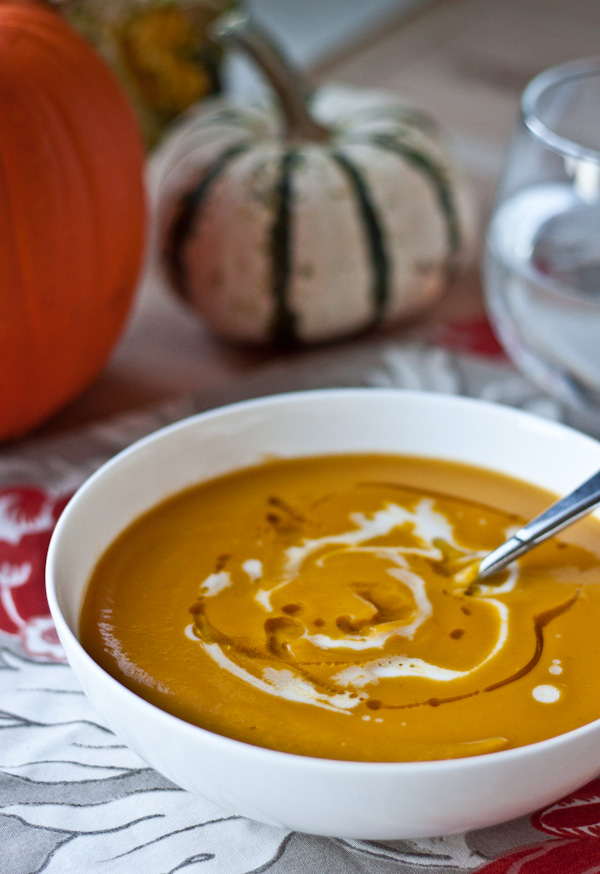 I've officially decided that fall is my favorite food season. Summer comes in at a close second, but fall wins, hands down. There aren't many dishes you can't get away with making at this time of year–the options and possibilities are endless.
One of the main reasons why fall gets me so excited is due to the fact that I can finally, finally make hot soups! Lots and lots of soups. A hearty bowl of soup, along with a couple slices of great bread, is my go-to dinner at this time of year.
Plus, and this goes without saying, soups make the best leftovers, period. In fact, they usually taste better the second day…and there aren't a whole lot of dishes out there that you can say that about.
Have I also mentioned that soup is quite possibly one of my most favorite things to make in the kitchen? Besides baked goods, of course. [Don't worry, there is another one in the works as we speak.]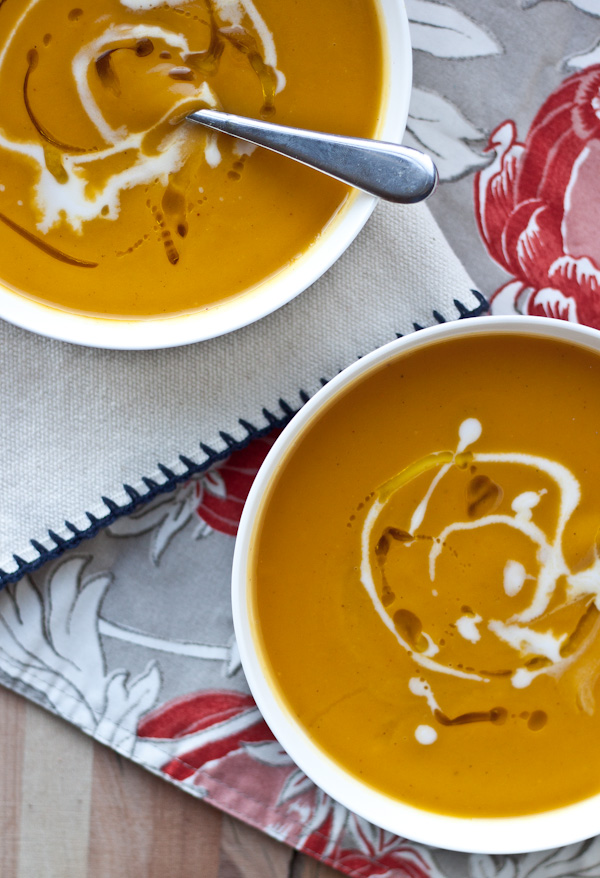 For some reason, I have an easier time experimenting and playing around with soup recipes than almost any other type of dish.
Soup, particularly pureed soups, are a blank canvas. You can flavor and play around with them in so many different ways–use different vegetables, roast the ingredients, add various seasonings, vary the texture, add creamy elements, add fun garnishes, etc, etc. I could go on and on…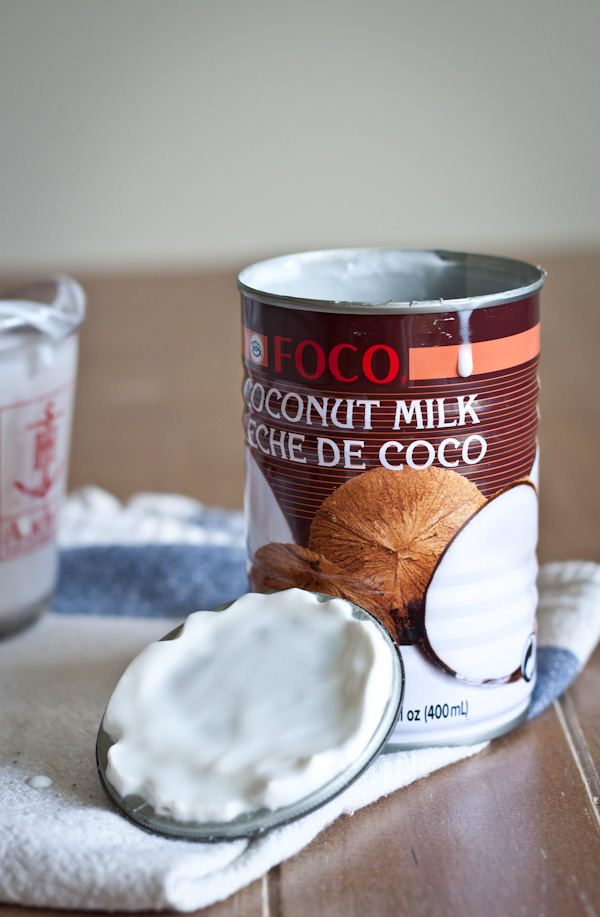 In an effort to not completely drown you in pumpkin recipes (I've only had it once, but Pinterest is sort of making me feel like I've been eating it for months–so I figured we might be on the same boat), I decided to make this soup with another, less publicly enamored fall squash.
To be specific, roasted acorn squash! Plus a little bit of sweet potato as well to add a touch more sweetness.
When I first came up with the vague idea for this roasted acorn squash and sweet potato soup, I was initially interested in doing something with curry powder, but after taking a long hard look into my (disorganized) spice cabinet, I noticed a ton of garam masala….and it got me thinking.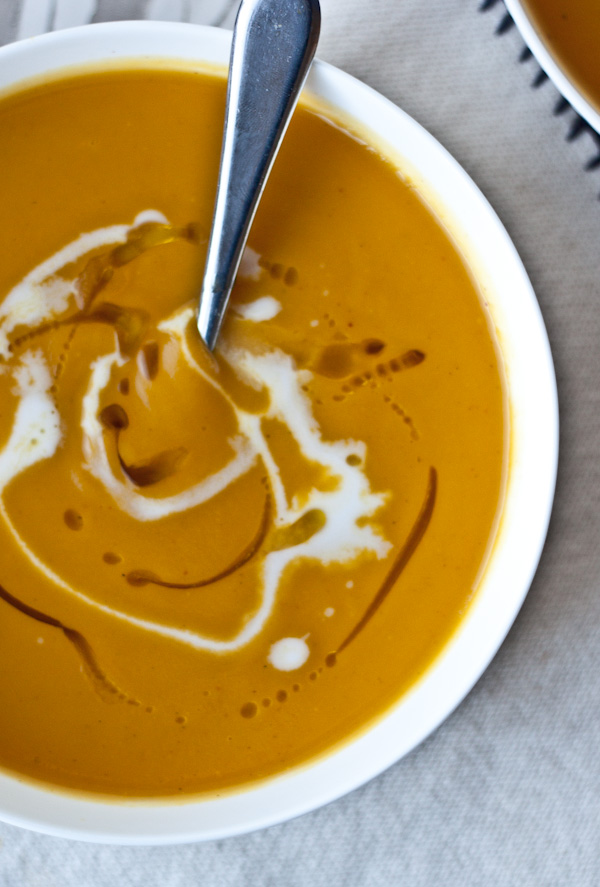 Garam masala, a fairly well known North Indian spice mix, is typically made black and white peppercorns, cloves, cinnamon, cumin seeds, and cardamom pods. In other words, it includes some of the best autumnal warming spices ever.
Warming spices that are happen to pair wonderfully with roasted acorn squash, sweet potato, and sauteed onion. The addition of ginger, which adds just the slightest zing to every spoonful, and creamy (light) coconut milk take it to the next level. Enjoy!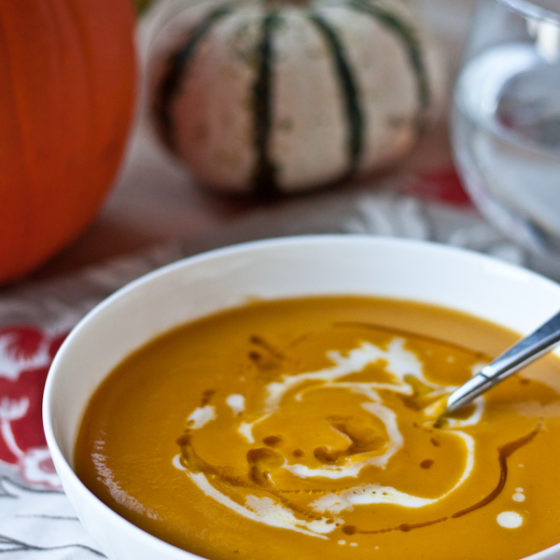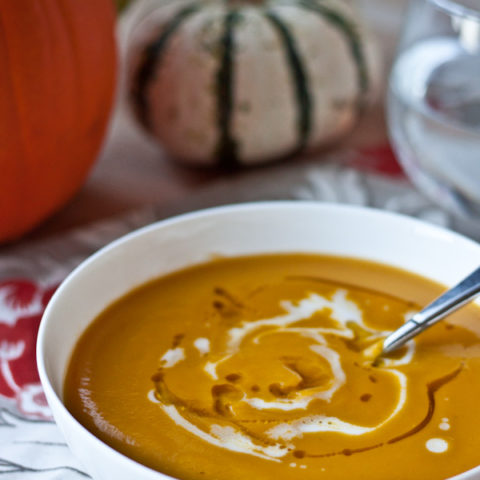 Roasted Acorn Squash and Sweet Potato Soup
Yield: 4-6 Large Servings
Acorn squash and sweet potato are roasted and blended together with sauteed onion, garam masala, ginger, and coconut milk to create a healthy and delicious fall soup. This easy fall soup recipe is naturally vegan and gluten free, making it perfect for entertaining people with various dietary restrictions!
Prep Time: 20 minutes
Cook Time: 1 hour 15 minutes
Total Time: 1 hour 35 minutes
Ingredients
2 -3 lb acorn squash, sliced lengthwise in half and seeds removed
3 small sweet potatoes (roughly 1 lb)
2-3 tablespoons extra virgin olive oil, divided
1 medium onion, finely chopped
1 teaspoon garam masala
¾ teaspoon ground ginger
3 ½ cups vegetable broth (or chicken broth)
2/3 cup full fat (or light) coconut milk
kosher salt
freshly ground black pepper
Instructions
Preheat oven to 400 degrees (Fahrenheit). Slice the acorn squash in half (lengthwise) and remove the seeds and guts–place cut side up on a large baking sheet, drizzle with 1-2 tablespoons of olive oil and season with salt and pepper. Slice the sweet potatoes in half lengthwise, drizzle and rub the cut side with olive oil and season with salt and pepper. Place cut side down on the baking sheet along with the acorn squash.
Roast for 45 minutes to an hour, or until both the potato and acorn squash are fork tender and very soft. Remove from oven and when cool enough to handle, remove the squash and sweet potato flesh from their skin and set aside in a large bowl. Discard the skin.
Meanwhile, heat the remaining tablespoon of olive oil in medium-sized soup pot. Add the onion and saute over low heat until soft and completely translucent.
Add the ground ginger and garam masala and cook for an additional minute or two, stirring constantly, until fragrant. Add the vegetable broth, roasted squash, and sweet potato.Bring to low simmer, cover, and cook for an additional for 10-15 minutes.
Puree in a blender (in batches, if necessary) and return to heat. Add the coconut milk and stir until well combined. Season with salt and pepper to taste (at this point, you can also add an additional pinch of ginger or garam masala, if you so desire).
Serve hot and drizzle with a spoonful of coconut milk and touch of extra virgin olive oil.
Notes
Tips for Success:
Acorn squash and any type of potato desperately needs salt–so don't skimp on the seasoning!
Recommended Products
As an Amazon Associate and member of other affiliate programs, I earn from qualifying purchases.
Nutrition Information:
Yield: 6
Serving Size: 1
Amount Per Serving:
Calories: 494
Total Fat: 18g
Saturated Fat: 9g
Trans Fat: 0g
Unsaturated Fat: 8g
Cholesterol: 13mg
Sodium: 540mg
Carbohydrates: 84g
Fiber: 22g
Sugar: 6g
Protein: 11g