Roasted Acorn Squash and Sweet Potato Soup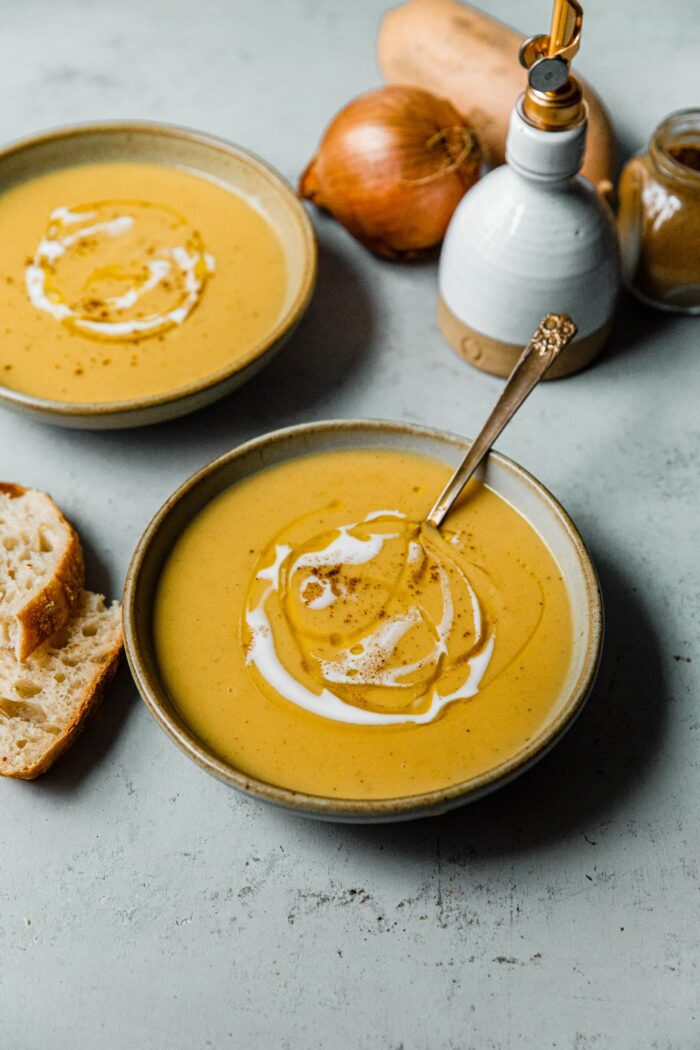 There are few things cozier than a bowl of homemade soup on a chilly day. Today's Roasted Acorn Squash and Sweet Potato Soup is creamy, sweet, and bursting with flavor.
Roasted acorn squash and sweet potato are blended together with sautéed onions, garam masala, and coconut milk to create the most warming, nutritious soup.
Garam Masala is one of my favorite spice blends for soups as it is warm and fragrant, yet more delicate than curry powders. It doesn't overpower other flavors and pairs extremely well with vegetables.
The addition of ginger adds a slight zing to every spoonful. This easy soup recipe is both vibrant and healthy, and is sure to brighten the darkest winter day!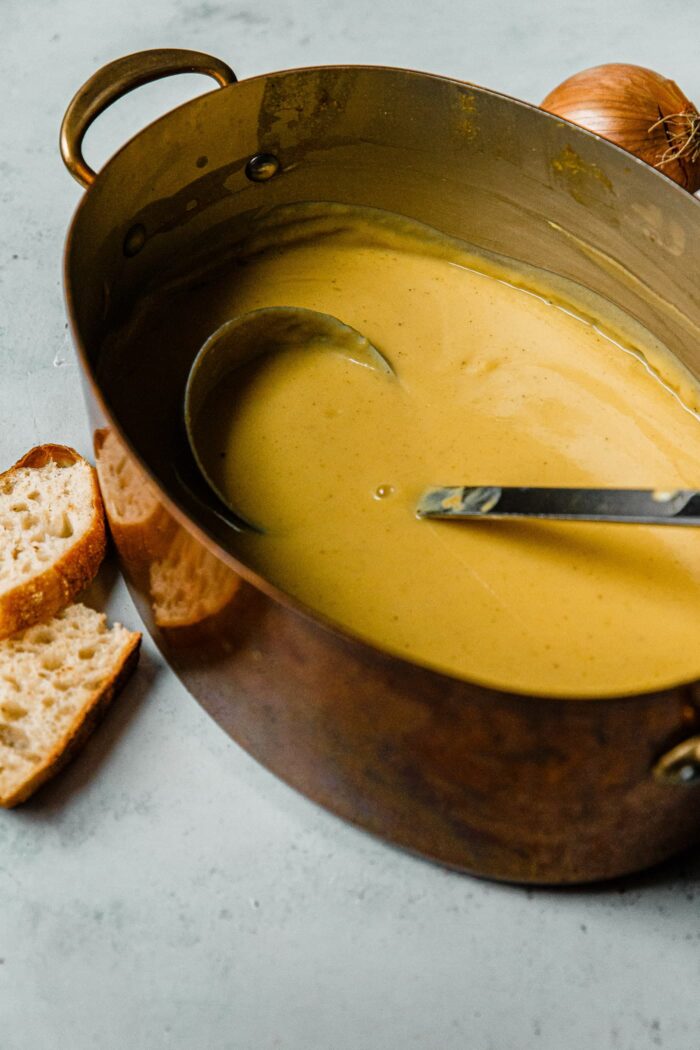 Why You'll Love This Soup:
Comforting – roasted acorn squash and sweet potatoes make for a deliciously cozy, velvety soup ideal for the winter season. We love to pair it with crusty slices of sourdough bread or a big leafy salad.
Flavorful – made with savory squash and root vegetables and layered with spices, including garam masala this soup comes together fairly quickly and is brimming with flavor.
Dietary Friendly – this soup is naturally vegan and gluten free, making it great for those with dietary restrictions.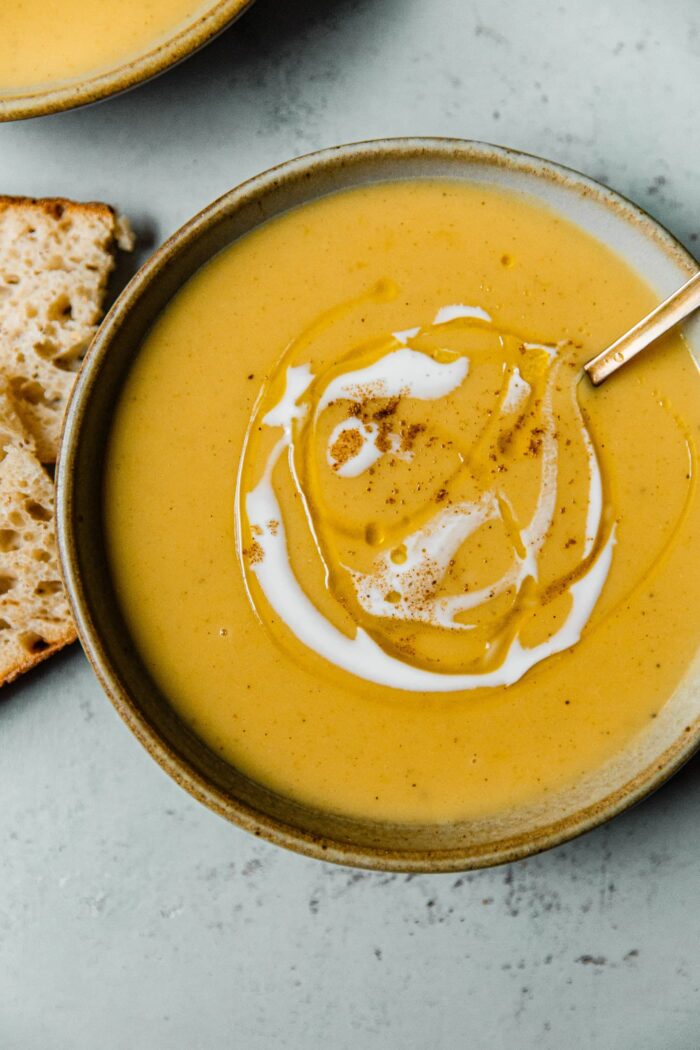 Ingredients You'll Need:
ACORN SQUASH: mild, buttery, and even nutty flavor, it's not overly sweet, making for a great pairing with sweet potato.
SWEET POTATO: starchy and sweet, look for potatoes with tough skin and firm flesh, without wrinkles, cuts, or bruises.
SAUTÉED ONION: for aromatics.
GARAM MASALA: a North Indian spice mix typically made with black and white peppercorns, cloves, cinnamon, cumin seeds, and cardamom pods. Warmly spiced, mild, and extremely versatile. Look for it in the spice aisle or try this recipe for homemade garam masala.
GROUND GINGER: slightly peppery, ground ginger adds a pungent, warming bite.
BROTH: low-sodium vegetable broth is my preferred choice for homemade soups and stews these days. Feel free to substitute it with a delicate chicken broth if you prefer.
COCONUT MILK: rich and fragrant, canned unsweetened coconut milk is a fantastic way to add that unmistakable creamy texture and flavor without needing dairy-based cream. If you don't enjoy coconut, substitute with 1/4 cup heavy cream or more to taste.
LIME JUICE: a touch of freshly squeeze lime juice just before serving helps balance the natural sweetness of the squash and sweet potato.
SALT + PEPPER: – season and taste as you cook.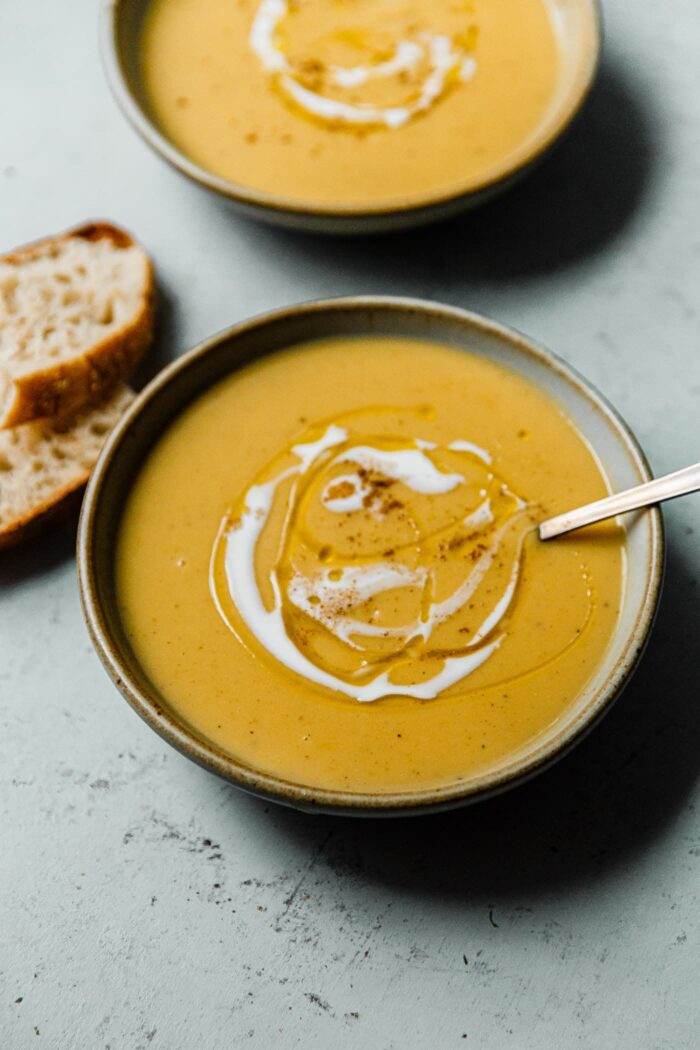 How to Serve This Soup:
While this soup is excellent on its own, I love to serve it with slices of crusty sourdough and a bright and acidic leafy salad (this everyday lemon vinaigrette is a great choice).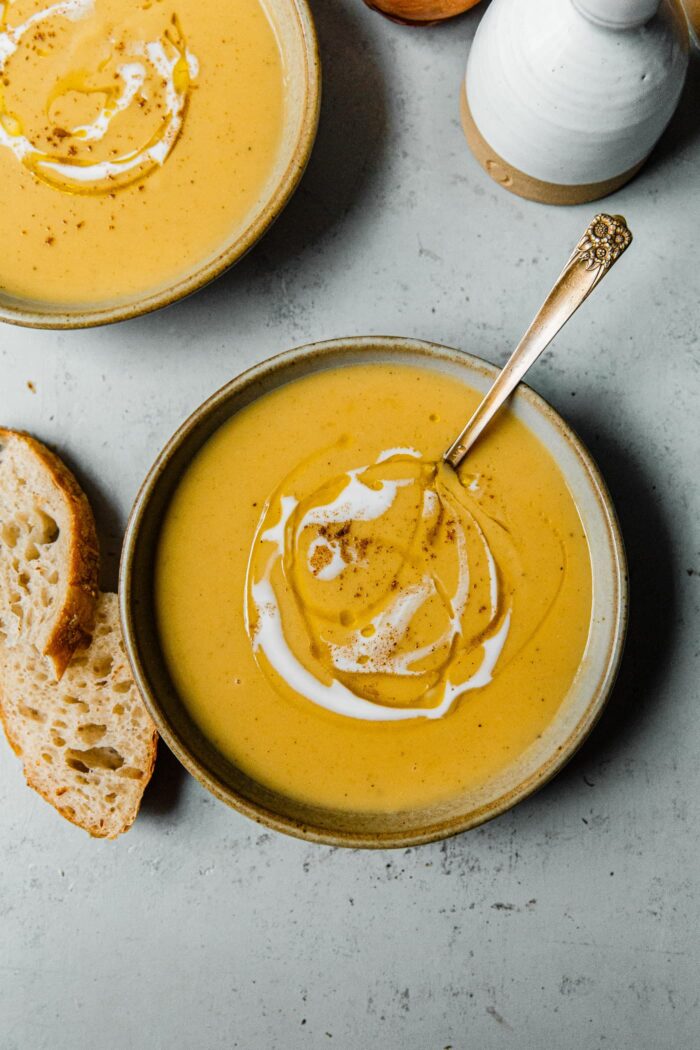 More Cozy Soups You'll Love:
Looking for more delicious soup recipes? If you like this Roasted Acorn Squash and Sweet Potato Soup, try these next: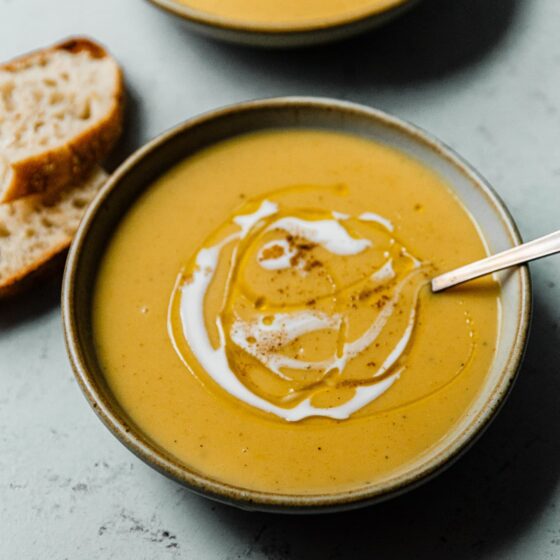 Roasted Acorn Squash and Sweet Potato Soup
Acorn squash and sweet potato are roasted and blended together with sauteed onion, garam masala, ginger, and coconut milk to create a healthy and delicious fall soup. This easy flavorful soup is naturally vegan and gluten free, making it perfect for entertaining those with dietary restrictions.
Ingredients
2½-3 lb whole acorn squash sliced lengthwise in half and seeds scooped and discarded
2 medium sweet potatoes roughly 1 lb
2-3 tablespoons extra virgin olive oil divided
1 medium yellow onion small dice
1½ teaspoons garam masala
¾ teaspoon ground ginger
3½-4 cups (840-960 mL) low-sodium vegetable broth as needed
⅔ cup (160 mL) full-fat coconut milk plus more for garnishing
½ lime for juicing
freshly ground black pepper
Instructions
Preheat oven to 400°F (204°C). Carefully slice the acorn squash in half lengthwise. Scoop out and discard the seeds and guts. Slice the sweet potatoes in half lengthwise. Set the vegetables on a half sheet pan. Drizzle the cut-sides of the sweet potato and squash with 1 to 2 tablespoons olive oil and season with salt. Turn the squash and sweet potatoes cut-side down on the pan.

Roast for 45 to 60 minutes, or until both the potato and acorn squash flesh is very soft and meets no resistance when pierced with a knife (note: if the sweet potatoes finish, remove and set aside while you finish roasting the squash). Remove from the oven and when the pieces are cool enough to handle, scoop out the squash and sweet potato flesh – discarding the skins. Set aside.

Heat the remaining 1 tablespoon of olive oil in medium-sized soup pot. Add the diced onion and a generous pinch of kosher salt, and sauté over low heat until soft and completely translucent, roughly 5 to 7 minutes. Add the garam masala and ground ginger. Stir and cook for an additional minute or two, or until fragrant. Add the 3½ cups broth and roasted squash and sweet potato. Bring to boil, then reduce to low and simmer for 10 to 15 minutes, stirring occasionally.

Puree the soup in a high-powered, large capacity blender, such as a Vitamix, until very smooth. You may need to do this step in batches. Return the blended soup to the pot and bring to a very low simmer. Add the coconut milk and juice of ½ lime and stir until incorporated. If too thick, add an additional ½ cup broth or splash of water. Season to taste with salt and pepper, and another pinch of garam masala or ground ginger if desired.

Serve and drizzle with leftover coconut milk and extra virgin olive oil.
Serving: 1serving, Calories: 494kcal, Carbohydrates: 84g, Protein: 11g, Fat: 18g, Saturated Fat: 9g, Polyunsaturated Fat: 8g, Cholesterol: 13mg, Sodium: 540mg, Fiber: 22g, Sugar: 6g
This recipe was originally published in 2013, but has been updated with new instructions and images.
This post contains affiliate links, which means that I make a small commission off items you purchase at no additional cost to you. Please read my
privacy policy
for more information.