Roasted Beet Salad with Fennel, Orange, and Whipped Ricotta
This post contains affiliate links.
A simple side or main course salad of roasted beets, thinly sliced fennel, orange, and drizzled with balsamic glaze and served alongside creamy whipped ricotta.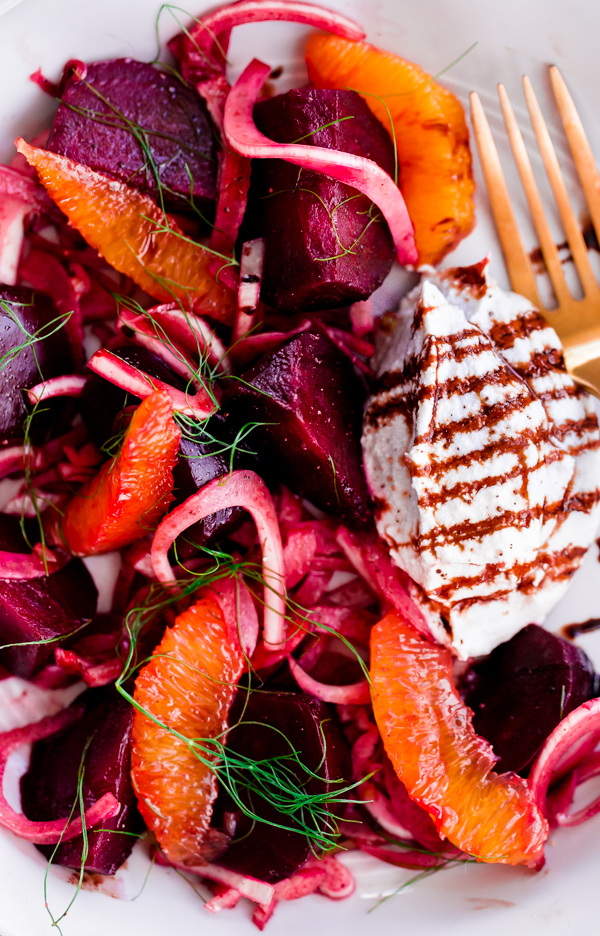 Roasted beets! How do you feel about them? I'm into them, but they might be one of the most polarizing vegetables on the face of this earth. People seem to either love them–even people that hate most other vegetables, which I find fascinating!–or hate them.
Like, really hate them.
Clearly, I'm a fan. Despite my love for beets, I don't cook them all that often (my only other 'beet' recipe on the blog is this one). There's a reason for this. I used to cook them all the freaking time when I used to work in a restaurant. For a six month period, I roasted 25 lbs of beets at least 2 to 3 times a week. So many beets that I didn't really care to look at–let alone cook– a single beet for practically two years following that job. No, just no.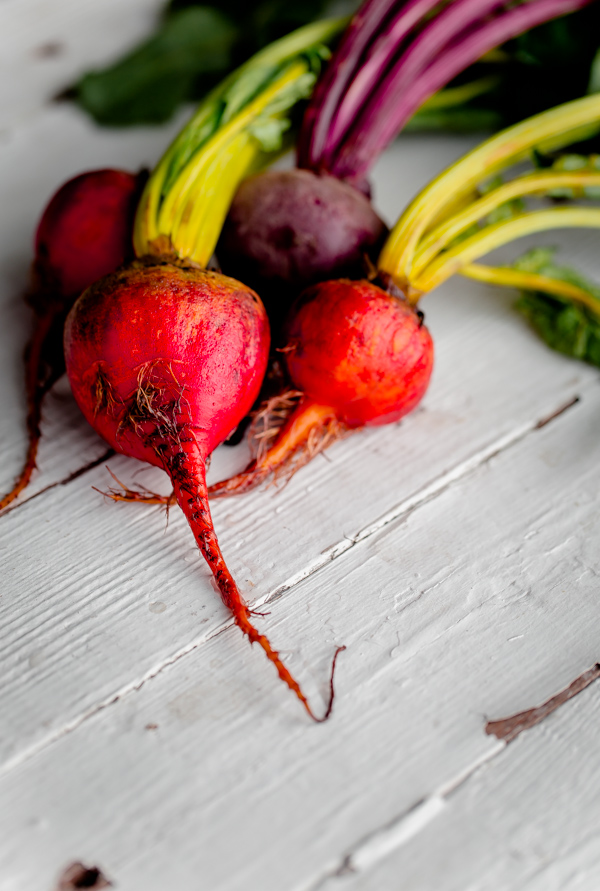 Thankfully, my love of beets (and interest in cooking beets) prevailed.
Now whenever I take the time to buy and roast beets at home, I'm reminded of the fact that I should cook them more often. They don't require much effort, the cooking time is entirely inactive, and they can prepared and used for easy meals or salads throughout the week.
This roasted beet salad was inspired by a brunch at River Roast in downtown Chicago. The restaurant is actually known, not surprisingly, for their roasted dishes–specifically whole chickens, roast beef, fish, pork racks, and the list goes on–and it is perfectly situated on the Chicago river. What can I say? The beet salad stuck with me.
[They also serve a mean mimosa, if that's your thing!]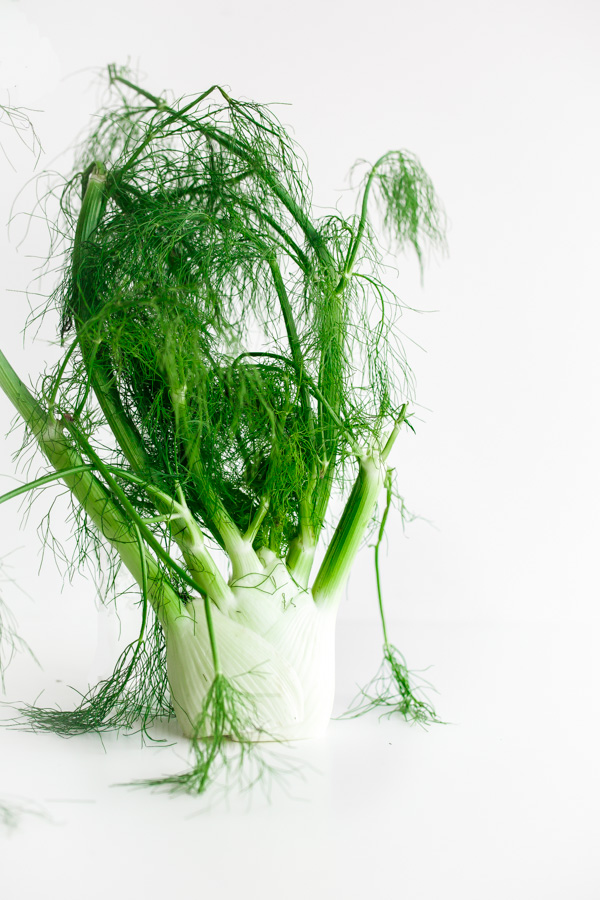 One of my favorite things about their roasted beet salad is that it is served alongside fresh ricotta cheese! Their version uses Bellwether Farms ricotta from California–which is excellent and highly recommended, if you can find it (tip for fellow Chicagoans: they sell Bellwether Farms ricotta at Eataly!)–but store-bought ricotta will work too.
The ricotta was a welcome (not to mention, tasty!) change from the standard 'beet and goat cheese' salad that you see on practically every restaurant menu that you stumble across these days.
Unlike goat cheese, ricotta is lighter and more delicate in flavor, which really allows the roasted beets, fennel, and fresh orange to shine.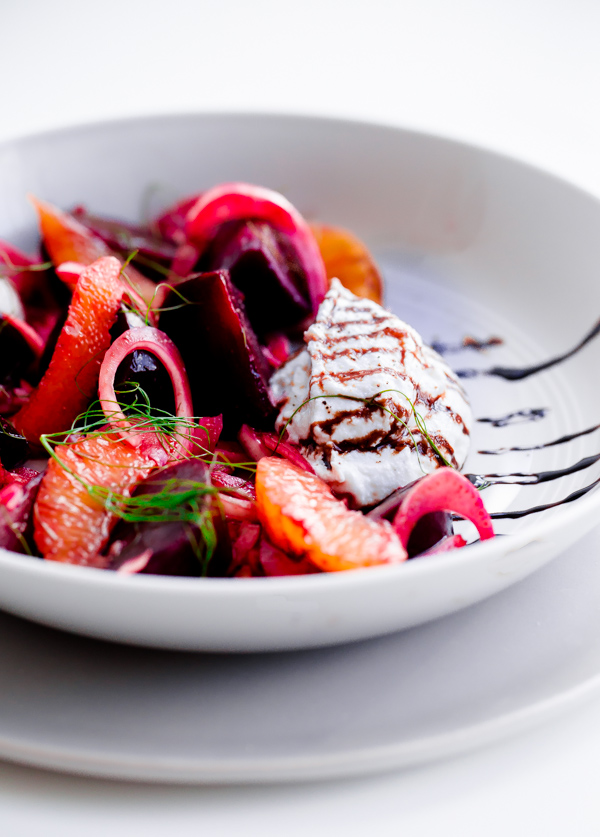 To make the ricotta extra creamy, I like to whip it up in a small food processor until it is super smooth and then season it lightly with salt, pepper, and extra virgin olive oil. If you're using a high-quality super fresh ricotta, such as the one listed above, you can absolutely skip this step.
Oh and please, please, PLEASE don't buy low-fat or (god forbid) non-fat ricotta cheese for this recipe….or any other recipe for that matter.
Life is too short to eat low-fat cheese.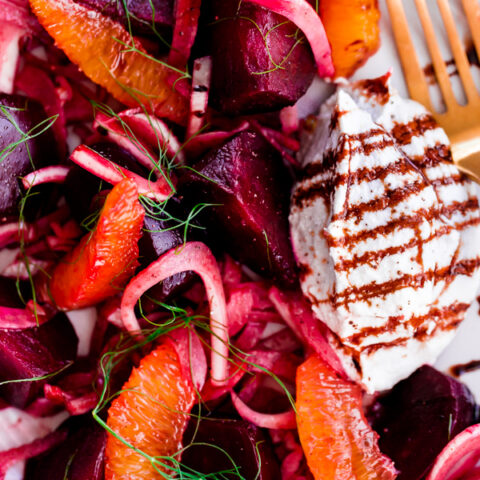 Roasted Beet Salad with Fennel, Orange, and Whipped Ricotta
Yield: 4 Servings
A simple side or main course salad of roasted beets, thinly sliced fennel, orange, and drizzled with balsamic glaze and served alongside creamy whipped ricotta.
Prep Time: 15 minutes
Cook Time: 1 hour
Total Time: 1 hour 15 minutes
Ingredients
5 medium-large beets (red or golden)
1 tablespoon extra virgin olive oil
1/2 teaspoon kosher salt
1/8 teaspoon freshly ground black pepper
1 small head of fennel (fronds reserved)
1 tablespoon extra virgin olive oil
2 teaspoons freshly squeezed orange juice
2 teaspoons freshly squeezed lemon juice
1 teaspoon balsamic syrup–not to be confused with regular balsamic vinegar (plus additional syrup for garnishing)*
1/4 teaspoon kosher sea salt
1/4 teaspoon freshly ground black pepper
2 navel oranges, segmented
Whipped Ricotta:
1/2 cup fresh whole fat ricotta
2 teaspoons extra virgin olive oil
1/4 teaspoon kosher salt
1/8 teaspoon freshly ground black pepper
Instructions
Roast the beets: Preheat the oven to 400 degrees Fahrenheit. Rinse and scrub the beets well under cold water. Place the beets in a large bowl and toss with the 1 tablespoon olive oil, salt, and pepper. Wrap each beet in aluminum foil and place on a large baking sheet. Roast the beets for 50 minutes to 1 hour (or longer, depending on the size of your beets) or until the beets can be easily pierced all the way through with a sharp knife. Once the beets are cooked through, set them aside on a plate (keep them wrapped in foil) until they are cool enough to handle. Trim the ends, peel, and cut into quarter segments. Place in a medium mixing bowl.
Trim the tops and bottom of the fennel bulb, and slice the bulb in half lengthwise. Remove the core of the fennel bulb with a sharp knife, and slice each cored half crosswise into thin slices (roughly 1/8-inch thick). Place the sliced fennel in the mixing bowl with the quartered beets. Add the olive oil, orange juice, lemon juice, balsamic syrup, salt, and pepper and toss gently to combine. Season to taste and set aside.
Prepare the whipped ricotta: Combine the ricotta, olive oil, salt, and pepper in the bowl of a mini food processor. Pulse until very smooth. Transfer to a small bowl and set aside.
Distribute the tossed beets and fennel evenly, garnish with orange segments, fennel fronds, and a large spoonful of whipped ricotta cheese. Drizzle lightly with balsamic syrup and serve.
Notes
Balsamic syrup–essentially heavily reduced balsamic vinegar–can be found in most grocery stores (in the oil and vinegar aisle), but you can also make your own at home!
Nutrition Information:
Yield: 4
Serving Size: 1
Amount Per Serving:
Calories: 240
Total Fat: 14g
Saturated Fat: 4g
Trans Fat: 0g
Unsaturated Fat: 9g
Cholesterol: 19mg
Sodium: 652mg
Carbohydrates: 21g
Fiber: 4g
Sugar: 13g
Protein: 9g
This post contains some affiliate links, which means that I make a small commission off items you purchase at no additional cost to you. Please read my
disclosure policy
for more information.