Homemade Pizza Sauce
This delicious homemade pizza sauce comes together in minutes and uses everyday pantry staples.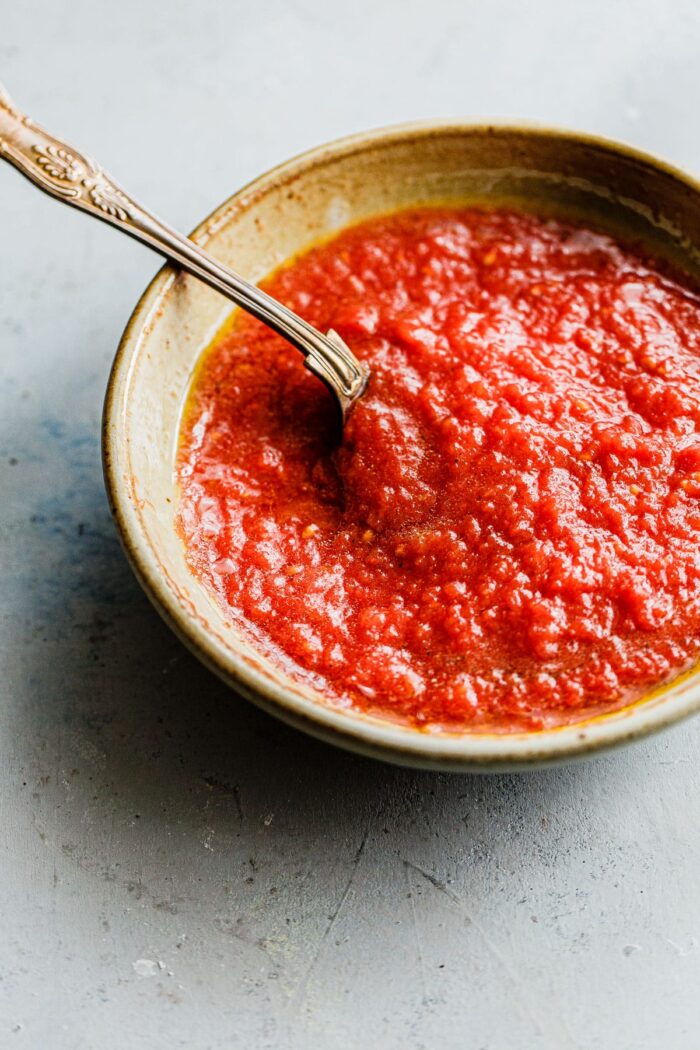 If you've never made homemade pizza sauce, you're in for a treat! This is my tried-and-true favorite pizza sauce recipe. We've made it hundreds of times, particularly for sourdough pizza.
This pizza sauce is fool-proof, comes together in minutes, and uses everyday pantry staples: canned whole peeled Italian tomatoes, extra virgin olive oil, fresh garlic, salt, and pepper. That's it.
When it comes to pizza, I like to keep things classic. This recipe makes a traditional uncooked pizza sauce. Well-balanced in acidity and seasoning, it makes the perfect base for margherita pizza or any tomato-based, Neapolitan-style creations.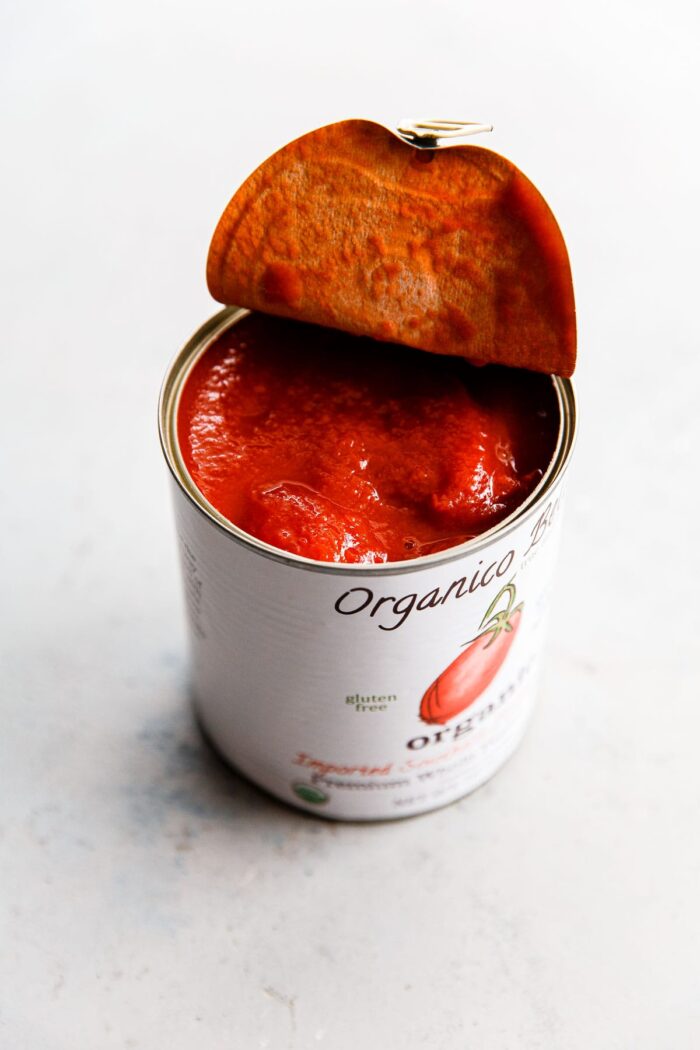 Favorite Canned Tomatoes for Pizza Sauce:
Since this pizza sauce is prepared with only a handful of ingredients, it is essential to use the best of the best. The most important ingredient is high-quality tomatoes. Trust me, it makes a huge difference.
While you can prepare this sauce with any brand of canned whole peeled Italian tomatoes, I've tried many brands over the years and strongly recommend Organico Bello or Bianca DiNapoli brand for best texture and well-balanced acidity. If you can't find them at your local supermarket, I recommend ordering them online.
How to Make Pizza Sauce:
Using a slotted spoon, scoop 5 to 6 whole peeled plum tomatoes from their juices – roughly 290 grams – and transfer to the bowl of a mini food processor. Draining the canned tomatoes from their juices helps produce a slightly thicker pizza sauce, which is my preference. Equipment Note: If you don't own a food processor, you can use an immersion blender, food mill, or even finely chop and crush the tomatoes by hand.
Pulse the tomatoes until coarsely puréed without over processing. This yields roughly 1¼ cups (10 fluid ounces). Transfer the tomatoes to a container or bowl. Add the olive oil, finely grated fresh garlic, salt, freshly ground black pepper, and a small pinch of dried red pepper flakes (if desired). Stir until well combined. Season to taste, adding more salt if needed.
Use immediately for your favorite pizza recipes, such as a classic sourdough pizza, this easier Margherita pizza recipe, or any other tomato-based or Neapolitan-style pizza. This sauce recipe yields enough sauce for three 10-inch or 11-inch pizzas.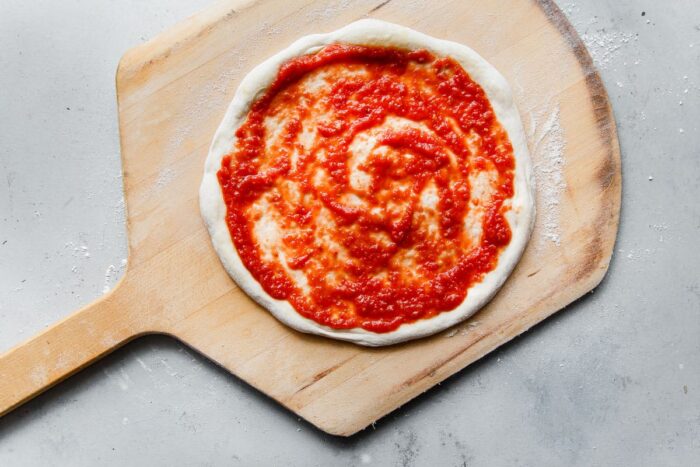 Ways to Use Leftover Canned Tomatoes:
Since we'll only be using a portion of the canned tomatoes for this pizza sauce recipe, this recipe will yield leftovers. Here are a few of my favorite ways to use leftover canned tomatoes:
---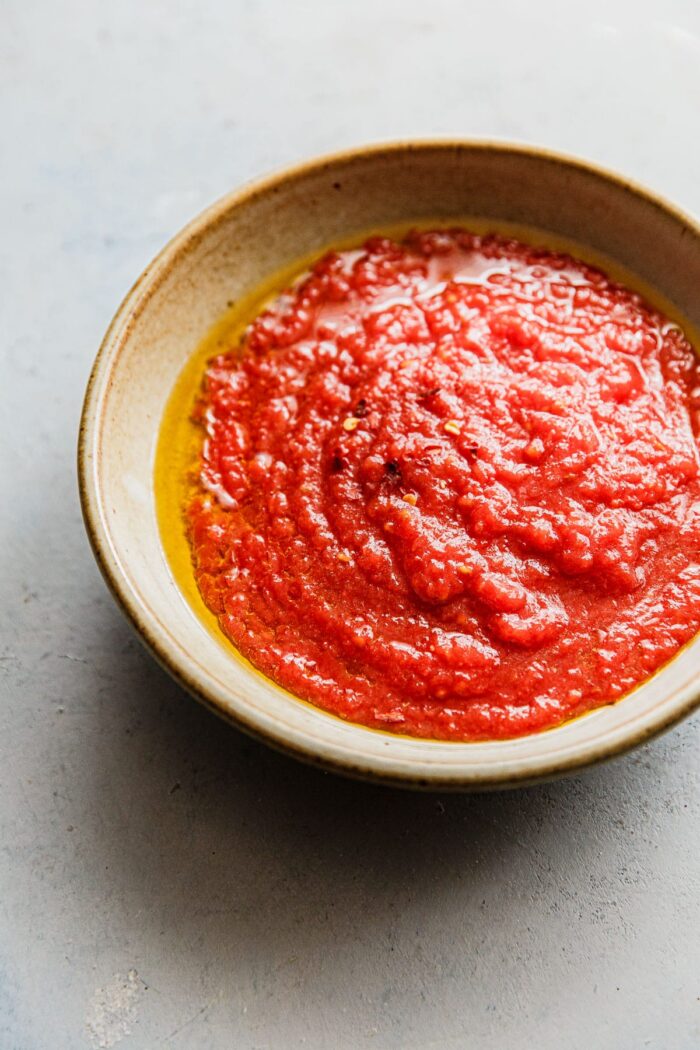 Flavor Variation Ideas:
Make It Spicy: Add generous pinches of dried red pepper flakes or, my personal favorite, finely chopped Calabrian peppers.
New York Style: Add ½ teaspoon (or more) of dried oregano.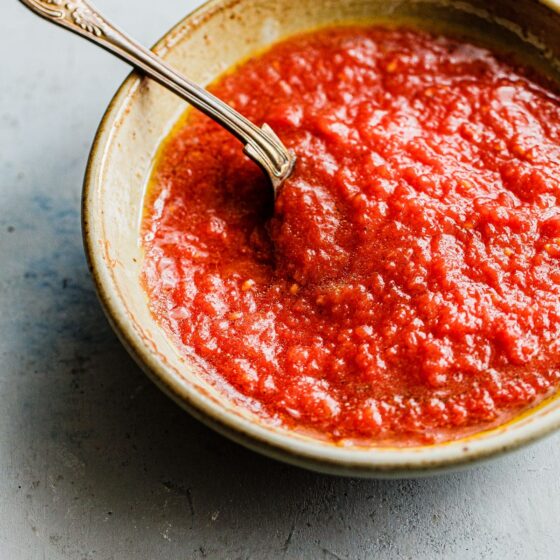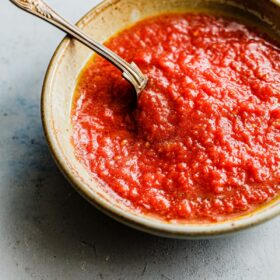 Homemade Pizza Sauce
Serving: 1serving, Calories: 57kcal, Fat: 6g, Saturated Fat: 1g, Polyunsaturated Fat: 1g, Monounsaturated Fat: 5g, Sodium: 930mg, Potassium: 1mg, Calcium: 1mg, Iron: 1mg
This post contains affiliate links, which means that I make a small commission off items you purchase at no additional cost to you. Please read my
privacy policy
for more information.