Strawberry Caprese Farro Salad
Strawberry caprese farro salad. Farro is tossed with homemade pesto, strawberries, tomatoes, and mozzarella to create a healthy summer farro grain salad.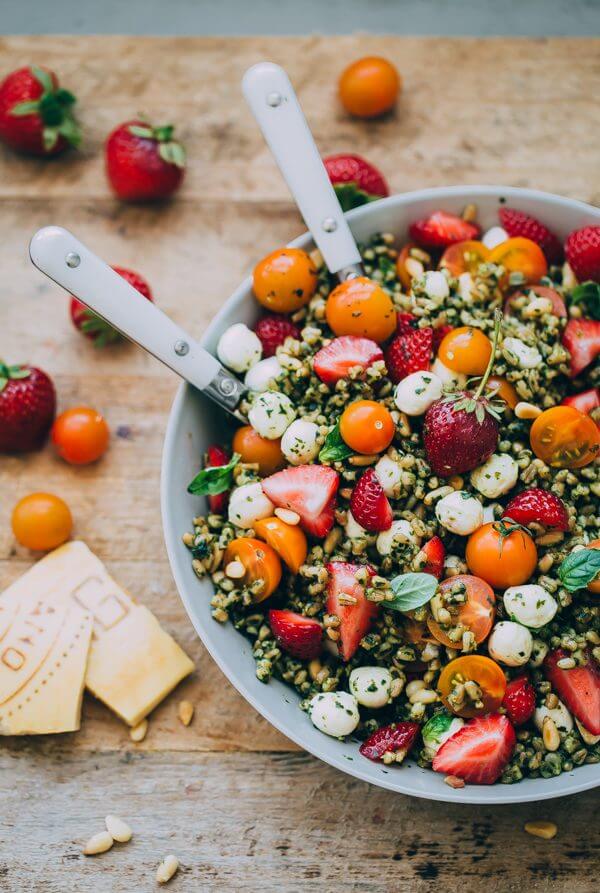 This post is sponsored by Driscoll's.
This summer could be summed up in a few words: farmer's market visits, long walks with Marley, and minimal cooking. As many of you have probably noticed, I've been (unintentionally) quiet these past few weeks.
My only excuse, if I can even call it that, is that I'm taking full advantage of Chicago summer and all that it entails. I'm taking time to reflect, recharge, and brainstorm new content, and think of ways to keep this space fun, exciting, and fresh.
Today's farro recipe was directly inspired by my latest farmer's market visit. We're lucky to live within a few blocks of our neighborhood market, and I've been single-handedly buying out all of the fresh basil and sungold tomatoes from one stall.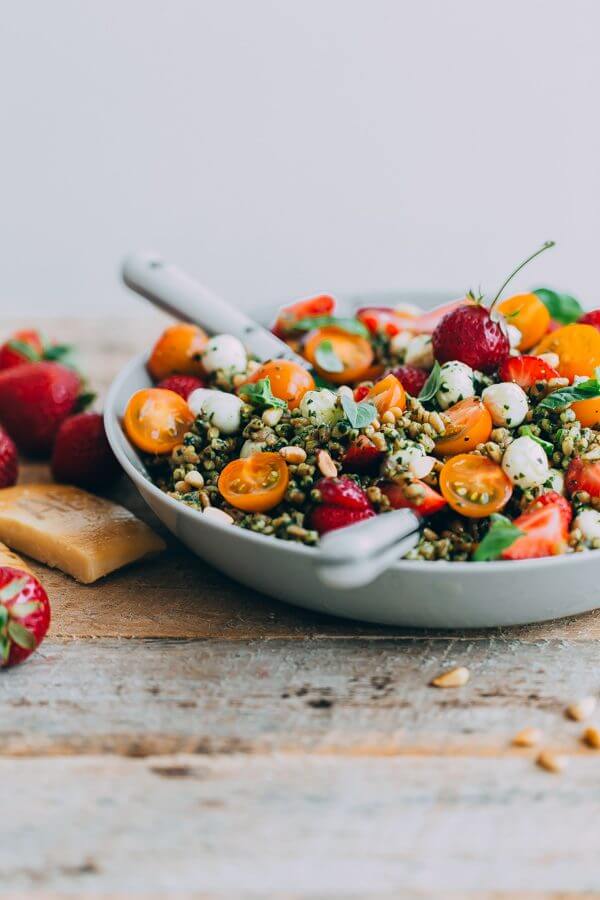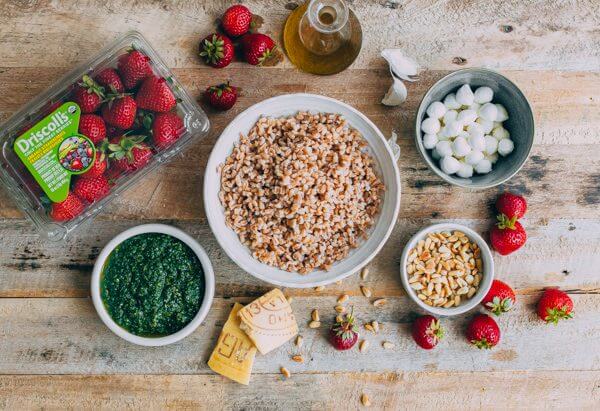 I'll make big batches of pesto in my food processor and use it on everything: omelettes, salads, meat and seafood, or grilled vegetables. Any leftovers are frozen for last-minute weeknight meals or easy pasta dinners.
In an effort to mix things up, I looked to a classic caprese salad and this peach burrata salad (one of my all-time favorite summer salads!) as inspiration. This vibrant farro grain salad features my favorite summer ingredients: basil, fresh strawberries, and tomatoes.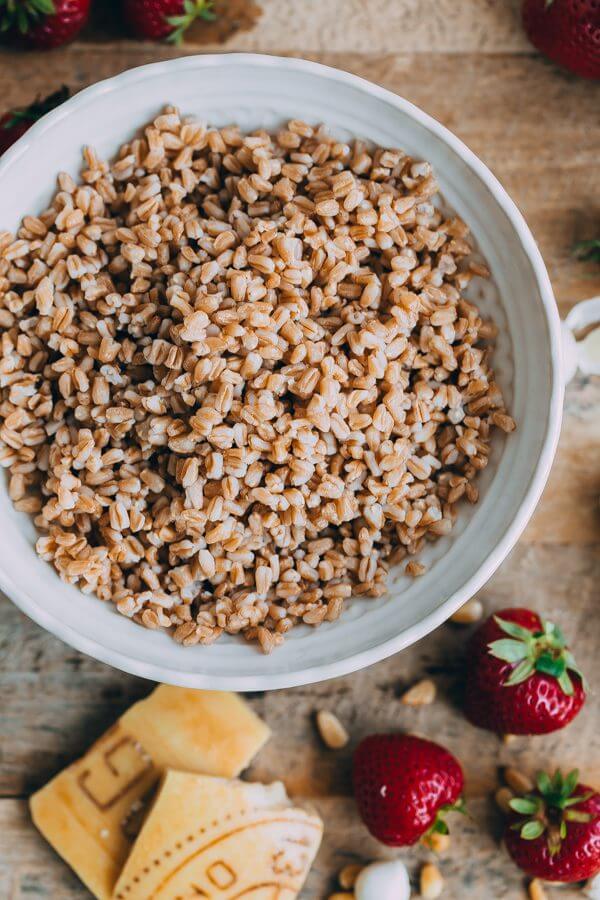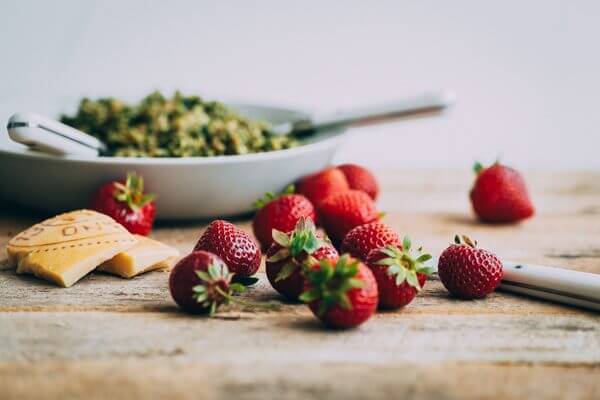 Think of this strawberry caprese salad as a slightly sweeter, summer twist on this spring wheat berry salad that I shared a few months ago!
Nutty farro grains are tossed with homemade basil pesto and juicy Driscoll's strawberries, mozzarella pearls, and sungold tomatoes. The strawberries add a touch of sweetness to every bite, pair wonderfully with the basil, and add wonderful color to this dish. Red, juicy berry jewels, if you will!
It took me nearly 25 years to get behind the idea of adding fruit to my salad, and I'm so glad I got over that hump.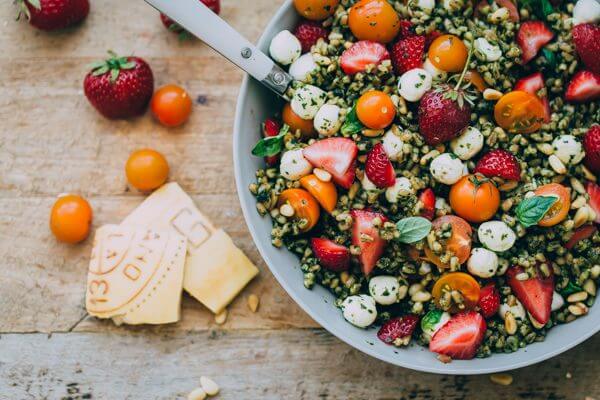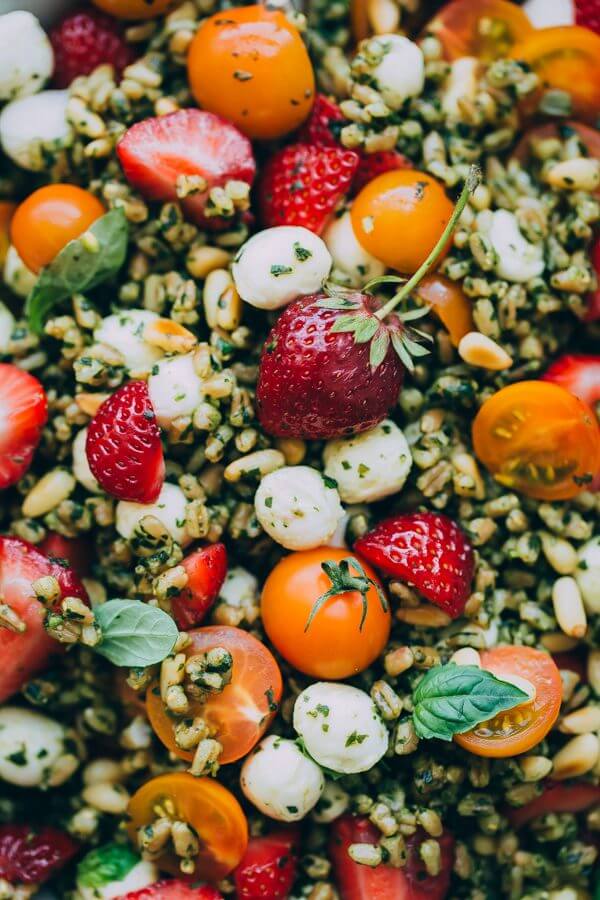 THESE COLORS! Health in a bowl. I can't get over them. Guys, this is what summer is all about!
Italian farro can be cooked in less than 30 minutes, which is ideal for quick or weekday preparations. You are welcome to use more affordable (slightly chewier and nutty) wheat berries as an alternative. They are fairly interchangeable in most recipes – just adjust the cooking time as necessary.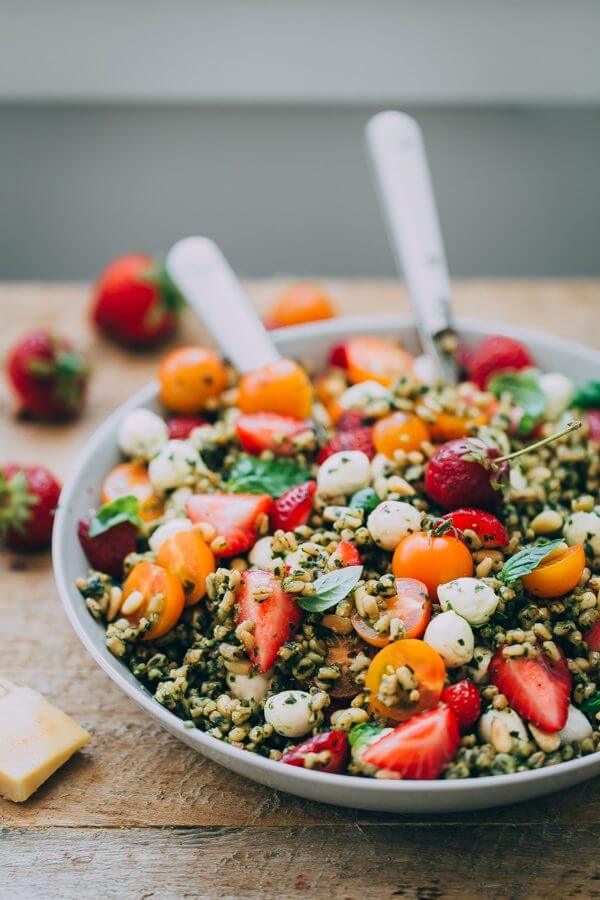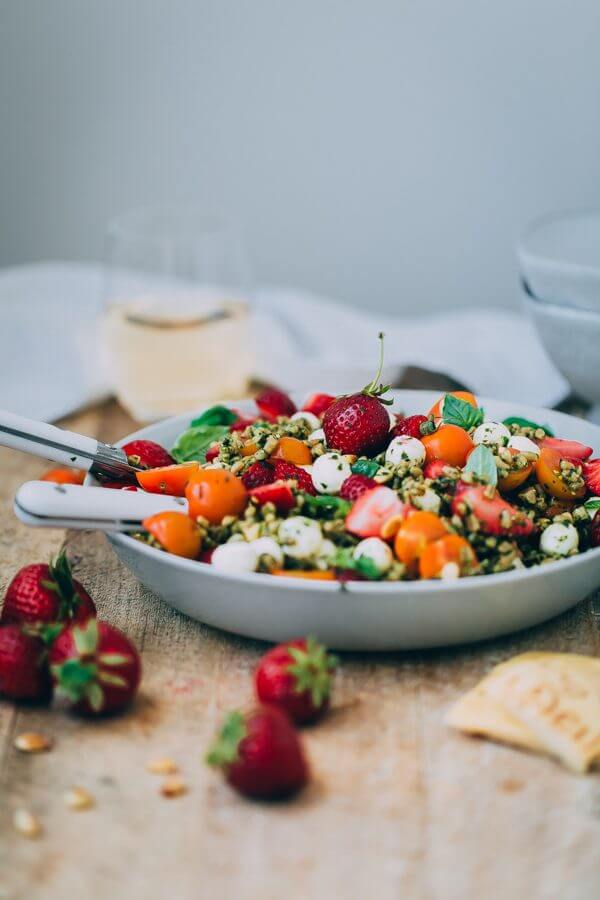 The best part is that this farro recipe can be used as a springboard for any number of recipe variations. Don't have sungold tomatoes? Leave them out. You're welcome to use prepared pesto for this salad too, just make sure it is a pesto that is very light on garlic.
Not a fan of mozzarella? Substitute it with shaved parmigiano-reggiano cheese. Want more sweetness? Drizzle the salad with balsamic glaze.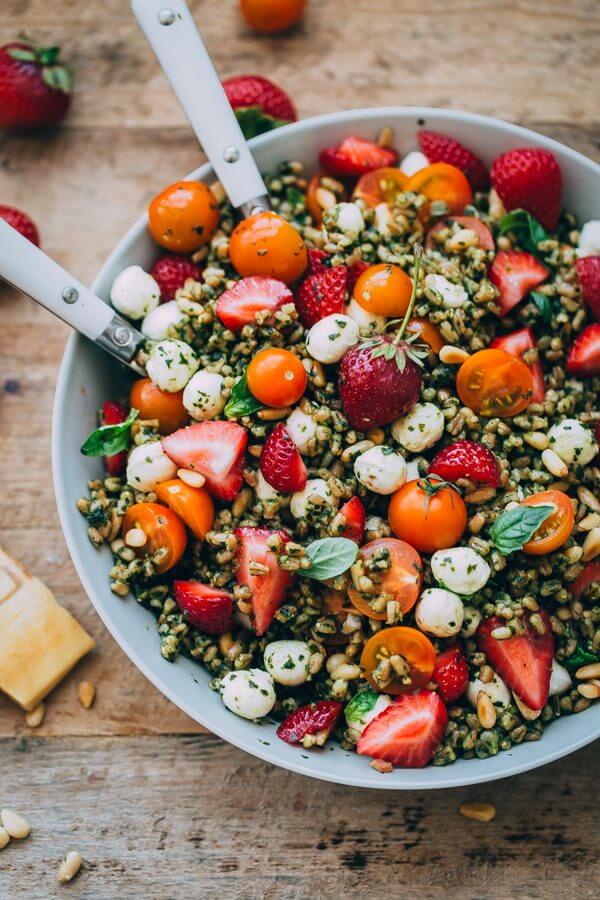 Summer cooking is all about improvising and going with the flow – so go with it!
This recipe post is sponsored by Driscoll's. Visit Driscoll's website for more berry recipes and to enter to win the Sweetest Berry Sweepstakes at Driscolls.com. Thank you for supporting brands that I love and use in my kitchen!