Wild Rice Veggie Burgers with Herbed Ricotta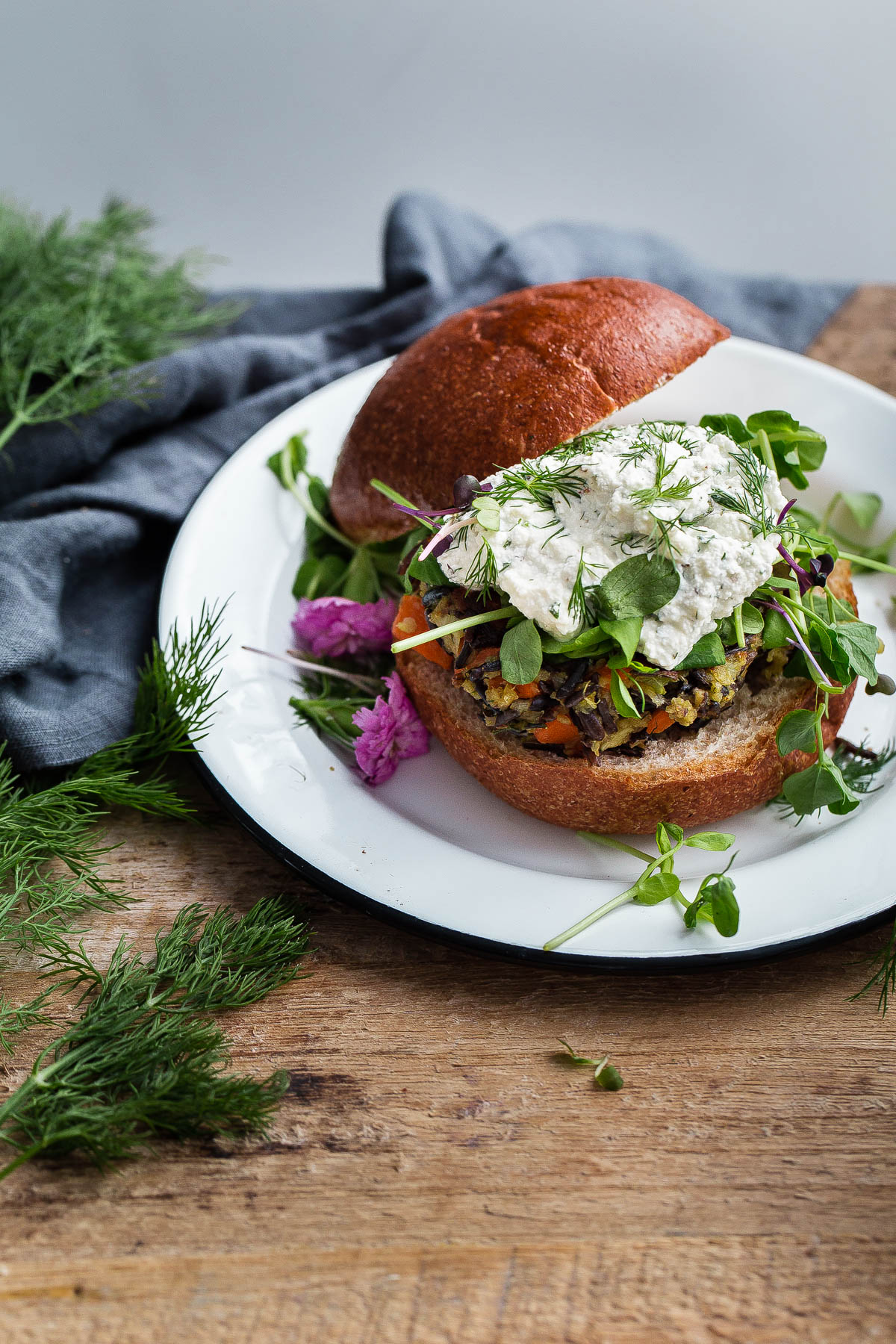 We're kicking things off this week with the first burger recipe of the season! Quite apropos considering Memorial Day weekend is just around the corner, right?
This burger isn't just any ordinary burger. It's actually a wild rice veggie burger (the original recipe is for sliders!) topped with herbed ricotta. These hearty and elegant veggie burgers are packed with nutty and flavorful wild rice, vegetables, and fresh herbs, and bound together with an incredible tahini-date paste.
I could have never imagined up this creation on my own. The recipe hails from my friend Shelly Westerhausen's brand new cookbook Vegetarian Heartland: Recipes for Life's Adventures, which will be published on June 20.
Shelly (the lovely blogger behind Vegetarian Ventures) asked me a few weeks ago if I wanted to be part of a blog cookbook tour showcasing recipes from her upcoming book, and I was so honored to participate! I've been a long-time admirer of her creative plant-based recipes and stunning food and lifestyle photography.
Each day this week, a small group of fellow food bloggers will be sharing a recipe from her cookbook. And what a cookbook it is!


As most of you know, I'm not a true Midwesterner at heart (although I'd like to think I am!). Connor and I moved to Chicago two years ago, and I had literally never set food in this region of the country aside from airport layovers and one short work trip years earlier.
Shelly is a true born-and-raised Midwestern girl. She also happens to be a vegetarian and has been since the ripe age of 12. Shelly grew up in Indiana and still theres live today. As you can imagine, being a vegetarian in her small Northern Indiana town growing up wasn't so common – and she had to get creative in the kitchen from an early age.
Shelly gained inspiration for plant-based meals from weekend trips to Chicago, the farmer's market, and in her college town of Bloomington. The cookbook is a celebration of vegetarian comfort food and seasonal produce, inspired by her Midwestern roots. Hearty recipes that just happen to be plant-based and vegetarian.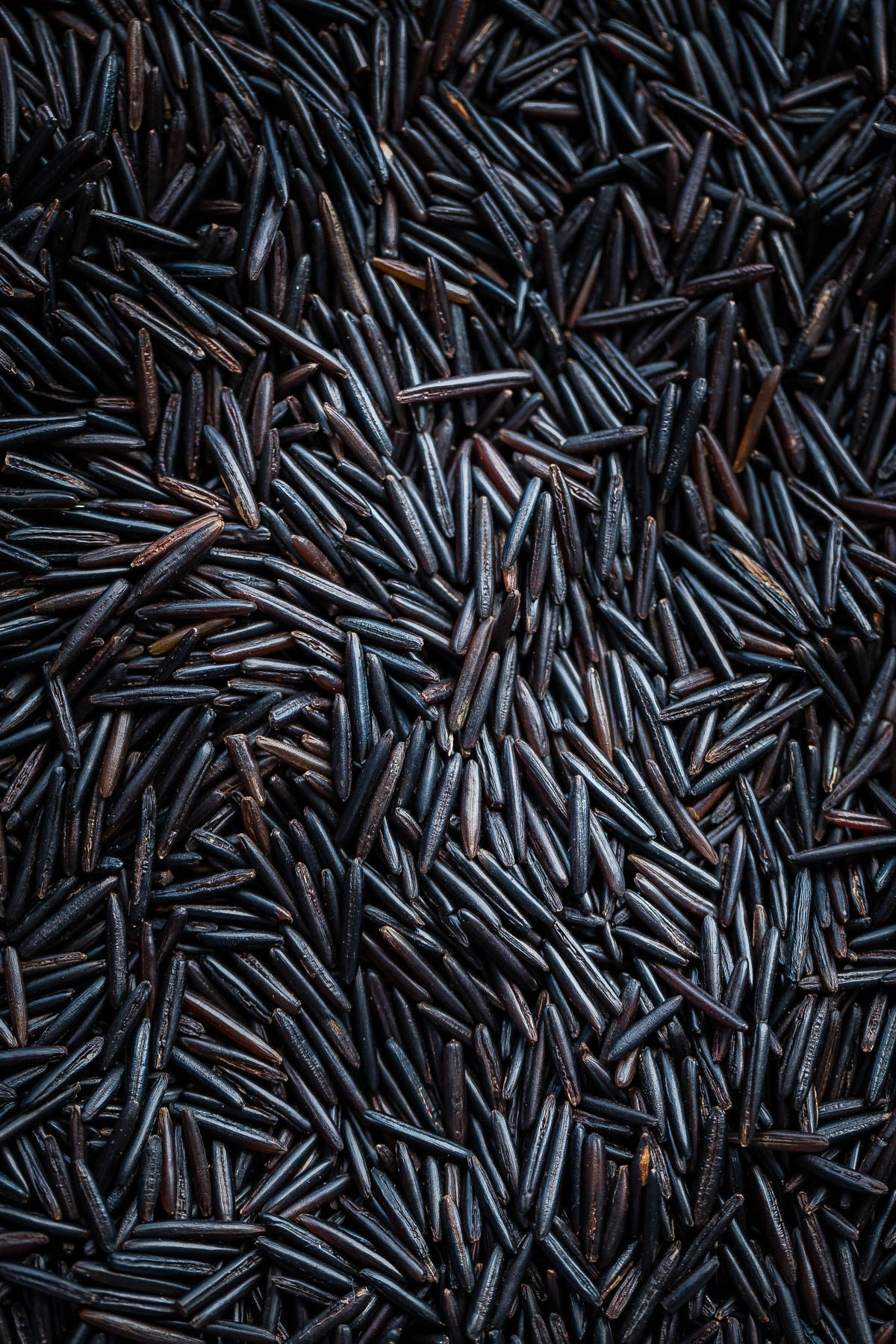 Aside from the stunning photography and creative recipes (coconut curry shakshuka, sweet and sour Michigan pasties, Mediterranean hoagie sandwiches, persimmon pudding pie…just to name a few!), my favorite element of Vegetarian Heartland is how it is set up.
The recipes are divided by season, and the seasons are organized by adventure. Aka. the summer section comprises of the following mini-chapters:
road trip (prepare-ahead food that will keep you full and energized no matter how long the drive)
berry-picking adventure (what to make with your bounty of fresh berries and cherries from an afternoon of picking)
cookout (an array of recipes perfect for your next backyard hangout)
Not only is this incredibly fun and unique, but I love that it puts less emphasis on spending all your time in the kitchen making the food, and puts more of the emphasis on the experience of enjoying it and sharing it with others.
It encourages you to use life's adventures as a starting point for cooking in the kitchen. A great life reminder and lesson!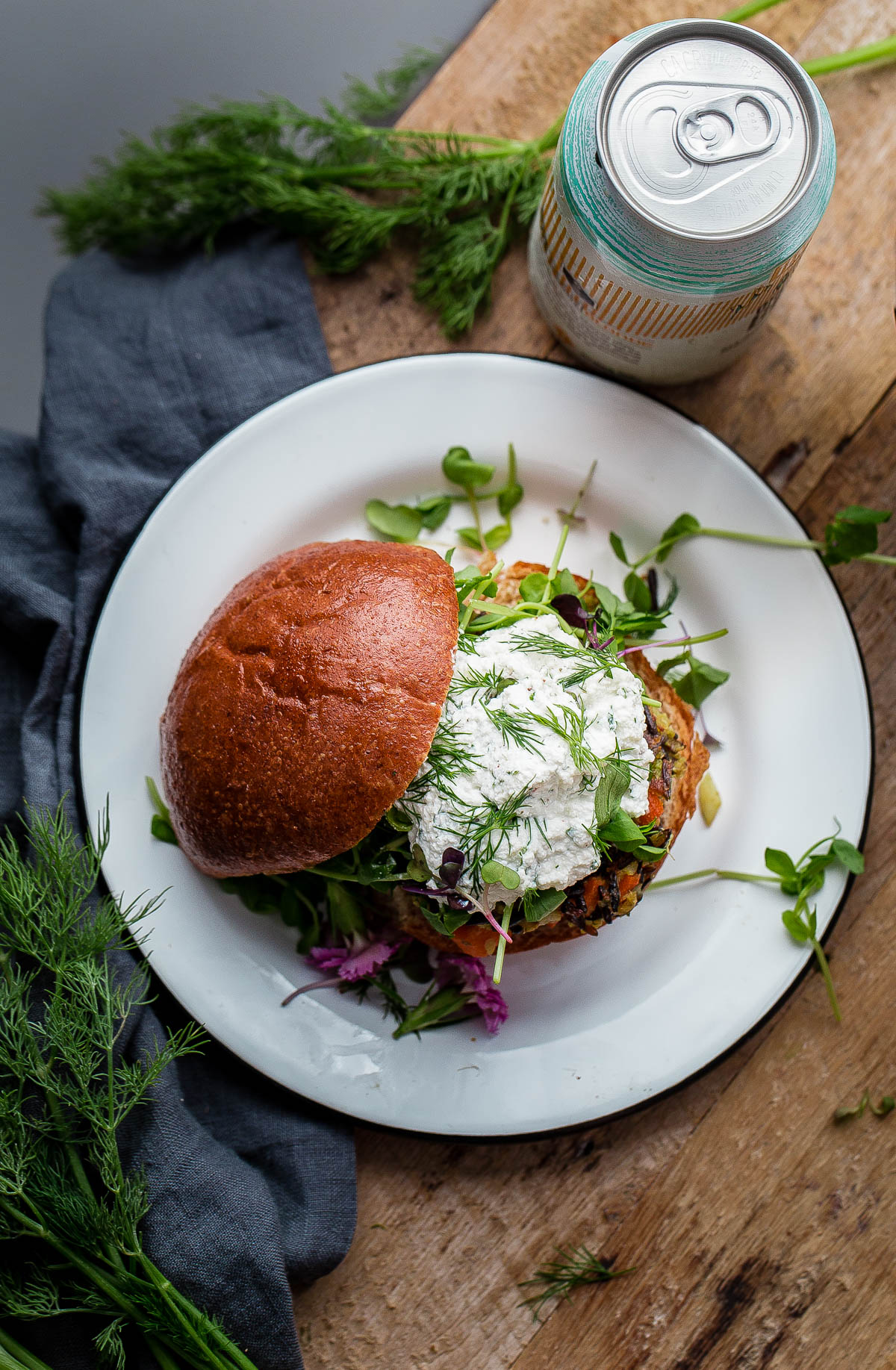 Despite not being a true vegetarian, you guys know how much I enjoy plant-based cooking. As a life long vegetable lover, it comes pretty naturally to me.
For me, the true test of a good veggie burger is it's flavor, texture, and sticking power. This one is loaded with all three. Don't be intimidated by the slightly long directions, as many components of this burger can be prepped ahead (eg. cooking of the wild rice, sautéed vegetables, and binder).


While these burgers can be served with traditional buns, I can imagine these would be great on top of a big salad too! If you are planning on grilling these on a charcoal or gas grill, it is best to make these into small sliders, per Shelly's suggestion, as they can be delicate to flip.
I chose to make mine traditional burger size (since I can never find good-quality slider buns) and sear them on the stovetop, per Shelly's cooking instructions for larger burgers, and I've included those directions as well.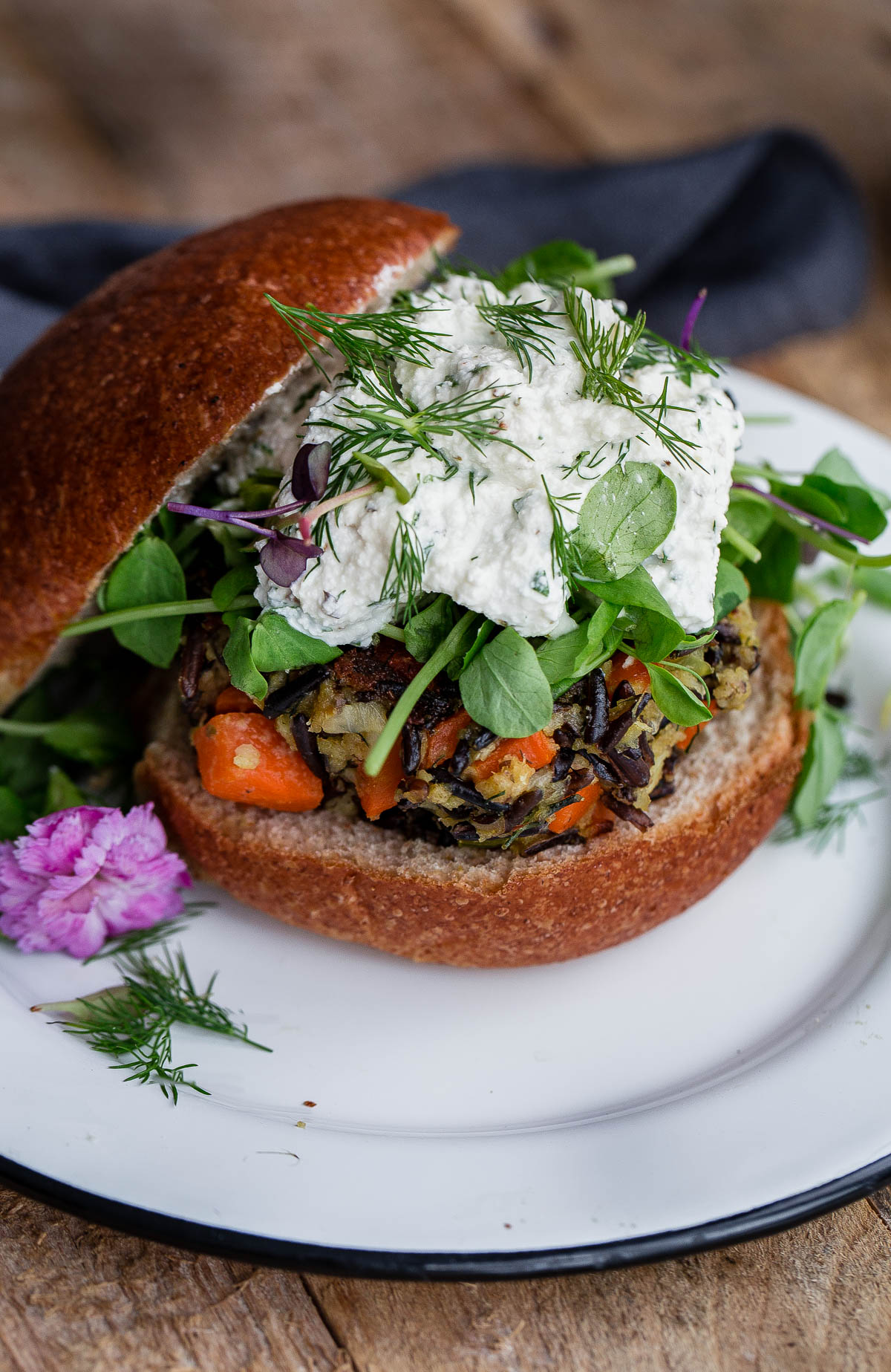 The actual veggie burger itself is vegan (it is bound with a sweet and savory tahini date paste made in a blender or food processor).
Aside from the ricotta topping, which is optional but recommended, this burger is also dairy and egg free, making it a good choice for family friends with dietary restrictions.
While wild rice (many of which hails from the midwest) is pricier and more difficult to find than other rice varieties, it lends an absolutely unique texture and flavor to this burger. It is often available in the bulk bins, so check there first!
If you are not a fan of ricotta, tangy goat cheese, sharp cheddar, or a drizzle of easy lemon tahini sauce would be equally as good accompaniments.
Don't forget to check out Shelly's stunning cookbook! You can also follow the rest of the cookbook blog tour here.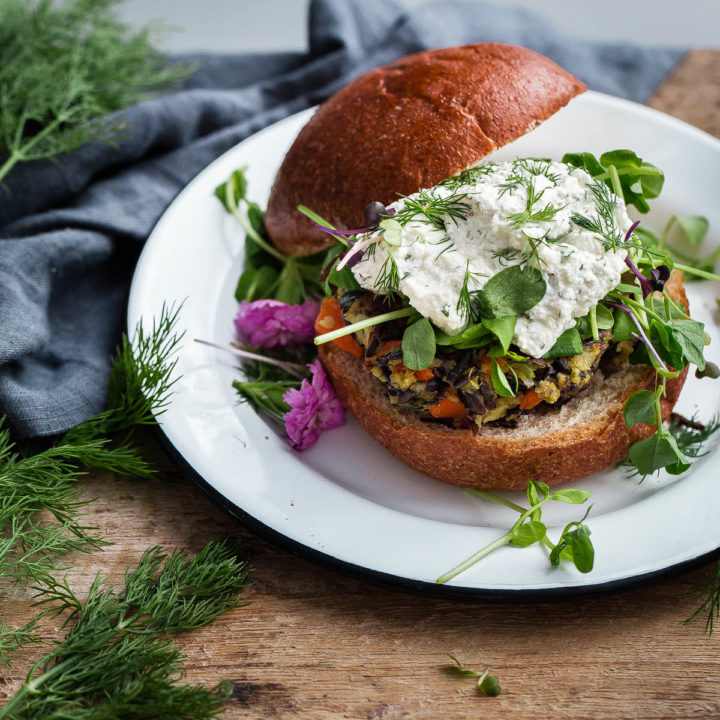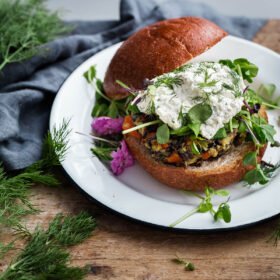 Wild Rice Veggie Burgers with Herbed Ricotta
For me, the true test of a good veggie burger is flavor, texture, and sticking power. These Wild Rice Veggie Burgers, which are made with cooked wild rice, various sautéed vegetables, and held together with breadcrumbs, are loaded with all three. Serve with herbed ricotta or drizzle with tahini sauce.
Ingredients
Herbed Ricotta
8 oz (230 g) whole-milk ricotta
2 garlic cloves minced
1 tablespoon chopped fresh at-leaf parsley
1 teaspoon dried basil or dried oregano
leaves from 1 sprig dill, chopped or ½ teaspoon dried dill
kosher salt
freshly ground black pepper
Veggie Burgers
⅔ cup (120 g) wild rice rinsed
4 cups (960 mL) vegetable stock, plus ¼ cup (60 mL)
1 tablespoon olive oil
1 large yellow onion finely diced
2 celery stalks finely diced
3 carrots peeled and finely diced
3 garlic cloves minced
leaves from 2 sprigs dill chopped
⅓ cup (75 g) tahini paste
2 Medjool dates pitted
1 teaspoon dried oregano
½ teaspoon ground cayenne pepper
1½ teaspoons yellow or Dijon mustard
⅓ cup (15 g) bread crumbs
kosher salt
freshly ground black pepper
For Serving
6 regular buns, split or 16 slider buns
Instructions
Prepare the Herbed Ricotta: In a medium bowl, whisk together the ricotta, garlic, parsley, basil, and dill. Season with salt and pepper to taste. Store in an airtight container in the refrigerator for up to one week.

Prepare the Veggie Burgers: In a large saucepan (with a lid) over high heat, combine the wild rice and 4 cups [960 ml] vegetable stock and bring to a boil. Turn the heat to low and simmer, covered, until tender, 40 to 45 minutes. Drain, transfer to a large bowl, and let cool slightly. Note: I reserved ¼ cup cooking liquid and used this as the remaining broth quantity for the tahini date paste.

Meanwhile, in a small saucepan over medium-low heat, warm the olive oil. Add the onion, celery, and carrots and sauté until very soft, 12 to 15 minutes. Add the garlic and sauté until fragrant, about 30 seconds more. Remove from the heat and fold in the chopped dill.

In a high-speed blender or food processor, combine the tahini, dates, oregano, cayenne, mustard, and remaining ¼ cup [60 mL] vegetable stock and blend until smooth.

Add the tahini-date paste, the bread crumbs, and the sautéed vegetables to the bowl with the wild rice and fold together until combined. Transfer to an airtight container and refrigerate for at least 1 hour or up to overnight.

Using your hands, shape ¼ cup [65 g] of the mixture into a ball and then gently flatten into six full-size patties or 1-inch [25 mm] thick sliders. Transfer the patties to a plate and continue to form patties with the remaining mixture. Cook right away or cover and refrigerate the patties for up to 24 hours.

Cook the burgers: Preheat a charcoal or gas grill to medium heat. Arrange the patties on the grill, cover, and cook, flipping once, until warmed through, 12 to 15 minutes. If you are making full-size (roughly 6 burgers), it is best to cook these on the stovetop, as they are quite delicate: heat 1 teaspoon of olive oil per burger in a nonstick frying pan over medium heat. Cook, covered, for 4 minutes on each side or until browned and warmed all the way through.

Place each patty between a bun and top with herbed ricotta. Serve immediately.
Serving: 1serving, Calories: 708kcal, Carbohydrates: 94g, Protein: 28g, Fat: 27g, Saturated Fat: 8g, Polyunsaturated Fat: 17g, Cholesterol: 29mg, Sodium: 1070mg, Fiber: 10g, Sugar: 20g
This post contains affiliate links, which means that I make a small commission off items you purchase at no additional cost to you. Please read my
privacy policy
for more information.