Apple Feta and Candied Pecan Salad with Sourdough Croutons
Light and refreshing apple feta and candied pecan salad with homemade sourdough croutons!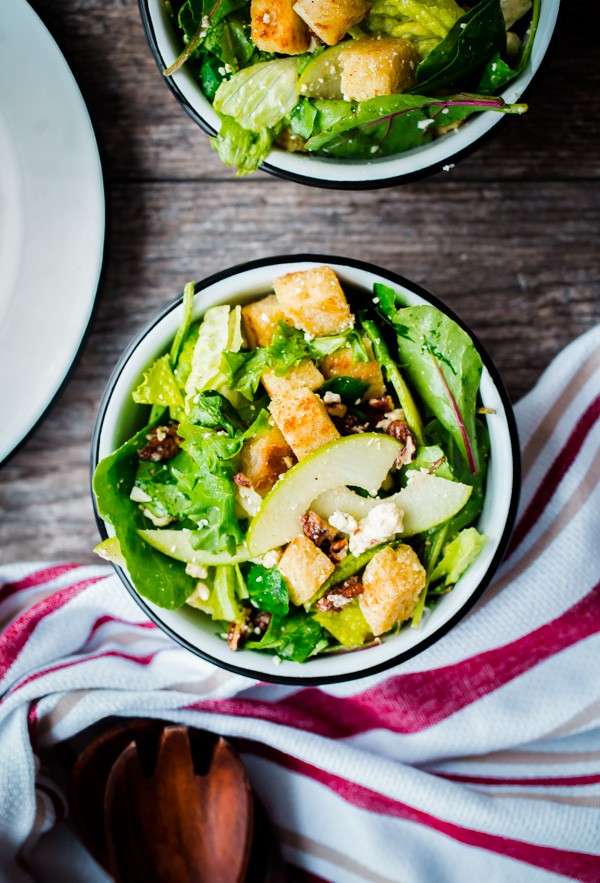 After eating pie nearly every day last week, salad is necessary. I also thought we could use a break from the multitude of cookies being thrown our way over the next few weeks (don't worry, I'll totally be guilty of doing that soon enough).
How was your Thanksgiving? Was it fun? Friendsgiving totally did me in last week. It was our first Friendsgiving and I went completely overboard with the desserts (or maybe I just love the excuse to make food for a crowd?).
As a result, we went home with tons of leftovers. So many leftovers that I didn't even have to bother making more for the big day.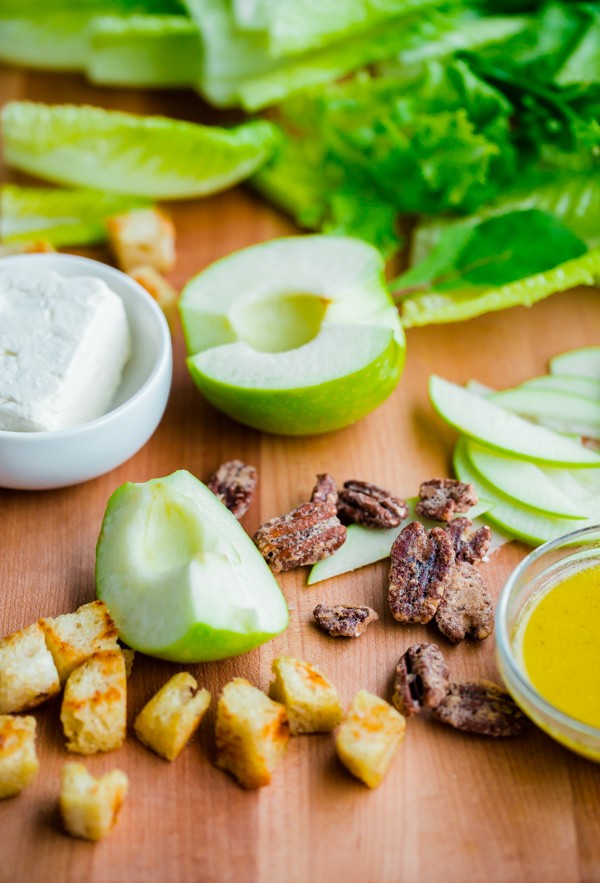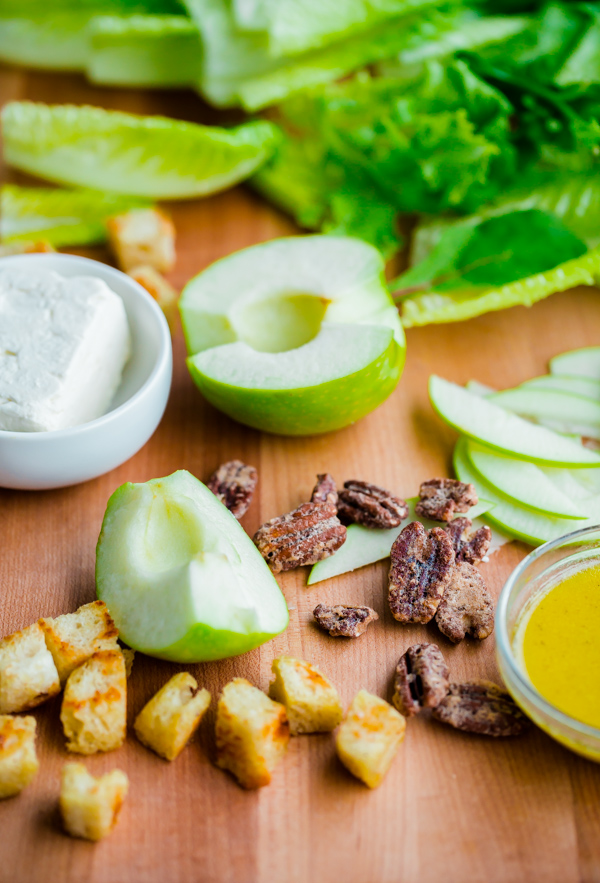 For the record, I rarely have enough self-control to turn down homemade pie ever, but this is particularly true if said pie is sitting on my kitchen counter top all day long. I also can't stand the idea of eating warm apple or fruit crisp without ice cream. So, you can see where I'm going with this.
We even made our annual leftover Thanksgiving pumpkin pie milkshake and shot a fun little video. It was an eventful week.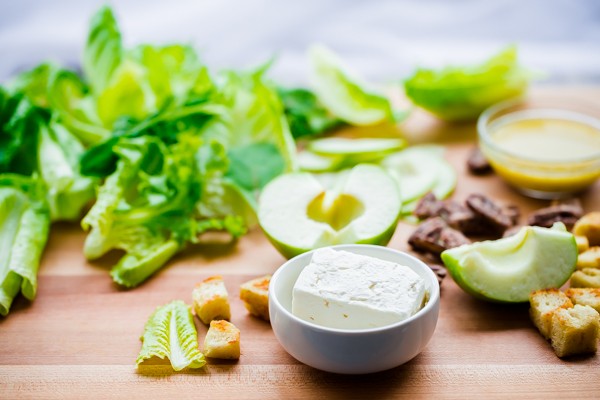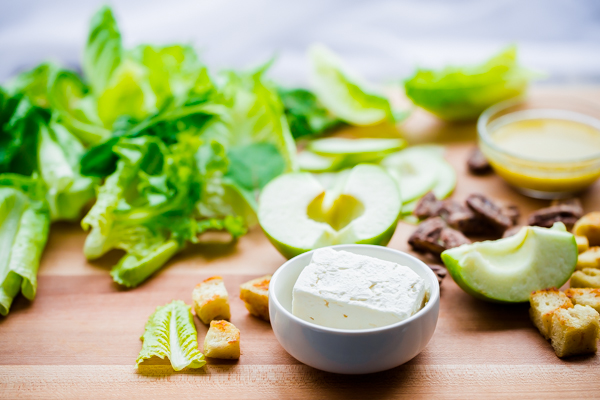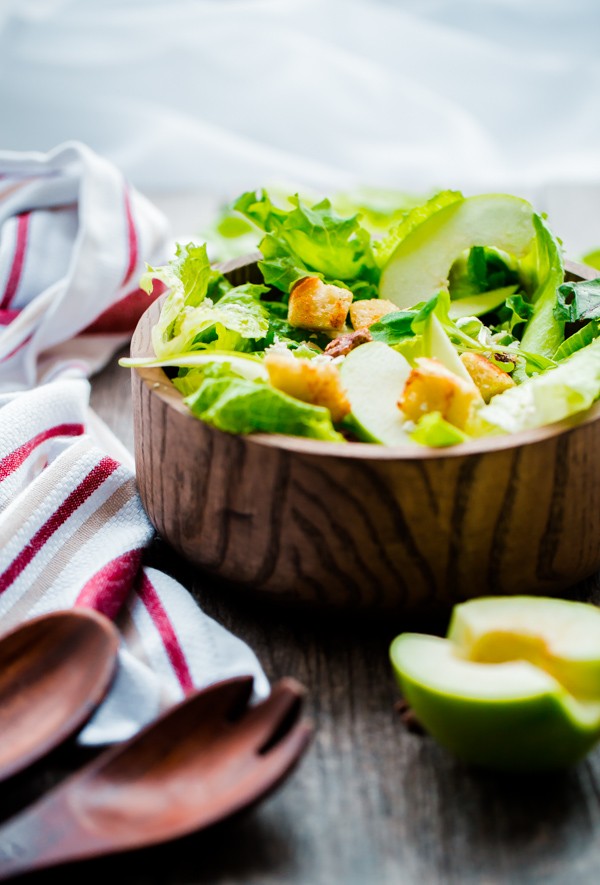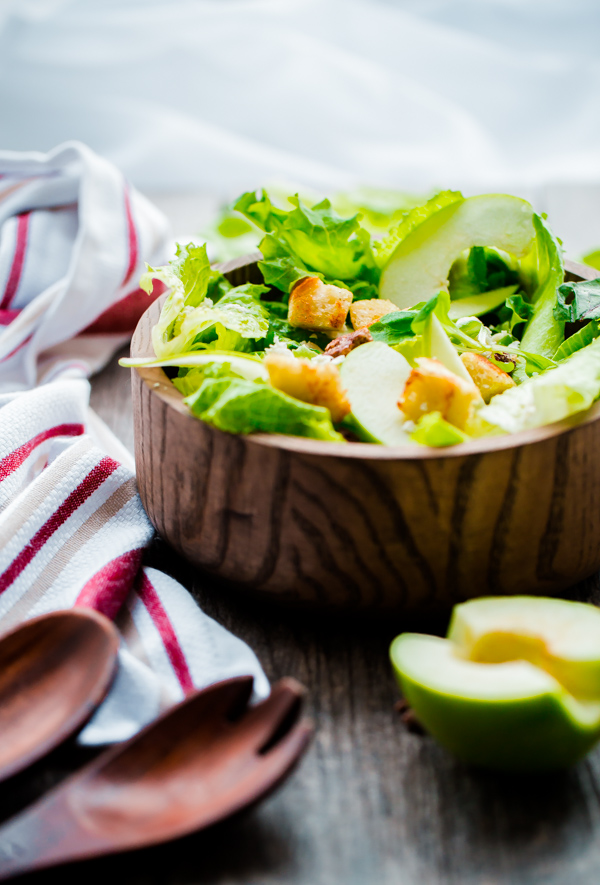 So, I decided to give us all a little break from the desserts and share a fun, new winter salad recipe instead. I'm always on the look out for creative and hearty salads at this time of year! They are a neglected food group during the holidays.
This salad is loaded with crisp slices of tart Granny Smith apple, candied pecans (or if you prefer, toasted pecans would be just as good!), briny and salty crumbled feta cheese, and homemade sourdough croutons for a bit of crunch.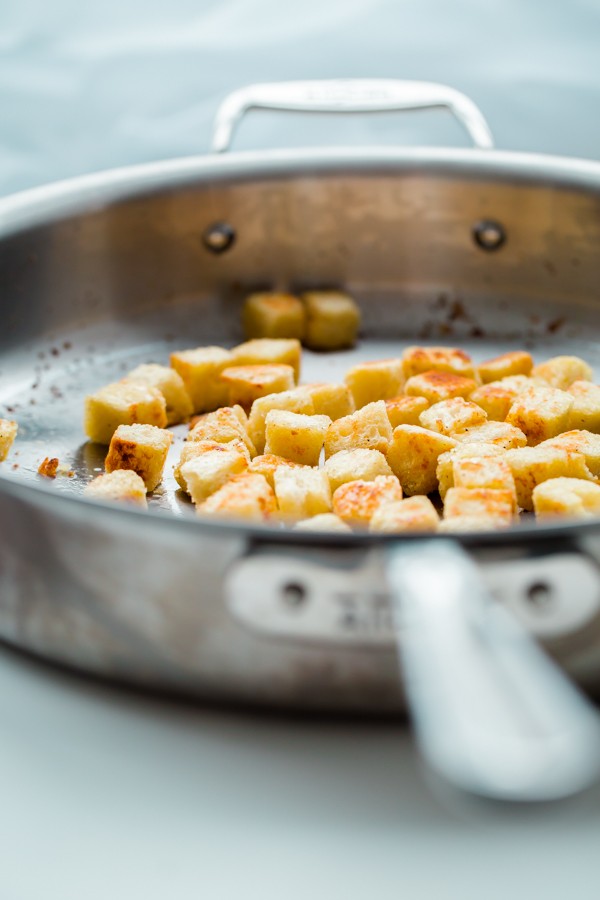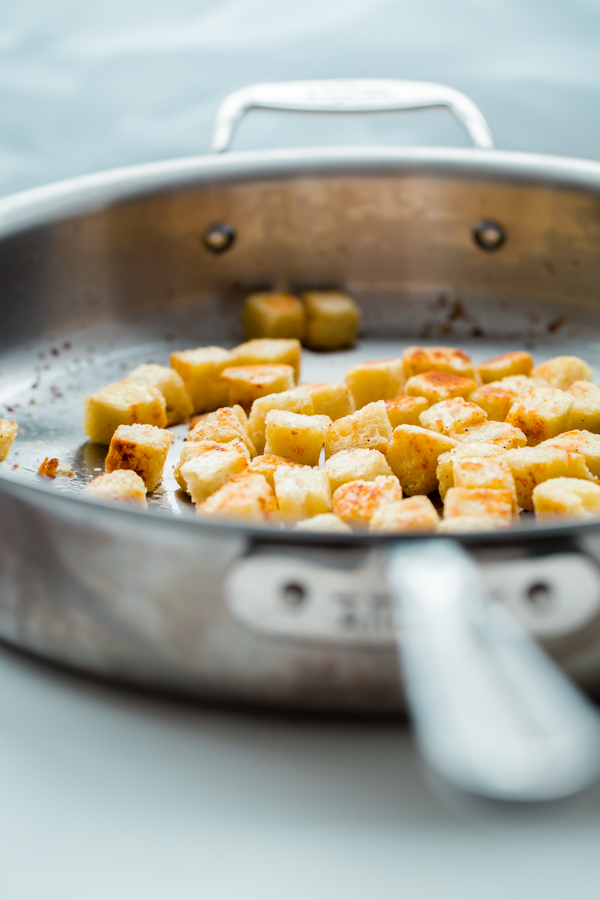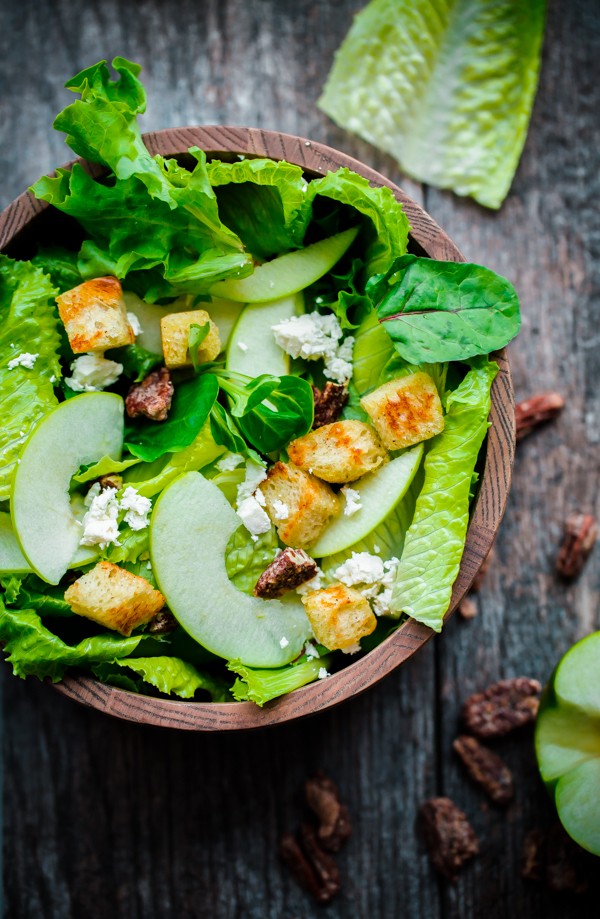 For years, I swore off all fruit in salads (I must have had a traumatizing fruit in salad experience at one point in my life), but I've had a complete change of heart over the last few years.
Pears? Bring it on. Citrus? Yes, please.
I'll take it all, as long as it is tossed with a light and refreshing salad dressing, such as this one. If you're looking for a more indulgent and hearty winter salad, this shaved broccoli and Brussels sprout salad is another favorite. Or this one with pomegranate molasses vinaigrette! Don't make me choose.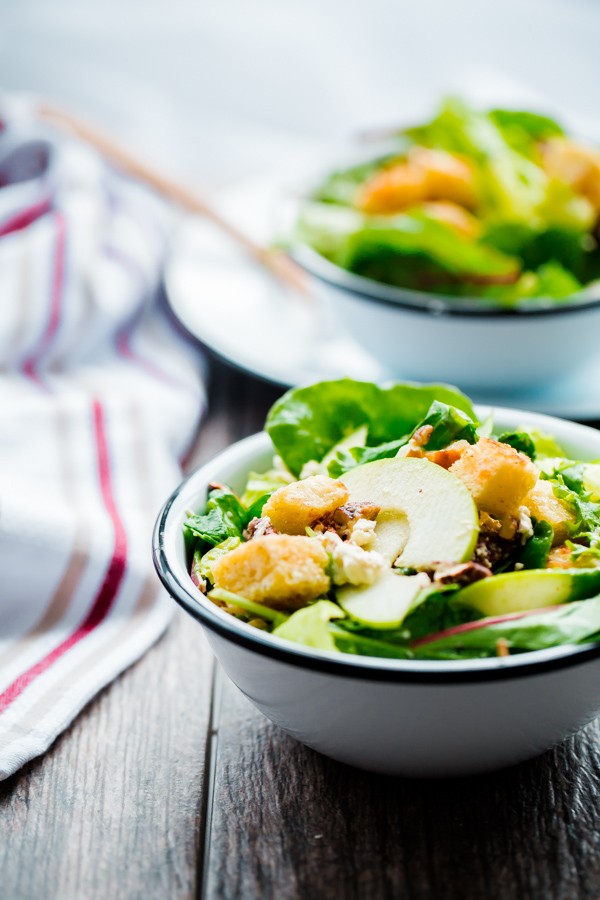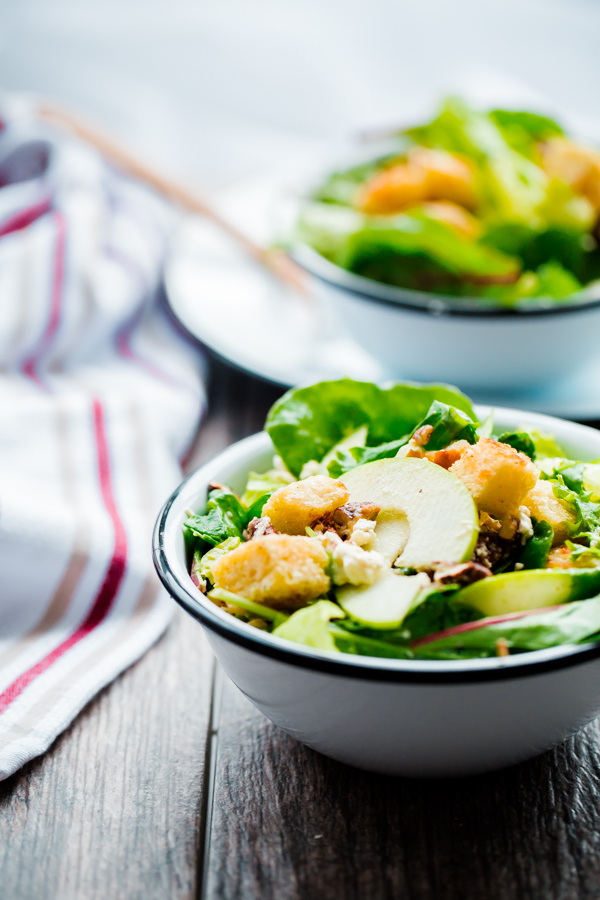 When I set out to make this salad, I desperately wanted to use baby gem lettuce, but for the life of me, I couldn't find it until well after I created this recipe.
So, in the process, I discovered that if you use just the tops – think the top 3 to 4 inches – of compact hearts of romaine, you achieve a similar look and effect. But if you can find baby gem, by all means, use that instead!