Apple Feta and Candied Pecan Salad with Sourdough Croutons
This post contains affiliate links.
Light and refreshing apple feta and candied pecan salad with homemade sourdough croutons!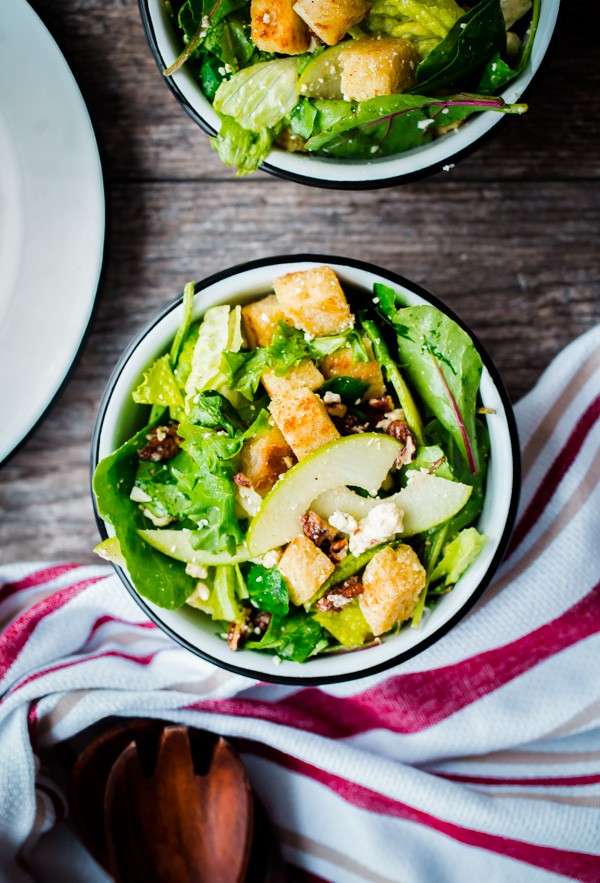 After eating pie nearly every day last week, salad is necessary. I also thought we could use a break from the multitude of cookies being thrown our way over the next few weeks (don't worry, I'll totally be guilty of doing that soon enough).
How was your Thanksgiving? Was it fun? Friendsgiving totally did me in last week. It was our first Friendsgiving and I went completely overboard with the desserts (or maybe I just love the excuse to make food for a crowd?).
As a result, we went home with tons of leftovers. So many leftovers that I didn't even have to bother making more for the big day.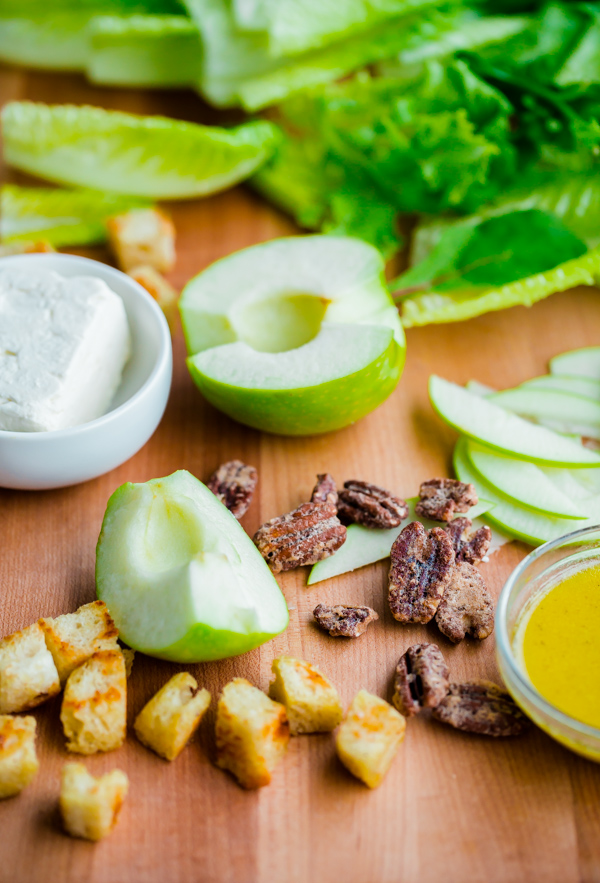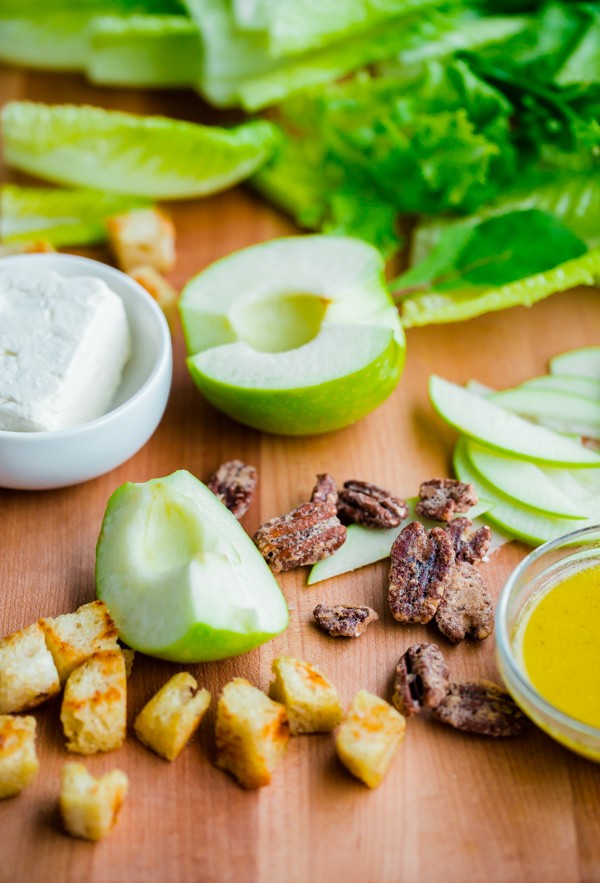 For the record, I rarely have enough self-control to turn down homemade pie ever, but this is particularly true if said pie is sitting on my kitchen counter top all day long. I also can't stand the idea of eating warm apple or fruit crisp without ice cream. So, you can see where I'm going with this.
We even made our annual leftover Thanksgiving pumpkin pie milkshake and shot a fun little video. It was an eventful week.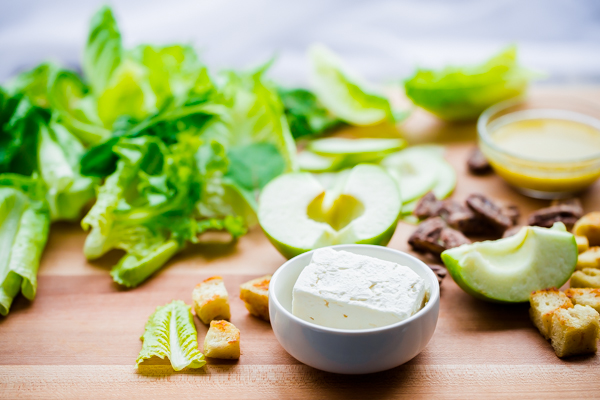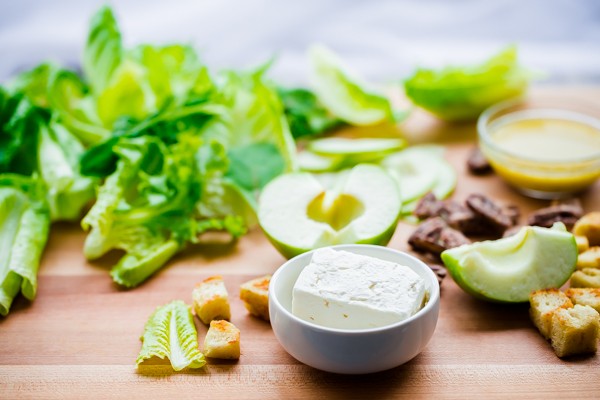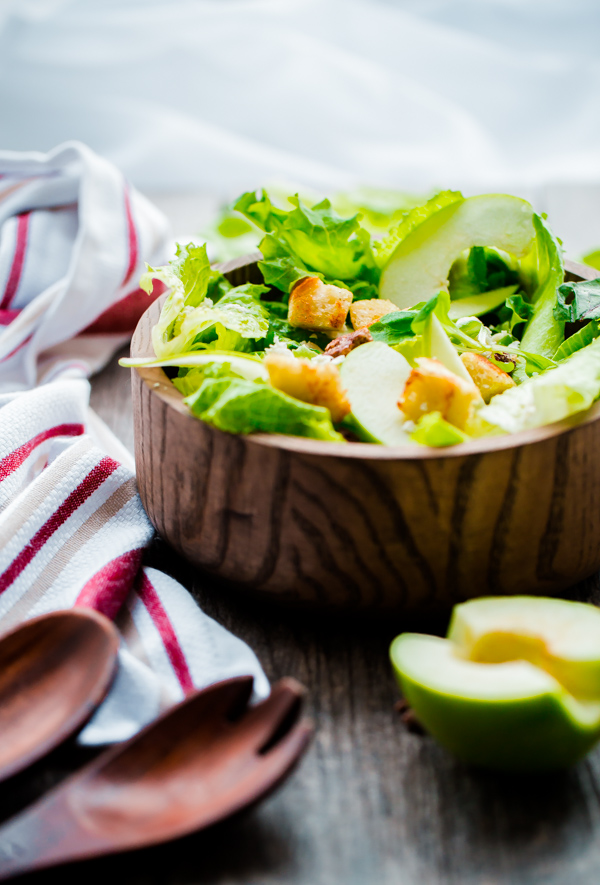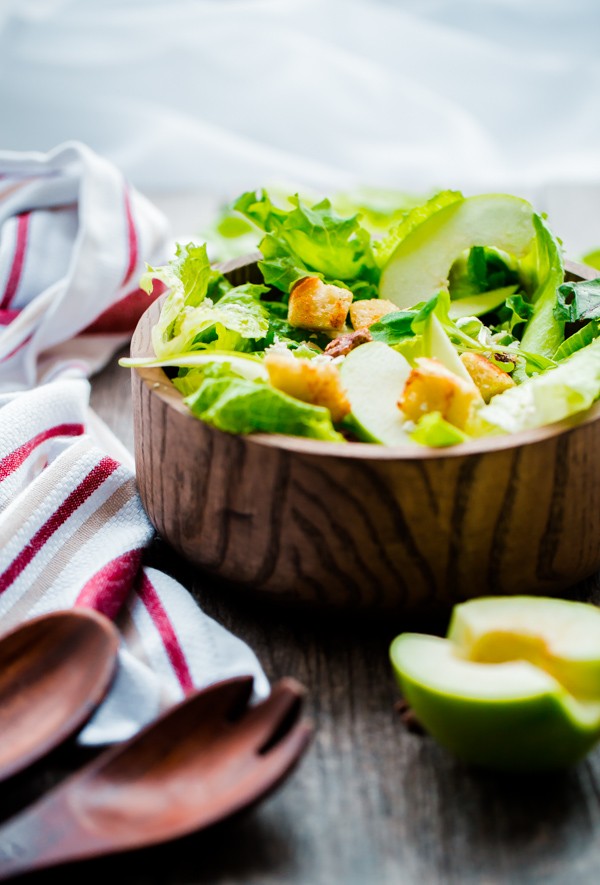 So, I decided to give us all a little break from the desserts and share a fun, new winter salad recipe instead. I'm always on the look out for creative and hearty salads at this time of year! They are a neglected food group during the holidays.
This salad is loaded with crisp slices of tart Granny Smith apple, candied pecans (or if you prefer, toasted pecans would be just as good!), briny and salty crumbled feta cheese, and homemade sourdough croutons for a bit of crunch.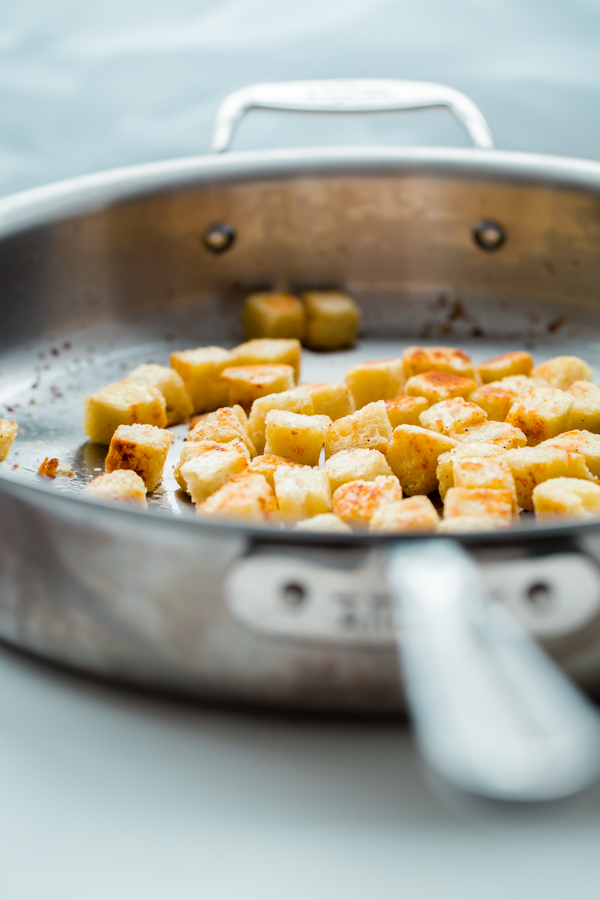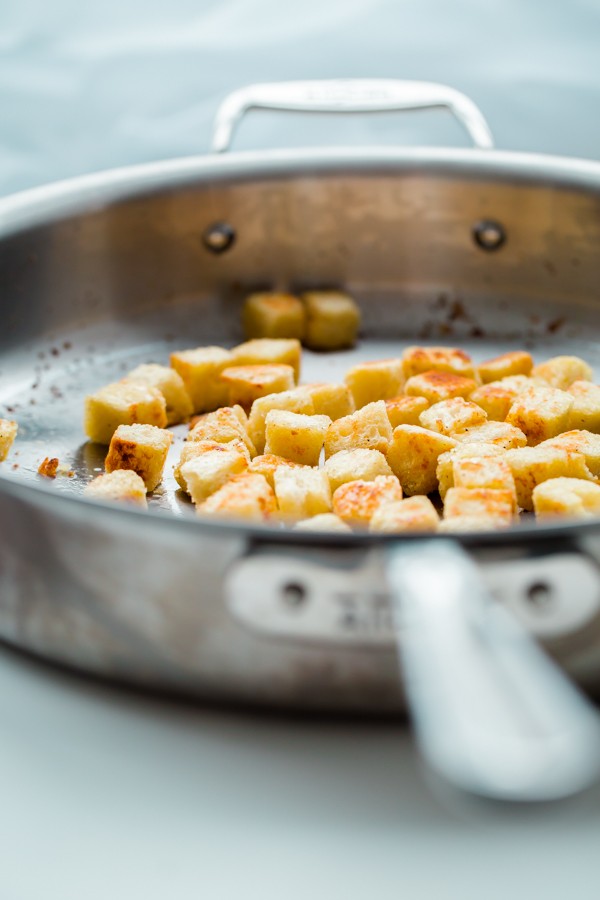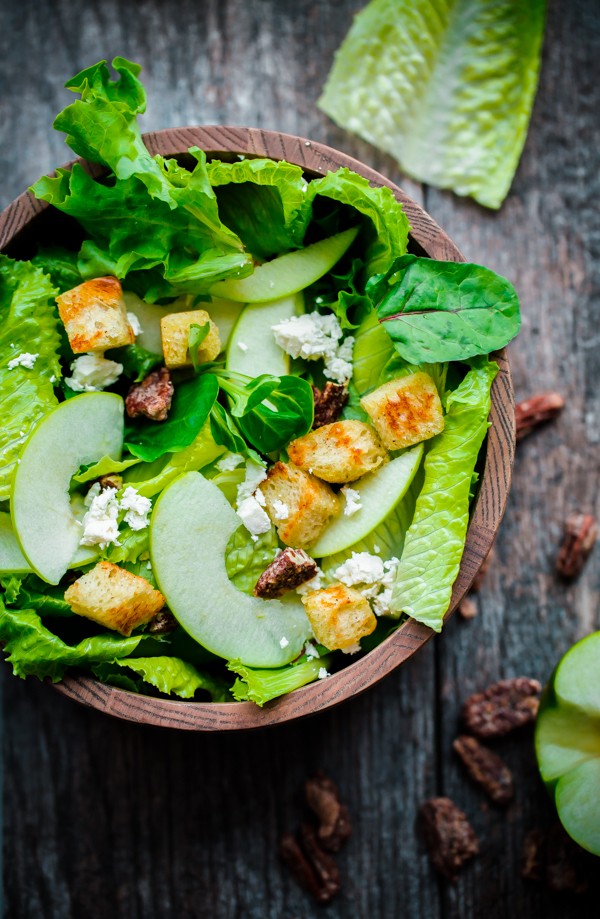 For years, I swore off all fruit in salads (I must have had a traumatizing fruit in salad experience at one point in my life), but I've had a complete change of heart over the last few years.
Pears? Bring it on. Citrus? Yes, please.
I'll take it all, as long as it is tossed with a light and refreshing salad dressing, such as this one. If you're looking for a more indulgent and hearty winter salad, this shaved broccoli and Brussels sprout salad is another favorite. Or this one with pomegranate molasses vinaigrette! Don't make me choose.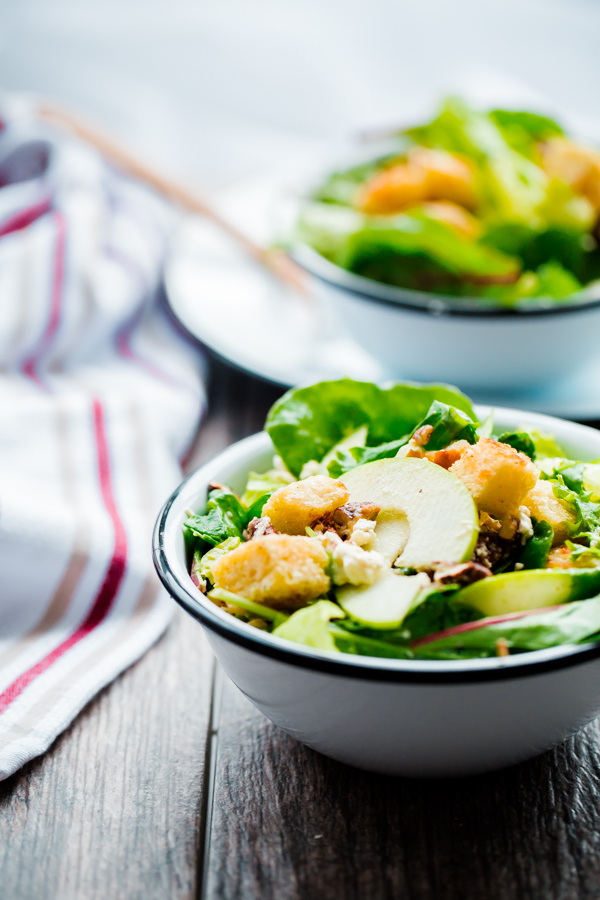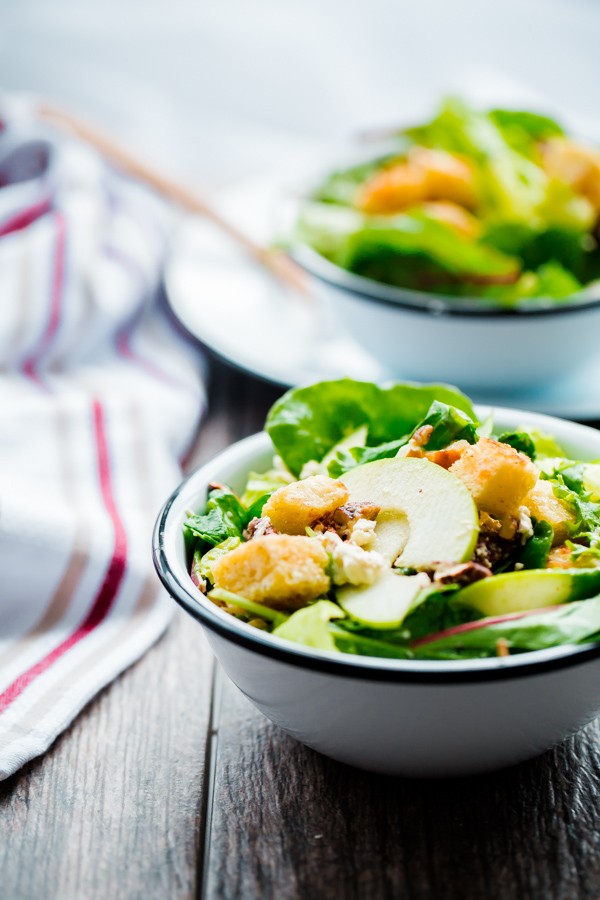 When I set out to make this salad, I desperately wanted to use baby gem lettuce, but for the life of me, I couldn't find it until well after I created this recipe.
So, in the process, I discovered that if you use just the tops – think the top 3 to 4 inches – of compact hearts of romaine, you achieve a similar look and effect. But if you can find baby gem, by all means, use that instead!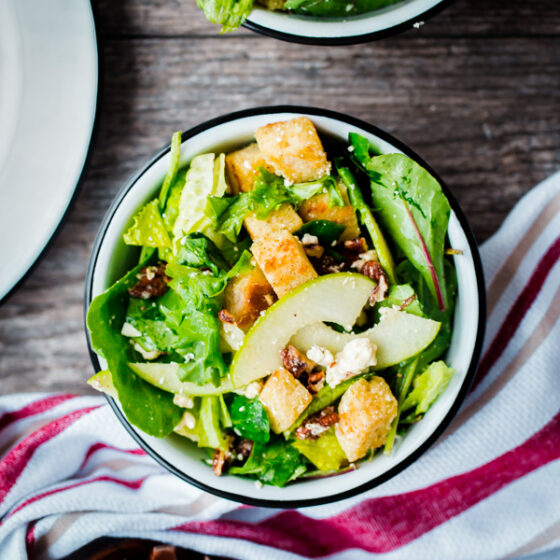 Apple, Feta, and Candied Pecan Salad with Sourdough Croutons
Yield: 3 - 4 Servings
Light and refreshing apple feta and candied pecan salad with homemade sourdough croutons!
Prep Time: 20 minutes
Cook Time: 15 minutes
Total Time: 35 minutes
Ingredients
Sourdough Croutons:
1 overflowing cup of good-quality sourdough bread, cut into 3/4-inch cubes (roughly 3 – 4 slices)
2 tablespoons extra virgin olive oil
kosher salt
freshly ground black pepper
For the Dressing:
1 teaspoon Dijon mustard
juice of 1 small orange
1 tablespoons white wine vinegar
3 tablespoons extra virgin olive oil
kosher salt
freshly ground black pepper
Apple, Feta, Pecan Salad:
3-4 heads of baby gem lettuce or 2 heads of romaine lettuce (see instructions)
3.5 ounces baby mixed greens
1/2 large Granny Smith apple, cored and thinly sliced
if you choose to make your own, follow this tutorial and omit the ground spices – if you wish)
2.5 ounces crumbled feta cheese
sourdough croutons (see above)
Instructions
Prepare Croutons: Heat the olive olive in a large skillet over medium heat until shimmering. Add the cubed sourdough bread and spread into a single layer. Season with salt and pepper, and continue to toast over medium heat (adjusting the heat as necessary), tossing every few minutes, until the croutons are golden brown on all sides, but still slightly soft in the center. Set aside to cool.
Prepare Dressing: In a medium bowl, whisk together the Dijon mustard, orange juice, and white wine vinegar. Slowly pour in the olive oil, whisking continuously with your other hand, until the ingredients come together. Season to taste with salt and pepper.
Prepare Salad: Trim the ends of the baby gem lettuce heads, separate the leaves, and place in a large serving bowl. If you are using hearts of romaine (as I did), you can mimic the look of baby gem lettuce by discarding any bruised outer leaves and using just the top 3 to 4 inches of the romaine hearts (look for hearts of romaine that are tight and very fresh) – you can store the remaining lettuce for other salads. Add the sliced apple, pecans, and feta and croutons and toss the salad lightly with dressing. Serve.
Notes
I highly recommend Trader Joe's candied pecans if you don't feel like making your own homemade candied pecans.
Nutrition Information:
Yield: 4
Serving Size: 1
Amount Per Serving:
Calories: 439
Total Fat: 24g
Saturated Fat: 6g
Trans Fat: 0g
Unsaturated Fat: 17g
Cholesterol: 16mg
Sodium: 773mg
Carbohydrates: 49g
Fiber: 13g
Sugar: 20g
Protein: 13g
A Beautiful Plate provides nutritional information, but these figures should be considered estimates, as they are not calculated by a registered dietician.
This post contains some affiliate links, which means that I make a small commission off items you purchase at no additional cost to you. Please read my
disclosure policy
for more information.