How to Spatchcock A Chicken
How to spatchcock (or butterfly) a whole chicken. This is the easiest, fastest, and most consistent way to roast a chicken! No trussing required.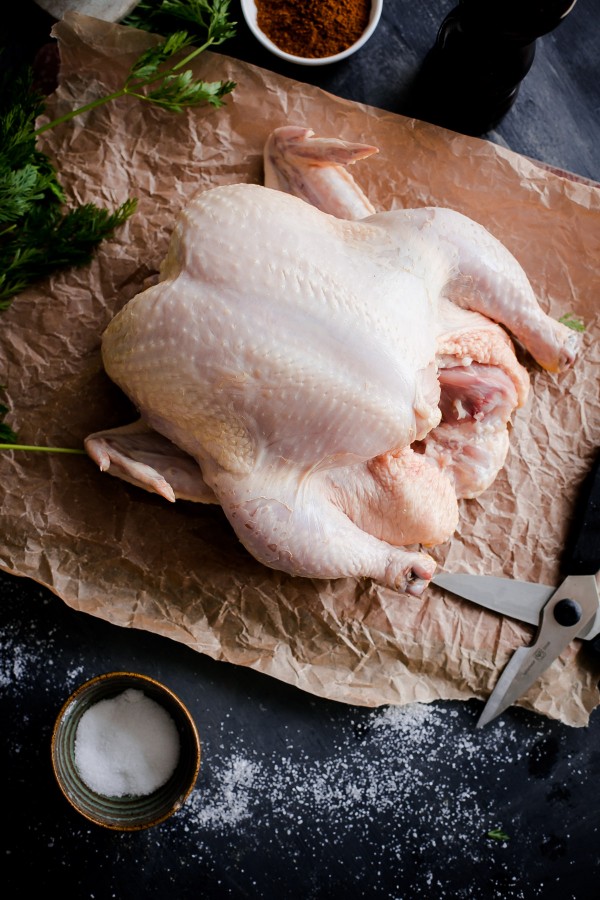 Say hello to my favorite way to roast a chicken. Spatchcocking. It's a weird word, I know. Officially (if we're getting technical), spatchcocking means to split open poultry or game birds for grilling. But we're not grilling today, we're roasting.
If you're already familiar with the spatchcocking method, you can ignore the next few paragraphs and come back on Monday (!!!) for a delicious recipe using said spatchcocked chicken. I was this close to combining them into one single post, but I decided that this method deserved a post of its own.
To make things extra easy, I included step-by-step photos. There aren't that many of them, because it really is that easy. Connor and I have been roasting a lot of chicken lately, and this our go-to method forever and ever. We prepare it various ways, eat some for dinner that very night, and save leftovers for various dinners – including my favorite guacamole greens salad – throughout the rest of the week.
We actually prepared a spatchcocked roast chicken for Thanksgiving this past year since it was just the two of us, and it saved so much time and stress. Once you roast a chicken this way, I can (almost) guarantee that you'll never go back to a traditional, trussed roast chicken.
Really.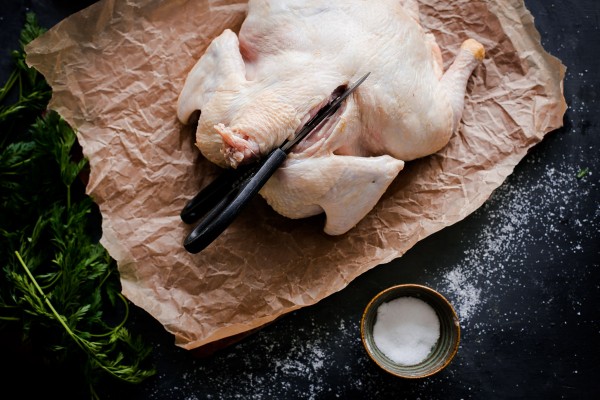 In layman terms, spatchcocking means to remove the spine of a chicken and press down on the breast bone, so that the chicken lays completely flat during the cooking process.
It sounds complicated, but it is actually incredibly easy and straight-forward. You just need a pair of good-quality, affordable kitchen shears.
If you're wondering why you would prepare a chicken this way, here are all of the benefits (in list form):
No trussing or kitchen twine required – does anyone enjoy trussing poultry? The answer is no. I hate it.
Since the chicken lays completely flat, all of the chicken skin is exposed to the heat of the oven. this yields super crispy, caramelized skin over the entirety of the bird.
The trickiest part of roasting a chicken is timing. White meat (the breasts) cooks and dries out faster than dark meat (legs and thighs). With a traditional trussed chicken, it can be hard not to overcook the breasts as the legs finish cooking. Since spatchcocked birds lay completely flat, this method produces even cooking in both the breasts and legs. The unevenness of your oven heat is actually the reason why this works so well —> read this post for more detail. No need to flip or rotate the pan.
Spatchcocking significantly reduces roasting time. And I mean, significantly. To the point where you can realistically roast a chicken on a busy weeknight. This five-pound chicken took just over an hour to roast. A traditional trussed chicken of this size would take upwards of 1 hour and 45 minutes.
Since spatchcocked poultry cooks faster (more surface area, more heat exposure), this allows you to roast at higher temperatures, which also helps yield perfectly golden, crispy skin.
You can use the removed backbone to make homemade gravy, or jus as you are roasting the chicken. Or save it for stock!
They are easier to carve! The shape of chicken makes it much easier to remove the legs properly and remove the breasts from the bone.
I also find that spatchcocked chickens are much easier to season consistently, as they lay completely flat. You don't have to worry about not reaching every crevice of the cavity or getting behind every nook and cranny. It's all out in the open.
No trussing required. Worth repeating.
Let's do this: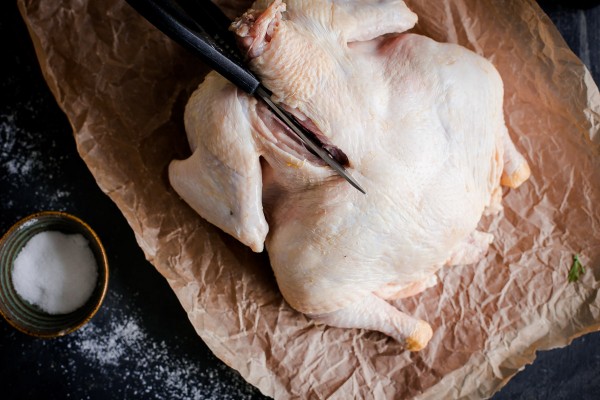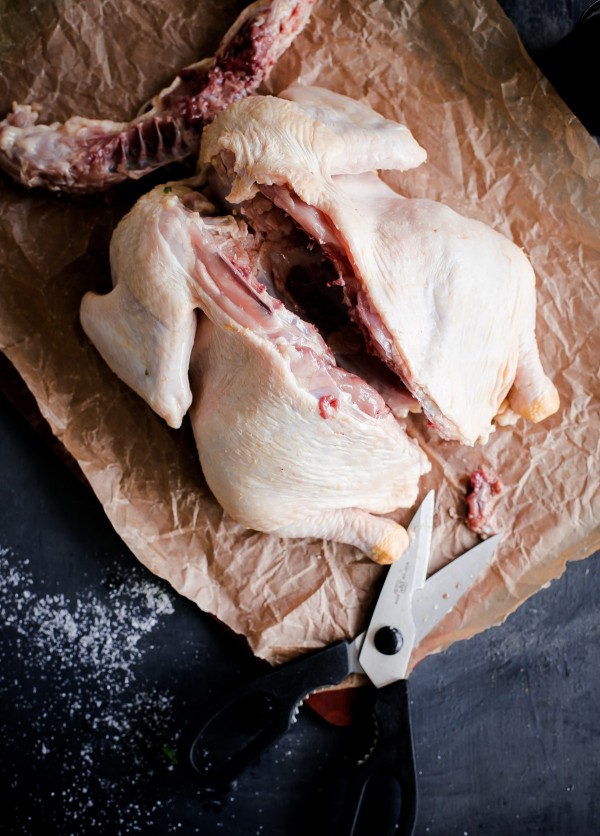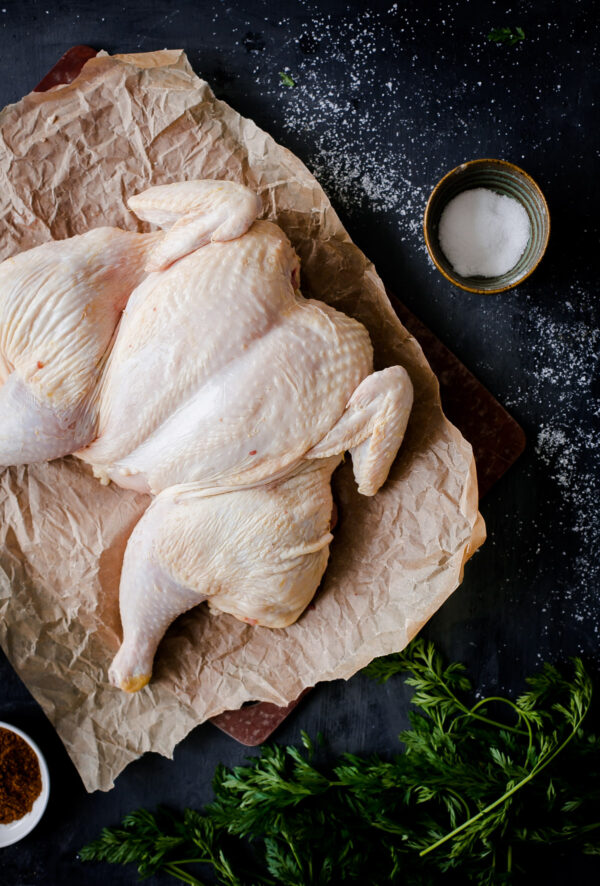 Voila! We're ready to roast. It's that easy! By the way, you can totally try this exact same method with turkeys (or any bird).
Although you can use rough pound guidelines for cook time, temperature is the true way to judge whether a chicken is ready. I highly recommend investing in a good quality instant thermometer (this one is particularly amazing for roasting). It really does make a world of difference! You'll never overcook or undercook a chicken again once you have one of these at your disposal.
If you're looking for recipe inspiration, be sure to try this Middle Eastern spatchcocked chicken.
Products Used for this recipe:
(may include affiliate links)