Blood Orange Chocolate Bark with Almonds
Homemade orange chocolate bark studded with candied blood orange pieces and sliced almonds. This chocolate bark makes a beautiful edible gift during the holiday season.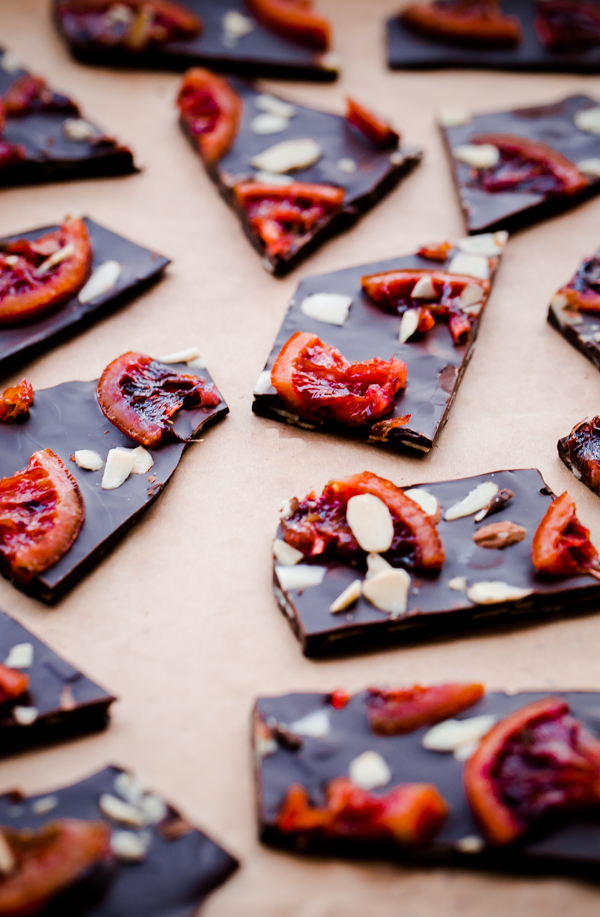 Hello! We're doing the whole chocolate and orange thing again. That makes two recipes in a row after last Friday's orange chocolate chunk scones.
I have either a) have a problem, b) am delirious from the craziness of the holiday season, or c) subconsciously trying to convince everyone to get on board with the whole chocolate-orange thing. Let's go with all three.
Today, we're doing it in dark chocolate bark form with candied blood orange pieces and crunchy, sliced almonds. I must say, if you're into edible gifts, this blood orange almond chocolate bark would make a beautiful holiday gift or stocking stuffer. You could even portion it in cellophane bags with ribbon or layer it in one of these festive boxes with parchment paper!
Nothing quite beats the color of blood oranges, but if you can't find them (or your store charges a fortune for them), regular oranges will work just as well for this recipe.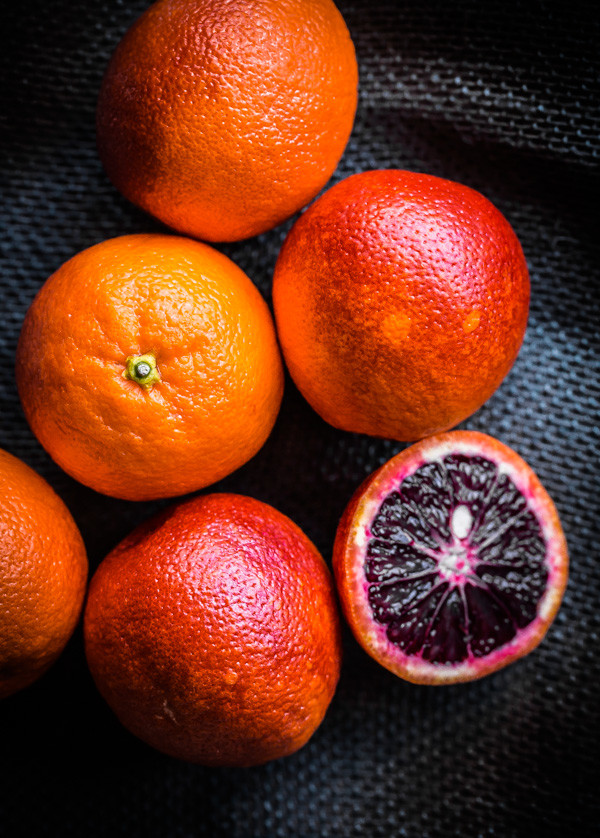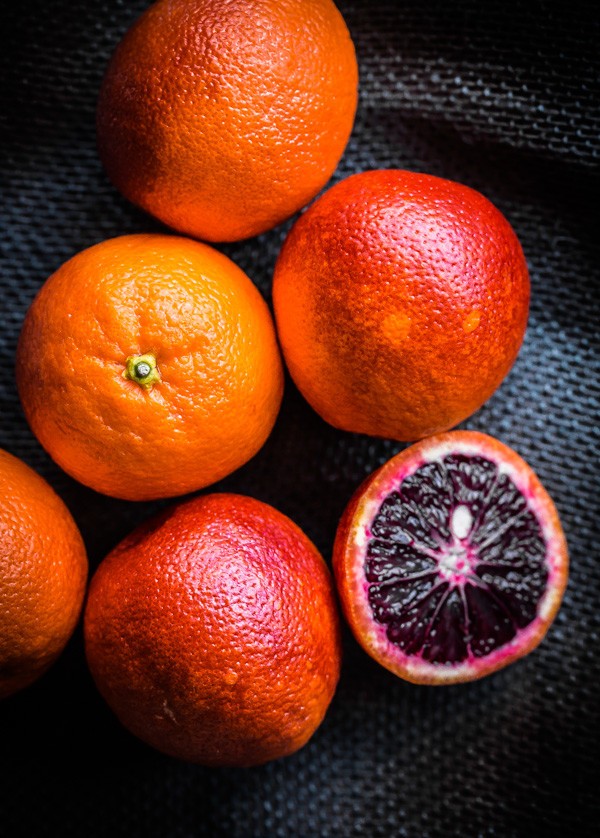 Chocolate bark has become all the rage over the past couple years. If we're all being honest with ourselves, chocolate bark is essentially melted chocolate (sometimes layered melted chocolate) with customize-able toppings. This version was inspired by last year's dark chocolate covered candied orange slices.
Technically, chocolate bark isn't all that different from a fancy chocolate bar, but it sounds more fun, is a hell of a lot easier to make than other holiday desserts, and we get to break it into cute, jagged pieces. We also get to steal a few bites for ourselves during the chocolate-bark making process, because no one will notice either way. In other words, I'm cool with this.
On that note, does anyone remember when I shared this peppermint chocolate bark back in December of 2010? The day before Christmas (incredibly helpful)? Just my mom? Ok, cool. [Please erase those pictures from your memory.]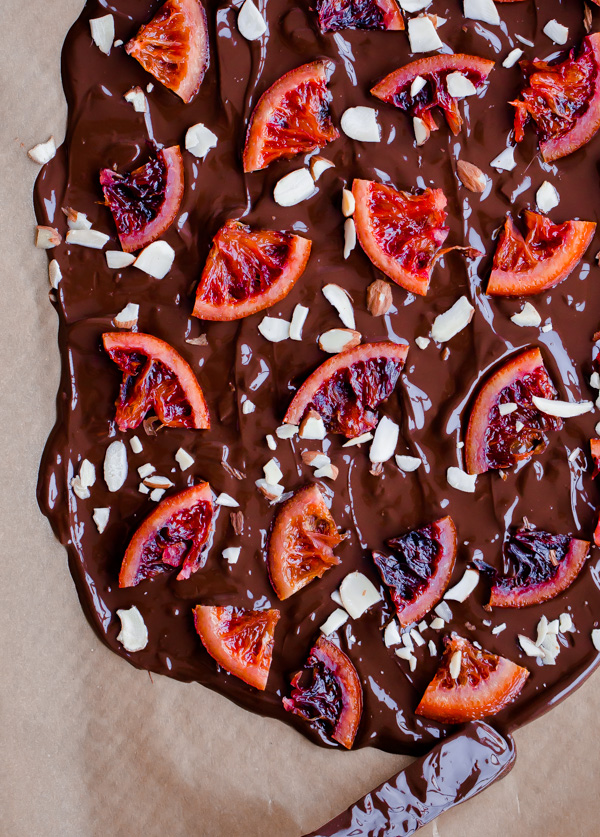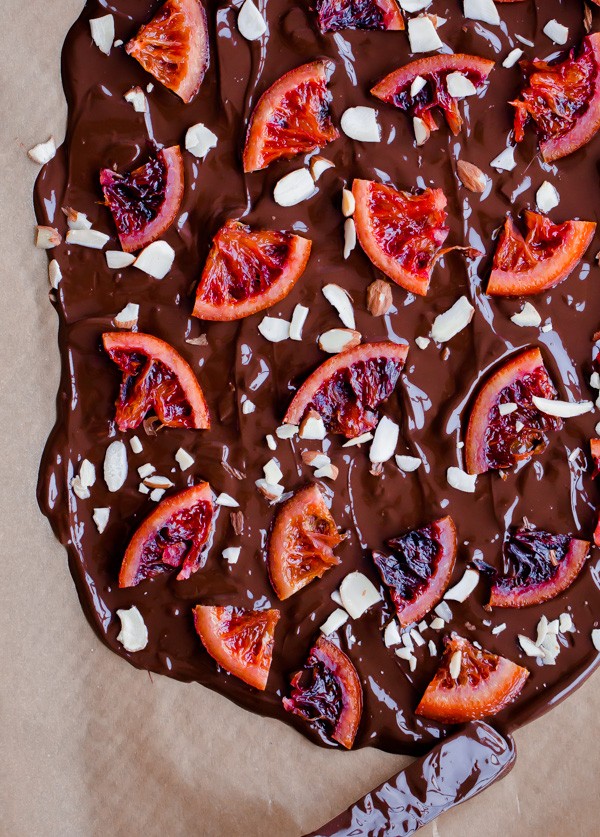 This blood orange almond chocolate bark is slightly more high-maintenance in that it requires you to plan ahead in order to prepare and air-dry the candied blood oranges slices.
Ideally, you should plan on the candying the blood orange slices about two to three days prior to when you'll want the chocolate bark prepared and ready to eat (or gift). This will allow more than enough time to air-dry the candied orange slices (this step takes between 24 and 48 hours, depending on how dry or humid your house is).
While candying other varieties of citrus peel, like this candied grapefruit peel, can be very time-consuming, this method is extremely straight-forward and hassle free. The whole blood orange slices are poached in a sugar syrup (consisting of water, sugar, and a touch of corn syrup) for about an hour or until the peel is near translucent in color.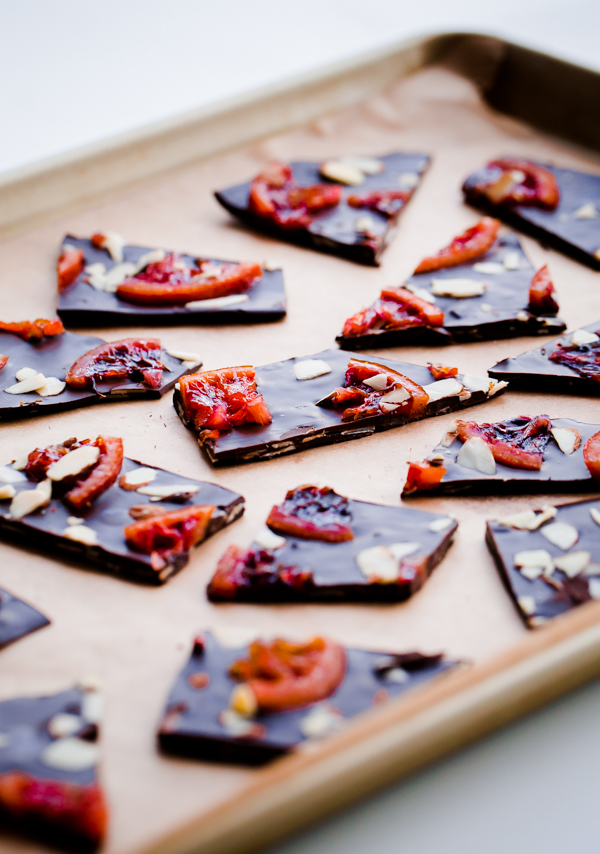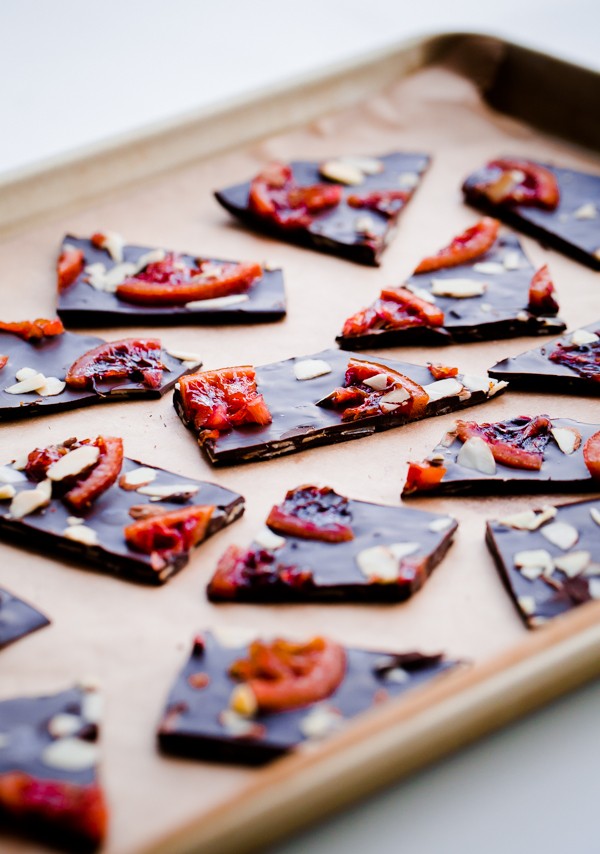 Using Tempered Chocolate in Homemade Bark:
The candied blood orange slices are great for snacking on their own – but they are even better when paired with good-quality dark chocolate!
Ideally, chocolate bark would be prepared with tempered chocolate. All good-quality store-bought chocolate is sold in tempered form. If you warm and melt tempered chocolate carefully and slowly, you can keep the chocolate in temper when making this chocolate bark. Tempered chocolate is couverture chocolate that is melted and cooled using specific temperature guidelines.
The chocolate tempering process is responsible for the glossy look and lovely snap sound that is characteristic of store-bought chocolate bars and bark. It also allows the chocolate to set and be stored at room temperature without getting soft.
If you are preparing homemade chocolate bark and do not wish to temper your chocolate, be sure to store this chocolate bark in the refrigerator.
Alternatively, you can use glazing dark chocolate melting tabs (not to be confused with candy melts), which will behave like tempered chocolate once melted and set. I don't find glazing chocolate to be as tasty as good-quality dark chocolate – but it is a great and easy alternative!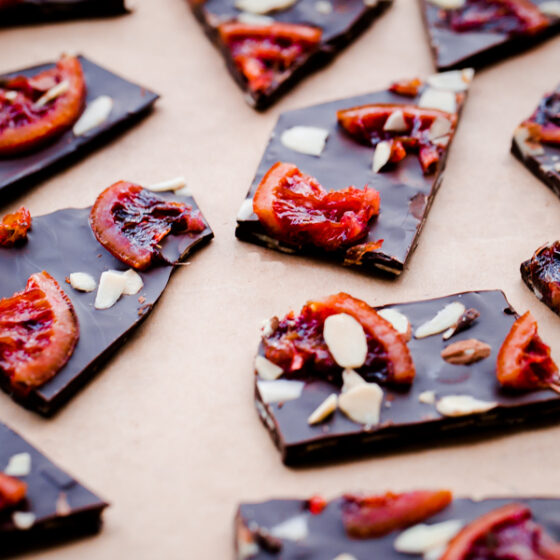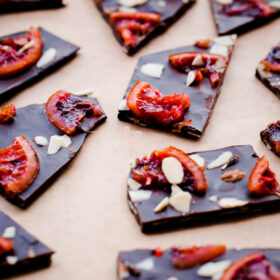 Blood Orange Almond Chocolate Bark
Homemade orange chocolate bark studded with candied blood orange pieces and sliced almonds. This chocolate bark makes a beautiful edible gift during the holiday season. If using untempered chocolate, be sure to store the bark in the refrigerator to avoid melting.
Ingredients
Candied Blood Orange Slices:
2 small blood oranges scrubbed well
¾ cup (150 g) granulated sugar
2 cups (480 mL) water
2 tablespoons light corn syrup
Blood Orange Almond Chocolate Bark:
Instructions
Prepare the Candied Blood Orange Slices (1 to 2 Days in Advance): Trim the ends of the blood oranges, then slice them into ¼-inch thick slices. Carefully remove and discard any seeds. Combine the sugar, water, and light corn syrup in a wide, deep skillet and bring to a boil, whisking continuously until the sugar has completely dissolved.

Add the orange slices to the pan in a single layer and bring to a simmer. Simmer the slices in the poaching liquid for roughly 1 to 1¼ hours, uncovered, or until the slices have become nearly transparent. Set a cooling rack in a half sheet pan and set aside.

Once the orange slices are transparent, transfer them, allowing any excess syrup to drip back into the pan, and set on the cooling rack, laying them out to dry. Ensure the slices don't touch each other. Allow the slices to dry, uncovered, at room temperature for a minimum of 24 hours to 48 hours, or until mostly dry and minimally tacky. Flip halfway through. Note: The total time will vary depending on the humidity level in your kitchen or house.

Prepare the Chocolate Bark: Line a half sheet pan with parchment paper (or silicone mat) and set aside. Place the chopped chocolate in a microwave-safe bowl and melt at the lowest power in 20 to 30 second intervals, stirring with a rubber spatula after each interval. Continue to stir the chocolate gently and melt in short intervals until the chocolate is smooth and fully melted

Stir the sliced almonds (reserving 1-2 tablespoons for garnishing) into the melted chocolate and pour the chocolate onto the lined baking sheet. Using an offset spatula, spread the chocolate into a thin layer, ideally just under ¼-inch thick. The melted chocolate won't fill the entire sheet pan.

Distribute and place the candied blood orange pieces onto the melted chocolate and sprinkle with the remaining sliced almonds. Tap the sheet pan on your countertop once or twice. Let chocolate bark sit out, uncovered, for 1 to 2 hours, or until the chocolate is fully set. If you are using un-tempered chocolate, you will need to place the sheet pan into the refrigerator for the chocolate to set. This will take about 20 to 30 minutes.

Cut or break the chocolate bark into small pieces. Store the bark in a cool, dry place at room temperature. If using un-tempered chocolate, store in an airtight container in the refrigerator until ready to serve.
Tips for Success:
Ideally, chocolate bark would be prepared with tempered chocolate.
If you are preparing homemade chocolate bark and do not wish to temper your chocolate, just remember to store the chocolate bark in a refrigerator or very cool place. Take out of the refrigerator a few minutes before serving.
Chocolate bark inspired by these
candied blood orange slices with dark chocolate
. Poaching method adapted from
Martha Stewart
.
Serving: 1serving, Calories: 120kcal, Carbohydrates: 27g, Protein: 1g, Fat: 2g, Polyunsaturated Fat: 2g, Sodium: 6mg, Fiber: 1g, Sugar: 25g
This post contains affiliate links, which means that I make a small commission off items you purchase at no additional cost to you. Please read my
privacy policy
for more information.