7 Weeknight Meals, 1 Grocery Trip
Ok, so remember when I declared that 2016 would be the year of meal planning?
Well, that goal has fallen by the wayside. Recipe testing for other projects has resulted in so many leftovers and grocery store trips that I can often get away with minimal planning on the dinner front. When life gets busy, meal planning becomes almost non-existent around here.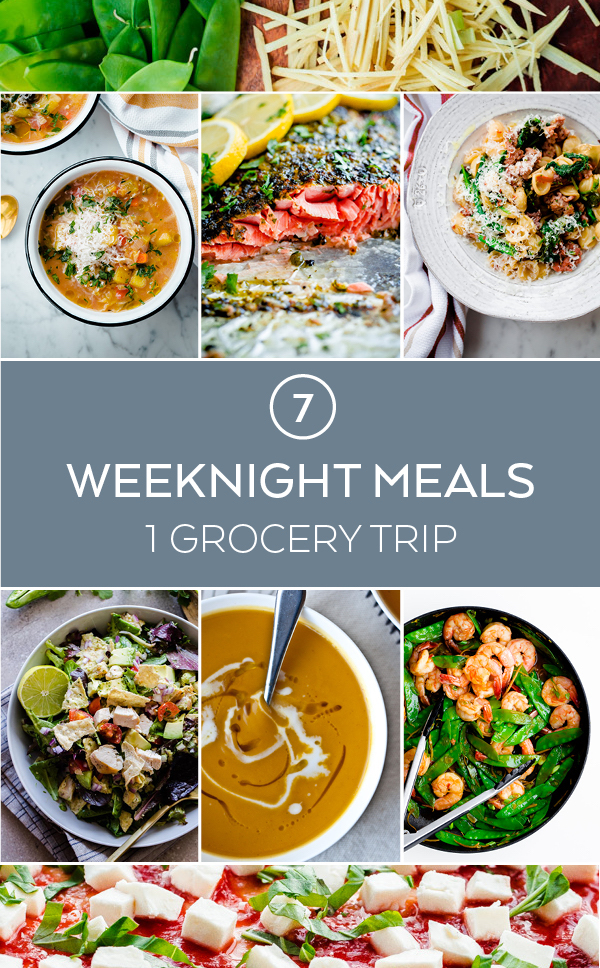 I figure if I'm struggling – some of you may be struggling with this too! In the reader survey, I asked what type of recipes you would like to see more of on ABP and the vast majority of you requested more weeknight friendly recipes!
So, I thought it would be fun to put together a weekly meal plan with 7 weeknight recipes that you can make on even the busiest of weeks. The meal plan includes a variety of recipes – slow cooker recipes, filling main course salads, seafood, vegetarian meals, etc. I tried to be mindful of re-using certain ingredients throughout the week for minimum waste too!
The BEST part? I've included a comprehensive grocery list for the whole week – a list that you can save, print out, or reference on your phone at the grocery store. The planning is done for you!
7 Weeknight Meals, 1 Shopping List, 1 Grocery Trip:
Be sure to double-check the pantry list included to see if you already have certain items on hand or need to grab an additional item at the store.
Can I just selfishly say that I'm sort of thrilled to be able to turn to this in the coming weeks? Let me know in the comment section (or in an email!) if you enjoy this and would like to see more posts like this in the future!
This post contains affiliate links, which means that I make a small commission off items you purchase at no additional cost to you. Please read my
privacy policy
for more information.