Roasted Carrots with Pistachio Carrot Top Pesto
Roasted carrots with homemade carrot top pesto. This flavor-packed vegan side dish goes with just about everything and is the epitome of root-to-stalk cooking.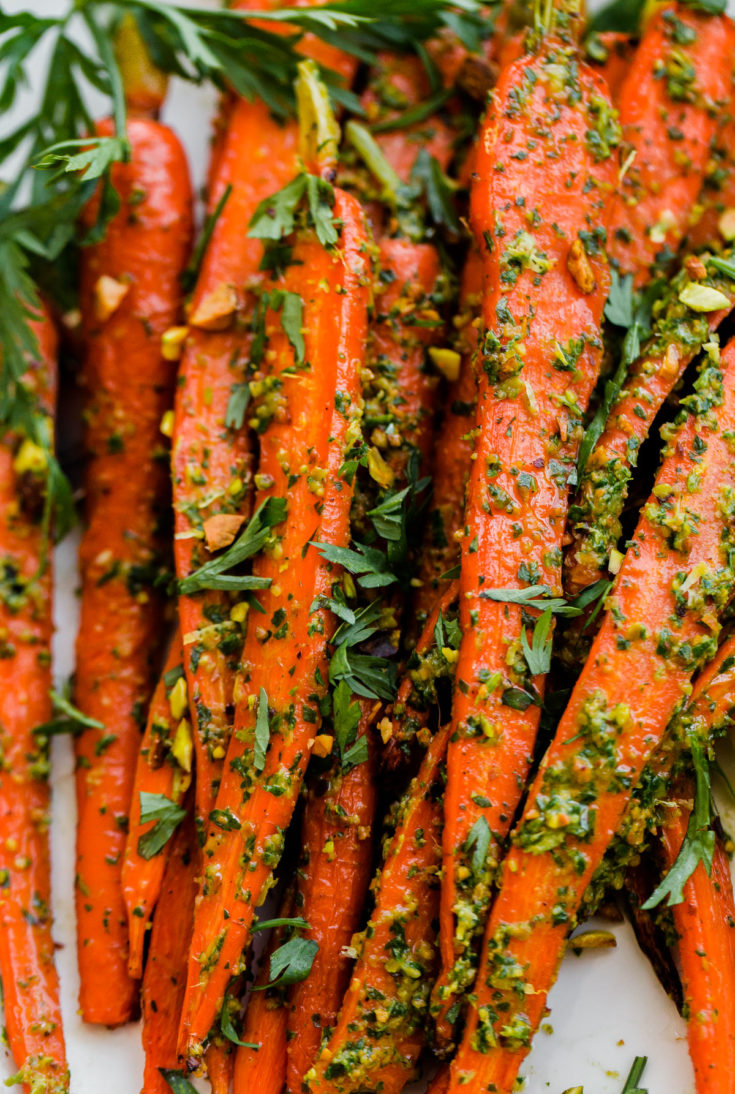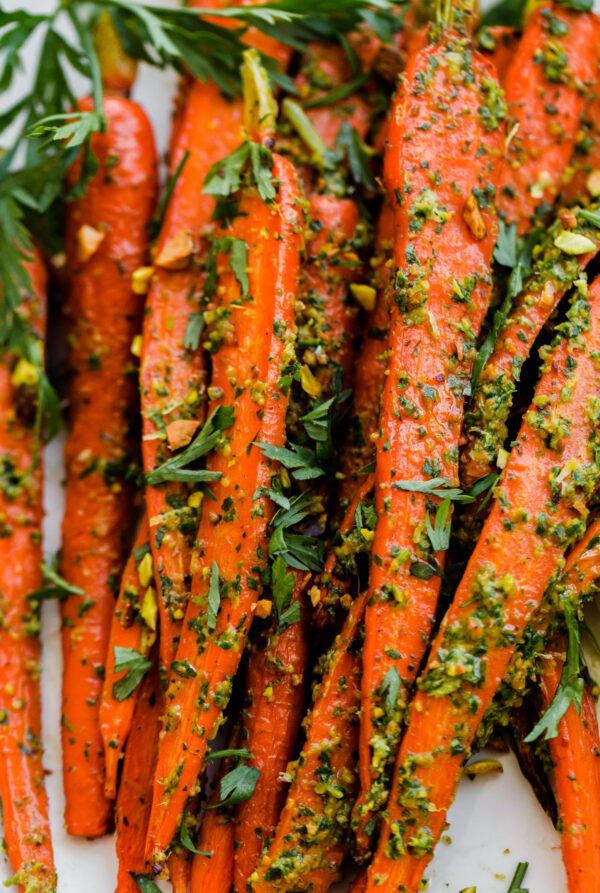 Hi! I've missed this space! With several trips scheduled back to back, September and these first two weeks of October have disappeared before my eyes. While I love traveling (and can't wait to share my trip to Iceland and England with you!), it takes me at least a week or two to feel caught up and get back into a routine. So, I'm just going to get right to it.
We're roasting carrots today! The weather has finally cooled down just enough for me to bust out the sheet pans. I'm excited about it. If you've followed my ramblings for even a short time, you know that roasted carrots are my thing. It is my go-to method for cooking carrots. The high roasting temperature and dry heat concentrates and caramelizes carrots' natural sugars, and they become quite addictive.
Roasted carrots add heft to main courses, such as this roasted carrot lentil salad, and they can quickly be transformed into soup, such as this incredibly easy (accidentally vegan) garam masala carrot soup! I've even jazzed up them with fun things like tahini sauce and pomegranate arils. These roasted carrots with carrot top pesto are my latest creation, and it might be one of my favorite side dish recipes to date.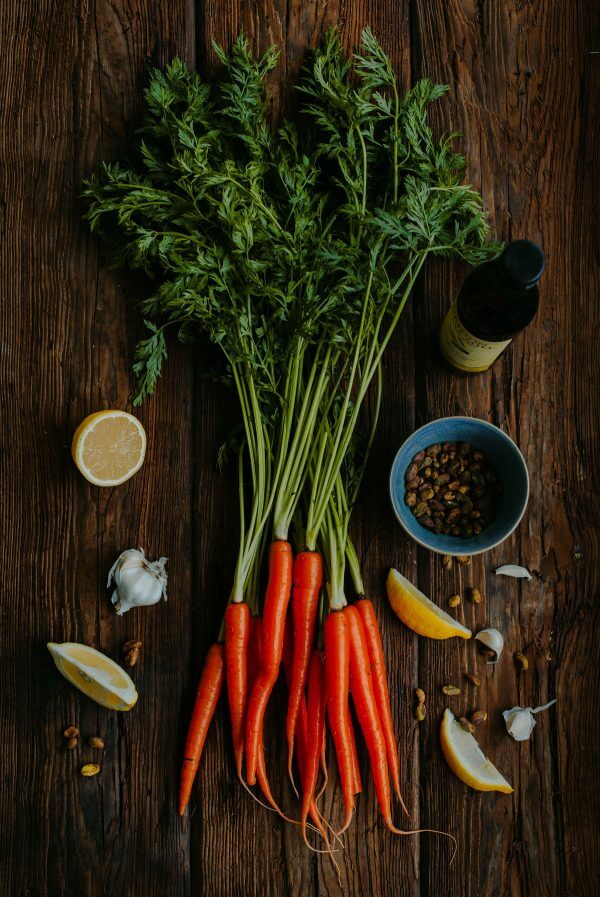 In order to make this recipe, you're going to need to seek out carrots with beautiful leafy green tops! No bagged carrots, please.
A few years ago, I never would have bought carrots with the greens attached. I just didn't get the point. Carrots with greens always looked more fresh and appealing, but if I did buy them – and I'm embarrassed to admit this now – the leafy green tops ended up in the trash more often than not. Gahh! Nooo!
When I first came across the concept of carrot top pesto (or well, carrot top anything!), it was a major lightbulb and smack-my-forehead moment. In many ways, carrot top greens are like parsley both in appearance, texture, and versatility, except carrot top greens actually taste like carrot.
It seems like such an obvious statement, but it's worth emphasizing!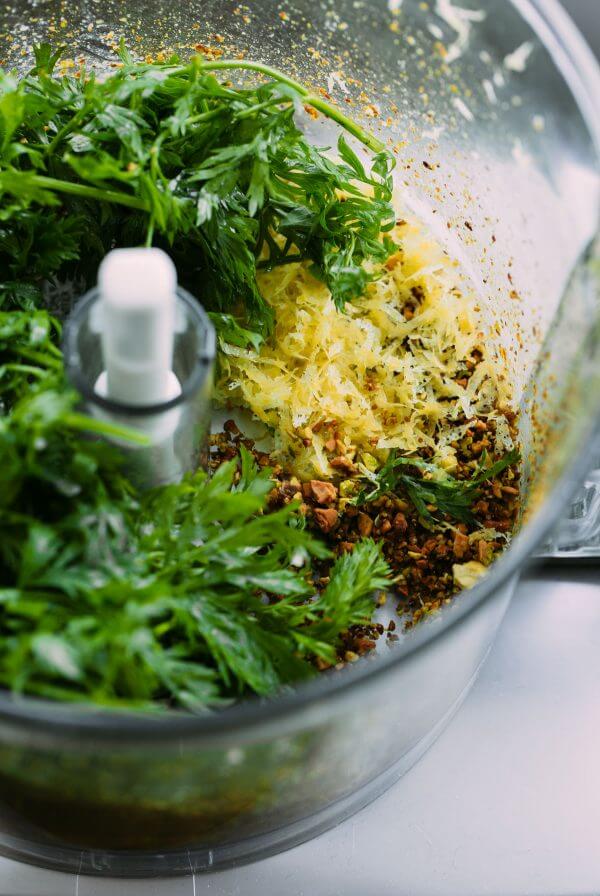 Tips for Carrot Top Pesto
One of my favorite ways to use carrot top stems is for homemade pesto. If you've never used carrot top greens before in a recipe, this recipe is made for you! You get to have your carrot top leaves and eat them too.
Unlike traditional Italian pesto, this carrot top pesto doesn't contain any cheese and is made with a simple combination of carrot top leaves, shelled pistachios, garlic, lemon zest and juice, and olive oil. The pistachios complement the roasted carrot flavor incredibly well. The pesto is light, bright, and is tasty enough to eat by the spoonful.
The key for carrot top pesto is to find carrot top leaves in very good shape (avoid or discard any bruised leaves or stems!), and washing the leaves very well to remove any dirt or sand. Carrot top leaves don't store well for extended periods of time in the fridge, so I strongly suggest preparing the carrot top pesto in advance if you are planning ahead.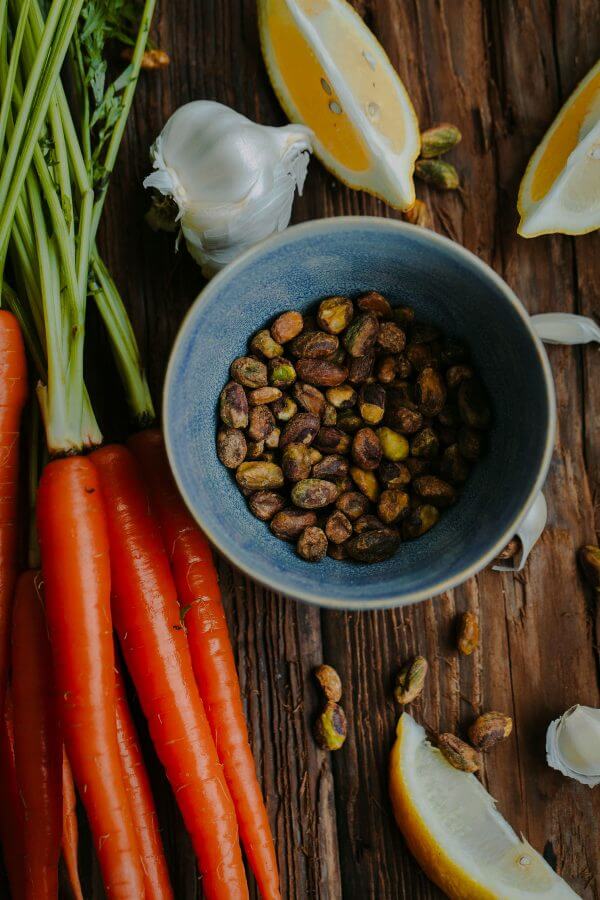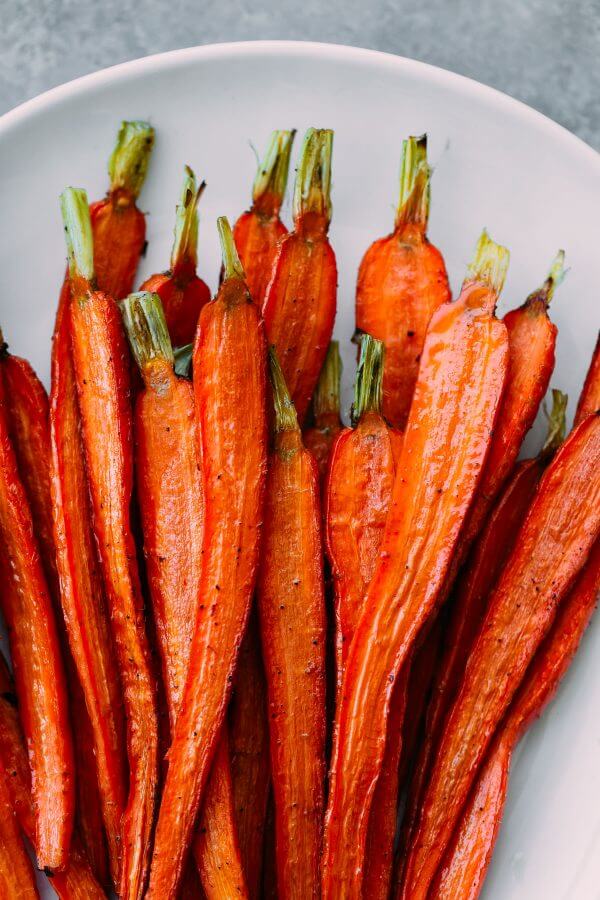 In this recipe, the roasted carrots are gently tossed, warm right out of the oven, with the carrot top pesto. It transforms an otherwise plain and traditional roasted carrot side dish into something more exciting and substantial!
I love this dish concept, because it is the epitome of root-to-stalk cooking. There is minimal to zero waste involved, and it is a fantastic way to incorporate the healthy and nutrition-packed carrot leaves into your kitchen cooking repertoire.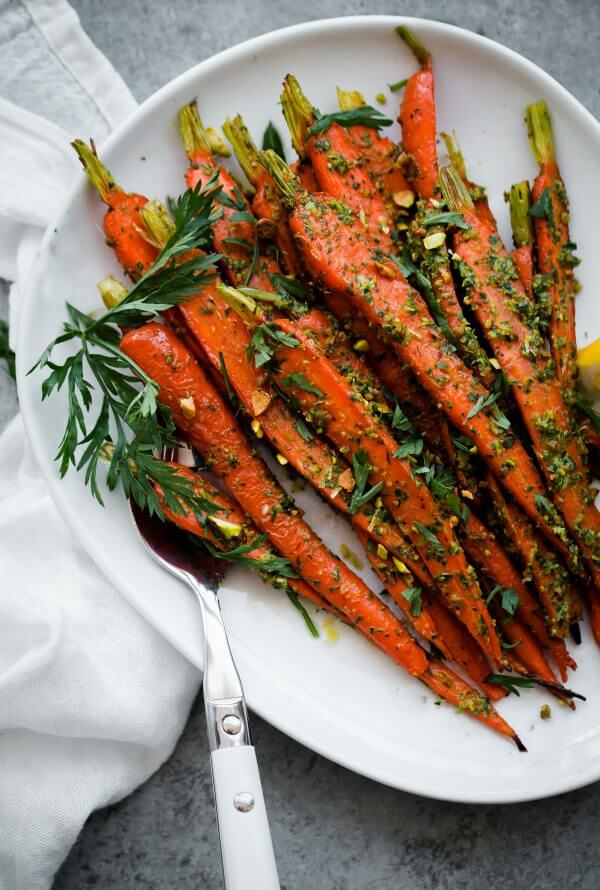 It goes without being said, this concept can be applied to so many other dishes than roasted carrots. If you wish to save carrots for other uses (or simply serve them plain) or your carrot tops need to be used quickly, the carrot top pesto can could just as easily be tossed with grains, pasta, seafood or meat, or other vegetables.
You'll never look at carrot top stems the same way again!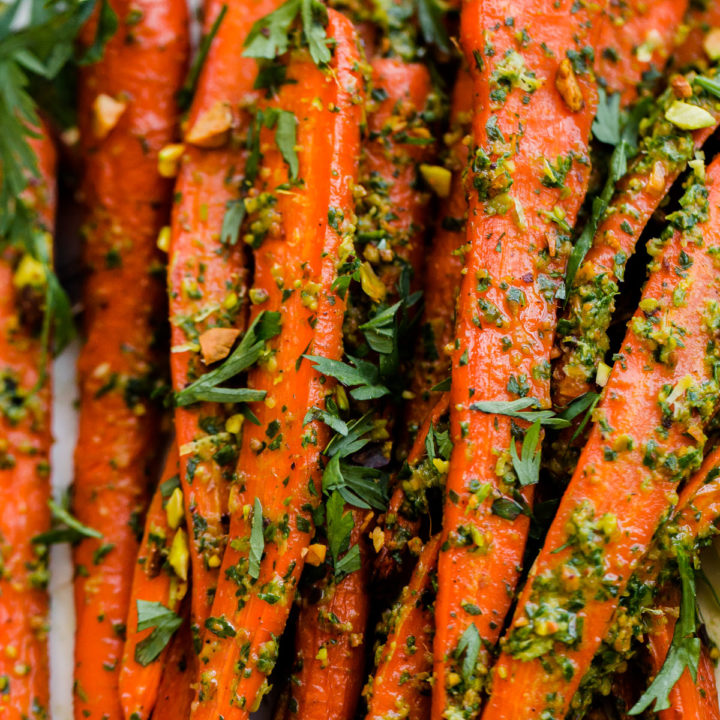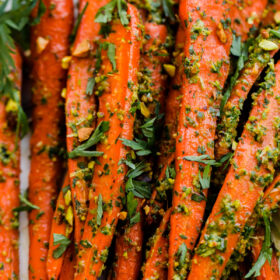 Roasted Carrots with Pistachio Carrot Top Pesto
Caramelized roasted carrots tossed with carrot top pesto. This flavor-packed vegan side dish goes with just about everything and is the epitome of root-to-stalk cooking.
Ingredients
Roasted Carrots
1½ lbs (roughly 2 large bunches) carrots with fresh, green tops attached
1 tablespoon (15 mL) extra virgin olive oil
⅛ teaspoon Diamond Crystal kosher salt
freshly ground black pepper
Carrot Top Pistachio Pesto
¼ cup shelled pistachios plus more for garnishing
1 large garlic clove
1 cup loosely packed carrot top leafy greens
zest of 1 lemon
2 tablespoons fresh lemon juice
2 tablespoons (30 mL) extra virgin olive oil
kosher salt
freshly ground black pepper
Instructions
Prepare the Roasted Carrots: Preheat the oven to 425°F (220°C) with a rack in the center position.

Trim the stems from the carrots, leaving roughly ¼-inch stem attached. Set aside 1 packed cup of carrot top leaves for the pesto, discarding any tough or bruised leaves and stems. Rinse and dry the carrot top greens to remove any grit and dirt. Save a few additional carrot leaves for garnish.

Rinse and scrub the carrots well. Pat the carrots dry with a clean kitchen towel or paper towels and carefully slice in half lengthwise. Place the carrot halves on a half sheet pan and toss with extra virgin olive oil, salt, and pepper. Distribute the carrots evenly across the pan, cut-side down, leaving space between them.

Roast the carrots, flipping them halfway through, until they are caramelized and just fork tender, roughly 18 to 24 minutes depending on the thickness of your carrots.

Prepare the Pesto: As the carrots are roasting, prepare the carrot top pistachio pesto. Pulse the pistachios and garlic in the bowl of a food processor. Add the carrot top leaves, lemon juice, lemon zest, pinch of kosher salt, and freshly ground black pepper. Pulse several times, scraping down the sides of the bowl with a rubber spatula as needed. Add the olive oil and roughly 2 tablespoons warm water - this helps thin the pesto to make it easier for tossing with the carrots - and process until mostly smooth. Season to taste with salt and pepper.

Toss the still-warm roasted carrots with carrot-top pesto (you'll have some extra pesto, which can be stored in an airtight-container in the fridge or frozen and thawed later). 

Place roasted carrots on a platter and garnish with carrot top leaves and chopped pistachios. Serve warm or at room temperature.
Tips for Success:
Feel free to double or triple the pesto recipe if you have leftover carrot top greens. Place the pesto in a container, cover with a thin layer of olive oil, and refrigerate for 3 to 4 days, or freeze and defrost later! The pesto would be great as an appetizer dip, tossed with pasta, or served with seafood or meat.
Serving: 1serving, Calories: 159kcal, Carbohydrates: 17g, Protein: 2g, Fat: 11g, Saturated Fat: 1g, Polyunsaturated Fat: 9g, Sodium: 303mg, Fiber: 6g, Sugar: 6g
This post contains affiliate links, which means that I make a small commission off items you purchase at no additional cost to you. Please read my
privacy policy
for more information.