Sautéed Dandelion Greens with Eggs
Paired with a crusty loaf of bread, these sautéed dandelion greens with leeks, eggs and feta cheese highlights an often under-appreciated leafy green.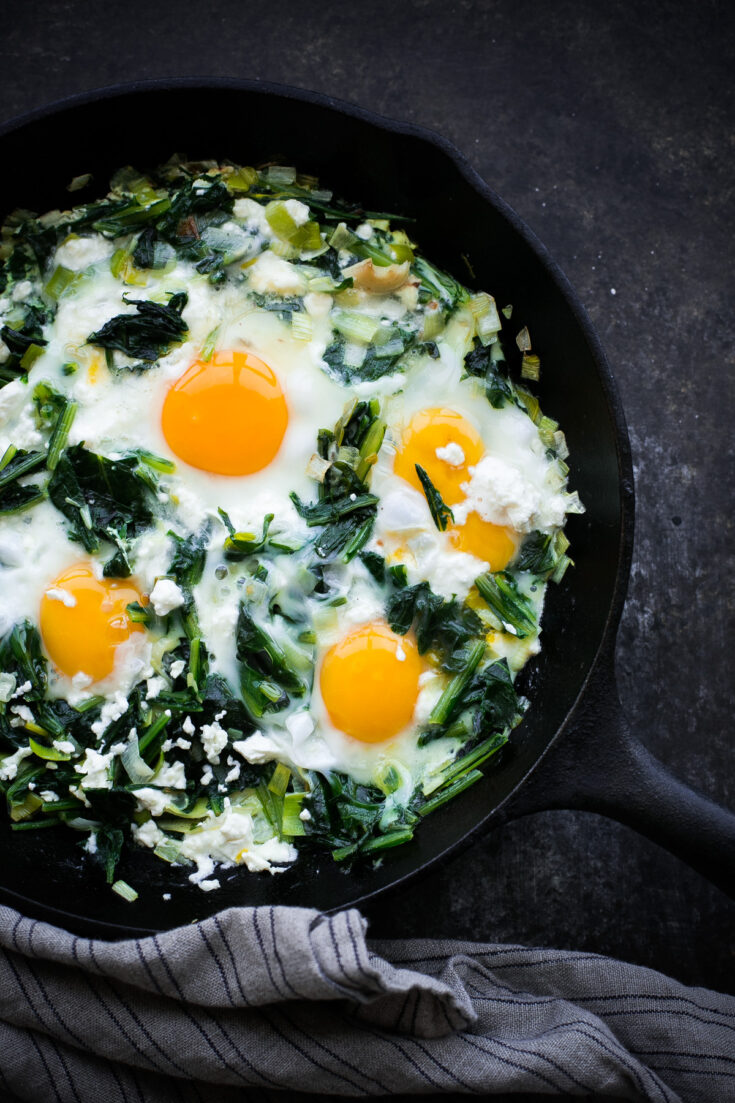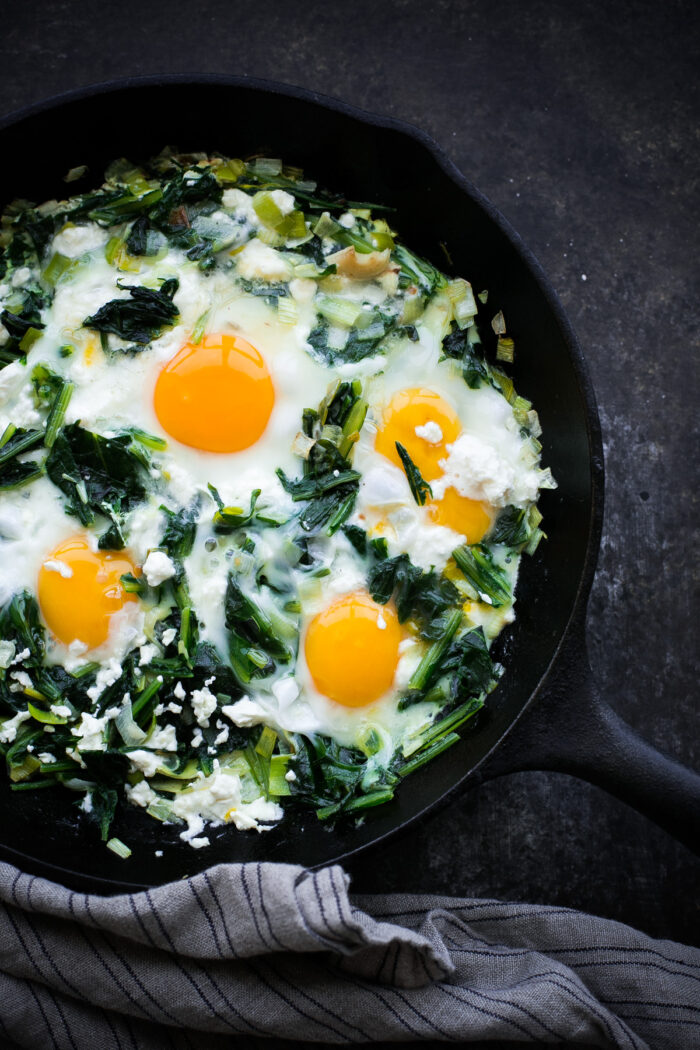 Summer has officially arrived in Chicago! Even though it is only my second summer in this city, I've come to love what this season represents: patio life, festivals galore, lake walks, and out-of-town visits from family and friends (who can blame them for staying away in the winter months).
For me, it also means slowing down, weekend visits to the farmer's market, and spending a bit less time in the kitchen. We can get away with simpler meals and flavors in the summer months, and I love that. It is all about highlighting great ingredients and letting them do most of the work.
Today's sautéed dandelion greens with eggs is very much in the realm of seasonal cooking. The ingredient list is short (only five ingredients, including butter) and the preparation is fast. It can serve as a quick weekend breakfast or an easy weeknight dinner!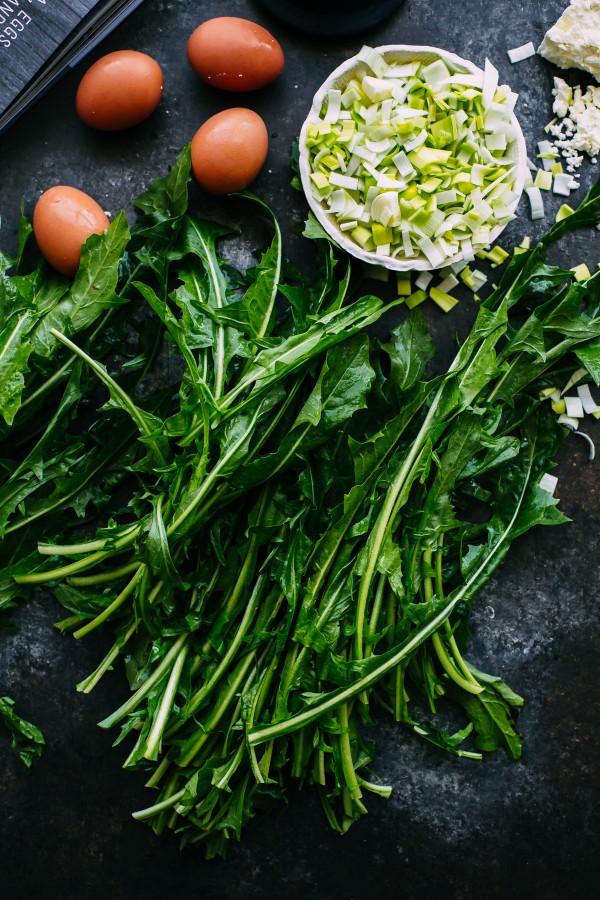 As you've probably noticed, the star of this dish is the fresh dandelion greens. Yes! The same dandelion greens that you've been cursing and pulling up from your garden for years and years. Did you know that you could eat those? You can!
[Although, I strongly recommend seeking out the organic variety from the farmer's market or grocery store, because, well, yeah. If you live in an area of the country where you can pick the non-dog park, non-pesticide variety, go for it!]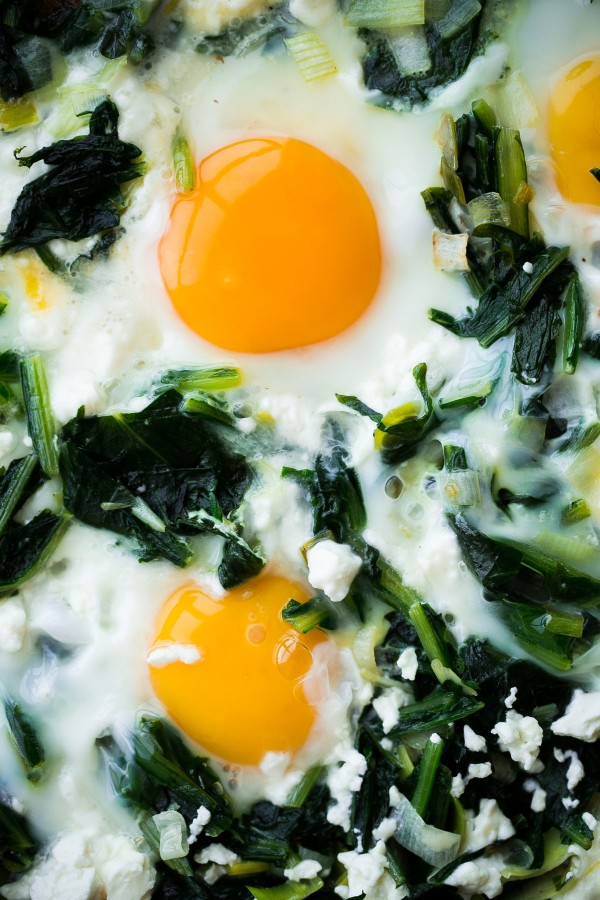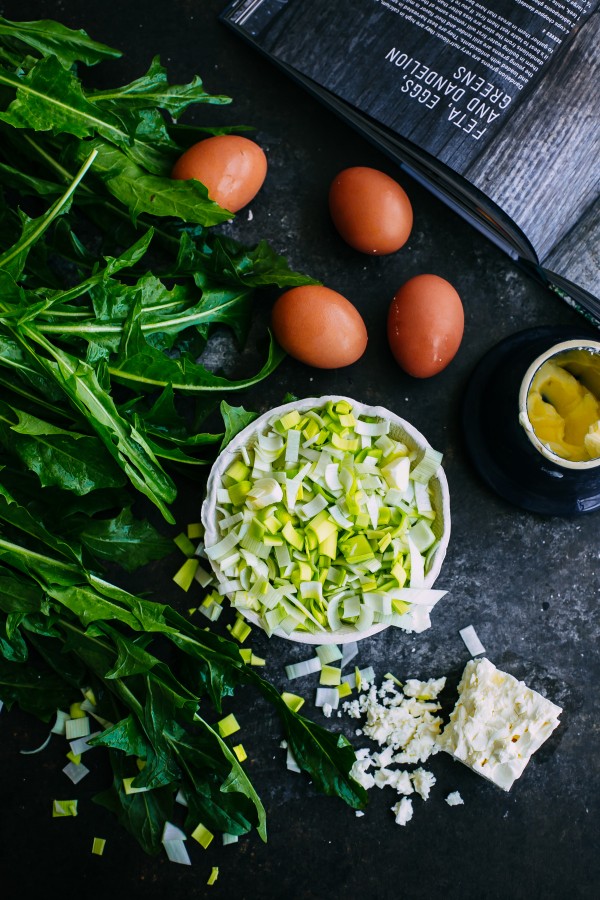 I used to only see dandelion greens at the farmer's market (occasionally!), but now I can find them at most basic supermarkets in the produce section. This recipe is from the beautiful Savor: Rustic Recipes Inspired by Forest, Field, an Farm cookbook by Ilona Oppenheim, which landed on my doorstep a few months ago. It is a gorgeous, coffee-table cookbook that celebrates rustic, nature-driven recipes.
Dandelion greens are actually one of the healthiest green vegetables out there. I've always vaguely known this, but this book (which I love and highly recommend!) drove the point home:
Compared to spinach, one of our present-day "superfoods," dandelion leaves have eight times more antioxidants, two times more calcium, three times more Vitamin A, and five times more vitamin K and vitamin E (Eating on the Wild Side by Jo Robinson, pg. 23)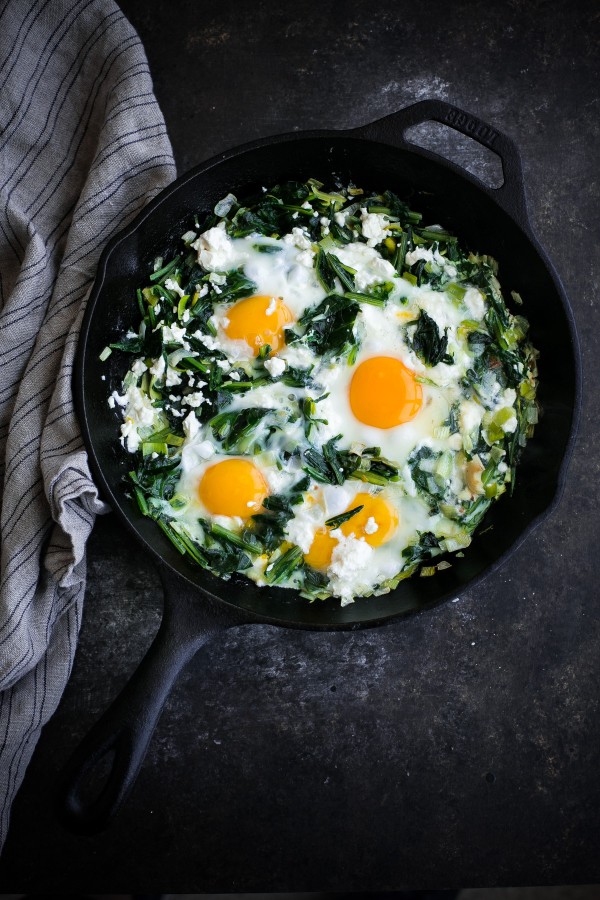 Similar to radicchio or endive, dandelion greens are naturally bitter. Generally the more bitter the green, the more healthy and nutritious it is! My biggest advice is to seek younger, more tender dandelion greens, as they tend to be less bitter in flavor.
To help reduce the bitterness, the dandelion greens are also blanched briefly in salted boiling water before throwing this dish together. Sweet, sautéed leeks help balance the dish out (don't skip those!), and the salty, briny feta and runny eggs bring the whole thing together!
Paired with a crusty loaf of bread, this dish highlights the under appreciated dandelion green into an ingredient that I can't wait to experiment more with in the kitchen, especially over the remainder of the summer months!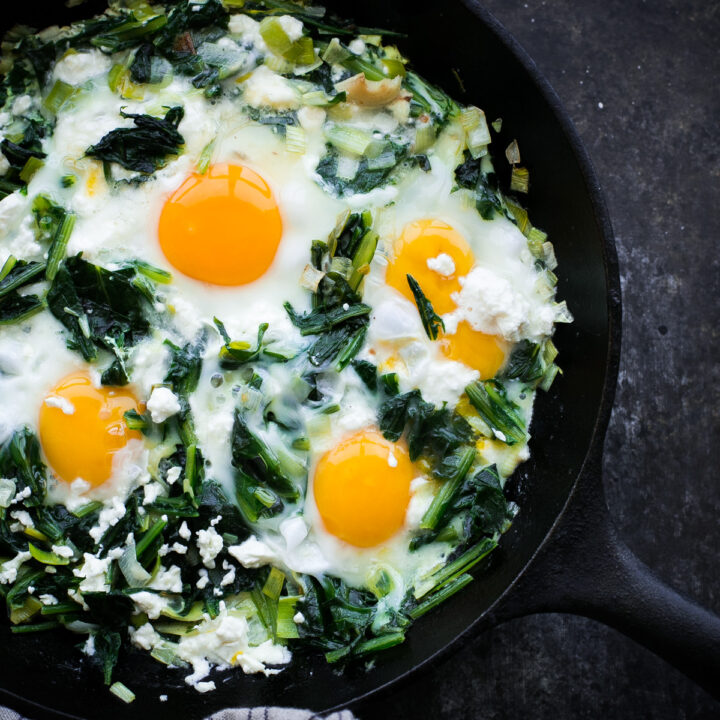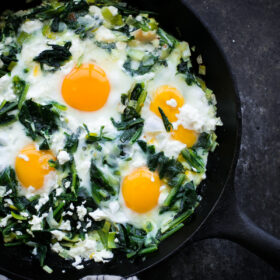 Sautéed Dandelion Greens with Eggs
Paired with a crusty loaf of bread, these sautéed dandelion greens with leeks, eggs and feta cheese highlights an often under-appreciated leafy green. To help reduce bitterness, the dandelion greens are quickly blanched in salted boiling water!
Ingredients
4 cups chopped dandelion greens (about 1 to 2 bunches) thick stems removed and discarded
2 tablespoons (30 g) unsalted butter clarified butter or ghee
1 large leek, white and light green parts only sliced lengthwise and finely chopped
4 large eggs
¼ cup crumbled feta cheese
Instructions
Blanch the Dandelion Greens: Bring a large pot of salted water to a boil. Add the chopped dandelion greens and blanch for 1 to 2 minutes. Drain the greens thoroughly, using a wooden spoon to drain and press out as much liquid as possible.

Melt the butter or ghee in a 10-inch sauté or cast iron pan set over medium heat. Sauté the leeks until tender, about 5 minutes, stirring occasionally. Add the drained dandelion greens one handful at a time. Cook each handful until wilted, then add more.

When the greens are wilted, use a spoon to create several shallow nests in the greens and crack the eggs into each one Top with feta cheese and cook uncovered until the whites of the eggs are set, about 5 minutes. Serve immediately with toasted slices of crusty bread, if desired.
Tips for Success:
Blanching the dandelion greens removes some of their natural bitterness. Younger and more delicate dandelion greens will be more delicate in flavor than tougher, thicker greens.
Slightly adapted and reprinted with permission from
Savor: Rustic Recipes Inspired by Forest, Field, and Farm
by Ilona Oppenheim (Artisan 2016).
Serving: 1serving, Calories: 210kcal, Carbohydrates: 8g, Protein: 9g, Fat: 16g, Saturated Fat: 9g, Polyunsaturated Fat: 6g, Cholesterol: 218mg, Sodium: 203mg, Fiber: 2g, Sugar: 2g
This post contains affiliate links, which means that I make a small commission off items you purchase at no additional cost to you. Please read my
privacy policy
for more information.