Slow Cooker Carnitas Taco Bites
Crispy slow cooker carnitas taco bites! Homemade mini tortilla cups filled with carnitas and topped with guacamole, onion, and cilantro! Perfect for entertaining.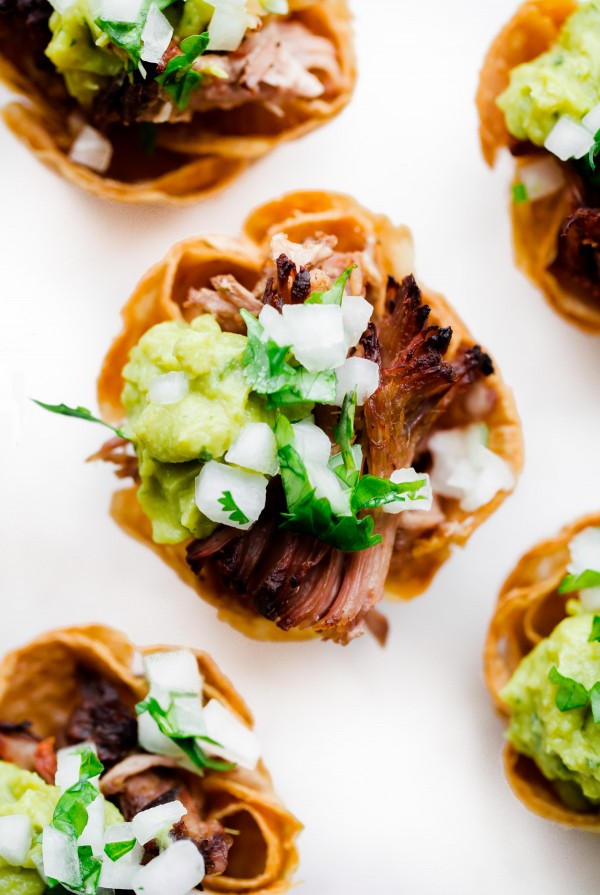 This post is in partnership with Sabra.
Somehow, January completely flew by and the Super Bowl is next weekend. We all know that Super Bowl Sunday is an excuse for us to eat our favorite foods. Truthfully, it's the only thing that can convince me to sit still and watch a football game in entirety. Snacks, dips, and appetizers. Lots of them.
For whatever reason, I crave Mexican food without fail whenever football is involved. Guacamole? Yes, please. Tacos? Preferably both, thanks. Tacos have been on my mind, I know.
I couldn't decide between the two, so I combined them into the cutest little carnitas taco bites! They're topped with Sabra guacamole, chopped onion, and fresh cilantro. Also, also! The carnitas are made in a slow cooker. It's a set-it-and-forget-it (for like 12 hours) situation. How have I lived without a slow cooker for 27 years of my life?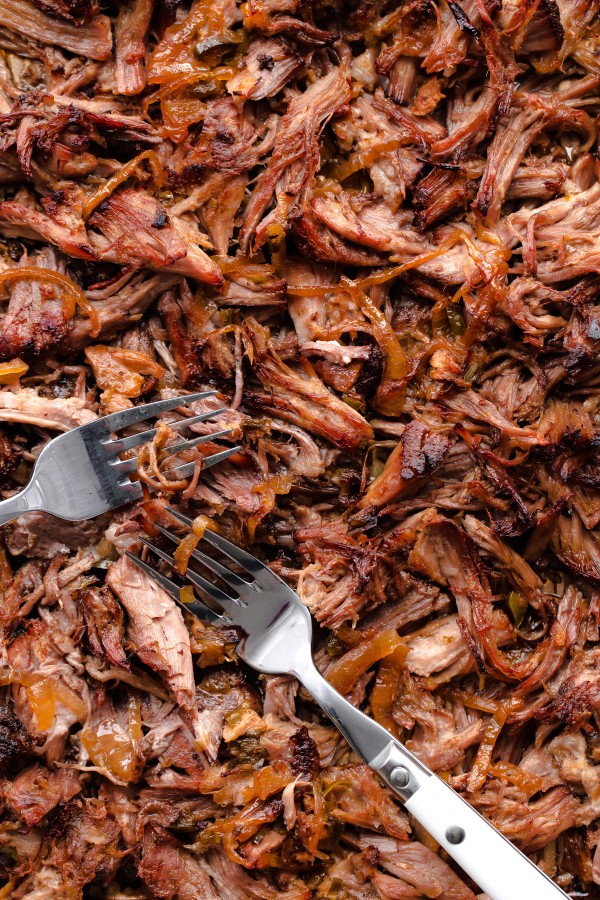 Why bite-sized tacos? Well, I have a slight obsession with all things mini (remember these falafel bites?).
I think this fascination stems from my old days working in the restaurant, where I was responsible for putting together platters of hor d'oeuvres for special events. It never got old to see tiny forms of my favorite foods. Mini BLT's, mini nori chips, mini marshmallows, the list went on and on.
Mini foods have an instant wow factor.
Plus, you can assemble these onto a platter and hand them out to all of your friends and family – and they are significantly less messy than normal sized tacos.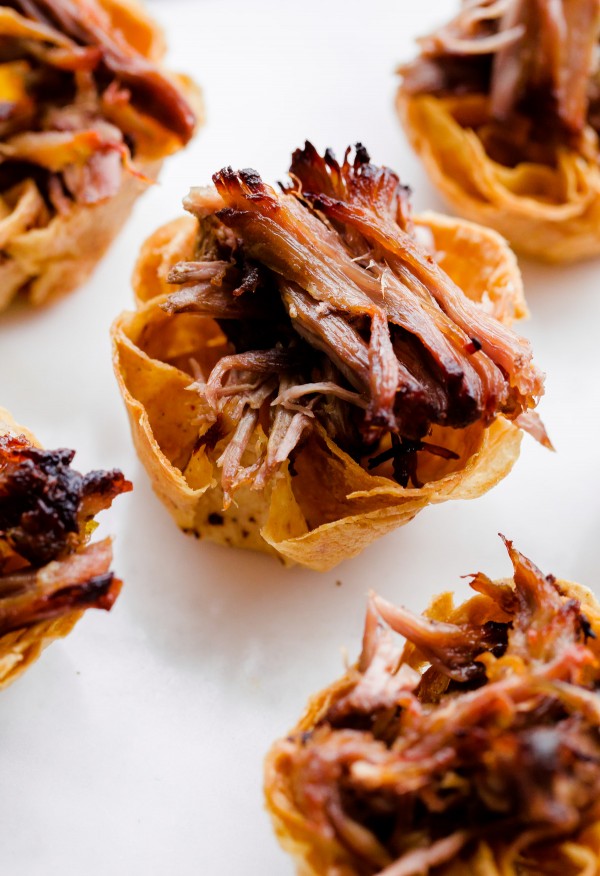 The actual mini tortilla cups are created by pressing corn tortilla discs into a standard muffin tin and baking them in the oven until their crispy and golden brown.
Be sure to buy extra thin soft corn tortillas for this, as standard tortillas a are a bit too thick for this application.
If you don't feel like going to the trouble of doing this, you could use those scoop tortilla chips (although those are significantly more tiny and might be slightly obnoxious to assemble – in all honesty!).
Or…skip the mini stuff and set up a regular taco bar. No judgement.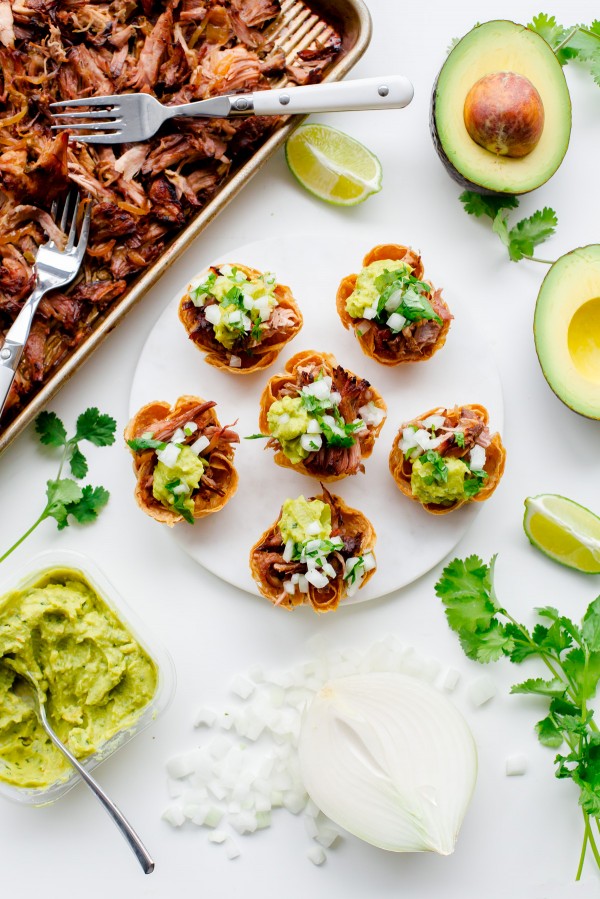 Since the pork shoulder has to cook for at least 10 to 12 hours, I recommend preparing and cooking the carnitas in your slow cooker the night before you wish to serve this dish. Yep, run your slow cooker overnight.
Not only do you wake up to the mouth-watering smell of carnitas (it's a fairly convincing wake-up call), but almost all of the work is done while you're sleeping.
If you're still not convinced, read this article. It might change your slow cooking strategy from this point forward.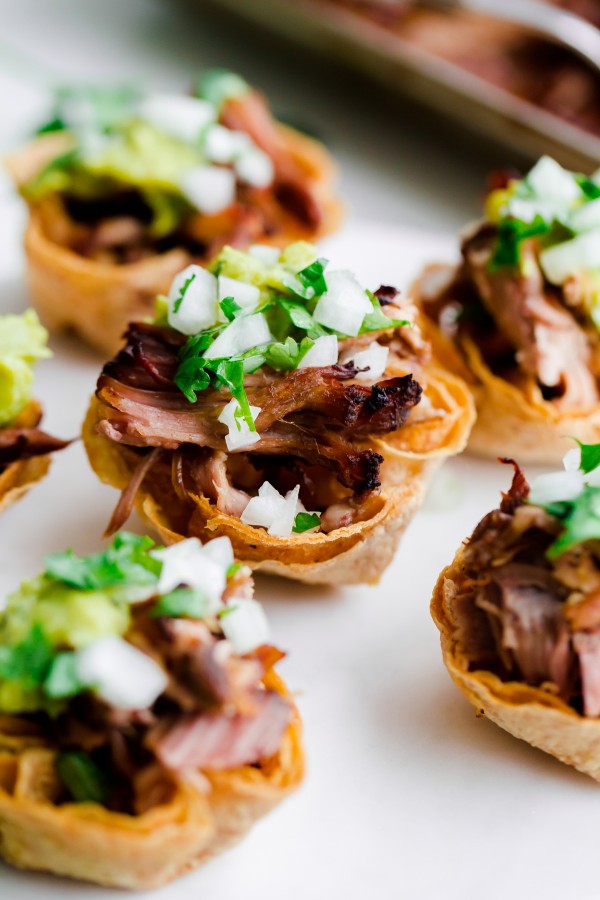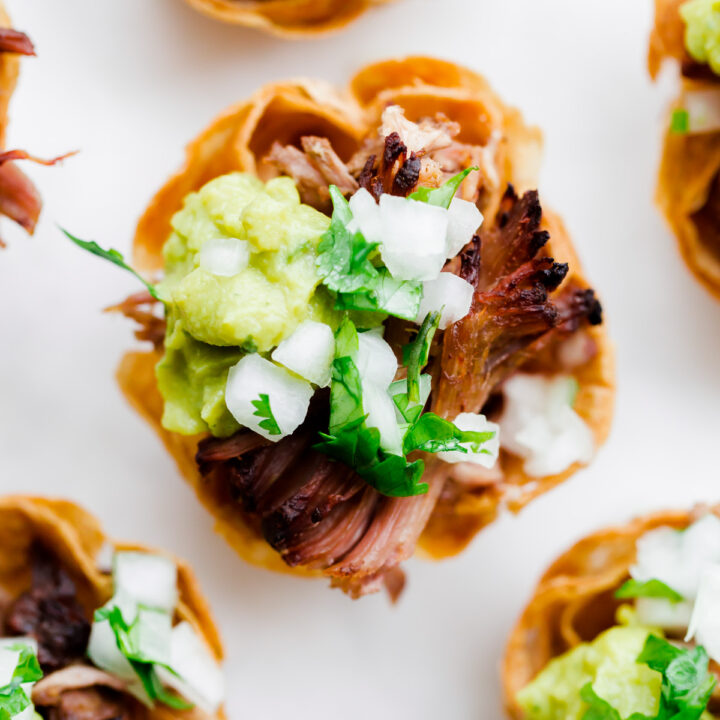 Slow Cooker Carnitas Taco Bites
Yield: 24 bites; 8-10 Servings
Crispy slow cooker carnitas taco bites! Homemade mini tortilla cups filled with carnitas and topped with guacamole, onion, and cilantro! Perfect for entertaining.
Prep Time: 10 minutes
Cook Time: 12 hours 30 minutes
Total Time: 12 hours 40 minutes
Ingredients
3 lbs bone-in pork shoulder*
2 teaspoons ground cumin
kosher salt
freshly ground black pepper
juice of (juicy) 1 navel orange
1 medium onion, thinly sliced
2 jalapeno peppers, seeds removed, and finely diced
4 peeled garlic cloves, smashed
1 dried bay leaf
1 tablespoon extra virgin olive oil
24 (6-inch) extra thin, soft corn tortillas (alternatively, you can use scoop tortilla chips – which will be half the size)
1 container (8 ounces) Sabra Classic Guacamole
1 medium white onion, finely diced
fresh cilantro leaves, finely chopped
lime wedges, for serving
Instructions
The Night Before: Rub the outside of the pork shoulder with the ground cumin. Season liberally on all sides with kosher salt and freshly ground black pepper. Place the pork shoulder, with the fat cap facing up, in a 4-quart slow cooker. Add the orange juice, sliced onion, diced jalapeño peppers, garlic cloves, and bay leaf. Cover and cook on low for 10 to 12 hours, or until the meat is very tender and begins to fall off the bone. *See 'Tips for Success' box for additional prepping tips.
Before Serving: Make the mini tortilla cups: Preheat the oven to 375 degrees Fahrenheit with a rack in the center position. Set aside two 12-cup muffin tins (if you only have one muffin tin, you will need to repeat this step for the second batch).
Warm the corn tortillas until they are pliable. Stack 6 tortillas at a time. Use a biscuit cutter, mug, or small bowl (4-inches in diameter) as a guide to cut the corn tortillas into 4-inch-diameter circles. Discard the scraps. Spray both sides of the tortilla discs with cooking spray. Gently press each disc into the cups of the muffin tin, and sprinkle them lightly with salt. If the tortillas crack or tear, it is because they have not been warmed sufficiently. Bake for 12 to 18 minutes, rotating the pan halfway through, or until the tortilla cups are completely crisp and golden brown. Allow them to cool before removing.
Preheat the broil to high with a rack position 4 to 5 inches below the flame. Once the pork is tender (and nearly falling apart), use two forks to shred it. Discard any large pieces of fat and bay leaf. Use a large slotted spoon to transfer the meat and any onions/garlic cloves to a sheet pan. Spread into a thin layer. Drizzle the meat with the tablespoon of olive oil. Place the sheet pan under the broiler for 3 to 7 minutes – watching carefully – or until the carnitas are crispy and caramelized. Remove from the oven and allow to cool slightly.
Before serving, fill the tortilla cups with carnitas, top with a spoonful of guacamole, and garnish with chopped onion and chopped cilantro. Serve immediately with lime wedges.
Notes
Tips for Success:
To save time on the big day, prep and cook the carnitas the night before you wish to serve this dish.
Prep and turn on the slow cooker and let it run overnight (if you feel comfortable). You'll wake up to the smell of carnitas cooking in your kitchen and 99% of the work for this recipe will be done ahead of time.
Recommended Products
As an Amazon Associate and member of other affiliate programs, I earn from qualifying purchases.
Nutrition Information:
Yield: 10
Serving Size: 1
Amount Per Serving:
Calories: 449
Total Fat: 31g
Saturated Fat: 11g
Trans Fat: 0g
Unsaturated Fat: 17g
Cholesterol: 122mg
Sodium: 168mg
Carbohydrates: 9g
Fiber: 1g
Sugar: 5g
Protein: 33g
This recipe post is in partnership with Sabra. I am proud member of the Sabra Tastemaker program! Thank you for supporting brands that I love.