Zucchini Pasta with Garlic Clam Sauce
Zucchini pasta with a simple garlic clam sauce. This delicious, easy, and healthy dinner comes together in less than 45 minutes!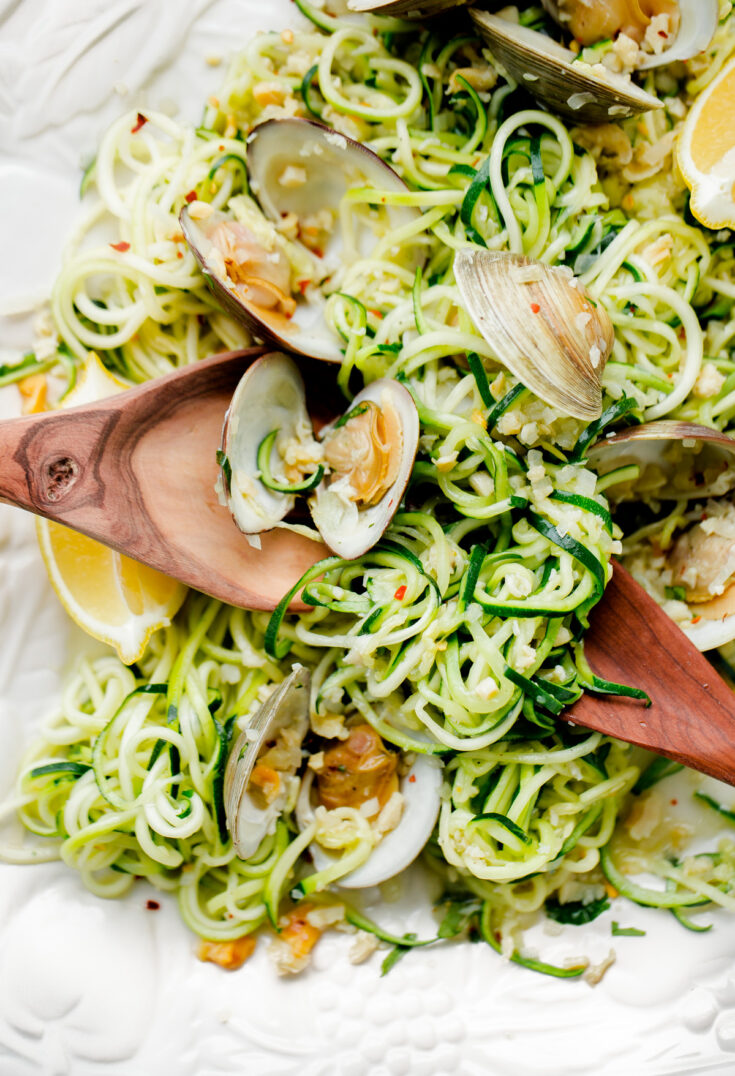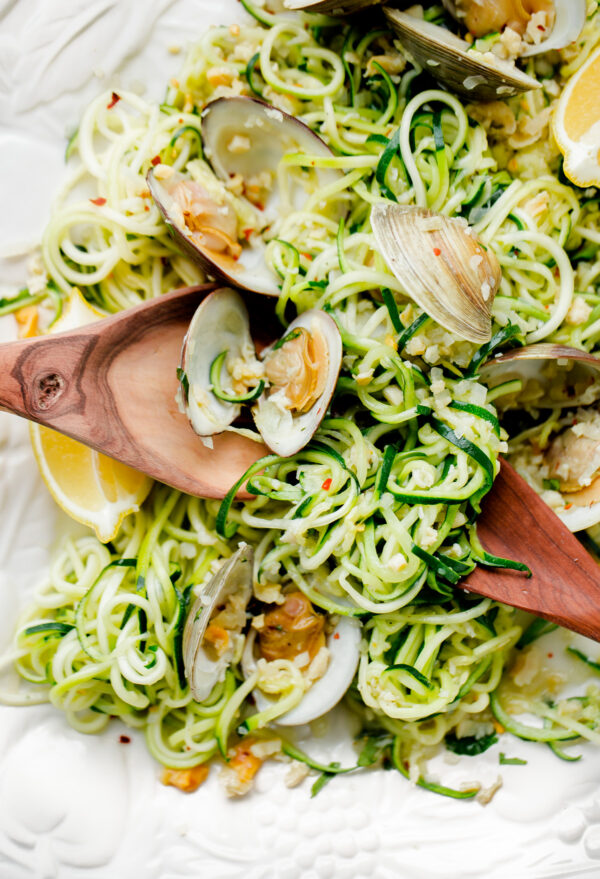 As most of you know by now, I'm a pasta fanatic. It's the Italian in me. We eat it at least once or twice a week, simply because it is fast, easy, and lends itself to so many different preparations. Pasta is the ultimate blank canvas.
In fact, I probably love pasta toppings and sauces as much as the pasta itself. Pesto, all'amatriciana, sautéed broccoli rabe, sweet and caramelized roasted tomatoes, light-as-air parmigiano-reggiano cheese, the list goes on and on.
Portion control whenever pasta is concerned is fairly non-existent in my family. Seconds (and even thirds) are almost a given. It's definitely something we could be more mindful of.
Zucchini pasta, spiralized into beautiful, twirlable vegetable noodles, was practically made for people like me. People that like to make their pasta and eat it too.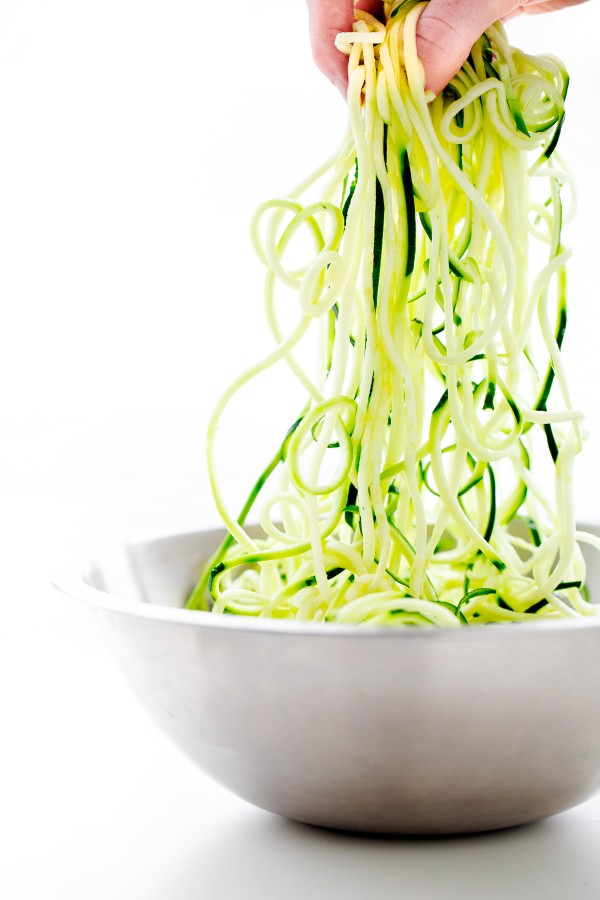 I'm the first to admit that I've always been skeptical of pasta substitutes. As much as I love spaghetti squash, you will never find me claiming that it is an equal, or even worthy, substitute. It just doesn't do it for me and that is the honest truth.
But spiralized noodles? I felt much more confident and excited about those. Today's recipe for zucchini pasta with garlic clam sauce is from my friend Ali's, a fellow Italian, incredibly successful (and inspiring!) cookbook, Inspiralized.
I was lucky to meet and spend time with Ali (we were roommates for the weekend!) at the Better Blog Retreat earlier this year. She continually blows me away and I feel lucky to call her a friend. This girl is a force to be reckoned with. I still have no idea how she does it all.
Chances are that if that you've heard about spiralizing (and vegetable noodles), you're familiar with Ali and her amazing blog.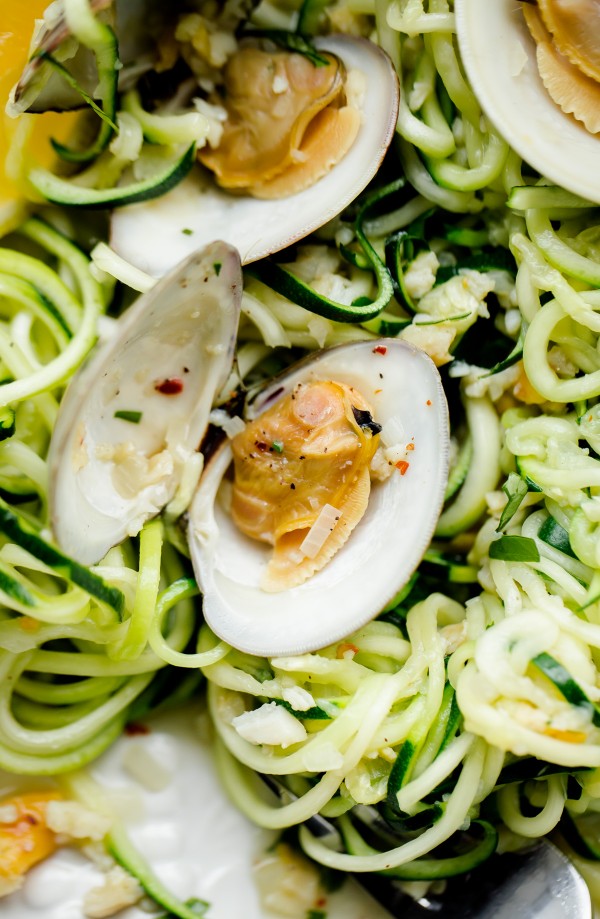 Aside from creating and sharing amazing inspiralized recipes – seriously, who knew that you could make so many things with this kitchen gadget – she has also created her very own spiralizer. It doesn't get more impressive than that.
Actually, it does, because Ali has officially convinced me that vegetable noodles can be just as satisfying and delicious as the real deal stuff. Seriously, the first time that I prepared zucchini pasta, I was blown away by how full I felt after one bowlful.
Will I ever completely give up traditional pasta? No. But I'm excited to incorporate vegetable noodles – in various applications – into my regular weekly meal rotation.
Spiralizing is also incredibly fun! It's also easy and fast. I stress that last point, because not only does a spiralizer tool lend oneself to eat more vegetables (something that I feel strongly about), but meals that can be prepared quickly. You can even store most spiralized vegetables in the fridge for up to a week at a time. Hello meal planning goals!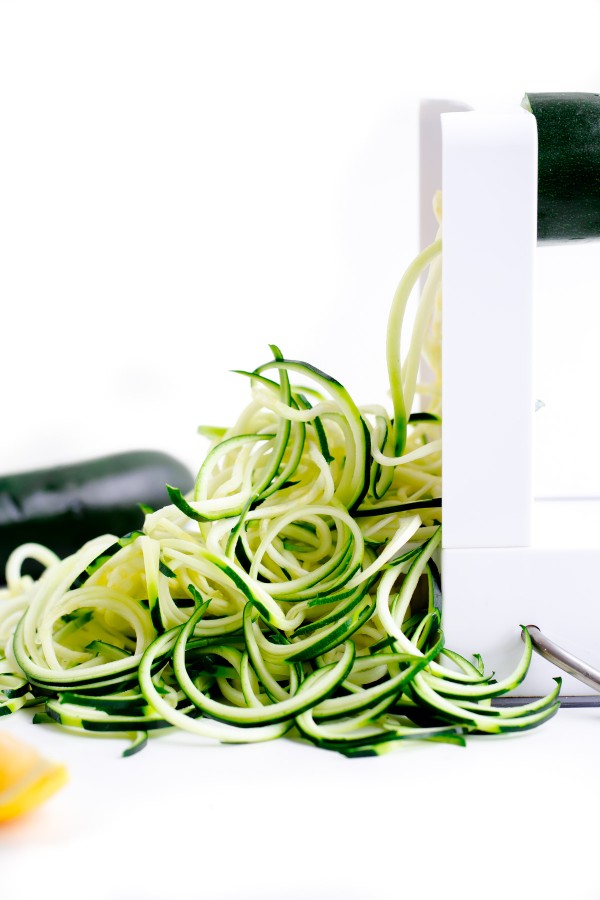 Today's zucchini pasta with garlic clam sauce couldn't be easier to prepare.
Al dente zucchini 'linguini' noodles are tossed with a simple sauce made with sautéed shallots, garlic, canned minced clams and their juices, red pepper flakes, white wine (a dry Sauvignon Blanc is perfect of this!), and fresh Littleneck clams. The zucchini noodles absorb the flavor of the sauce perfectly.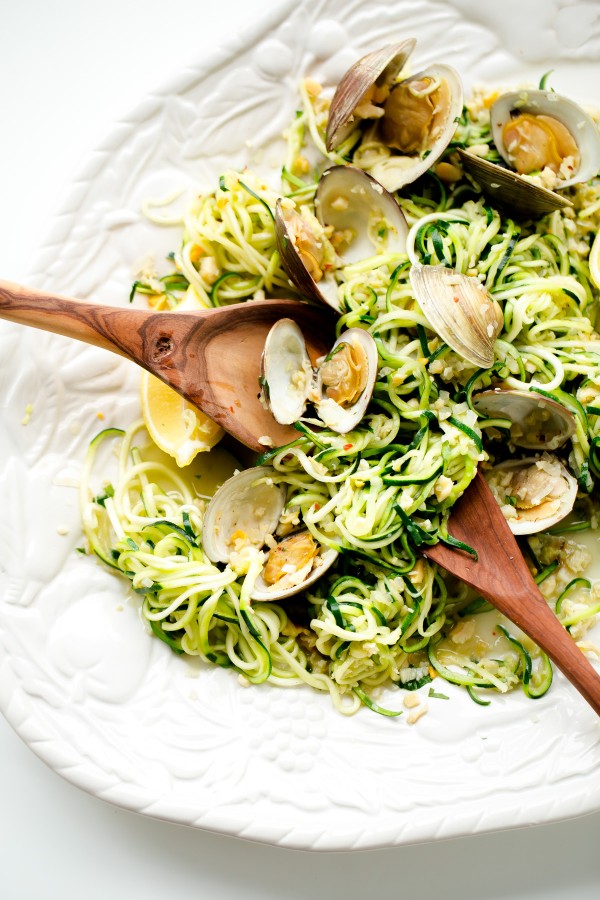 Serve it with a a couple pieces of crusty bread to help sop up the delicious broth. This meal is substantial on its own (Connor and I happily chowed it down), but you could easily use half dried linguini and half zucchini noodles too.
The best part about spiralizing is that its incredibly adaptable. Have fun and make it your own!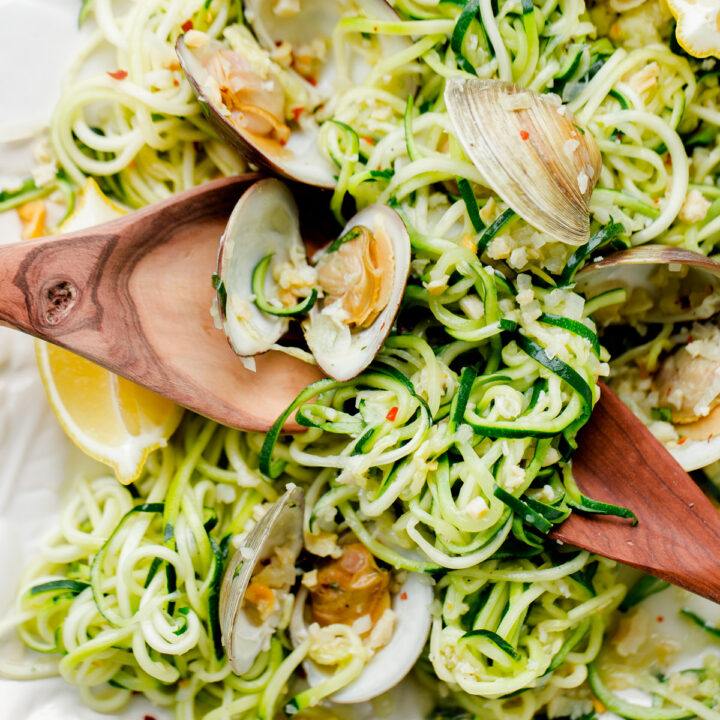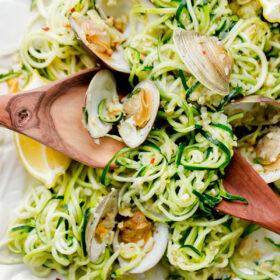 Zucchini Pasta with Garlic Clam Sauce
Zucchini pasta with a simple garlic clam sauce. This delicious, easy, and healthy dinner comes together in less than 45 minutes! A lighter version of classic pasta with clam sauce.
Ingredients
2 tablespoons (30 mL) extra virgin olive oil
2 garlic cloves minced
2 medium shallots minced
pinch of red pepper flakes
2 (6-oz) cans minced clams, drained, with half the juice reserved
½ cup (120 mL) dry white wine such as Sauvignon Blanc
kosher salt
freshly ground black pepper
1½ lbs (0.7 kg) littleneck or manila clams rinsed and scrubbed
3 large zucchini spiralized into thin noodles
2 tablespoons finely chopped fresh parsley
2 lemons quartered
Instructions
Place a large saucepan over medium heat and add the olive oil. When the oil is simmering, add the garlic and shallots. Cook for 2 to 3 minutes or until the shallots are translucent. Add the red pepper flakes, reserved clam juice, and wine, and season with salt and pepper. Increase the heat to high, bring to a boil, then reduce the heat to low. Simmer until the sauce is reduced by about half.

Add the fresh clams to the sauce and cover. Steam for 7 to 10 minutes. Discard any clams that don't open after 10 minutes, then add the chopped clams. Stir in the zucchini noodles and 1 tablespoon of the parsley. Cook for 2 to 3 minutes or until the zucchini noodles are al dente.

Divide the pasta among bowls and garnish with the remaining parsley and lemon wedges.
Tips for Success:
Store fresh clams in a bowl, covered with a damp paper towel, set within a bowl of ice in the refrigerator. Avoid submerging fresh clams in ice or water. Fresh clams are best cooked within 24 hours.
Scrub and rinse several times before using to remove any grit or sand.
Reprinted with permission from Inspiralized by Ali Maffucci (Clarkson Potter, 2015).
Serving: 1serving, Calories: 346kcal, Carbohydrates: 23g, Protein: 37g, Fat: 10g, Saturated Fat: 1g, Polyunsaturated Fat: 7g, Cholesterol: 90mg, Sodium: 1791mg, Fiber: 3g, Sugar: 8g
This recipe post is done in collaboration with Ali at Inspiralized. While I received a complimentary Inspiralized tool and copy of Ali's cookbook, I am thrilled to support my friend's amazing kitchen tool and cookbook – and always love to share products that I use and love with you!
This post contains affiliate links, which means that I make a small commission off items you purchase at no additional cost to you. Please read my
privacy policy
for more information.