Triple-Citrus Tart with Chocolate Crust and Berries
Triple-citrus tart with chocolate crust and berries. This elegant tart is made with a dark chocolate wafer crust and filled with blood orange, lemon, and lime curd.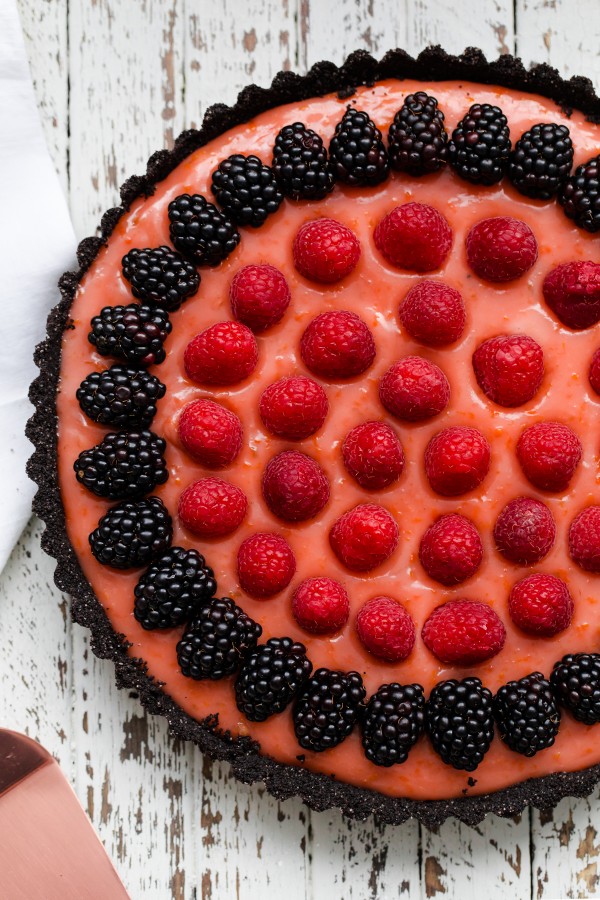 I've been dying to share this triple-citrus tart with you ever since I prepared it last week. If you're looking for a dessert recipe to prepare this weekend for Easter Sunday, this should be it!
Honestly, this tart checks a lot of boxes. The chocolate cookie wafer crust satisfies chocolate fans and the zesty, tart curd filling satisfies everyone else. I've mentioned this before, but there are "citrus desserts" and there are citrus desserts. This tart is for serious citrus fanatics only. It is tart, bright, and quite addictive.
If you love homemade curd, you're in for a treat, because there is a lot of that going on in today's tart.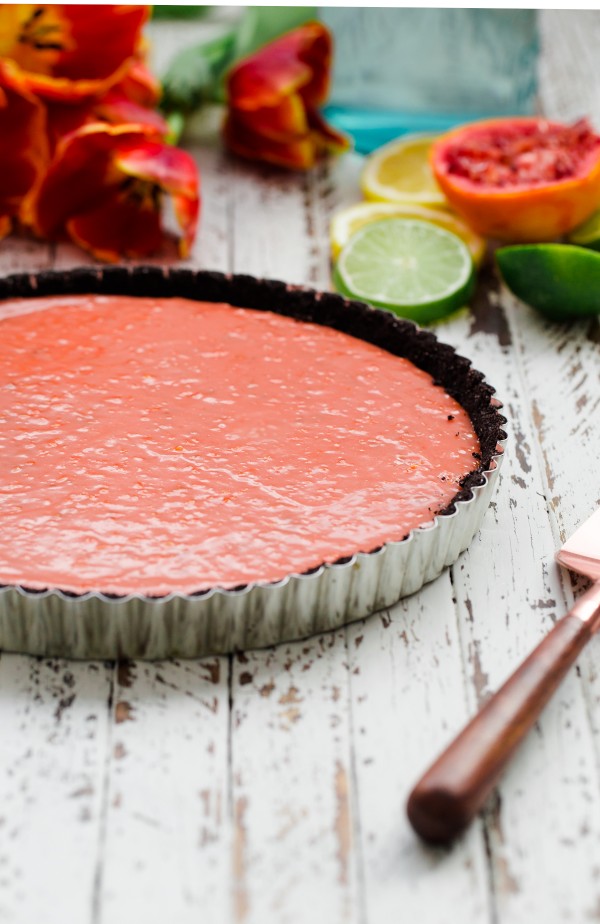 This recipe is courtesy of the lovely Sweet and Tart cookbook, by Carla Snyder, that I shared a few weeks ago (when I shared this whole wheat lemon poppy seed loaf cake!). I'm loving this cookbook and this tart caught my eye immediately when I flipped through the pages.
The most exciting part of this triple-citrus tart is that gorgeous curd! As the name suggests, it is made with three different citrus fruits. It is sort of similar in concept to these four citrus coconut bars that I shared last year.
This triple-citrus curd is made with the juice of lemons, blood oranges, and a lime. [If you can't find blood oranges, check the note section in the recipe for easy substitutes.] You'll be using the juice and the zest of every citrus fruit you use. Yep, all of it. Depending on how dark your blood oranges are, the color of the curd will vary from a pale yellow orange to orange-pink hue.
The flesh of my blood oranges was extra dark, so my tart was more on the pink side. Love, love, love. Also, so perfect for spring, right? I know that cakes tend to reign supreme on the Easter dessert table, but there are only so many days of the year that provide an excuse to make a fancy, impress-all-your-friends-and-family tart.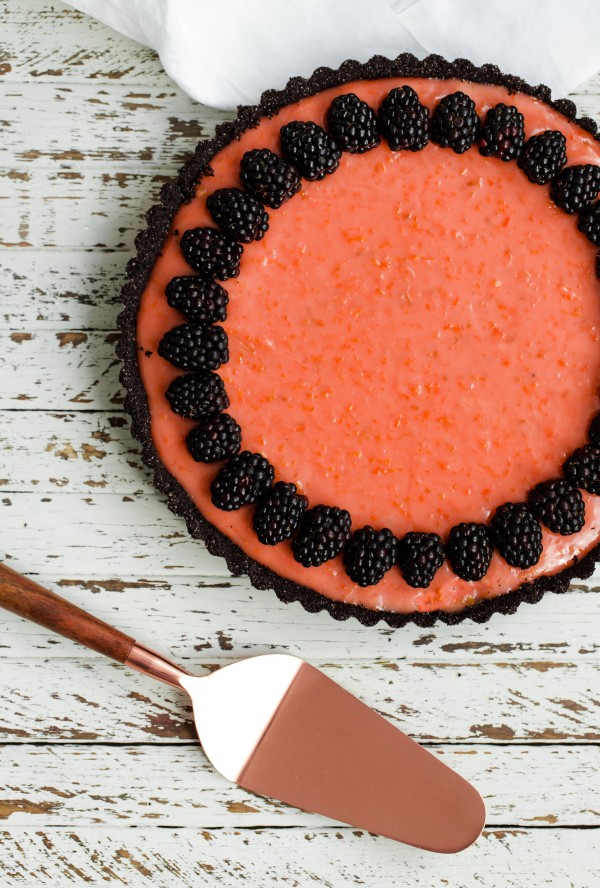 As far as tarts are concerned, this one is fairly easy to execute and prepare. Most of the prep and cooking time is totally inactive. One important note: you do need to allow the tart to set for at least 6 to 8 hours in the fridge if you want the tart to slice cleanly and elegantly.
The chocolate tart crust is made with chocolate wafers (those same, store-bought "famous" chocolate wafers used to make ice box cakes!), sugar, and melted butter. It is basically the chocolate version of a classic graham cracker crust.
The crust is baked for 15 minutes – that's it! The curd is prepared on the stovetop, poured into the baked crust, and set in the refrigerator. No need for foil, pie weights, or anything of that nature. The best part? This tart can (and should) be prepared the day before, so you can get all of the work done ahead of time and just pull it out of the fridge about 20 to 30 minutes before serving.
My biggest advice would be to prepare this tart the morning, afternoon, or evening before you wish to serve it. If necessary, you could even prepare it two days in advance, but the crust and berries will soften a bit.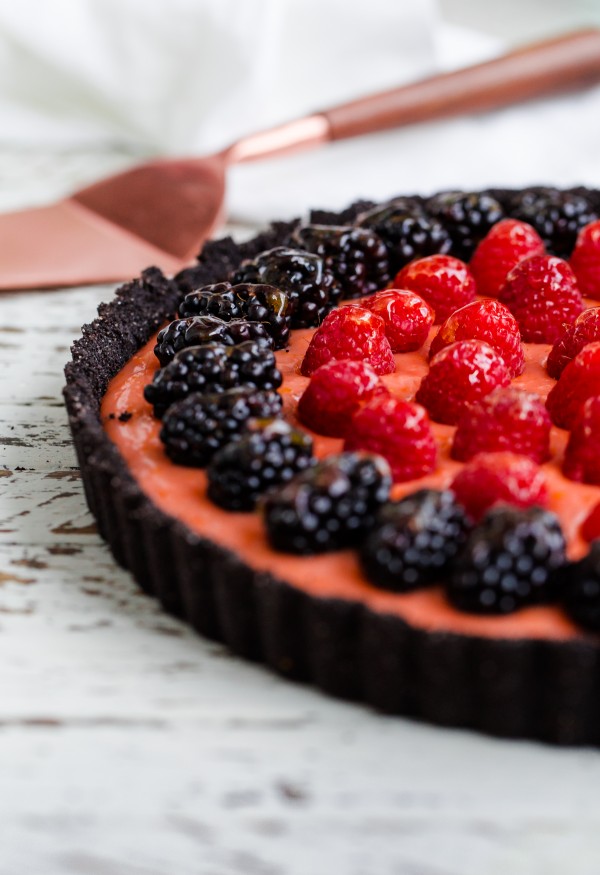 I did make one big change to the recipe that is worth noting. The original recipe was prepared using a 9-inch springform pan.
Believe it or not, I do not own a springform pan. I know, I know! As someone that owns practically every other baking utensil on the planet, I'm still surprised by this fact. But! You don't absolutely need one to prepare today's tart.
If you do not have a springform pan, a 10-inch removable-bottom tart pan works perfectly for this recipe. The crust fills the tart pan just as well – although it is probably slightly more delicate. If you make this tart this weekend, pretty please share a picture with me (by email or tag me on Instagram)! I love to see what you're making!
Products Used for this recipe:
(may include affiliate links)