Triple Citrus Tart with Chocolate Crust and Berries
Triple-citrus tart with chocolate crust and berries. This elegant tart is made with a dark chocolate wafer crust and filled with blood orange, lemon, and lime curd.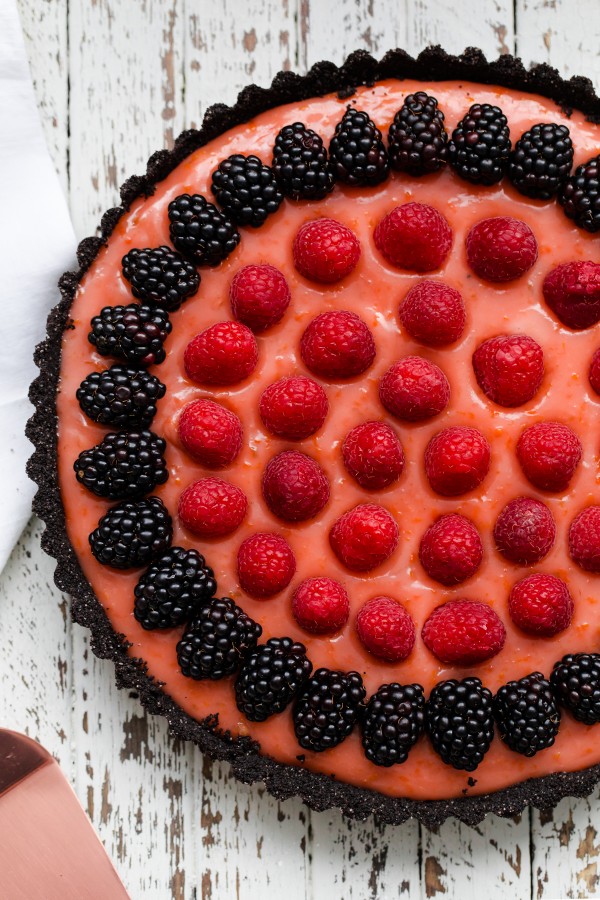 I've been dying to share this triple-citrus tart with you ever since I prepared it last week. If you're looking for a dessert recipe to prepare this weekend for Easter Sunday, this should be it!
Honestly, this tart checks a lot of boxes. The chocolate cookie wafer crust satisfies chocolate fans and the zesty, tart curd filling satisfies everyone else. I've mentioned this before, but there are "citrus desserts" and there are citrus desserts. This tart is for serious citrus fanatics only. It is tart, bright, and quite addictive.
If you love homemade curd, you're in for a treat, because there is a lot of that going on in today's tart.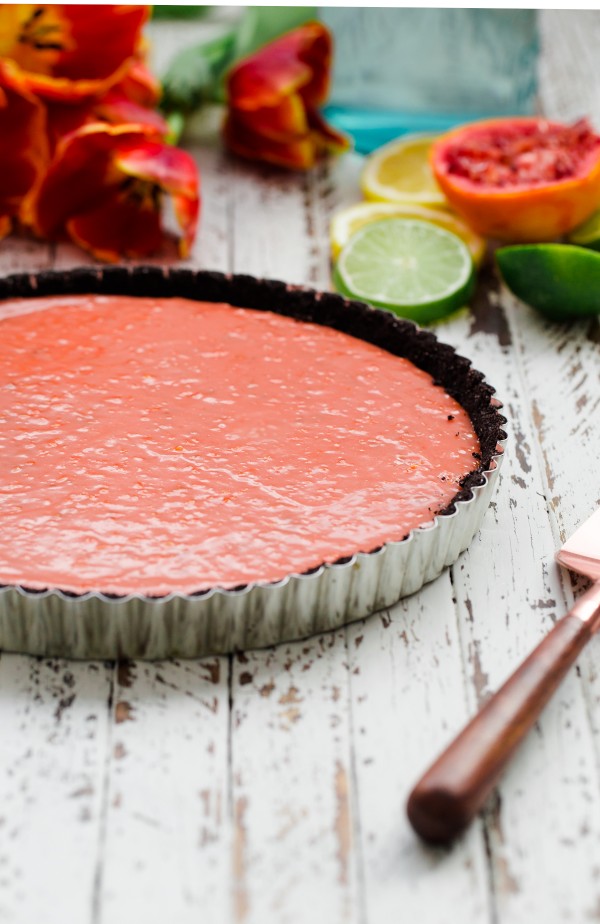 This recipe is courtesy of the lovely Sweet and Tart cookbook, by Carla Snyder, that I shared a few weeks ago (when I shared this whole wheat lemon poppy seed loaf cake!). I'm loving this cookbook and this tart caught my eye immediately when I flipped through the pages.
The most exciting part of this triple-citrus tart is that gorgeous curd! As the name suggests, it is made with three different citrus fruits. It is sort of similar in concept to these four citrus coconut bars that I shared last year.
This triple-citrus curd is made with the juice of lemons, blood oranges, and a lime. [If you can't find blood oranges, check the note section in the recipe for easy substitutes.] You'll be using the juice and the zest of every citrus fruit you use. Yep, all of it. Depending on how dark your blood oranges are, the color of the curd will vary from a pale yellow orange to orange-pink hue.
The flesh of my blood oranges was extra dark, so my tart was more on the pink side. Love, love, love. Also, so perfect for spring, right? I know that cakes tend to reign supreme on the Easter dessert table, but there are only so many days of the year that provide an excuse to make a fancy, impress-all-your-friends-and-family tart.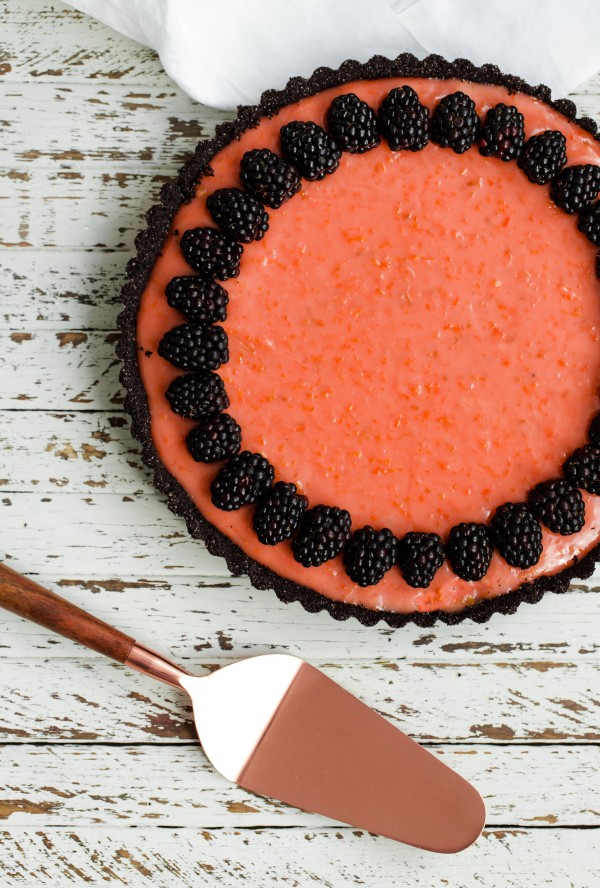 As far as tarts are concerned, this one is fairly easy to execute and prepare. Most of the prep and cooking time is totally inactive. One important note: you do need to allow the tart to set for at least 6 to 8 hours in the fridge if you want the tart to slice cleanly and elegantly.
The chocolate tart crust is made with chocolate wafers (those same, store-bought "famous" chocolate wafers used to make ice box cakes!), sugar, and melted butter. It is basically the chocolate version of a classic graham cracker crust.
The crust is baked for 15 minutes – that's it! The curd is prepared on the stovetop, poured into the baked crust, and set in the refrigerator. No need for foil, pie weights, or anything of that nature. The best part? This tart can (and should) be prepared the day before, so you can get all of the work done ahead of time and just pull it out of the fridge about 20 to 30 minutes before serving.
My biggest advice would be to prepare this tart the morning, afternoon, or evening before you wish to serve it. If necessary, you could even prepare it two days in advance, but the crust and berries will soften a bit.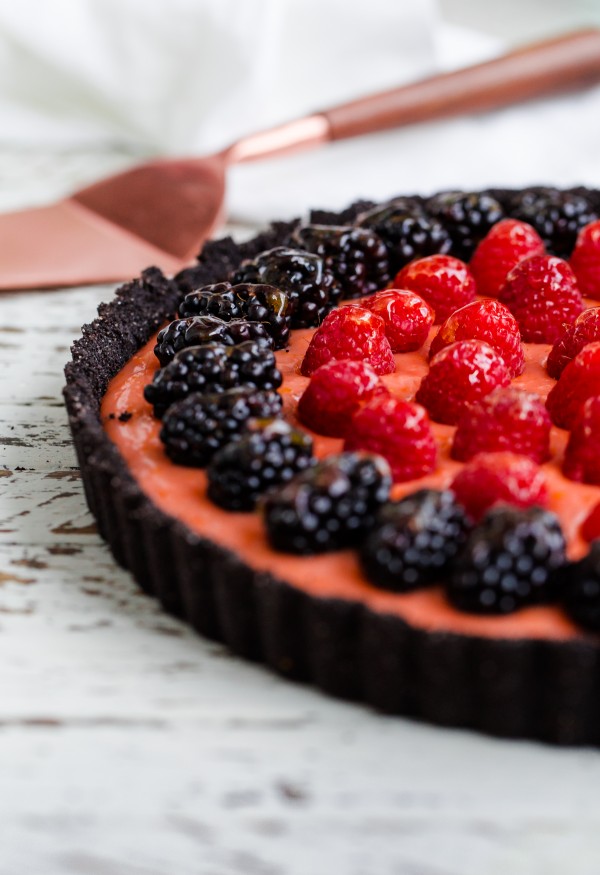 I did make one big change to the recipe that is worth noting. The original recipe was prepared using a 9-inch springform pan.
Believe it or not, I do not own a springform pan. I know, I know! As someone that owns practically every other baking utensil on the planet, I'm still surprised by this fact. But! You don't absolutely need one to prepare today's tart.
If you do not have a springform pan, a 10-inch removable-bottom tart pan works perfectly for this recipe. The crust fills the tart pan just as well – although it is probably slightly more delicate. If you make this tart this weekend, pretty please share a picture with me (by email or tag me on Instagram)! I love to see what you're making!
Triple Citrus Tart with Chocolate Crust and Berries
Yield: One 9-Inch (or 10-Inch) tart; 8 Servings
Triple citrus tart with chocolate crust and berries. This elegant tart is made with a dark chocolate wafer crust and filled with blood orange, lemon, and lime curd.
Prep Time: 30 minutes
Cook Time: 30 minutes
Additional Time: 2 hours
Total Time: 3 hours
Ingredients
Chocolate Crust:
1 package (about 40 wafers) Nabisco Famous Chocolate Wafers
1/4 cup (50 grams) granulated sugar
1 stick (4 ounces) unsalted butter, melted
Triple-Citrus Curd:
2 lemons
2 blood oranges
1 lime
3/4 cup (150 grams) granulated sugar
6 tablespoons (3 ounces) unsalted butter
pinch of kosher salt
3 large eggs, plus 3 egg yolks
Glaze:
1/4 cup (85 grams) strained apricot jam
1 tablespoon corn syrup
1 and 1/2 cups (180 grams) blackberries
1 and 1/2 cups (180 grams) raspberries
Instructions
Make the chocolate crust: Preheat the oven to 350 degrees Fahrenheit (180 C) with a rack in the center position. Combine the chocolate wafers and sugar in the bowl of a food processor and process until finely ground. Pour in the melted butter and process until well mixed and crumbly.
Dump the crumbs into a 10-inch removable-bottom tart pan (original recipe uses a 9-inch springform pan, both work depending on what you have on hand) and, using the bottom of a measuring cup, press the crumbs on the bottom and 1-inch up the sides of the pan. Carefully transfer to the oven and bake for 15 minutes, or until fragrant and firm. Let cool completely on a wire rack.
To make the citrus curd: Zest the lemons, blood oranges, and lime; set the zests aside. Squeeze the citrus juice (you should have about 1 cup or 240 ml) and combine it with the sugar, butter, and salt in a medium saucepan. Bring the mixture to a boil over medium heat, stirring occasionally.
Meanwhile, whisk the eggs and egg yolks in a medium heat-proof bowl until combined. While whisking rapidly, pour the hot citrus-sugar mixture slowly in the eggs. Return the egg mixture to the saucepan and cook over medium heat, stirring constantly with a heat-proof spatula, until lightly thickened, 2 to 3 minutes (do not boil or the eggs will curdle). The curd should coat the back of the spatula. It will thicken further as it cools.
Immediately transfer the citrus curd to a clean heat-proof bowl (otherwise it will continue to cook in the hot pan and could scramble) – I prefer to pour the curd through a fine-meshed sieve to make sure it is extra smooth. Stir the zests into the warm curd. Continue stirring for 1 minute to stop the cooking and then let continue to cool at room temperature for 30 minutes.
Pour the curd into the cooled shell. Refrigerate the tart, covered, for at least 2 hours, or up to 24 hours, to set up.
To make the glaze: Combine the jam and corn syrup in a small saucepan over medium heat and heat, stirring, until thinned and warm, about 1 minute.
Garnish the top of the tart with a circle of blackberries around the edge and fill in with the raspberries. Brush the warm (not hot) glaze over the berries to give them shine. Refrigerate for up to 8 hours before serving. (It will still be good the next day, but the berries will begin to soften.)
Notes
To account for setting time, I recommend preparing this tart the morning, afternoon, or evening before you wish to serve it. If necessary, you can prepare it two days in advance, but the crust and berries will soften a bit.
Tips for Success:
The color of the citrus curd will vary from yellow to pink/orange, depending on the brightness or darkness of the blood oranges you use.
If you cannot find blood oranges, substitute with an equal amount of Cara Cara (or navel) oranges. Alternatively, you could use all lemon and lime juice – but I would compensate for the added tartness by adding an additional 2 tablespoons to 1/4 cup of granulated sugar.
Modified slightly and republished with permission from the Sweet and Tart cookbook by Carla Synder (Chronicle Books, 2015).
Recommended Products
As an Amazon Associate and member of other affiliate programs, I earn from qualifying purchases.
Nutrition Information:
Yield: 8
Serving Size: 1
Amount Per Serving:
Calories: 475
Total Fat: 24g
Saturated Fat: 14g
Trans Fat: 0g
Unsaturated Fat: 9g
Cholesterol: 192mg
Sodium: 89mg
Carbohydrates: 65g
Fiber: 3g
Sugar: 50g
Protein: 5g