Whole Grain Olive Oil-Poppy Seed Loaf with Meyer Lemon Glaze
A deceptively healthy lemon cake made with 100% whole grains, Greek yogurt, and extra virgin olive oil!
Ok, so I have a little bit of a confession today. I looked in the recipe archives and discovered that it has been nearly two years since I shared a loaf or quick bread recipe with you. No, just no.
Quick breads, loafs, and loaf cakes were my favorite baked good to make when I was growing up. I don't know whether it was because they were easy to make or simply satisfying to create, but whenever I was stressed out in high school, I would promptly head into the kitchen and stress-bake loaves. By the way, this apple oatmeal breakfast bread was a repeat favorite.
The act of pulling out containers of flour, sifting ingredients, and losing myself in a cookbook recipe was the perfect amount of distraction from whatever (probably not quite as dire as it seemed) situation I was facing.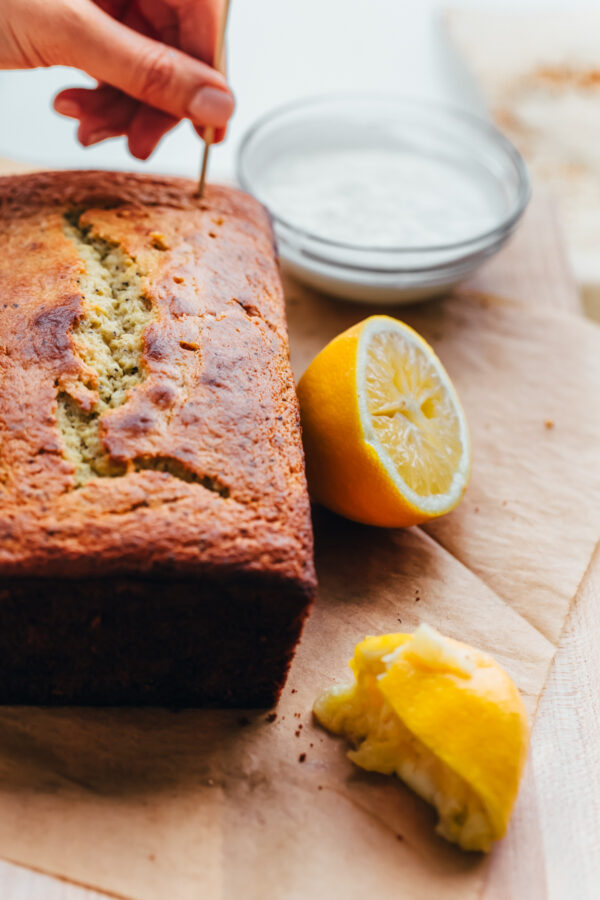 There's nothing that a therapeutic stress-bake session won't fix. If any of those baked goods involve Meyer lemons, which peak at this time of year, the more the merrier.
So, today I'm taking a break from recipe development, giving someone else the reins, and sharing a beautiful olive oil poppy seed loaf from the Sweet and Tart cookbook that arrived on my doorstep months ago. The cookbook, written by Carla Snyder, immediately caught my attention – and admiration and love – because it is all about citrus.
Literally, 70 recipes which put citrus front and center.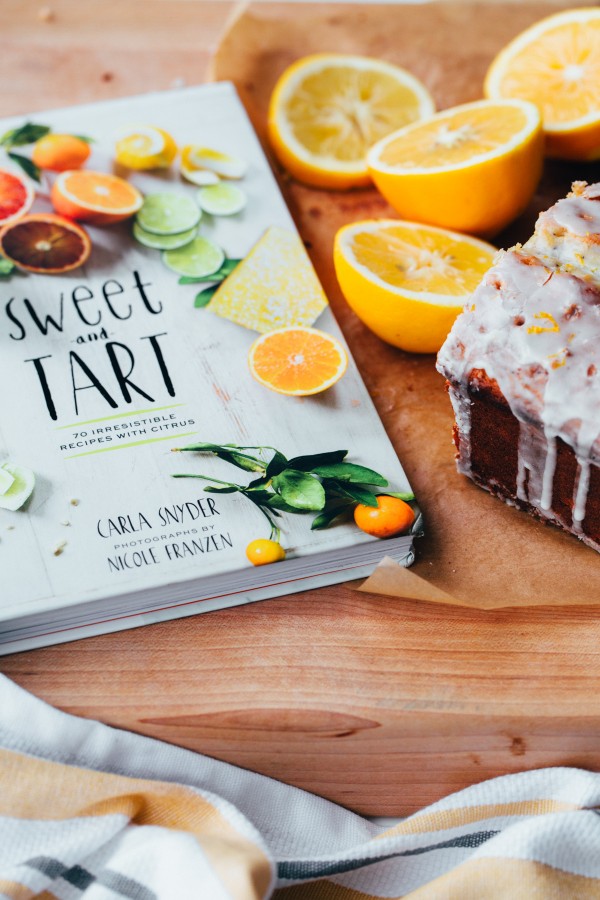 If you've been reading this blog for some time, you know that my citrus obsession is real.
I went through gallons of grapefruit juice as a kid, put lemon and lime juice in practically everything, and combine orange with chocolate whenever possible. I have lemons and limes on hand at all times. Citrus fruits are flavor powerhouses for all savory and sweet foods, and you won't find me without them.
So, this cookbook was made for me. It is a gorgeously designed cookbook with food photography that makes you lose yourself in the pages. Stunning, clean, and accessible.
Every single recipe has caught my attention, but I instantly gravitated towards the olive oil poppy seed loaf with lemon glaze. The best part? It's actually pretty healthy!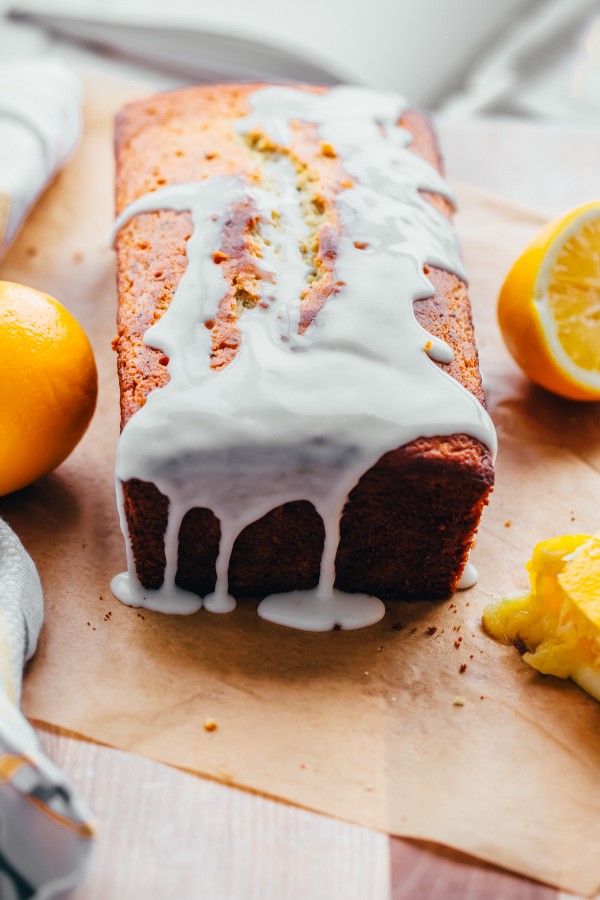 It is 100% whole grain, and uses Greek yogurt and extra virgin olive oil! The original recipe called for unbleached all-purpose flour and I decided to sub in my favorite whole wheat pastry flour to make it more nutritious. Because why not?
Whole wheat pastry flour is made from soft white wheat (not to be confused with regular whole wheat flour, which is made with hard red wheat), so it has a much lower gluten percentage than traditional whole wheat flour. It is my favorite alternative to all-purpose flour in baked goods, because it yields tender cakes – while still adding the same nutritional benefits.
It worked beautifully, because this lemon cake was still tender as can be. It would definitely be fluffier and more traditional with all-purpose flour (feel free to use it!), but I would never have known this loaf cake was 100% whole grain if I hadn't made and baked it myself.
Once the loaf cake has finished baking, you pierce the top of the still-warm loaf with a wooden skewer (I used wooden kebab stick) and pour the lemon glaze over the top. Love, love, love.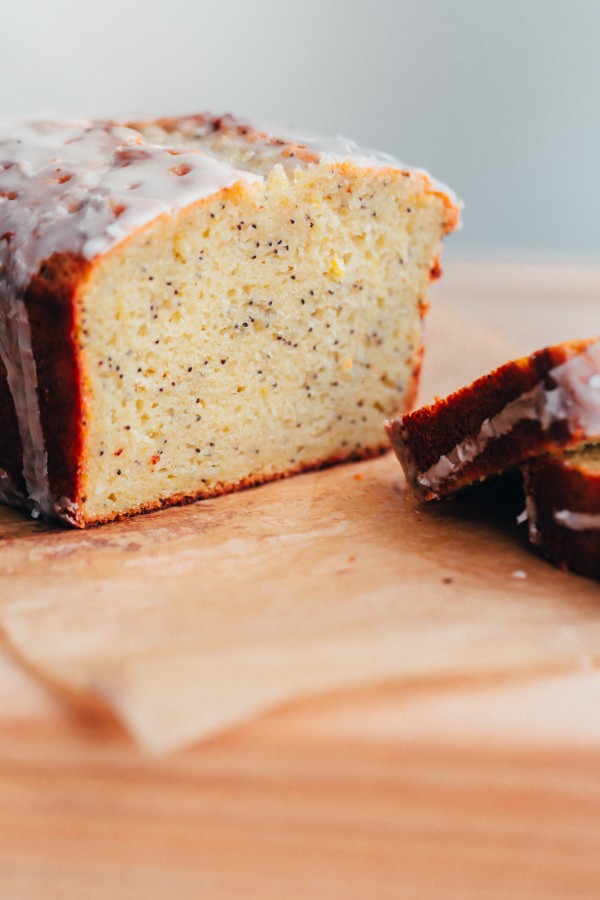 To make it more seasonal, I swapped in my favorite Meyer lemons for regular lemons.
I love using Meyer lemons at this time of year, because they are a bit sweeter and so much juicier than traditional lemons – thanks to their extra thin rinds.
With that being said, this loaf would be great with every citrus fruit you can imagine – Cara Cara oranges, lime, blood orange, or grapefruit would be just as good!
Products Used for this recipe:
(may include affiliate links)