Whole Grain Olive Oil Poppy Seed Loaf with Meyer Lemon Glaze
A deceptively healthy lemon cake made with 100% whole grains, Greek yogurt, and extra virgin olive oil!
Ok, so I have a little bit of a confession today. I looked in the recipe archives and discovered that it has been nearly two years since I shared a loaf or quick bread recipe with you. No, just no.
Quick breads, loafs, and loaf cakes were my favorite baked good to make when I was growing up. I don't know whether it was because they were easy to make or simply satisfying to create, but whenever I was stressed out in high school, I would promptly head into the kitchen and stress-bake loaves. By the way, this apple oatmeal breakfast bread was a repeat favorite.
The act of pulling out containers of flour, sifting ingredients, and losing myself in a cookbook recipe was the perfect amount of distraction from whatever (probably not quite as dire as it seemed) situation I was facing.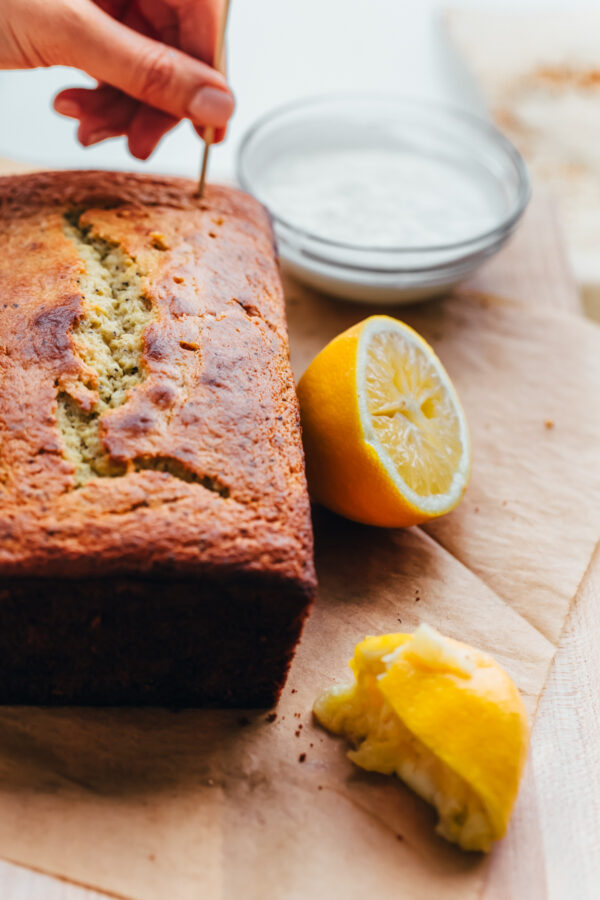 There's nothing that a therapeutic stress-bake session won't fix. If any of those baked goods involve Meyer lemons, which peak at this time of year, the more the merrier.
So, today I'm taking a break from recipe development, giving someone else the reins, and sharing a beautiful olive oil poppy seed loaf from the Sweet and Tart cookbook that arrived on my doorstep months ago. The cookbook, written by Carla Snyder, immediately caught my attention – and admiration and love – because it is all about citrus.
Literally, 70 recipes which put citrus front and center.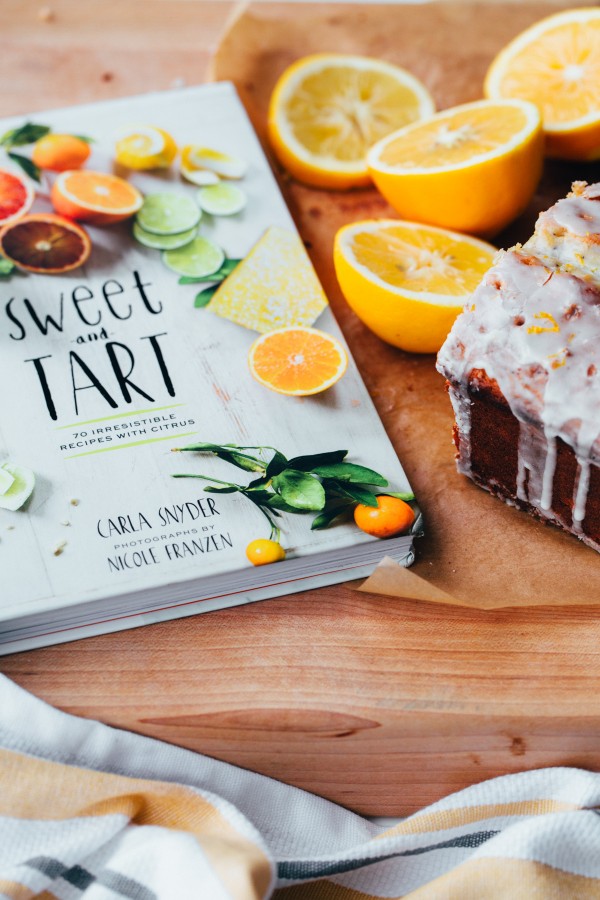 If you've been reading this blog for some time, you know that my citrus obsession is real.
I went through gallons of grapefruit juice as a kid, put lemon and lime juice in practically everything, and combine orange with chocolate whenever possible. I have lemons and limes on hand at all times. Citrus fruits are flavor powerhouses for all savory and sweet foods, and you won't find me without them.
So, this cookbook was made for me. It is a gorgeously designed cookbook with food photography that makes you lose yourself in the pages. Stunning, clean, and accessible.
Every single recipe has caught my attention, but I instantly gravitated towards the olive oil poppy seed loaf with lemon glaze. The best part? It's actually pretty healthy!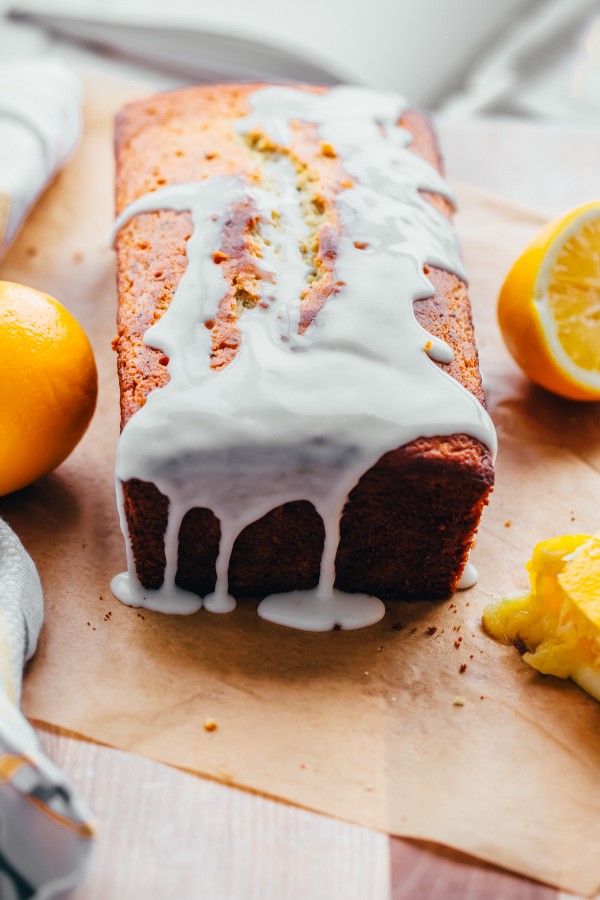 It is 100% whole grain, and uses Greek yogurt and extra virgin olive oil! The original recipe called for unbleached all-purpose flour and I decided to sub in my favorite whole wheat pastry flour to make it more nutritious. Because why not?
Whole wheat pastry flour is made from soft white wheat (not to be confused with regular whole wheat flour, which is made with hard red wheat), so it has a much lower gluten percentage than traditional whole wheat flour. It is my favorite alternative to all-purpose flour in baked goods, because it yields tender cakes – while still adding the same nutritional benefits.
It worked beautifully, because this lemon cake was still tender as can be. It would definitely be fluffier and more traditional with all-purpose flour (feel free to use it!), but I would never have known this loaf cake was 100% whole grain if I hadn't made and baked it myself.
Once the loaf cake has finished baking, you pierce the top of the still-warm loaf with a wooden skewer (I used wooden kebab stick) and pour the lemon glaze over the top. Love, love, love.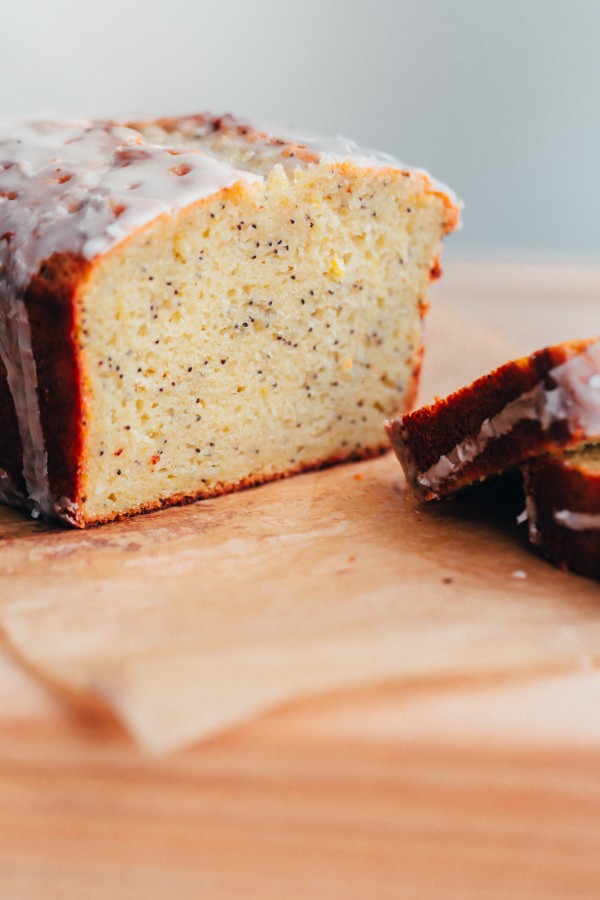 To make it more seasonal, I swapped in my favorite Meyer lemons for regular lemons.
I love using Meyer lemons at this time of year, because they are a bit sweeter and so much juicier than traditional lemons – thanks to their extra thin rinds.
With that being said, this loaf would be great with every citrus fruit you can imagine – Cara Cara oranges, lime, blood orange, or grapefruit would be just as good!
Whole Grain Olive Oil Poppy Seed Loaf with Meyer Lemon Glaze
Yield: 1 (9 x 5-inch) Loaf Cake
A simple lemon poppy seed cake made with 100% whole grains, Greek yogurt, and extra virgin olive oil! Topped with a Meyer lemon glaze.
Prep Time: 20 minutes
Cook Time: 1 hour
Total Time: 1 hour 20 minutes
Ingredients
Olive Oil-Poppy Seed Loaf Cake:
1 and 1/2 cups (180 grams) whole wheat pastry flour
1 and 1/2 teaspoons baking powder
1/4 teaspoon baking soda
1/2 teaspoon kosher salt
1 cup (200 grams) granulated sugar
zest of 1 Meyer lemon, plus 1/4 cup freshly squeezed Meyer Lemon juice
1 cup (227 grams) plain whole-milk Greek yogurt
3 large eggs, room temperature
1/2 cup high-quality extra virgin olive oil
1 tablespoon poppy seeds
Meyer Lemon Glaze:
3/4 cup (90 grams) powdered sugar
2 tablespoons freshly squeezed Meyer Lemon juice
1 tablespoon heavy cream*
Meyer lemon zest, for garnishing
Instructions
Preheat the oven to 350 degrees Fahrenheit (180 degrees Celsius). Grease a 5-x-9-inch loaf pan and line the bottom with parchment paper.
Whisk the flour, baking powder, baking soda, and salt in a medium bowl until combined. Set aside.
Using a stand mixer, fitted with a whisk attachment, or hand-held mixer, beat the granulated sugar, Meyer lemon zest, Meyer lemon juice, and yogurt on medium speed until blended. Add the eggs, one at a time, and then the olive oil and beat until creamy. Turn the speed to low, add the flour mixture in three additions, and beat until smooth. Add the poppy seeds and beat until just blended.
Pour the batter into the prepared pan and smooth the top. Bake for 50 minutes to 1 hour, or until a wooden skewer inserted in the center comes out clean. Let cool in the pan on a wire rack for 10 minutes, then turn out onto the rack. Peel off the parchment paper and turn the loaf right-side up.
Prepare the glaze: Combine the powdered sugar, cream, and Meyer lemon juice in a small bowl and whisk until smooth.
Place the rack with the warm cake on a baking sheet (to catch any drips). Poke holes in the top of the cake with the wooden skewer and pour half of the glaze over the top. Once the cake has cooled completely, pour the remaining glaze over the top and let it dry before slicing. Garnish with Meyer lemon zest. Store, covered, at room temperature for up to 4 days.
Notes
Tips for Success:
Feel free to use regular lemons or any other winter citrus. Oranges, Cara Cara oranges, or blood oranges would also work really well as flavor variations for this loaf!
The original recipe called for unbleached all-purpose flour and this loaf will work perfectly with it too, or you could use 50% all-purpose flour and 50% whole wheat pastry flour.
Barely adapted and published with permission from the Sweet and Tart cookbook by Carla Synder (Chronicle Books, 2015).
Nutrition Information:
Yield: 12
Serving Size: 1
Amount Per Serving:
Calories: 336
Total Fat: 14g
Saturated Fat: 3g
Trans Fat: 0g
Unsaturated Fat: 10g
Cholesterol: 54mg
Sodium: 190mg
Carbohydrates: 48g
Fiber: 3g
Sugar: 26g
Protein: 8g