Zabaglione with Rhubarb, Strawberries, and Ginger Cookie Crumble
Homemade zabaglione (Italian custard) served with rhubarb compote, chopped strawberries, and topped with a crunchy ginger cookie crumble. 
This post is sponsored by Safest Choice Eggs. 
Eggs never cease to amaze me.
I've been a little egg-crazy these past few months. Seriously. It first started with these soft-boiled eggs with grilled cheese soldiers, which then snowballed into breakfast hash, an asparagus mimosa (which prompted this April Fool's Joke) followed by a fully-loaded BLT sandwich and finally these creamy bain-marie scrambled eggs.
If you like eggs, I'm pretty sure I've got you covered. Remember when I mentioned that I tend to get a little ingredient obsessed? Well that is my relationship with eggs at the moment.
So when I had the opportunity to develop a unique recipe using Safest Choice Eggs for The EGG for Every Occasion campaign, I was very excited. Maybe too excited? Is that possible?
To make a long story short, I use a lot of raw eggs for many different applications in the kitchen. I make super runny eggs all the time—it is my breakfast of choice.
I am also equally as obsessed with homemade Caesar salad dressing, custards (such as zabaglione), egg-based ice creams, the occasional aioli, and can't help but eat several spoonfuls of raw cookie batter every now and again. I'm a lick-the-beater type of girl. I can't help myself.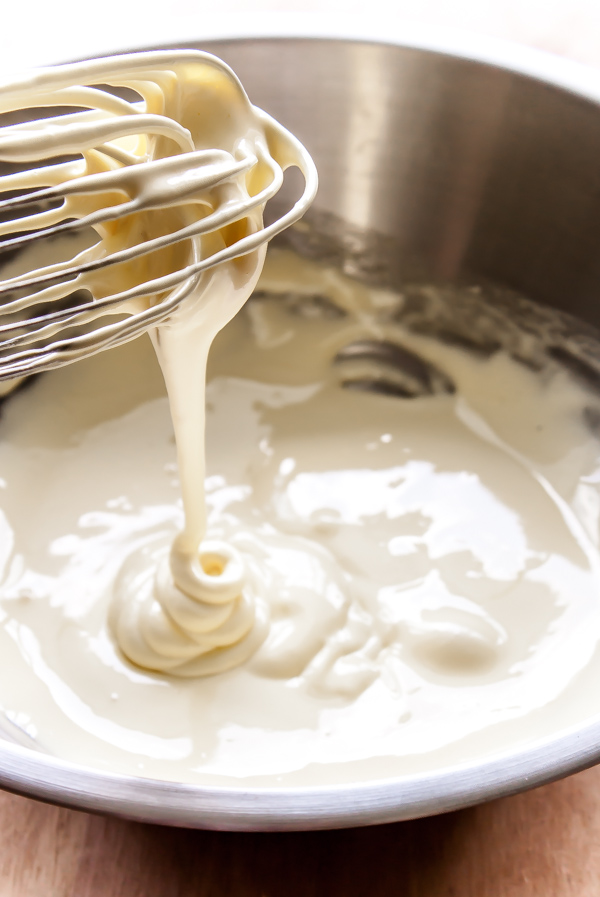 There are so many amazing applications for raw or gently cooked eggs. The world would not be the same without each and every one of them.
But I would be lying if I didn't say that there is a downside to all of this. You know? The downside that rhymes with rawmanella? Yep, that's the one. Not so fun.
And that is why I can genuinely declare my love for Safest Choice Eggs. These eggs are not just any ordinary eggs.
Not only are they hormone and antibiotic free (an absolute requirement for me!)–and have earned the Seal of Approval from the American Culinary Federation–but they also undergo an all-natural egg pasteurization process that eliminates the risk of salmonella in the eggs before they even enter your kitchen.
This essentially equates to complete and utter peace of mind.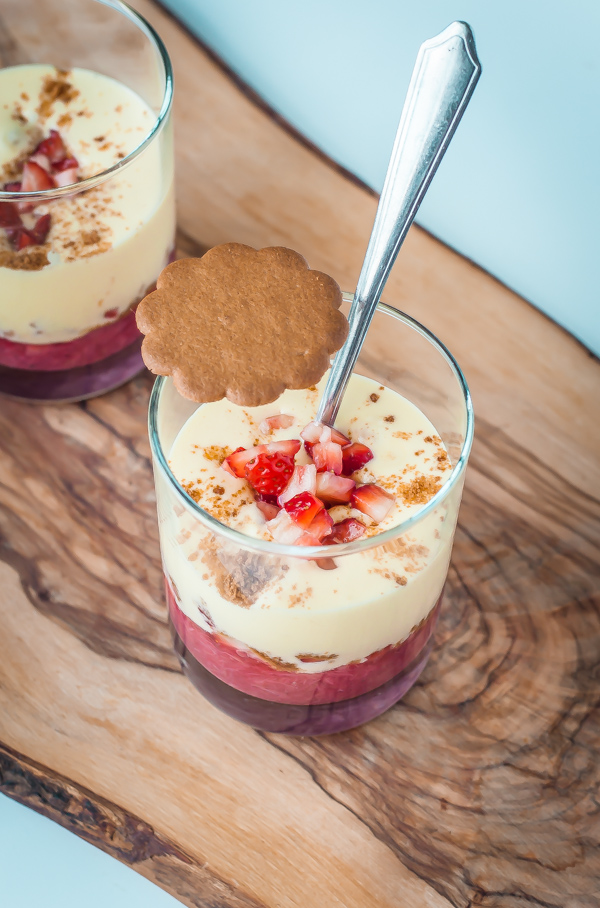 Peace of mind when you can't help but grab another taste of that cake batter, or when you're sitting in front of the couch spooning zabaglione into your mouth…
Creamy zabaglione custard lightened with whipped cream and balanced with tart rhubarb compote, chopped strawberries, and hefty dusting of spicy ginger cookie crumble. Trust me, it doesn't get better than this.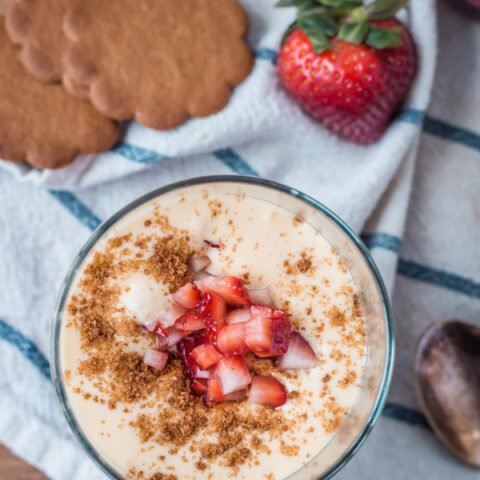 Zabaglione with Rhubarb, Strawberries, and Ginger Cookie Crumble
Yield: 4 Servings

Homemade zabaglione (Italian custard) served with rhubarb compote, chopped strawberries, and topped with a crunchy ginger cookie crumble.

Prep Time: 15 minutes

Cook Time: 20 minutes

Total Time: 35 minutes
Ingredients
Rhubarb Compote:
1/2 cup sugar
1/4 cup water
1 lb rhubarb, sliced into 1/2″ pieces
1.5 teaspoons fresh lemon juice
Zabaglione:
7 Safest Choice egg yolks
1/4 cup sugar
3 tablespoons St.Germain elderflower liquor (or Marsala, if substitute necessary)
1/8 teaspoon vanilla extract
1/3 cup heavy cream, chilled
6-8 large strawberries (1 pint roughly), finely diced
4-5 ginger cookie thins
Instructions
Prepare Rhubarb Compote: Combine the sugar and water in saucepan. Bring to a simmer and stir until the sugar is completely dissolved.
Add the chopped rhubarb and cook over medium heat until it begins to break down, and soften. Stir frequently and adjust heat as necessary.
Once the rhubarb has cooked down, remove the compote from the heat and stir in the lemon juice.
Allow the compote cool to room temperature before preparing the zabaglione–see below– or alternatively, prepare the compote up to a week in advance and store in an airtight container in the refrigerator.
Prepare Zabaglione: Set up a bain marie (heatproof bowl set above a pot of barely simmering water–a few small bubbles per second. You want the edges of the bowl to be fully within the pot). In a separate bowl, whisk together the egg yolks, sugar, and liquor.
Place the bowl over the pot–and using a balloon whisk, whisk the mixture aggressively for 10-15 minutes (checking the temperature regularly and adjusting as necessary), or until the egg yolk mixture triples in volume and becomes very pale in color, and begins to gain a mousse-like consistency.
Remove the zabaglione from the heat, and whisk it until the custard comes to room temperature. Stir in the vanilla extract.
In a separate bowl, whip the cream to soft peaks. Gently fold the cream into the zabaglione.
Using a small food processor, grind the ginger cookie thins until they are fine.
Spoon roughly 1/4 of the rhubarb compote into the bottom of four short glasses (or stemless wine glass). Add a spoonful of chopped strawberries and a dusting of ginger cookie crumble. Top with zabaglione. Garnish with additional diced strawberries and ginger cookie crumble.
Serve immediately, or alternatively prepare in advance (without the garnish) and store in the refrigerator for up to six hours until ready to use.
Nutrition Information:
Yield: 4 Serving Size: 1
Amount Per Serving: Calories: 529Total Fat: 19gSaturated Fat: 8gTrans Fat: 0gUnsaturated Fat: 10gCholesterol: 345mgSodium: 226mgCarbohydrates: 78gFiber: 4gSugar: 49gProtein: 9g
This post is a collaboration between #SafestChoice  Eggs and Honest Cooking Magazine. Thank you for supporting the brands I love!