Mushroom Goat Cheese Galette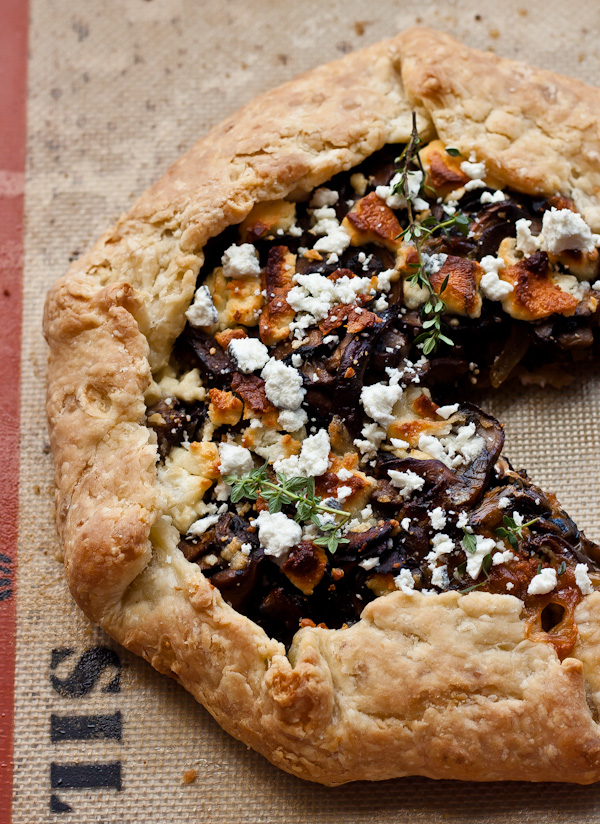 I feel like I should be telling you all about this mushroom and goat cheese galette, but really all I want to do is talk about is this past weekend. Usually, I'm pretty laid back when it comes to weekend plans.
That is code for stay-at-home, relax, rent a movie, lounge around in boxers and a t-shirt, go to the farmer's market, cook some things, photograph some things, eat some things and repeat.  I'm wild like that, what can I say
[Understatement of the century.]
This is exacerbated on Friday nights when I get home late from work. Don't get me wrong–I'm all for plans early on in the day. Ask me to do anything in the morning (well, mostly anything) and I'll usually say yes.
"Sure, that sounds great! Let's do it."
Ask me again eight hours later and usually my answer tends to shift to, "I guess we could do that. Are you sure you don't want to just stay at home and eat stuff whilst vegging out on the couch? That sounds like even more fun to me."
True story, or at least, some less exaggerated version of it.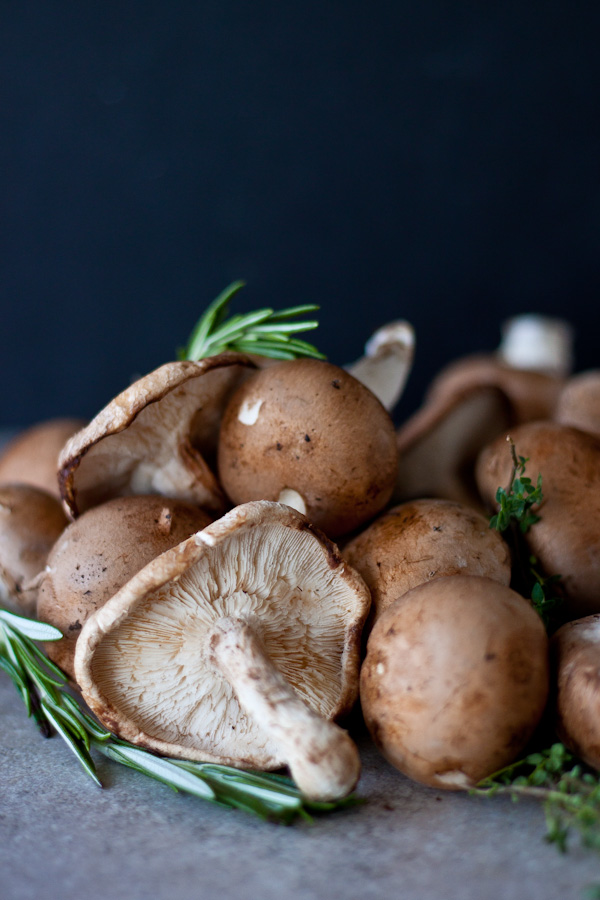 So, it came as huge surprise on Friday when Connor was able to convince me, both in the morning and the afternoon, to head into Georgetown–quite possibly the busiest, most obnoxious area of DC to visit on a Friday night–for a late dinner…followed by, wait for it, an even later movie. Craziness.
We went to a really hip, loud (yes, I complained about it) Mexican restaurant, where we gorged on pulled pork apple-topped tacos, blue crab taquitos, and half-price margaritas, courtesy of the government shutdown.
This was followed by a spontaneous, but mandatory, visit to Anthropologie, where I unknowingly tried on a $400 leather jacket (which I'm still currently obsessed with) and ultimately, only ended up buying one single, random, on-sale plate. #foodbloggerproblems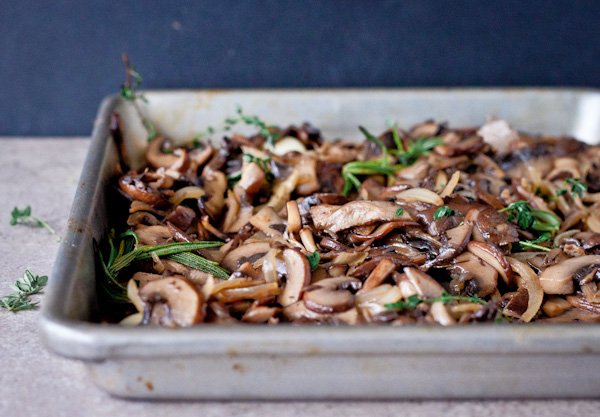 By the way, we saw Gravity. In 3-D. It was amazzzing. I'm not a big 3-D movie person, but there's really no other way to see this movie. Seriously, go see it.
Other than that, my weekend was pretty predictable. I made some things, photographed some things, and ate some things–including this mushroom goat cheese galette, which I've been dreaming about for quite some time.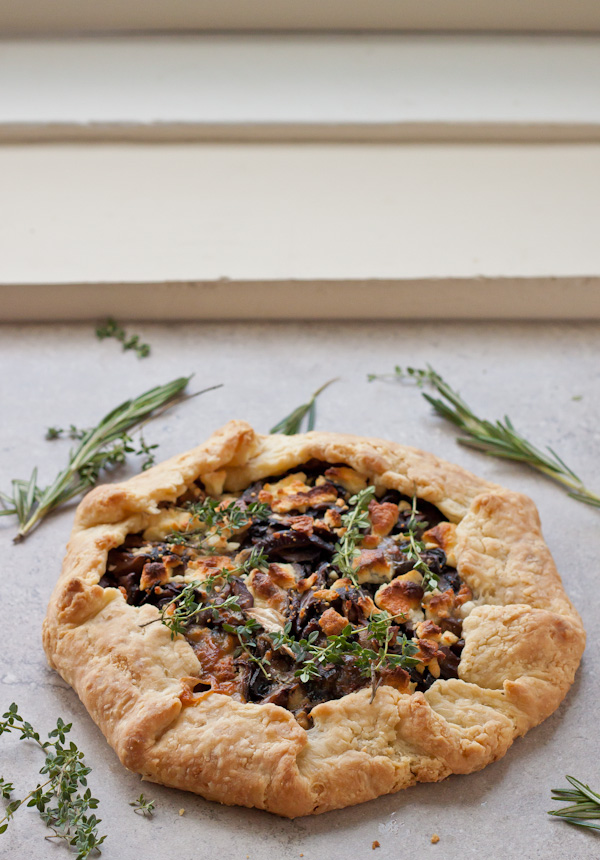 Cremini and shiitake mushrooms are sauteed with butter, garlic, and onions, de-glazed with dry sherry (my favorite trick, learned during my time working in the kitchen), and tossed with fresh thyme and rosemary.
Add some Humboldt Fog goat cheese (quite possibly one of my favorite cheeses ever–and that's saying a lot), encase this in a sour cream pastry crust, bake it until golden brown, and you're pretty much in heaven.
Predictably perfect fall food heaven. Enjoy!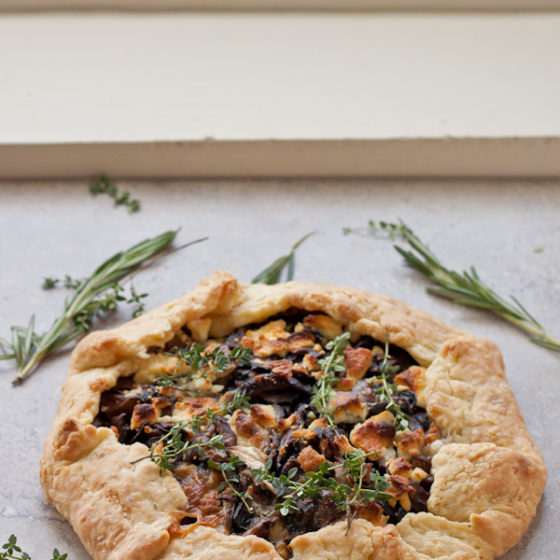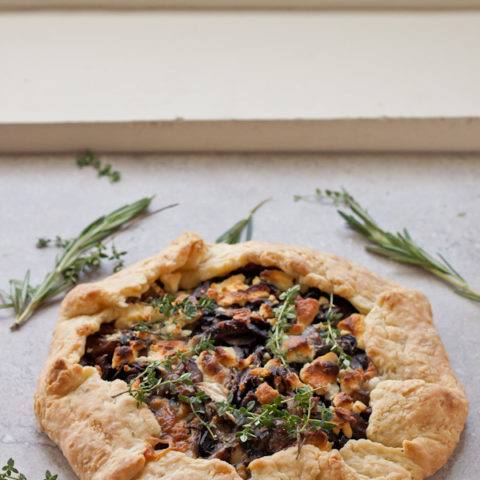 Mushroom Goat Cheese Galette
Yield: 1 (10-inch) Galette
Prep Time: 2 hours
Cook Time: 40 minutes
Additional Time: 5 minutes
Total Time: 2 hours 45 minutes
Ingredients
Sour Cream Pastry Dough:
1 1/4 cup all-purpose flour, chilled in freezer for 10-15 minutes
1/4 teaspoon salt
1/2 cup (1 stick) frozen unsalted butter, cut into small chunks
1/4 cup sour cream, very cold
2 teaspoons fresh lemon juice
1/4 cup ice water
Mushroom & Goat Cheese Filling:
2 tablespoons unsalted butter
1 1/2 lbs thinly sliced mushrooms (equal amounts of shiitake and cremini)
1/2 large yellow onion, finely julienned
3-4 cloves of garlic, smashed
1/2 cup dry sherry
large sprig of fresh thyme
large sprig of fresh rosemary
salt
pepper
5 ounces Humboldt Fog goat cheese (or another ripened young goat cheese), seperated
Instructions
Prepare Dough: Combine salt and flour in bowl. Add chunks of butter and using a pastry cutter, cut the butter into the flour until the mixture resembles coarse meal and butter pieces are no bigger than the size of small peas.
In another bowl, whisk together the ice water, cold sour cream, and lemon juice.
With fingertips or wooden spoon, slowly add the liquid mixture to the dry mixture until large lumps form.
Pat all the lumps into a large ball–do not overwork the dough. Cover with plastic wrap and refrigerate for 1-2 hours (if dough is too soft after an hour, allow to chill for another hour).
Prepare Filling: Heat very large (more surface area the better) skillet over very high heat. Add butter, followed by mushrooms, spreading into a single layer with a wooden spoon. Continue to saute–the mushrooms will quickly begin to release their moisture–keep cooking until most of the liquid has evaporated.
Add the sliced onion and smashed garlic and continue to saute until the onions are translucent–and the mushrooms and onion begin to caramelize and the bottom of the pan has formed a nice light brown fond.
Remove the pan from heat and deglaze with the dry sherry. Place back on the heat, add the sprigs of thyme and rosemary, and continue to cook over medium high heat until all of the sherry has evaporated. Season with salt and pepper to taste.
Remove and spread out on a baking sheet and allow to cool to room temperature. (Before using, discard the large sprigs of thyme and rosemary and garlic cloves).
Assemble Galette: Preheat the oven to 400 degrees (F).
Remove the dough from the fridge and on a floured work surface, roll out into a 12-inch round. Transfer to a parchment lined baking sheet.
Crumble 3 ounces of the goat cheese into a bowl, add the (cooled) mushroom mixture, and stir gently.
Spread the mixture into the center of the dough–leaving a 1 1/2 inch border on the sides. Fold and pleat the edges of the dough border over the mushrooms–leaving the center exposed.
Bake for 30 minutes–remove from the oven–sprinkle with remaining 2 ounces of goat cheese–and continue to bake for another 5-10 minutes.
Remove from oven, allow to stand for 5 minutes on cooling rack. Transfer to serving plate. Serve hot, warm, or at room temperature.
Notes
Crust recipe adapted from Williams-Sonoma.
Nutrition Information:
Yield: 8
Serving Size: 1
Amount Per Serving:
Calories: 203
Total Fat: 10g
Saturated Fat: 6g
Trans Fat: 0g
Unsaturated Fat: 3g
Cholesterol: 22mg
Sodium: 320mg
Carbohydrates: 23g
Fiber: 3g
Sugar: 3g
Protein: 8g
A Beautiful Plate provides nutritional information, but these figures should be considered estimates, as they are not calculated by a registered dietician.