Braised Fingerling Potatoes with Garlic, Shallots, and Fresh Herbs
Braised Fingerling Potatoes with Garlic, Shallots, and Fresh Herbs. A cozy, easy-to-prepare potato side dish for fall or winter!
We all know how much I adore fingerling potatoes! Or just, ya know, potatoes in general. I think I inherited this love from my grandmother on my dad's side (my 'Grannybird' that ran a successful bed and breakfast in England in for years).
I challenge you to find any one person who loves potatoes as much as my grandmother. If it were up to her, people would eat potatoes every night of the week or multiple times a day.
Regardless of how many potatoes she has fed me over the years, I still love them to this day. I don't make them on a day to day basis, but when I do, they better be packed with flavor. A bland potato is a sad, sad state of affairs.
These roasted fingerling potatoes with tarragon-shallot butter might be one of my favorite recipes that I've shared all year! [If you haven't tried them yet, add them to your list of side dishes to prepare, particularly during the upcoming holiday season!]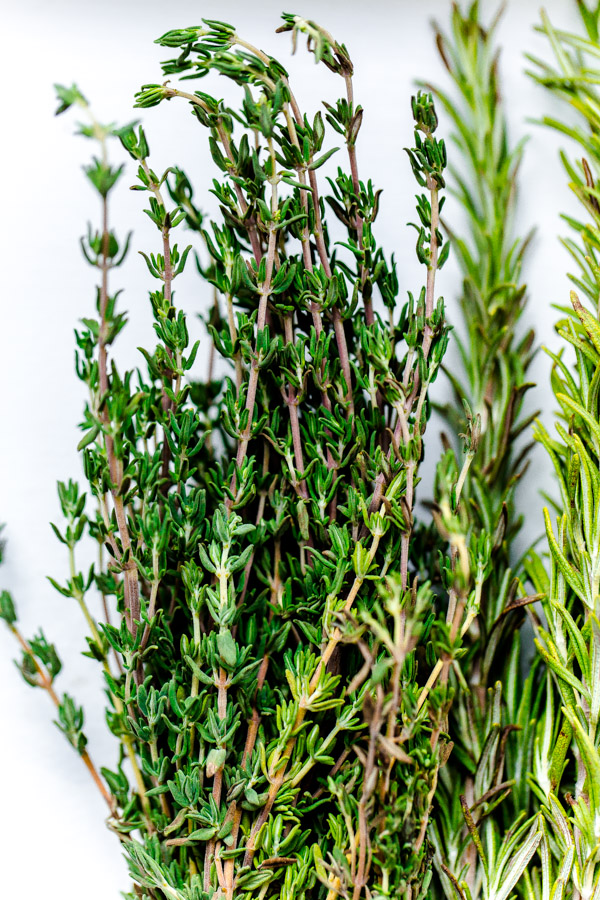 With that being said, I figured it was about time to add another potato side dish to your recipe inventory! These braised fingerling potatoes are just that and so much more.
Whenever I hear the word "braised" in any recipe title, I envision cozy-ing up in a large sweater, lighting a few candles, and enjoying a long, leisurely meal with family and friends.
In reality, most people tend to associate the word braised with a dish that requires a lot of time and effort, but in regards to today's recipe, this couldn't be farther from the truth. Braised simply means that these potatoes are cooked in a small amount of liquid.
This dish can be prepared in just over 30 minutes, requires practically zero prep time, and calls for less than 15 minutes of active cooking time. It also doesn't require the use of an oven, which is sort of essential during the upcoming holiday season when you have to juggle cooking or roasting a million other things at once.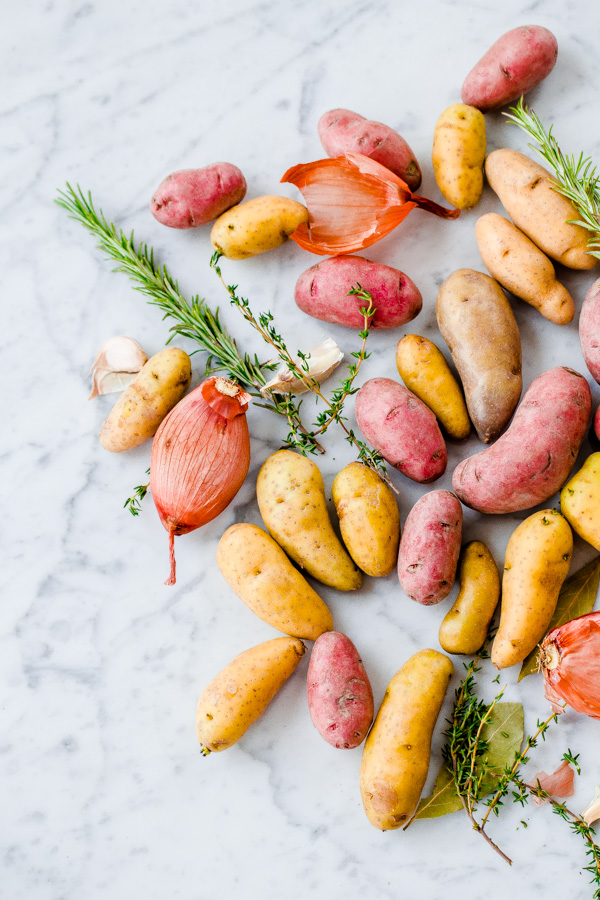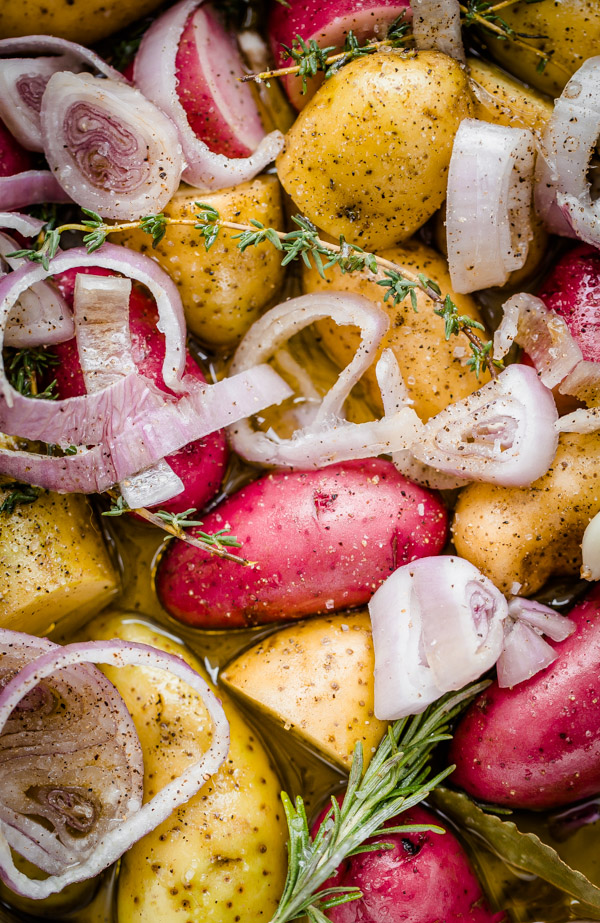 Also, why are fingerling potatoes so pretty? I can't deal with it.
The original idea and technique for this dish came from one of my favorite cookbooks, particularly at this time of year. Fingerling potatoes are braised in a small amount of water or stock with garlic cloves, you crank up the heat until all of the liquid has evaporated, and you're left with buttery, lightly caramelized potatoes.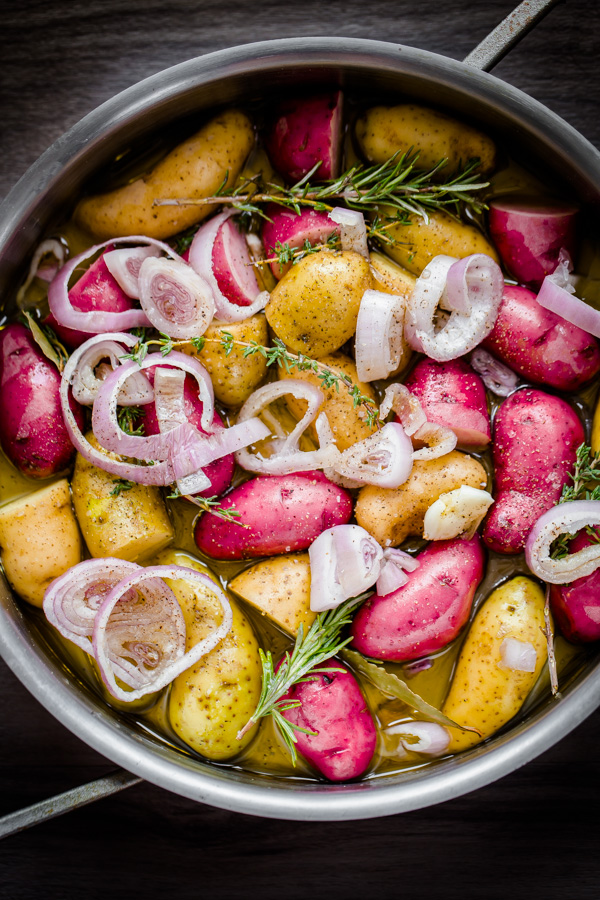 The best part? As the potatoes cook, the garlic cloves slowly transform into essentially a sweet and lightly caramelized garlic glaze.
Similar in many ways to when you caramelize onions and they begin to break down. They become almost spreadable. It's hard to describe, but so, so delicious!
To give it my own twist, I added sliced shallots and fresh sprigs of rosemary and thyme. Don't underestimate the power of fresh herbs, whether as a flavor addition or final garnish. They can transform a dish and make fabulous garnishes! If you store herbs properly, they can also last up to 2 to 3 weeks your fridge too.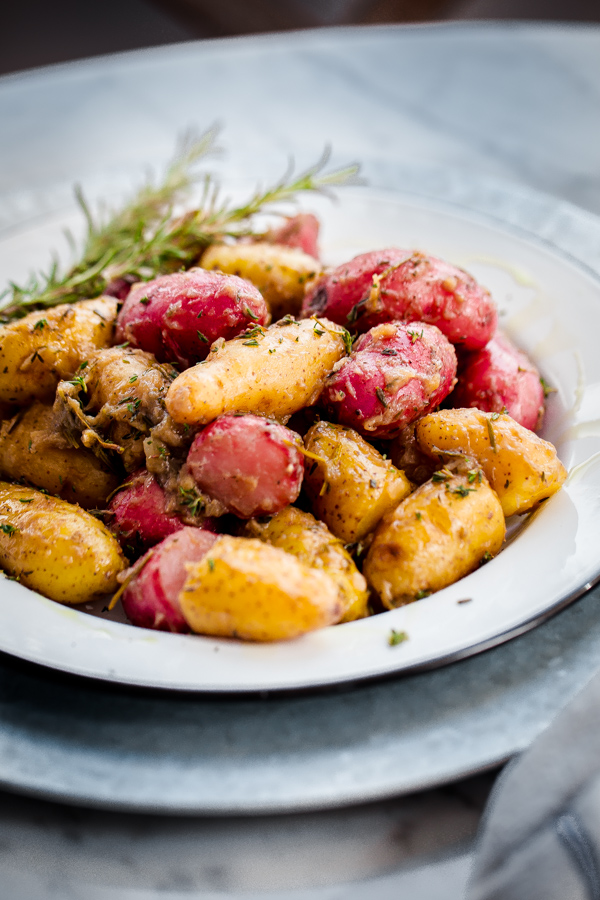 These would be a fabulous accompaniment to this weeknight broiled salmon with chermoula herb crust, a simple roast chicken, or practically any roasted or braised dish.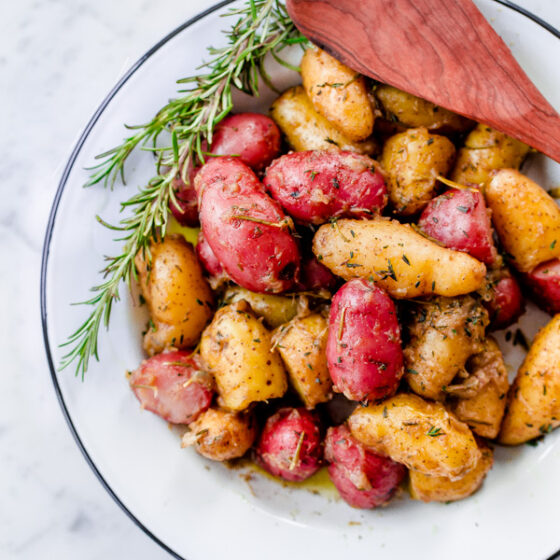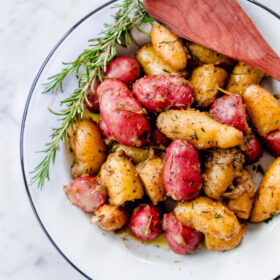 Braised Fingerling Potatoes with Garlic, Shallots, and Fresh Herbs
Simple braised fingerling potatoes with garlic, shallots, and fresh herbs. A cozy, easy-to-prepare braised potato side dish recipe.
Ingredients
1½ lbs small to medium fingerling potatoes I used a combination of red and yellow
1 large shallot sliced into ½-inch slices
4-5 garlic cloves
1 large sprig of fresh rosemary broken in half, plus more for garnishing
4-5 sprigs of fresh thyme plus more for garnishing
2 dried bay leaves broken in half
3 tablespoons (45 mL) extra virgin olive oil
1 cup (240 mL) low-sodium chicken stock or vegetable stock
kosher salt
freshly ground black pepper
Instructions
Rinse and scrub the potatoes lightly in a colander under running water. If the potatoes are on the smaller side–less than 1-inch wide and not very long–leave them intact. Slice any larger fingerling potatoes in half crosswise.

Place the fingerling potatoes in a straight-sided sauté pan (at least 3 quarts in size) so that the potatoes can be accommodated in a single layer. Add the sliced shallot, garlic cloves, fresh rosemary, thyme, and dried bay leaves to the pan. Add the olive oil and toss to coat evenly. Pour in the chicken stock and season lightly with salt and pepper (the salt will concentrate as the potatoes cook, so avoid over-seasoning, especially if you are not using low-sodium chicken stock).

Cover the pan and bring to a simmer over medium heat. Reduce the heat to a very low simmer and cook the potatoes, covered, for 10 minutes. Use a spoon to flip the potatoes, cover, and simmer for an additional 10 to 12 minutes, or until they are can be easily pierced with a sharp knife or skewer. There should still be a relatively substantial amount of braising liquid left in the pan.

Remove the lid and bring over high heat ntil the braising liquid has come to a boil. Continue to cook over high heat, shaking the pan back and forth gently, until all of the braising liquid has evaporated and the potatoes begin to sizzle in any remaining oil in the pan. At this point, the shallots and garlic will have reduced to a buttery glaze, which should coat the potatoes evenly. Remove from the heat, discard the bay leaves and any tough remaining rosemary and thyme stems. Taste and season with salt and pepper, if necessary.

Place the potatoes in a serving platter and garnish with chopped fresh thyme leaves. Serve immediately.
Serving: 1serving, Calories: 112kcal, Carbohydrates: 9g, Protein: 2g, Fat: 8g, Saturated Fat: 1g, Polyunsaturated Fat: 7g, Sodium: 238mg, Fiber: 2g, Sugar: 2g
This post contains affiliate links, which means that I make a small commission off items you purchase at no additional cost to you. Please read my
privacy policy
for more information.