Hummus with Soft Boiled Egg, Pickled Onion, Parsley, and Sumac Oil
Hummus with Soft Boiled Egg, Pickled Onion, Parsley, and Sumac Oil. A delicious and filling hummus appetizer!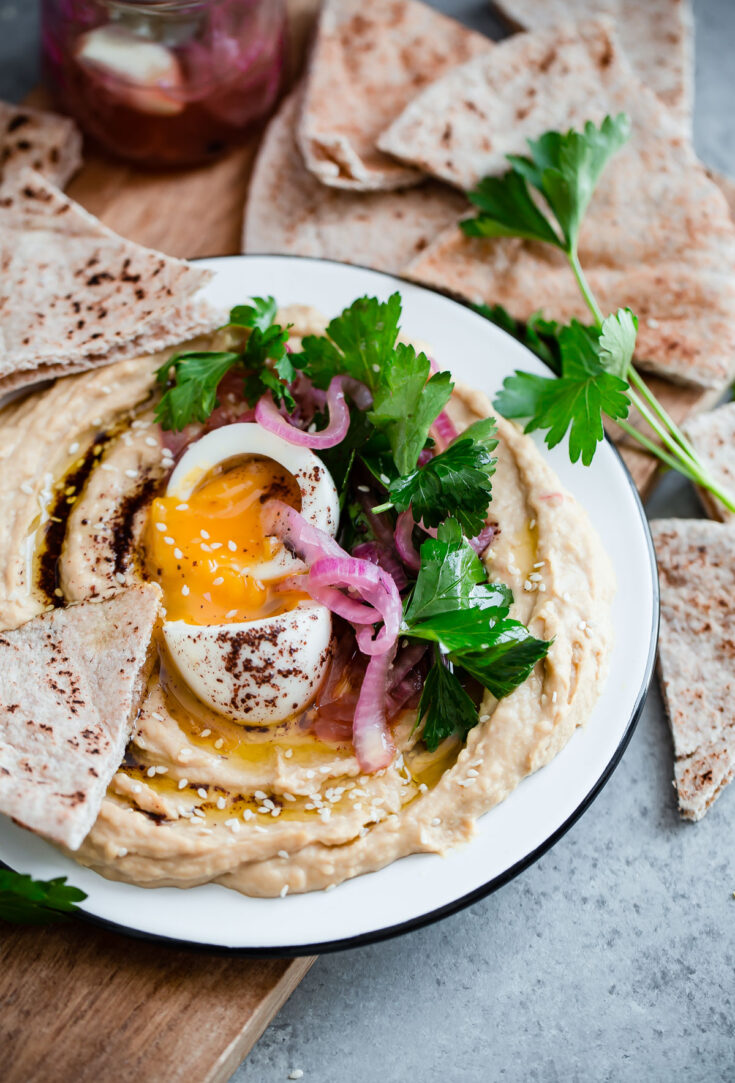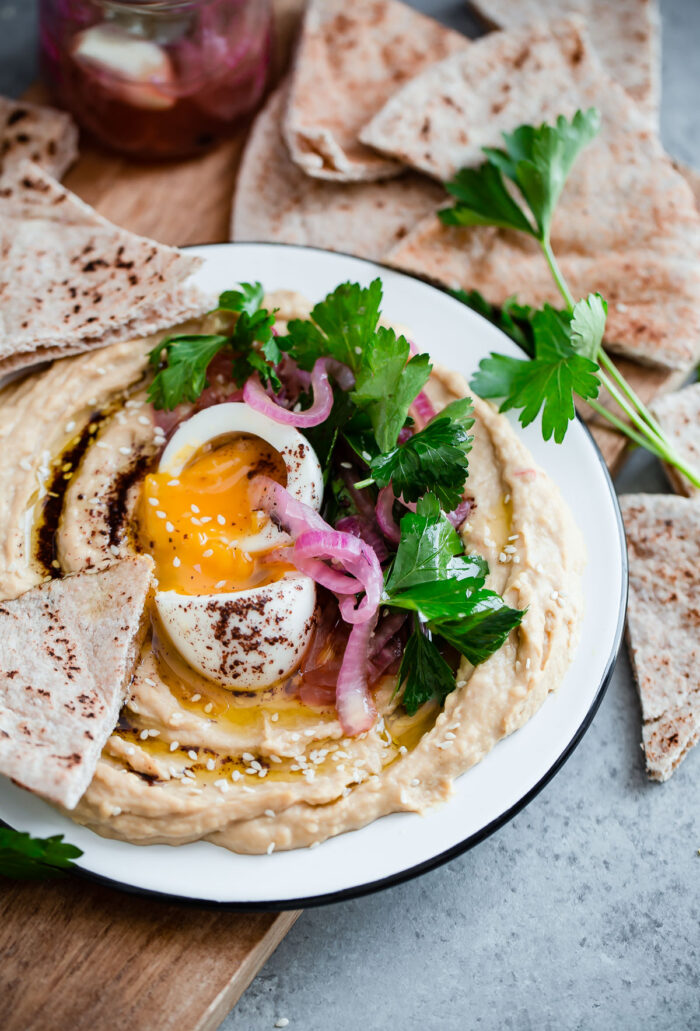 This recipe is sponsored by Sabra.

A few months ago, Connor and I went out to dinner at Avec, one of my favorite restaurants in Chicago, and had one of the best (and most unexpected) hummus appetizers of my life.
Silky smooth hummus topped with pickled onions, a soft-boiled egg, flat leaf parsley, and a smoky chili oil. As soon as we cut into the egg, the runny yolk spilled into a beautiful pool on the hummus, bringing the whole dish together. We happily ate away, dipping and scooping up the flavors with our warm, oven-baked pita bread.
It was my first time having hummus topped with an egg (let alone, a soft-boiled egg) and somehow the combination just worked. After doing a bit of research, I actually discovered that egg is a traditional hummus topping in many cultures.
I vowed right then and there to try my best to recreate a similar version of this dish to share with you, and that is what we're doing today.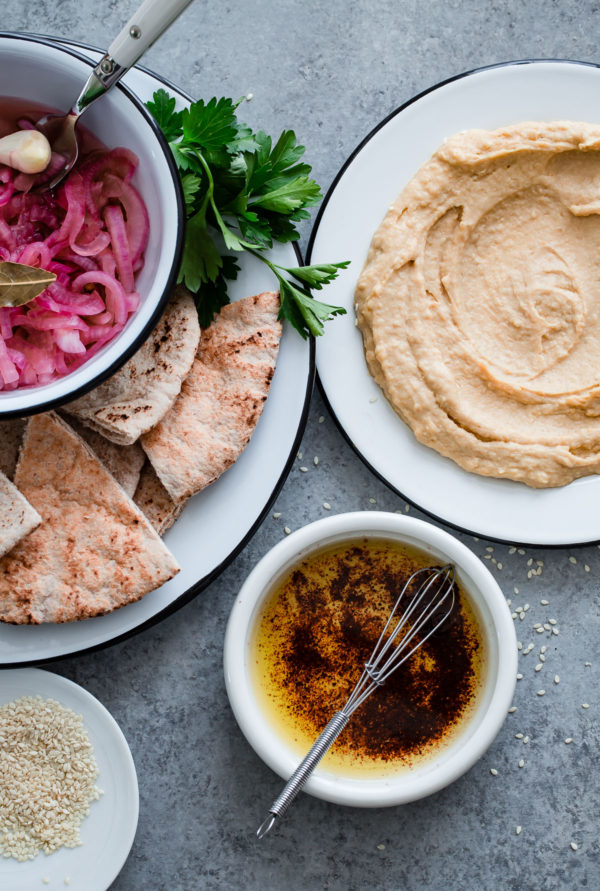 I partnered with my friends at Sabra to bring you a more time-friendly version of this dish just in time for National Hummus Day.
While I'm the first to poke fun at national food holidays, I love any and all excuses to celebrate food. Last year, I was all about the spicy hummus avocado toast (so spicy!). This year, I'm for hummus with all the toppings.
The convenience of store-bought hummus allows you to throw this dish together in just fifteen minutes (minus pickling time). This recipe uses Sabra's classic hummus, which acts as a blank canvas to all of the other flavors in this dish. Of course, you can always use homemade hummus instead.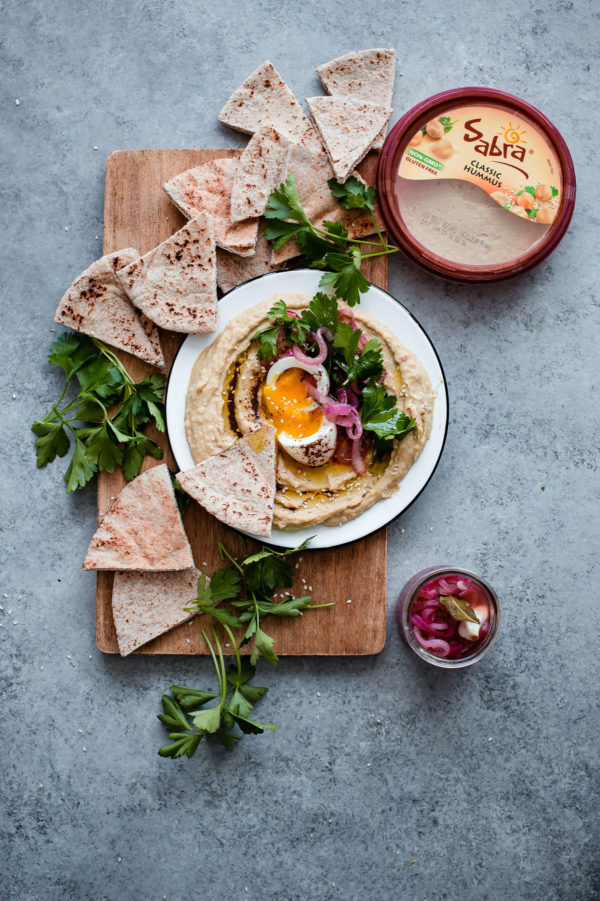 The most time-intensive part of this recipe is the pickled red onion. The pickling liquid, a simple combination of everyday ingredients: red wine vinegar, sugar, salt, and spices.
The pickling liquid is briefly simmered on the stove and poured over thinly sliced red onion. In order to give the onion enough time to soften and absorb the pickling liquid, I recommend making the pickled onions several hours in advance or preferably 1 to 2 days before serving.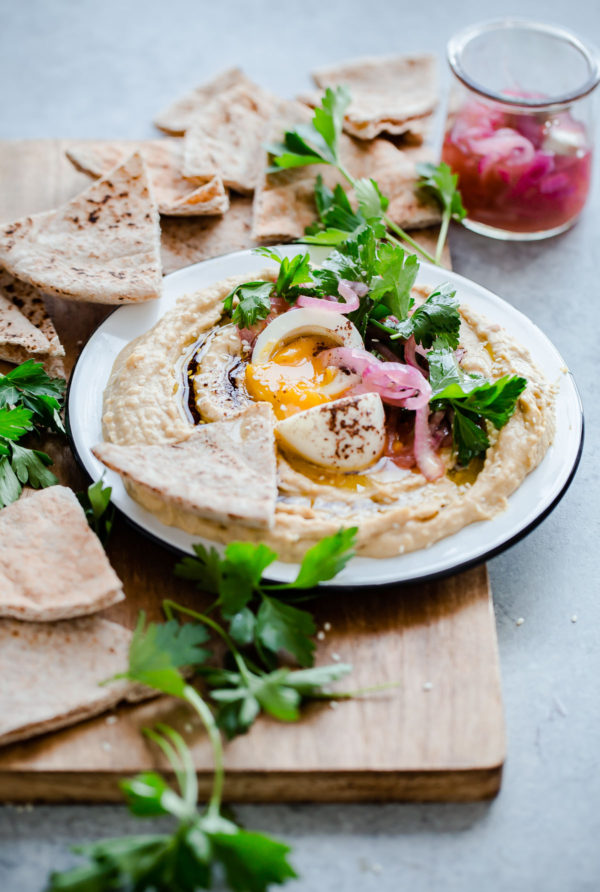 Once you've topped the hummus with the egg, parsley, and pickled onion, the whole thing is topped off with sumac oil, a simple combination of high-quality olive oil (the fruitier, the better!) and ground sumac.
I'm having a moment with sumac (remember this Mediterranean chicken salad?).
It adds a tart, lemon-like punch of flavor and brightness to this hummus appetizer, and helps bring this dish together. If you can't find ground sumac, you can substitute it with ground paprika and fresh lemon zest.
Don't forget the warm or lightly baked pita bread for serving!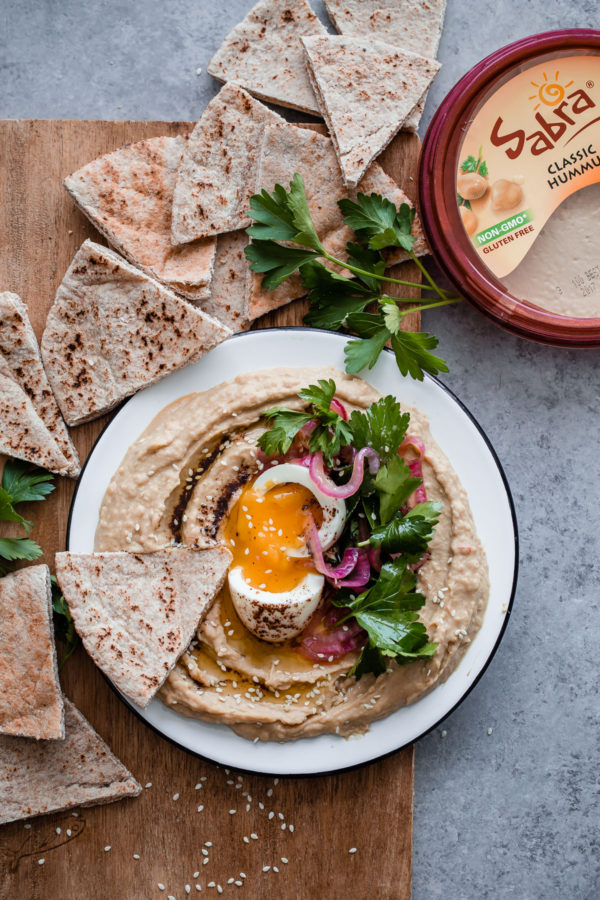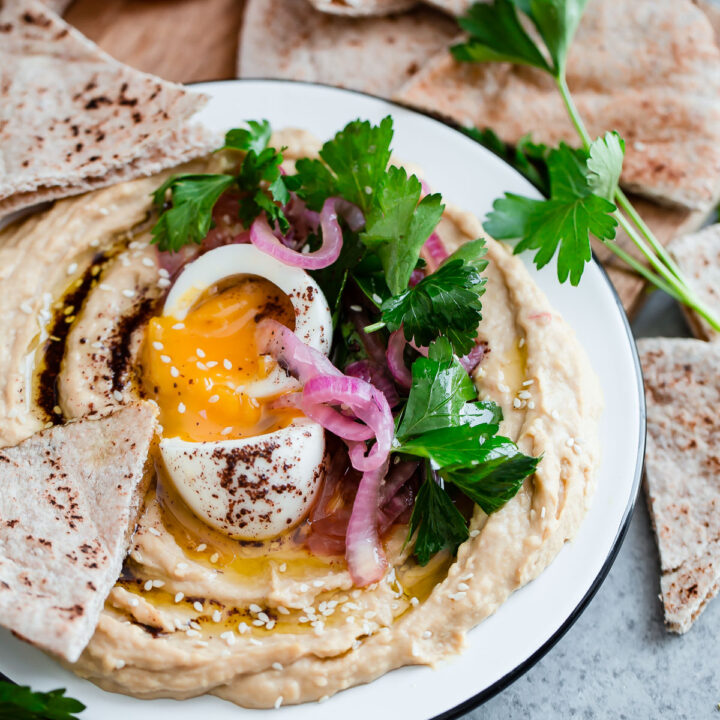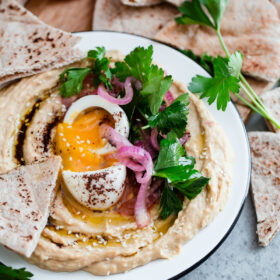 Hummus with Soft Boiled Egg, Pickled Onion, Parsley, and Sumac Oil
Hummed topped with a perfect soft boiled egg, pickled onion, parsley, and sumac oil. A delicious and hearty hummus appetizer! Be sure to prep the pickled onions several hours (or 1-2 days) in advance.
Ingredients
Pickled Red Onions:
1 small red onion very thinly sliced
1 garlic clove
¾ cup (180 mL) red wine vinegar
3 tablespoons (36g) granulated sugar
½ teaspoon kosher salt
4-5 whole black peppercorns
1 dried bay leaf
For Assembly:
1 tablespoon extra virgin olive oil
½ teaspoon ground sumac
1 large egg
small bunch flat leaf parsley leaves
pickled red onion see recipe above
1 (10-ounce) container Sabra Classic Hummus
toasted sesame seeds for garnishing
warmed or toasted pita bread for dipping
Instructions
Several hours ahead or the day before, prepare the pickled red onions: Place the red onions and garlic in a tall heatproof container and set aside. Combine the vinegar, sugar, salt, peppercorns, and bay leaf in a small saucepan. Bring to a boil, reduce heat, and simmer for 20 to 30 seconds until the sugar has completely dissolved. Pour the hot pickling liquid over the red onions and stir everything together. The onions should be completely submerged in the pickling liquid (if necessary, use a large spoon to press them down). Cover and let the onions chill in the refrigerator for at least 2 hours or preferably overnight.

Make the Oil: Whisk together the olive oil and sumac in a small bowl and set aside. 

Cook the Egg: Set a timer for 6 minutes. Set aside a small ice bath. Bring a small saucepan of cold water to a low simmer. Gently lower the egg into the simmering water and start the timer (cook for 6 minutes). Immediately transfer the egg to the ice water water, and allow it to sit until cool enough to handle. Carefully peel and set aside on a paper-toweled lined plate until ready to serve.

Assemble: Spoon and spread the hummus into a shallow bowl or plate. Top with a small bunch of flat leaf parsley, spoonful of pickled red onion, and the egg (right before serving, cut in half to break the yolk). Spoon the sumac oil over the egg, parsley, and hummus. Sprinkle with sesame seeds, if desired.

Serve immediately with warmed or toasted pita bread for dipping.
Tips for Success:
If you can't find ground sumac, you can substitute it with ground paprika and a small amount of freshly grated lemon zest.  
Serving: 1serving, Calories: 134kcal, Carbohydrates: 17g, Protein: 3g, Fat: 6g, Saturated Fat: 1g, Polyunsaturated Fat: 4g, Cholesterol: 31mg, Sodium: 165mg, Fiber: 2g, Sugar: 8g
I am proud to be a member of the Sabra Tastemaker program! This recipe post is sponsored by Sabra. Thank you for supporting brands that allow me to get in the kitchen, be creative, and share my passion for great food!
This post contains affiliate links, which means that I make a small commission off items you purchase at no additional cost to you. Please read my
privacy policy
for more information.