Spicy Red Pepper, Goat Cheese, Olive, and Arugula Pizza. This homemade pizza comes together in less than 90 minutes and is packed with flavor!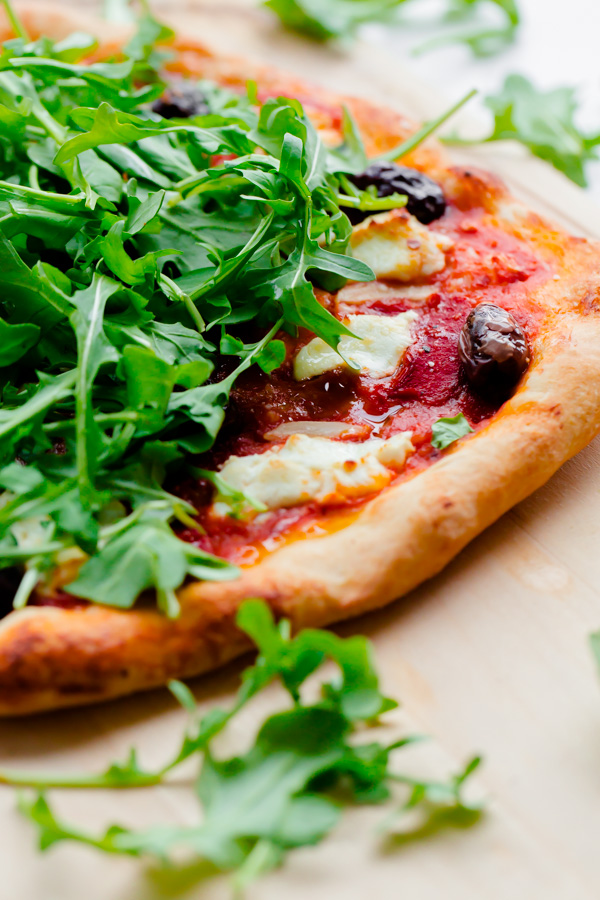 If you knew just how many pizzas Connor and I have consumed in the last six months, you'd be alarmed. Homemade pizza has become one of our favorite dinners.
Thankfully, everyone seems to love pizza as much as we do, because this best margherita pizza is one of my most requested blog recipes to date! I can't even describe how amazing it is to finally be able to create a delicious pizza at home with everyday ingredients at the drop of a hat.
I mean, it's a bit dangerous (no dinner ideas? let's make pizza again!), but amazing nonetheless. So, I say skip all the fancy Valentine's Day recipes and make homemade pizzas for your loved one instead. Grab a bottle of wine, light some candles, and pretend you're in Italy for the night.
Even better? I made a few tweaks to my favorite pizza dough, so that it is a bit more time-friendly. Today's dough can rise and be ready to use in one hour. The dough itself is made by hand – no stand mixer required – and takes only a few minutes of kneading. Don't be intimidated! It couldn't be easier.