Roasted carrots with homemade carrot top pesto. This flavor-packed vegan side dish goes with just about everything and is the epitome of root-to-stalk cooking.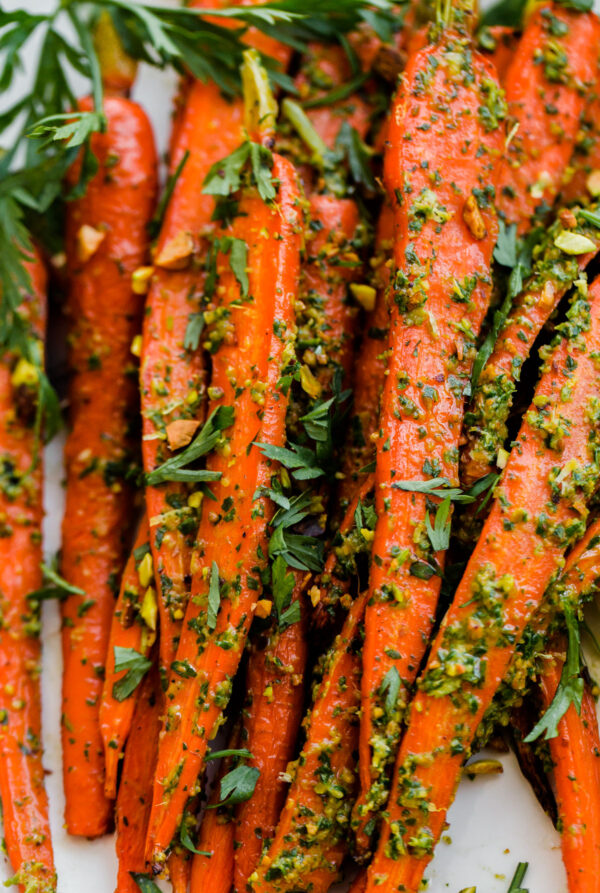 Hi! I've missed this space! With several trips scheduled back to back, September and these first two weeks of October have disappeared before my eyes. While I love traveling (and can't wait to share my trip to Iceland and England with you!), it takes me at least a week or two to feel caught up and get back into a routine. So, I'm just going to get right to it.
We're roasting carrots today! The weather has finally cooled down just enough for me to bust out the sheet pans. I'm excited about it. If you've followed my ramblings for even a short time, you know that roasted carrots are my thing. It is my go-to method for cooking carrots. The high roasting temperature and dry heat concentrates and caramelizes carrots' natural sugars, and they become quite addictive.
Roasted carrots add heft to main courses, such as this roasted carrot lentil salad, and they can quickly be transformed into soup, such as this incredibly easy (accidentally vegan) garam masala carrot soup! I've even jazzed up them with fun things like green tahini sauce and pomegranate arils. These roasted carrots with carrot top pesto are my latest creation, and it might be one of my favorite side dish recipes to date.