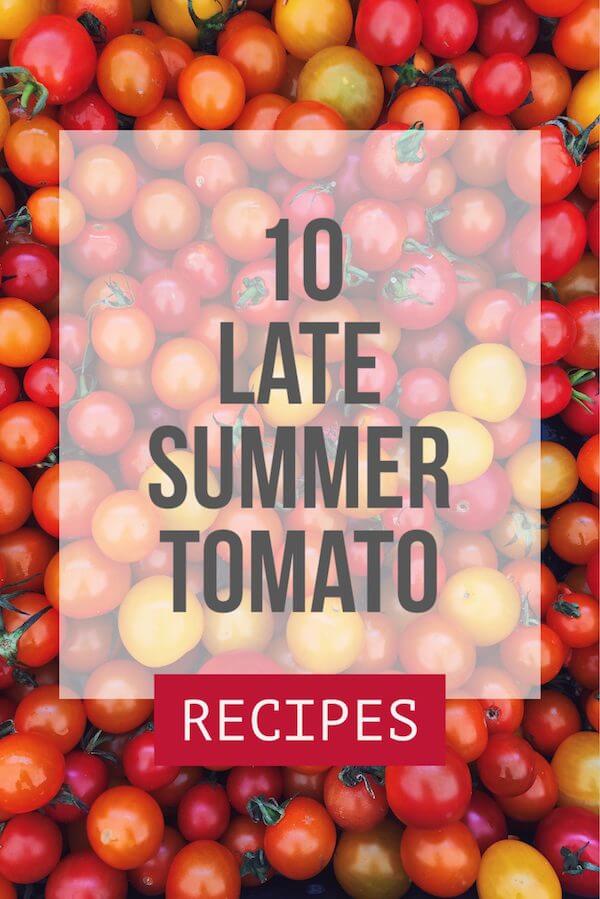 We only have a few short weeks left to take advantage of late summer tomatoes! In my mind, it is by far the saddest part of leaving summer behind. Can I just pause time for a bit? I'm a teensy bit bummed this morning, because it is the last August farmer's market Saturday before I head to Alaska this week….and it's pouring right now. Raining cats and dogs.
So, instead of visiting my neighborhood tomato stall this morning, I'm going to share tomato recipes (both cooked and in their un-cooked glory!) with you. A few are favorites from the blog over the years, and a few are from blogging friends!
FUN TOMATO FACTS:
A few months ago, my mom gifted me this book (included in this list of books that have helped me become a better cook!) and I've been brushing up on my tomato knowledge. Here  are a few fun facts that I learned:
dark red tomatoes have the highest level of lycopene (antioxidants) and nutritional value
the smaller the tomato (even tomatoes of the same variety!), the more antioxidants and vitamin C it contains, and the sweeter and more flavorful it will taste
when the internal temperature of a tomato drops below 50 degrees Fahrenheit, it stops producing flavor and aromatic compounds (aka. why you should never store your tomatoes in the fridge!) – and actually loses its existing flavor
store tomatoes stem-side up; if your tomatoes are slightly unripe, store in a brown paper bag until they deepen in color (this also works for bananas and avocados!)
the skin and seeds of tomatoes account for 50% of tomato's nutritional content, so think twice before you get rid of it!