Homemade Green Chile Adobo Sauce. This spicy, zesty, herb-filled adobo sauce is a flavor-packed accompaniment to grilled seafood, meat, or vegetables!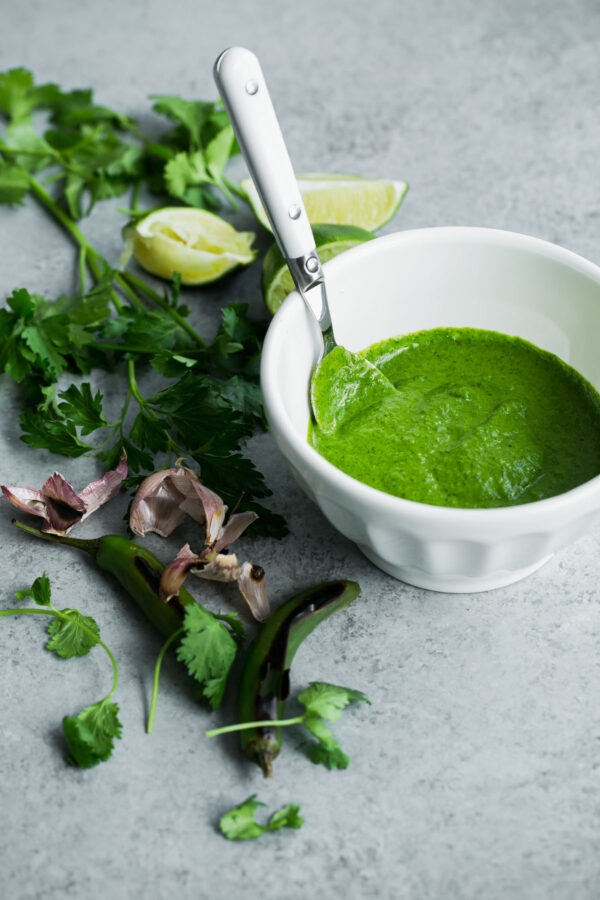 I have several requests of you today.
First, buy the ingredients for today's green chile adobo sauce as soon as humanly possible. Second, prepare this sauce and use it on everything this summer. Grilled meats, seafood, vegetables and side dishes, vegetarian dishes, you name it.
This spicy, zesty, vibrant herb-filled green sauce goes well with everything, and is perhaps my most favorite recipe to grace this blog in a while. We've been pouring, drizzling, marinating (yes, it can be used for that too!) it with/on everything lately – and we don't plan on stopping anytime soon. It is so versatile, and I already know that it will become one of those recipes that we make over and over and over again. I think you will too!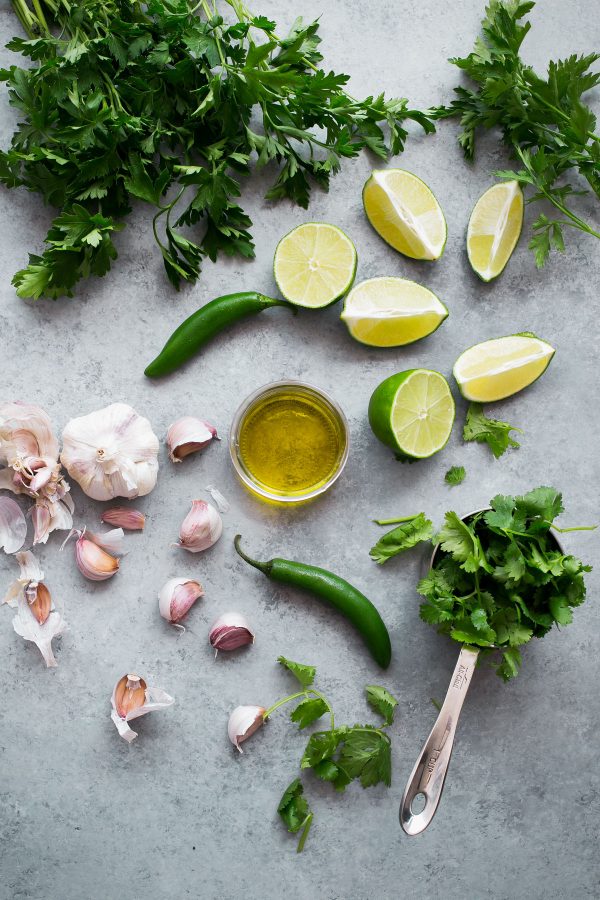 This green chile adobo sauce contains very few ingredients, but all the right ones. [If you're a cilantro hater, you might not agree with that statement. If you love cilantro, you will adore this sauce.]
Roasted serrano chiles, roasted garlic cloves, lots and lots of fresh lime juice, fresh parsley, fresh cilantro, olive oil, and salt. That's it.
The best part? The fresh serrano chiles and garlic cloves are roasted in a dry skillet on the stove. No need to preheat the oven or do any of that time-consuming business. You can dry roast the peppers and garlic together in 15 minutes. They become charred and slightly smoky, and lend incredible flavor to this sauce.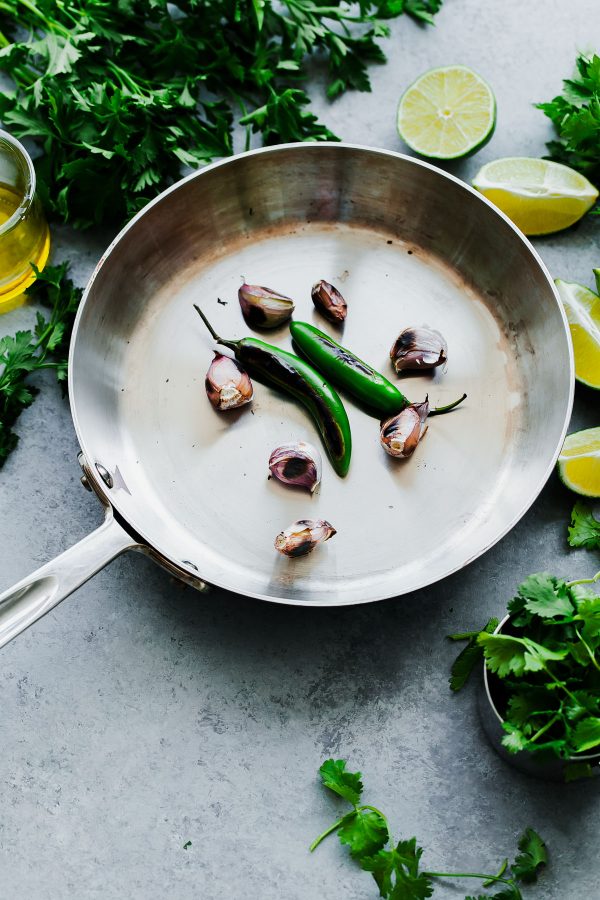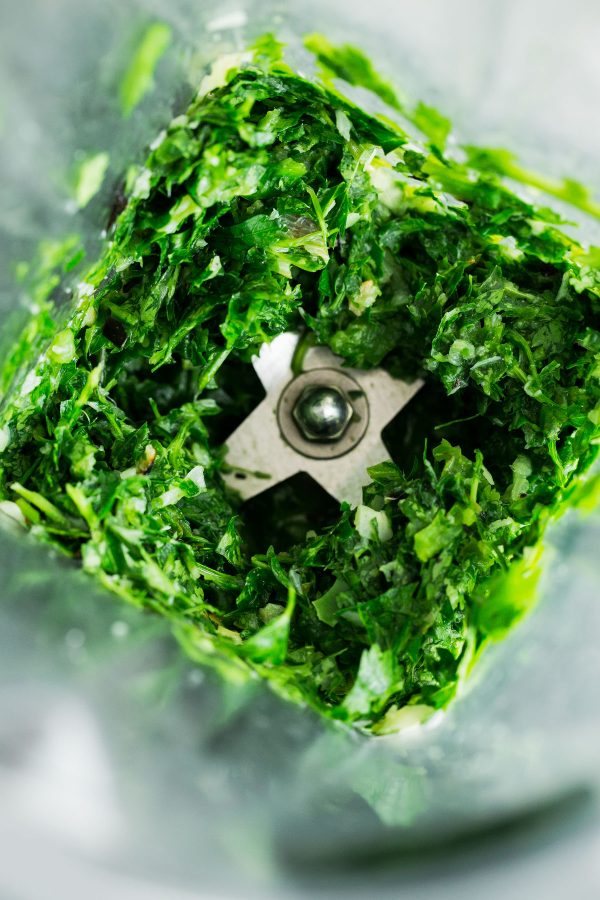 As many of you know, I get a ton of inspiration for this blog from restaurants. I'll often try a dish at a restaurant, and figure out a way to either incorporate a new ingredient, method, or flavor on this blog in some way. Occasionally, I'll try to recreate something for you. It doesn't always go smoothly. Sometimes I'll figure it out and be really proud of the result (this guacamole greens salad is one example!), but I've had far more failures than successes.
I first tried this green chile adobo sauce at Rick Bayless's new Lena Brava restaurant in Chicago and knew that I had to recreate it as soon as possible. It was served as a garnish sauce to fresh, raw oysters, but was so addictively delicious that we ended up eating most of it straight out of the bowl.
With the taste analysis of a mad scientist (and a brief, inquisitive question to our waiter), I was able to figure out the gist of it. A few trial laters, I was able to quickly recreate it at home a few days later. Aaah, the slightly spicy, zesty taste of success!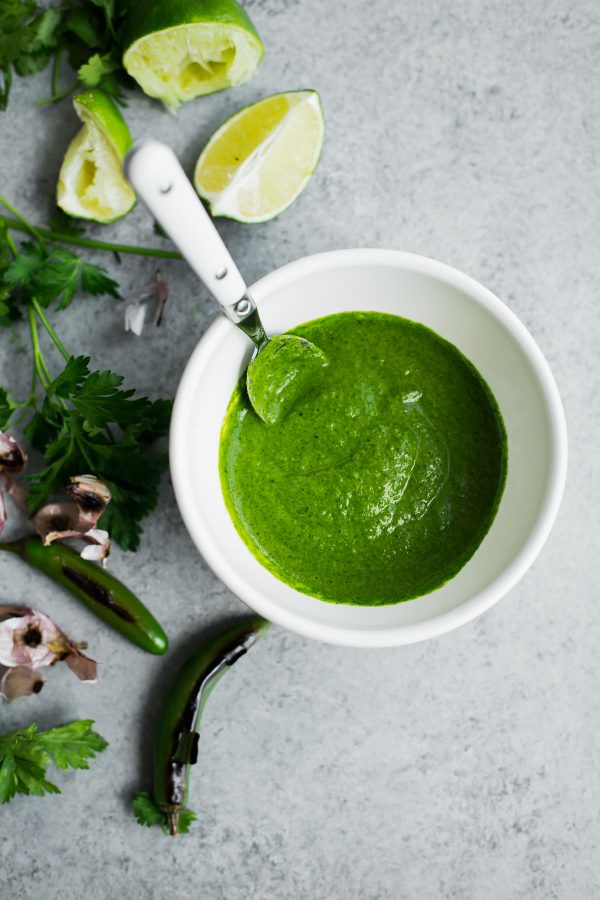 Seriously though, please make this sauce as soon as possible. I can't wait to hear what you think! Also, check back on Friday for an incredibly delicious, easy main course recipe (one of my proudest!) using it.
In the meantime, pour, drizzle, spoon this on top of everything. EVERYTHING.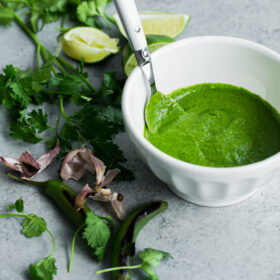 Green Chile Adobo Sauce
Ingredients:
2 serrano chiles, stems trimmed
6 large cloves of garlic, unpeeled
1/4 cup freshly squeezed lime juice (about 2 juicy limes)
1 cup packed fresh Italian (flat leaf) parsley leaves
1 cup packed fresh cilantro leaves
3/4 teaspoon kosher salt
1/4 cup extra virgin olive oil
Directions:
Place the serrano chiles and unpeeled garlic cloves in a medium, dry skillet and place over medium heat. Dry roast the chiles and garlic cloves for 10 to 12 minutes (it will take about 5 minutes to notice anything happening), flipping them once or twice, until they are charred black in some spots. Remove the chiles and place on a cutting board. Continue dry roasting the garlic cloves for an additional 3 to 5 minutes, or until they are charred in spots and they are beginning to soften. Transfer to the cutting board with the chiles and allow to cool slightly before handling.
Slice the serrano chiles in half lengthwise, and gently scrape out and discard the seeds and ribs (see 'tips for success'). Remove and discard the skins of the garlic cloves. The unpeeled garlic cloves should be charred, fragrant, and slightly soft.
In a blender or food processor, combine the lime juice, roasted serrano peppers, roasted garlic cloves, parsley, cilantro, and salt. Pulse and blend until coarse. While the machine is on, slowly drizzle in the olive oil and puree until smooth. Season to taste with salt and pepper. Note: A high-power blender, such as a Vitamix, will puree the adobo sauce more smoothly and easily than a food processor, which I personally prefer. I have this model (wider mouthed containers might have more difficulty blending smaller quantities - if you have trouble, try doubling the ingredients!). If you using a food processor, scrape down the bowl multiple times to ensure the ingredients are evenly incorporated.
Serve or use the sauce right away. If preparing in advance, transfer the sauce an airtight container, drizzle a thin layer of olive oil on top, and refrigerate for 1-2 days. Stir before using and add a small squeeze of lime juice to brighten it up.
This sauce has a medium spice level (spicy enough to provide a kick, but not spicy enough to overpower everything). If you prefer very spicy, leave the ribs and seeds in the peppers. If you prefer very mild spice levels, use only one serrano pepper.
Green chile adobo sauce pairs perfectly with grilled meat, seafood, roasted vegetables, and many vegetarian dishes. It can be used as both a marinade and/or finishing sauce.
Inspired by Rick Bayless's 
Lena Brava
restaurant in Chicago.
Tips For Success:
To avoid touching the serrano peppers with my bare hands (perfectly fine, just be careful and wash them immediately after!), I like to hold the peppers in one hand with tongs as I am working with them.
A serrated grapefruit spoon makes it extra easy to scrape out the seeds and ribs!