Strawberry Caprese Farro Salad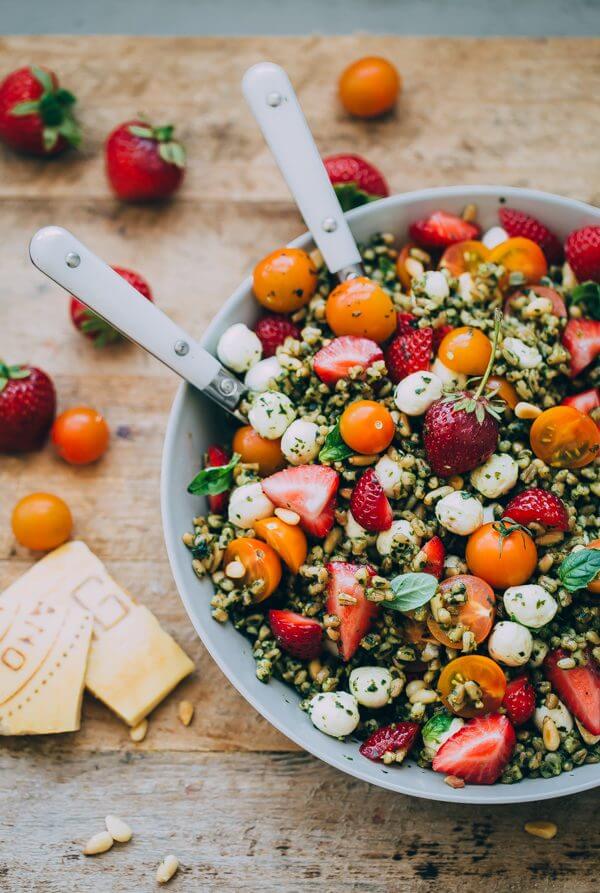 This post is sponsored by Driscoll's.
This summer could be summed up in a few words: farmer's market visits, long walks with Marley, and minimal cooking. As many of you have probably noticed, I've been (unintentionally) quiet these past few weeks.
My only excuse, if I can even call it that, is that I'm taking full advantage of Chicago summer and all that it entails. I'm taking time to reflect, recharge, and brainstorm new content, and think of ways to keep this space fun, exciting, and fresh. I'm avoiding the creative rut that plagues me at least once a year. So, many thanks for sticking with my, er, random posting schedule as of late.
Today's grain salad was directly inspired by my latest farmer's market visit. We're lucky to live within a few blocks of our neighborhood market, and I've been single-handedly buying out all the fresh basil and sungold tomatoes from one stall.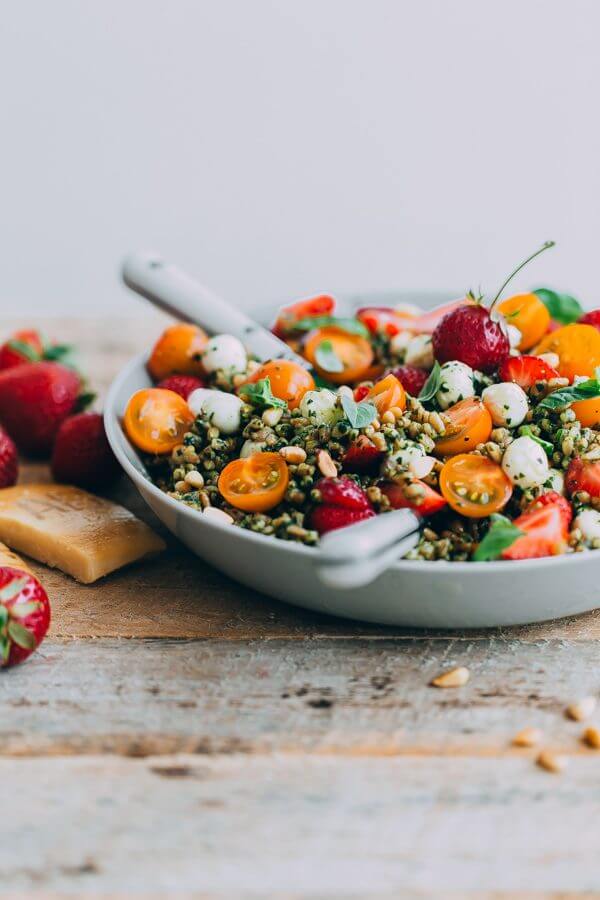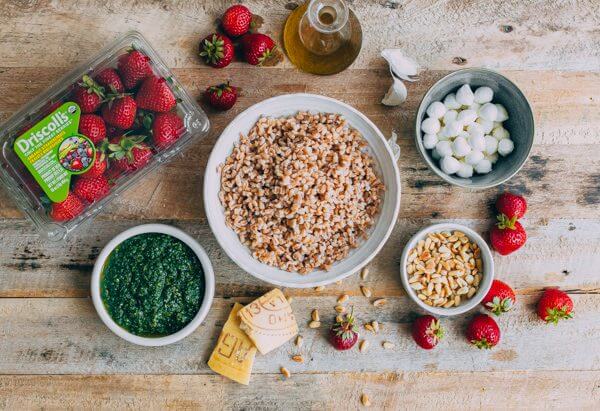 I'll make big batches of pesto in my food processor and use it with or on practically everything: omelettes, salads, meat and seafood, or grilled vegetables. Any leftovers are frozen for last-minute weeknight meals or pasta.
In an effort to mix things up, I looked to a classic caprese and this peach burrata salad (one of my all-time favorite summer salads!) as inspiration. This vibrant, healthy grain salad features my favorite summer ingredients: basil, fresh strawberries, and tomatoes.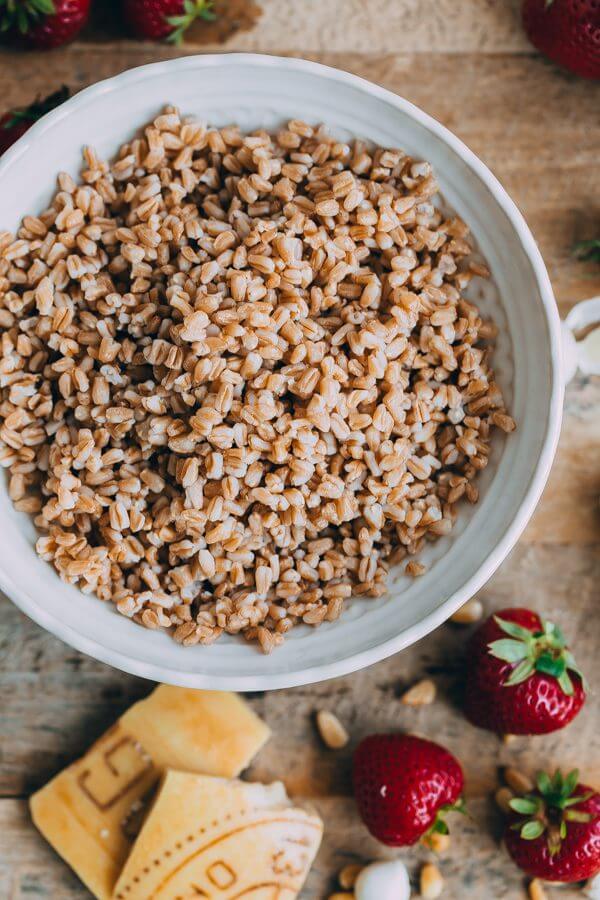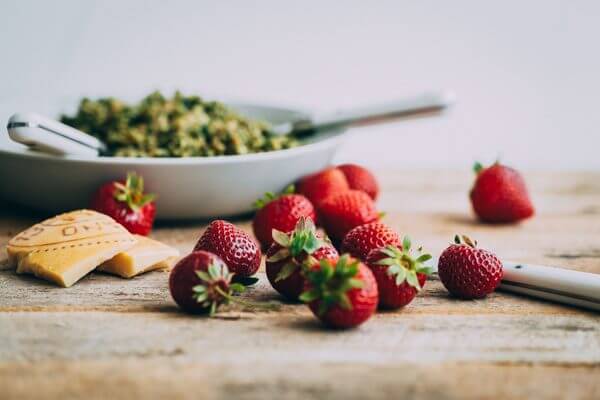 Think of this strawberry caprese farro salad as a slightly sweeter, summer twist on this spring wheat berry salad that I shared a few months ago!
Nutty farro is tossed with homemade basil pesto and tossed together with juicy Driscoll's strawberries, mozzarella pearls, and sweet sungold tomatoes. The strawberries add a touch of sweetness in every bite, pair wonderfully with the fresh basil, and add wonderful color and vibrancy to the dish. Red, juicy berry jewels, if you will!
It took me nearly 25 years to get behind the idea of adding fruit to my salad, and I'm so glad I got over that hump.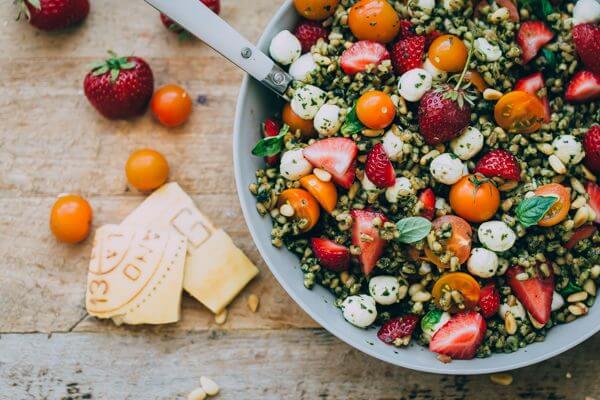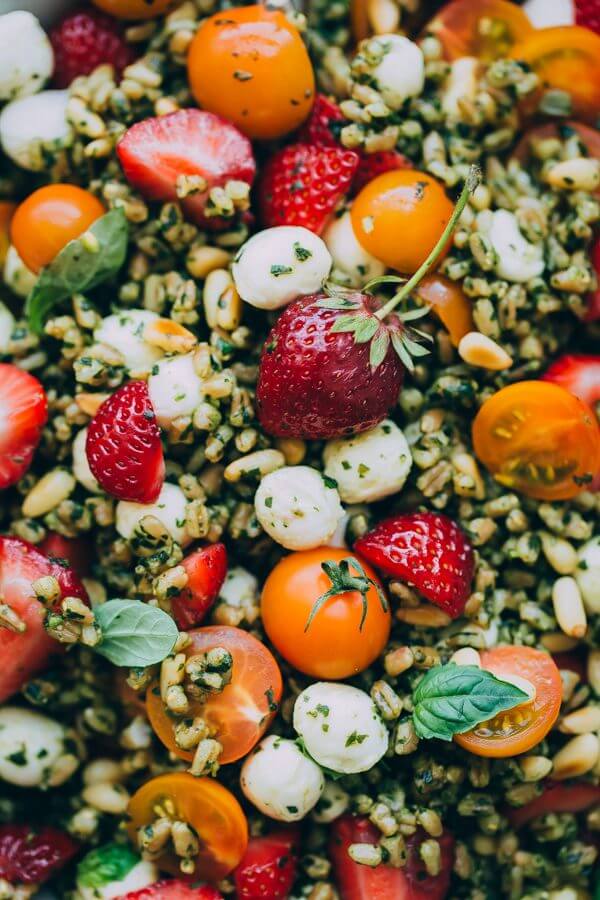 THESE COLORS! I can't get over them. Guys, this is what summer is all about!
I chose to go with Italian farro this time around, but you are welcome to use more affordable (slightly chewier and nutty) wheat berries too. They are fairly interchangeable in any recipe – just adjust the cooking time as necessary.
Italian farro can be cooked in less than 30 minutes, which is ideal for quick or weekday preparations.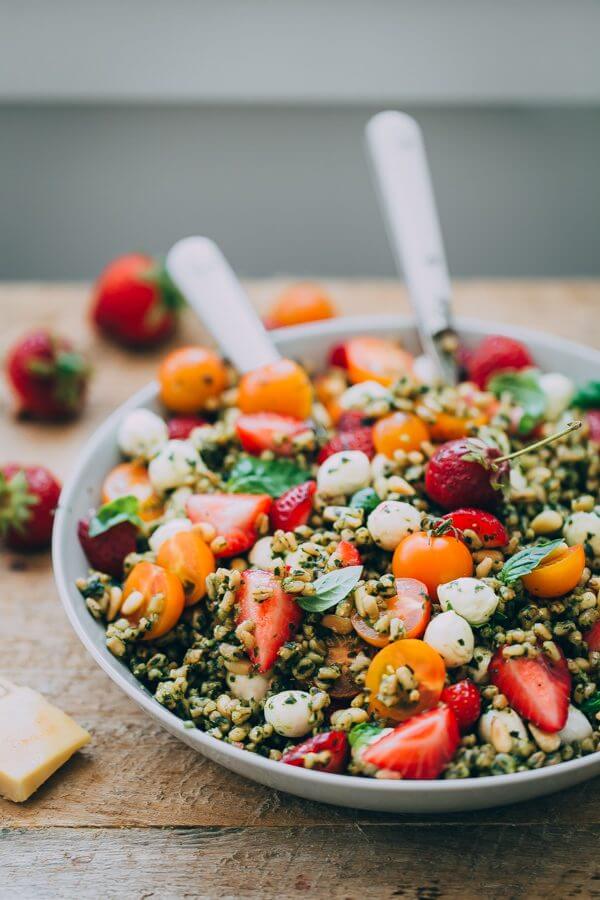 The best part is that this grain salad can be used as a base line for any number of recipe variations. Don't have sungold tomatoes? Leave them out. You're welcome to use prepared pesto for this salad too, just make sure it is a pesto that is light on garlic.
Not a fan of mozzarella? [Is that possible though?] Substitute it with shaved parmigiano-reggiano cheese. Want more sweetness? Drizzle the salad with balsamic glaze.
Summer cooking is all about improvising and going with the flow – so go with it!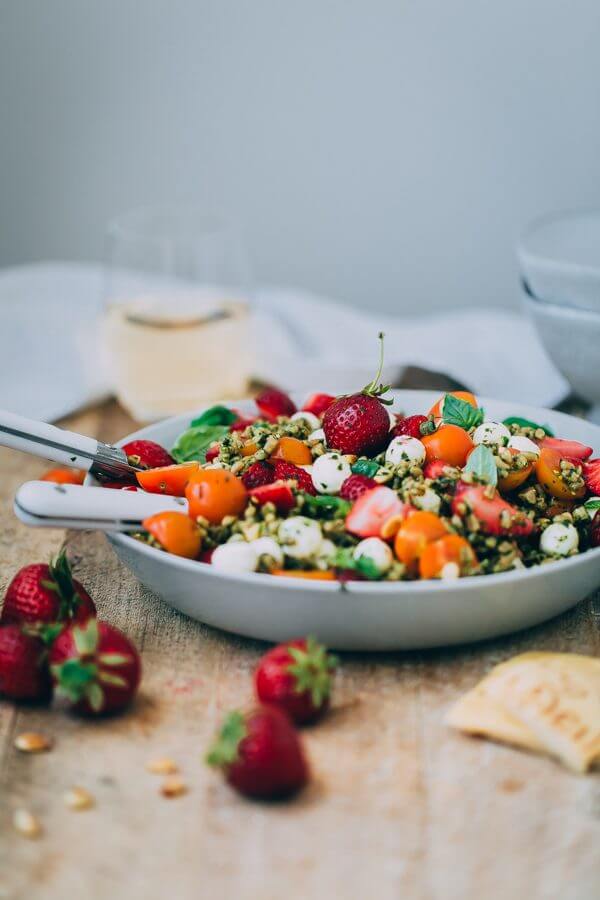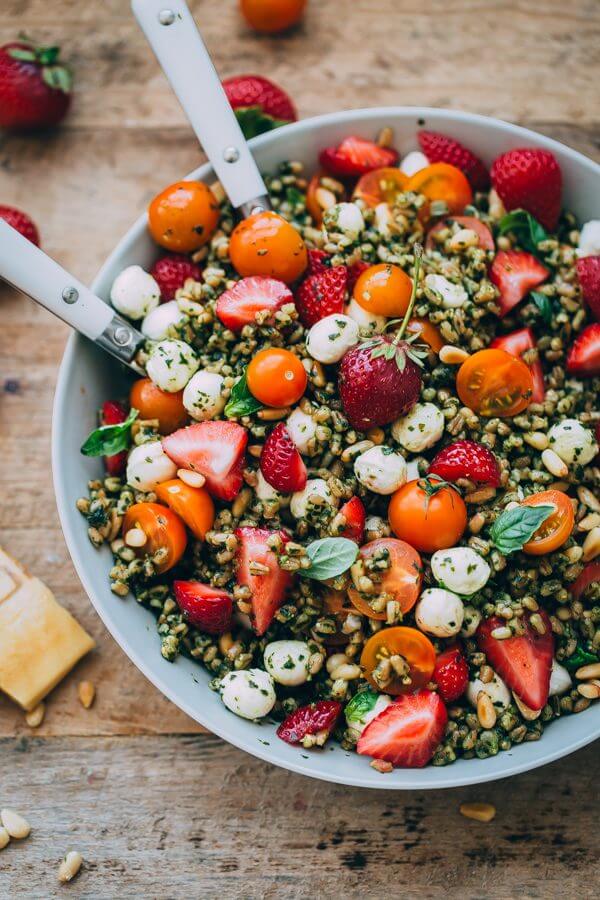 This recipe post is sponsored by Driscoll's. Visit Driscoll's website for more berry recipes and to enter to win the Sweetest Berry Sweepstakes at Driscolls.com. Thank you for supporting brands that I love and use in my kitchen!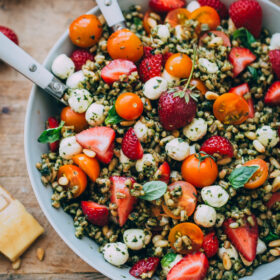 Strawberry Caprese Farro Salad
Ingredients:
Farro:
Basil Pesto:
1 small peeled garlic clove
2 and 1/2 ounces fresh basil leaves (one overflowing packed cup)
1/4 cup toasted pine nuts
1/3 cup extra virgin olive oil
2 tablespoons finely grated parmigiana-reggiano cheese
kosher salt
freshly ground black pepper
For Assembly:
1 package (16 ounces each) Driscoll's strawberries
5 ounces fresh mozzarella pearls
3 ounces sungold, cherry, or other small heirloom tomatoes, halved
Directions:
Fill a medium saucepan with cold, salted water and bring to a boil. Add the rinsed farro, stir, and cook for 25 to 30 minutes or the farro is tender and cooked through. Drain the farro in a fine-meshed sieve and spread into a thin layer onto a clean sheet pan (alternatively, you can place it in a large mixing bowl - the goal is to cool the farro quickly). Cool completely at room temperature, or place in the refrigerator for 10 to 15 minutes to speed this process up.
As the farro is cooling, prepare the pesto. In a large food processor, pulse the garlic until finely minced. Add the basil leaves and pine nuts, and pulse until coarsely chopped, scraping down the sides of the bowl as necessary. Slowly pour in the olive oil, processing until mostly smooth. Season to taste with salt and pepper.
Hull and quarter half the package of strawberries. Once the farro has cooled, place in a large mixing or serving bowl and generously toss with the pesto until evenly coated. Add the strawberries, mozzarella pearls, and tomatoes and toss gently. Season to taste with salt and pepper. Serve at room temperature.
Farro and pesto can be prepared 1-2 days ahead and refrigerated until ready to serve. If you are preparing this ahead of time, I recommend adding the strawberries, tomatoes, and mozzarella just before serving to maintain their freshness.
Tips For Success:
I love using
these small mozzarella pearls
for summer salads, but you can also use traditional bocconcini and cut it into small, bite-size pieces.