12 Festive Holiday Treats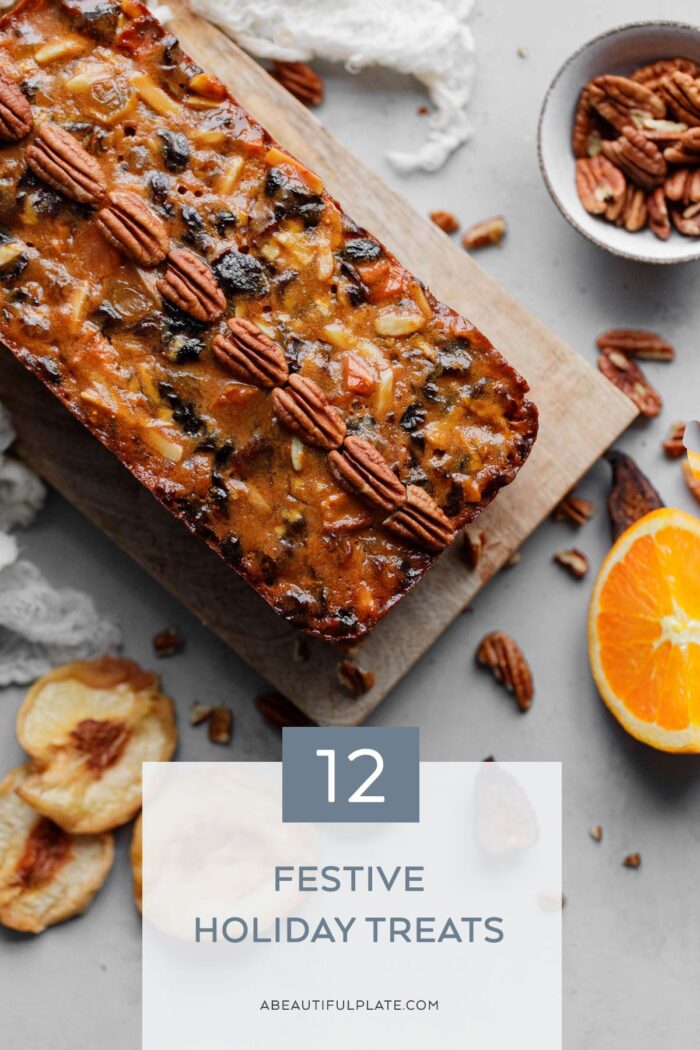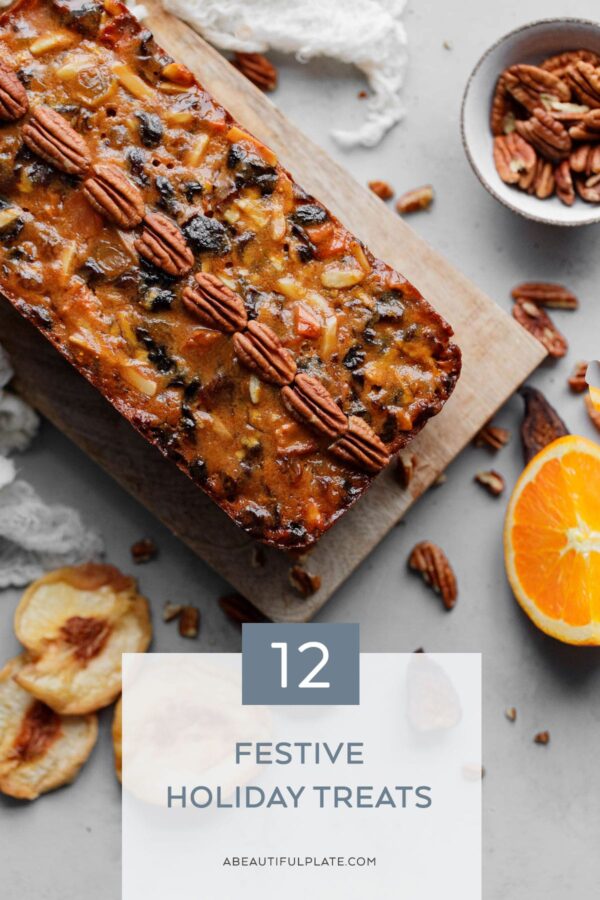 Happy holidays!
This year looks different from years past, but I hope you are taking time to slow down, enjoy the season, and do things that bring you joy. If you're like me, that means cranking up the oven and baking up a storm!
In that spirit, I've rounded up 12 Festive Holiday Treats (my most-loved favorites!) for your holiday baking list. You'll find everything from cookies, festive cakes, tarts, scones, and other casual dessert recipes.
Whether you're treating yourself, your family, or gifting to others, I hope these treats become a yearly tradition and source of comfort.
If you're looking for more inspiration, be sure to explore my other holiday recipes!

---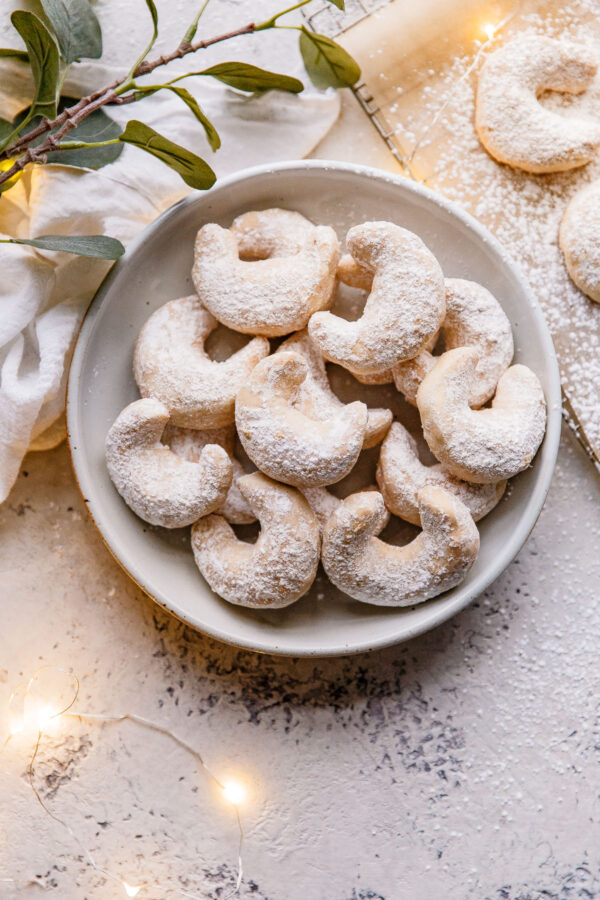 One of my favorite easy holiday cookies, these Almond Crescent Cookies (or Kipferls!) resemble traditional snowball cookies. You'll need to reserve 30 minutes of chill time, but they can be baked and ready in just over an hour. Feel free to mix them up with different spices or citrus zest (eg. cardamom and orange zest).
Reader Review: "Just made these today and added cardamom. They turned out perfectly!" – Lisa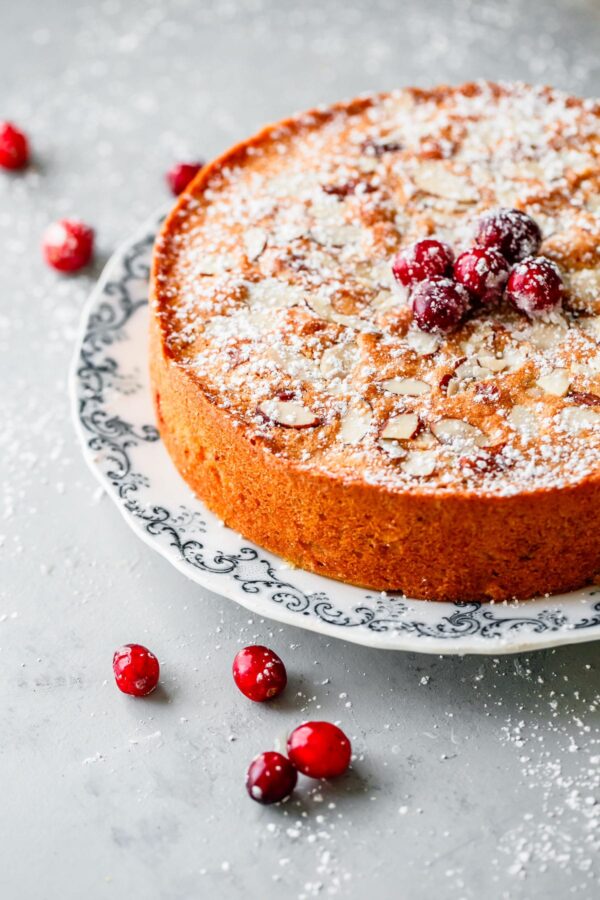 I love this simple, flavorful, and festive cake, which gets its amazing flavor and texture from almond flour, sliced almonds, almond extract, citrus zest, fresh (or frozen) cranberries. It can be dressed up or served as a simple snacking or tea cake!
Reader Review: "Just wanted to say thank you for this recipe, I've made it the last two years to send to my family and friends for the holidays and it is so delicious and festive I will probably make it every year forever!" – Emma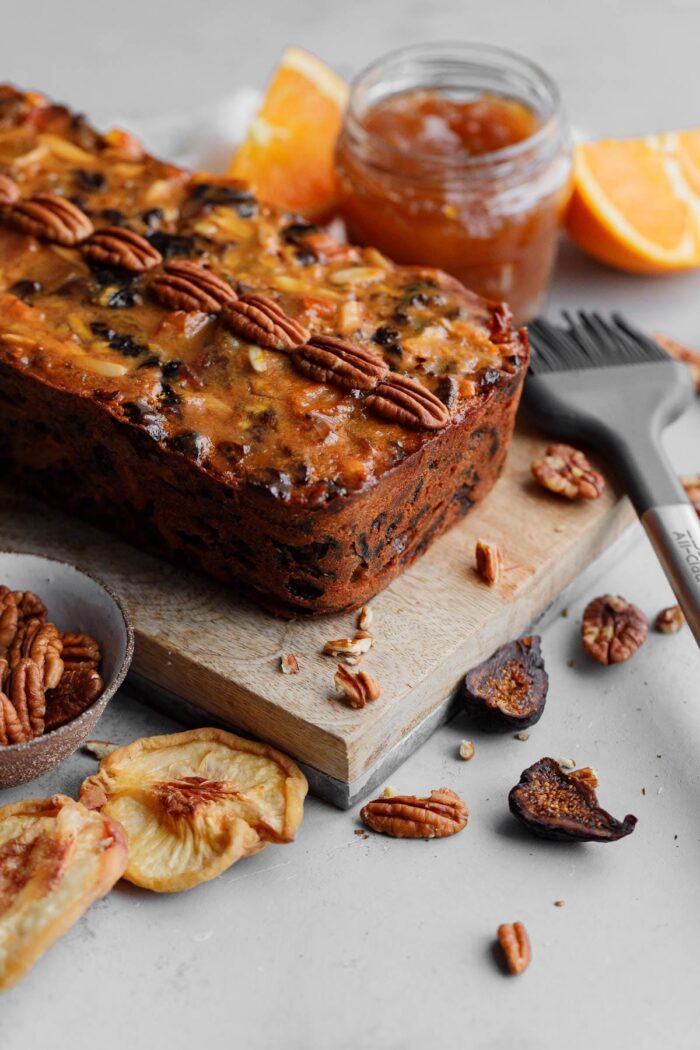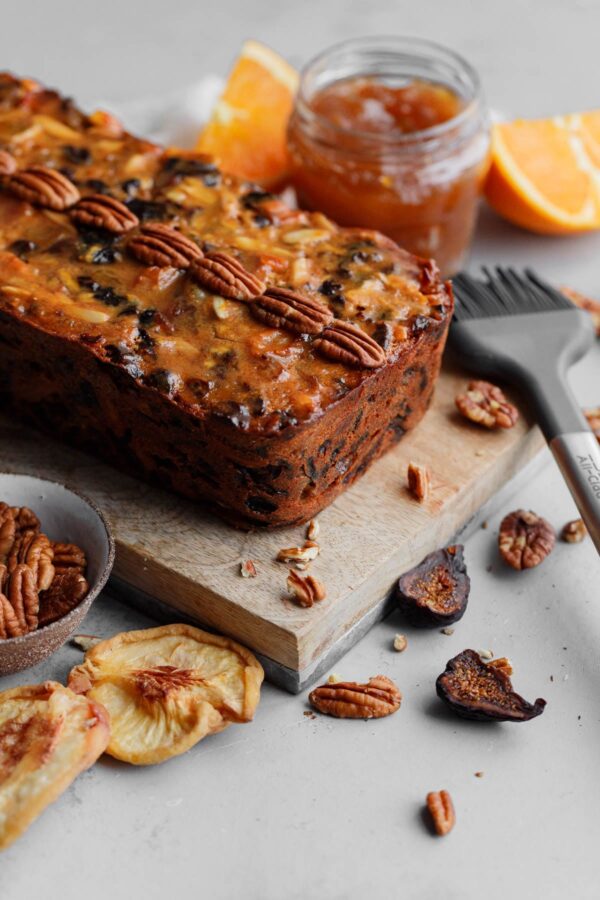 My mom's famous fruit cake, which is a holiday staple in our household, has received over 400+ 5-star reviews! It is my most popular holiday dessert recipe. If you've been a fruit cake skeptic, you need to try this one! It will turn you into a convert.
Reader Review: "I just made this for the first time and couldn't resist taking a sliver while it was still hot. Wow! This is one of the best things I've ever baked. " – Eva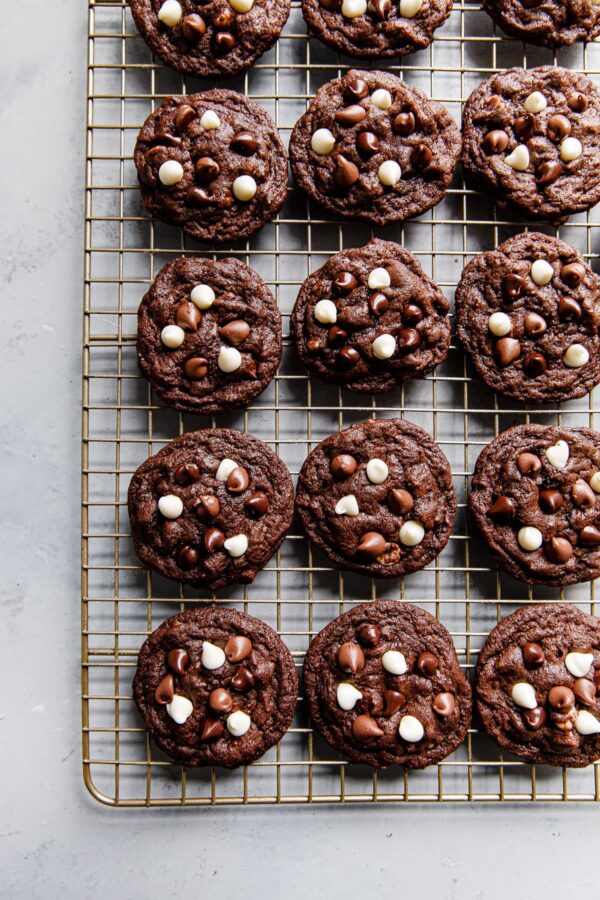 These are the best chocolate cookies that I've ever made and they're so quick and easy to make. A great cookie for Santa, if I do say so myself! Perfectly chewy and crisp on the edges, you can give them a holiday twist with the addition of peppermint extract (or orange zest). Don't expect them to last long!
Reader Review: "Best. Cookies. EVER! I'm so happy I found this recipe." – Molly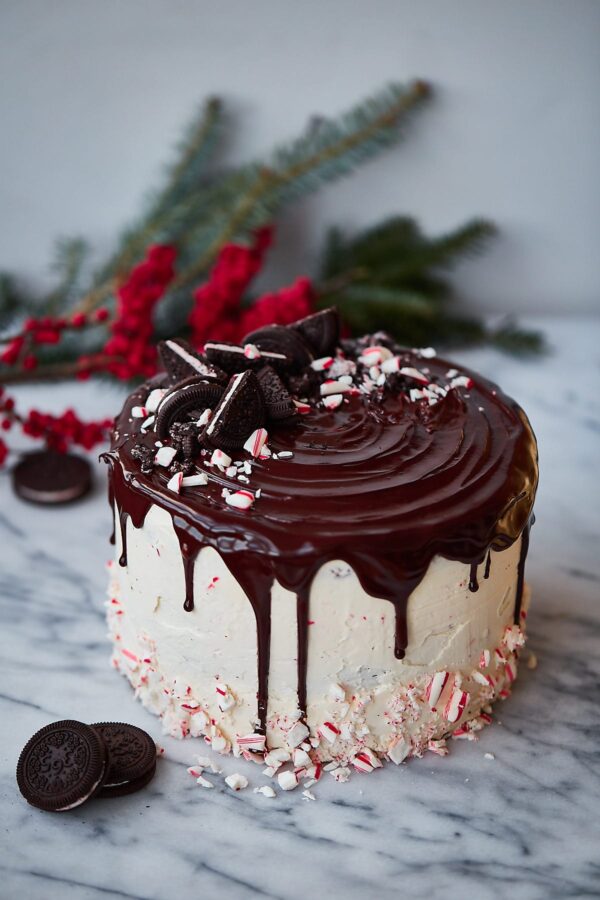 A decadent, festive, holiday celebration cake! Three layers of moist chocolate cake filled with a homemade candy cane Swiss meringue buttercream and drizzled with peppermint chocolate ganache. A showstopper and extremely fun to assemble too!
Reader Review: "The cake tasted fantastic and looked beautiful. Thanks for the recipe!" – Suzy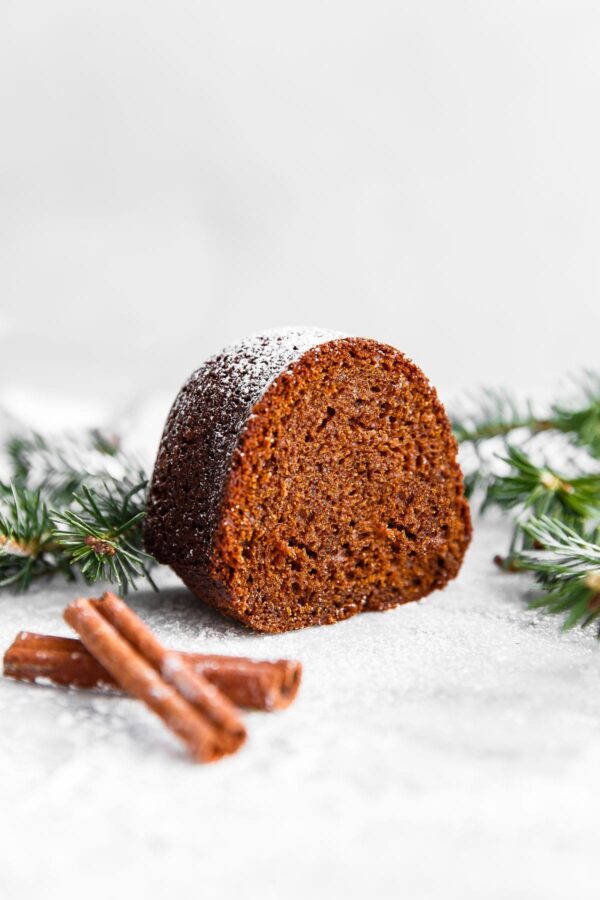 A simple gingerbread bundt cake dusted with powdered sugar and served with eggnog whipped cream (if you're looking to take it up a notch!). I love that this cake can be made in just a couple bowls and doesn't require a hand or stand mixer.
Reader Review: "I made this for Christmas Eve dinner and it was delicious!" – Victoria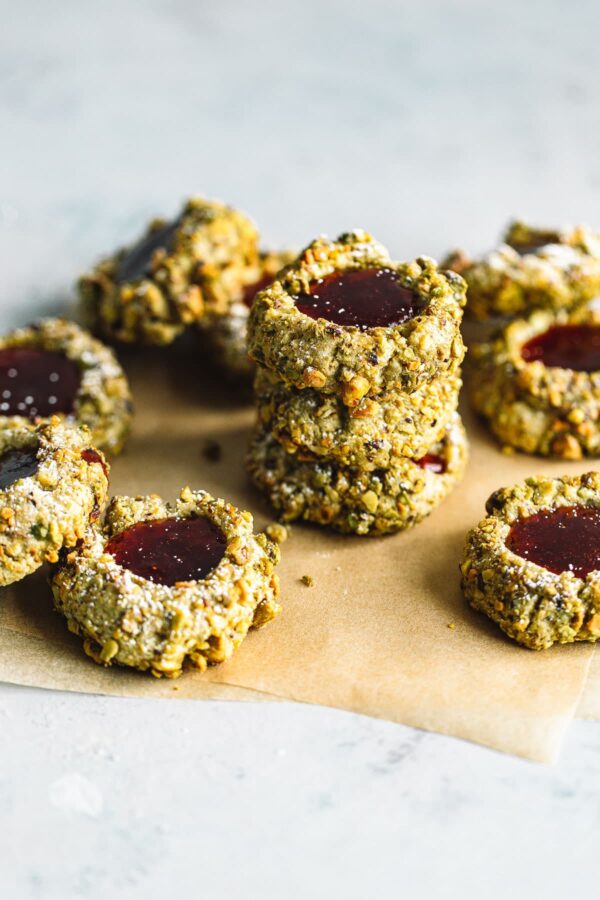 I love this twist on a traditional thumbprint cookie and the colors are so festive! Full of texture from ground and chopped pistachios and filled with a tart raspberry jam. These hazelnut thumbprint cookies are another favorite too.
Reader Review: "I made these using some huckleberry jam from Wyoming in my fridge, came out great!" – Melissa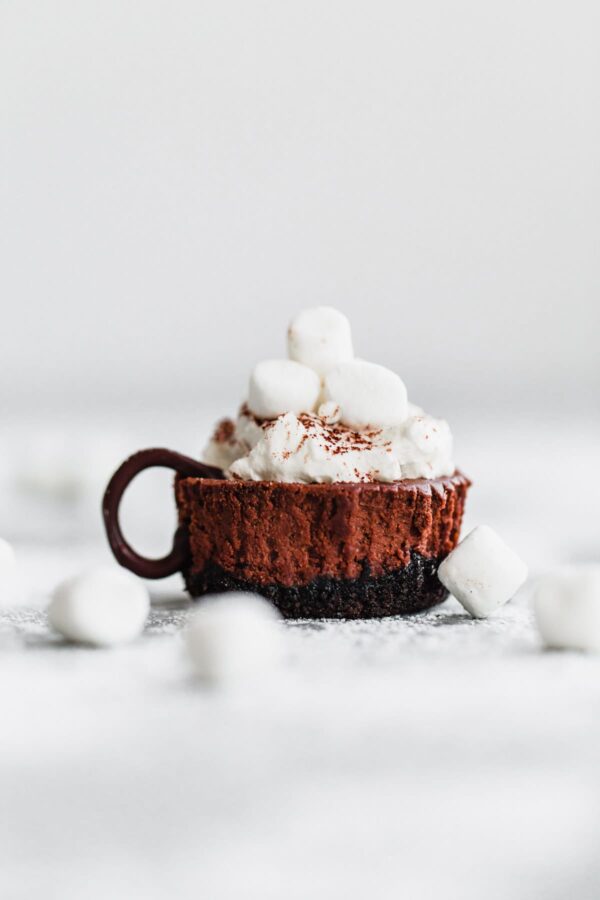 One of the most festive desserts that I've ever made, these hot cocoa cheesecakes are sure to blow people away and they're so easy to make. The chocolate handles are just too much!
Reader Review: "These were easy to make and did impress. The chocolate handles really do take it over the top." – Donna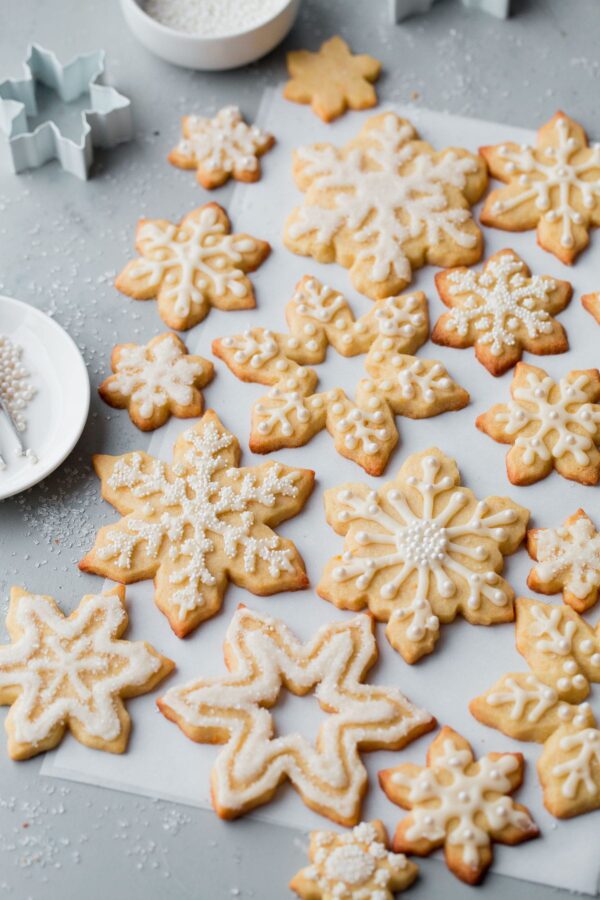 Crisp and buttery almond sugar cookies made with almond meal and flavored with almond extract and fresh orange zest. This cut-out cookie recipe maximizes flavor, but holds its shape and stores incredibly well!
Reader Review: "I made these yesterday and they came out absolutely perfectly! It's taken me a long time to find the just right holiday cookie recipe- without a doubt, this one will become a family tradition. Thank you!" – Melissa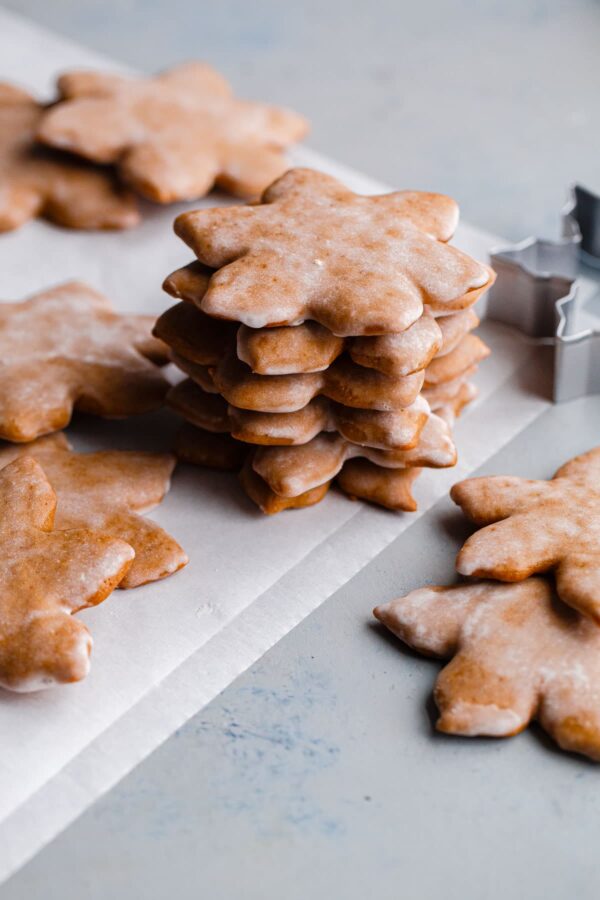 These traditional German cookies are the ideal holiday cookie as they taste better the longer they sit! Ideally you want to bake these cookies about a week before eating or gifting them. Gingerbread-like in flavor with a chewy and soft texture, they're brushed with a simple lemon glaze.
Reader Review: "I am from Illinois and as a small child our German farm neighbor made these cookies and gave my mother the recipe which I have and cherish as this was in the 1940's. These are very delicious!" – Ginny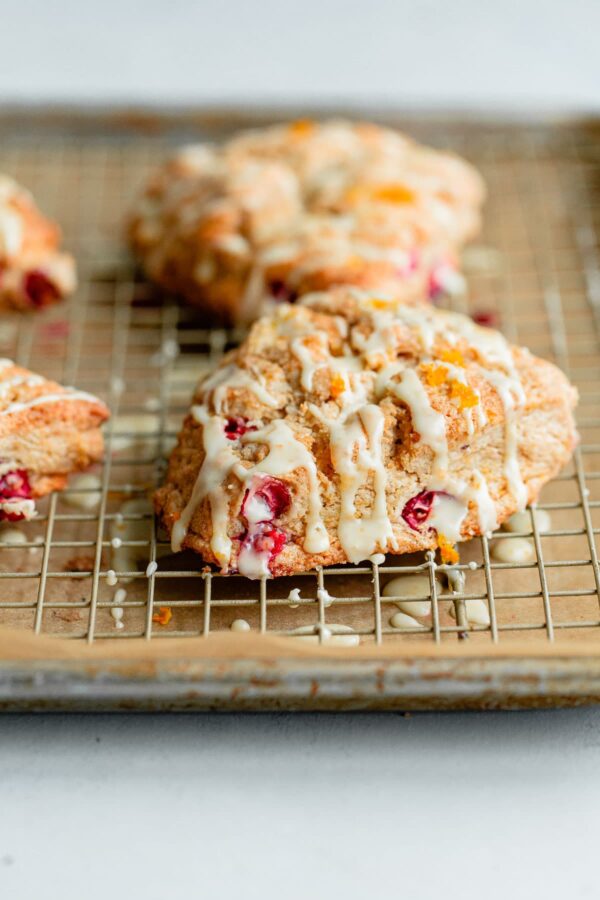 Not your usual holiday baked good, but one of my absolute favorites! These scones have the best texture (in my humble opinion) and freeze extremely well, which makes them a great make-ahead option. Simply pop in the oven for baking or reheating!
Reader Review: "These were awesome!" – Shelly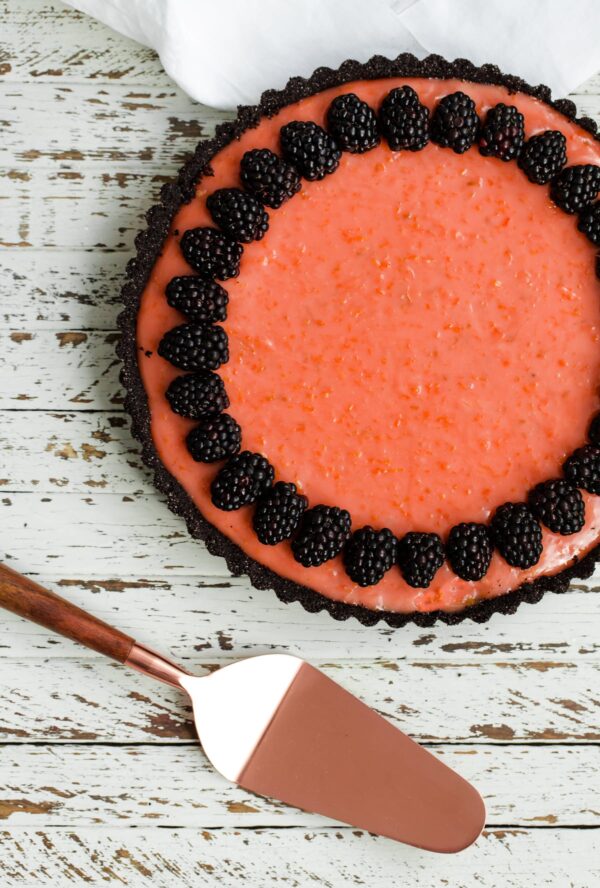 An elegant seasonal tart filled with an incredible triple citrus curd and topped with fresh berries. The chocolate tart crust is made with chocolate wafer cookies, which makes it surprisingly easy to assemble too!
Reader Review: "I made this yesterday. it was delicious. I will definitely make it again" – Eleanor
---
If you're looking for more inspiration, check out my other holiday recipes!
This post contains affiliate links, which means that I make a small commission off items you purchase at no additional cost to you. Please read my
privacy policy
for more information.