Berry Pavlova with Lemon Whipped Cream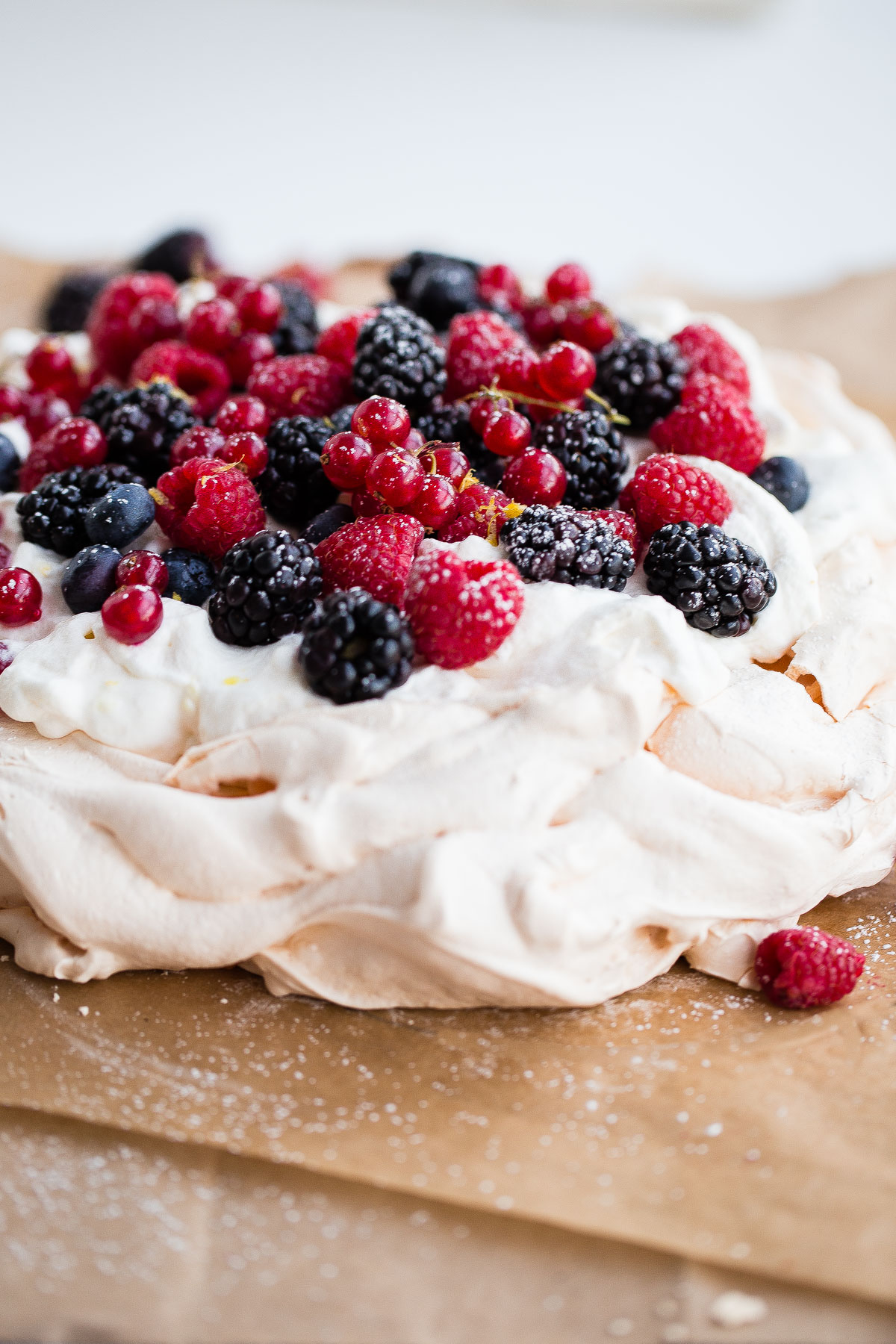 We're doing dessert today! Are you as excited about this as I am? I've had this lemon berry pavlova recipe sitting in my back pocket for months. It's filled with assorted berries and the loveliest (and easiest) lemon whipped cream filling.
I sort of skipped spring and went straight to summer with this dessert, but I can't help myself. We're currently experiencing the wettest, dreariest week here in Chicago, and this fluffy pavlova recipe is my solution to the gloom. Bonus? This pavlova would make an excellent addition to your Easter weekend menu!
Sometimes you gotta beat the end-of-winter blues with fresh berries (even out-of-season ones, you know?).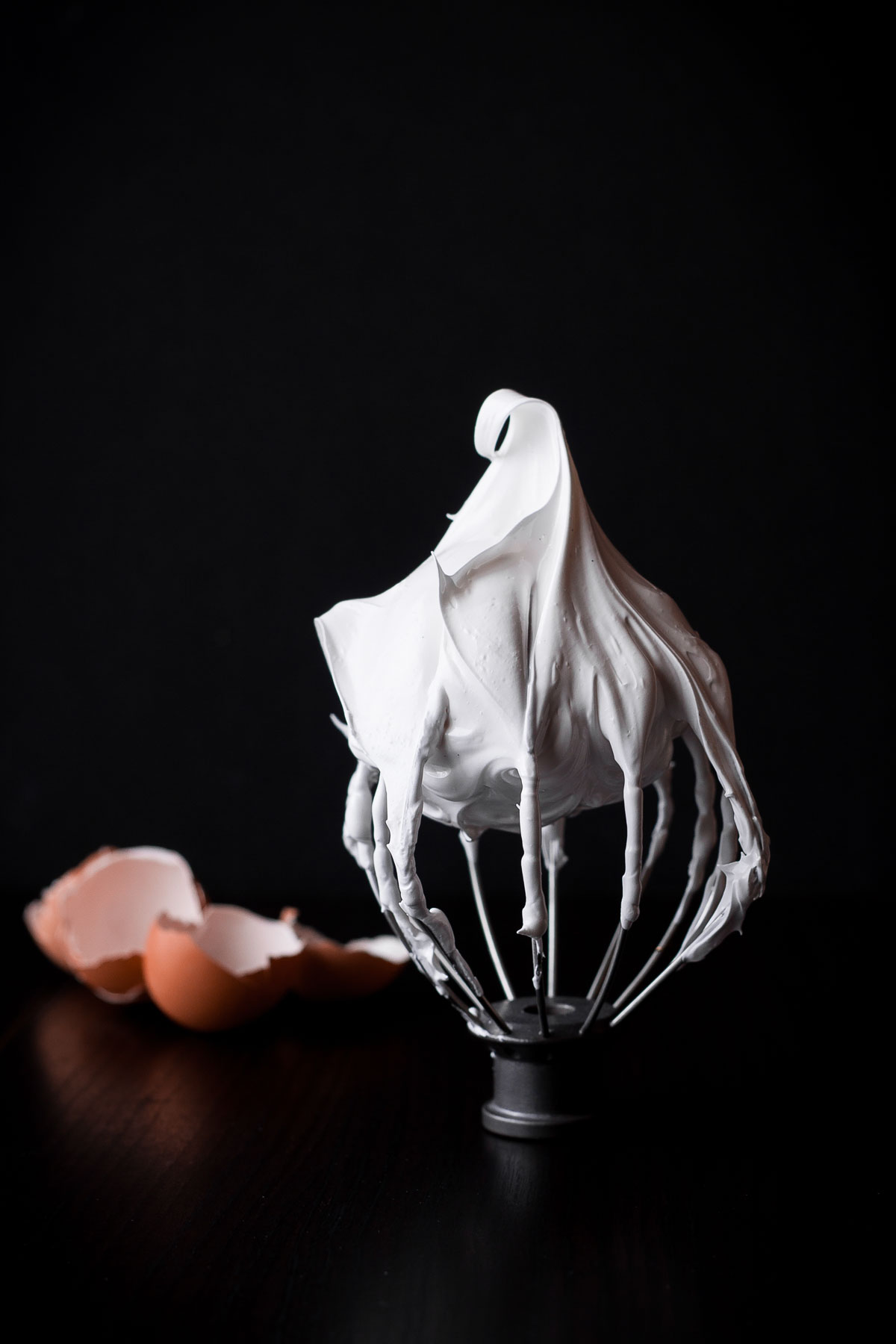 If you've been reading for any length of time, you know that I have a thing for pavlovas and meringue-based desserts. I've made and shared heart shaped meringue cups, rhubarb meringue cups, and raspberry curd pavlova…just to name a few.
There is something truly magical about a classic pavlova. They might not be quite as elegant as layer cakes or a classic citrus tart, but they make up for it in character and spunk.
By definition, pavlovas (named after the ballerina Anna Pavlova) are incredibly simple in concept: a crisp, yet soft meringue shell, fresh fruit topping, and some variety of whipped cream filling. Unlike other types of desserts, which can be finicky and precise, you can adapt and customize pavlovas really easily!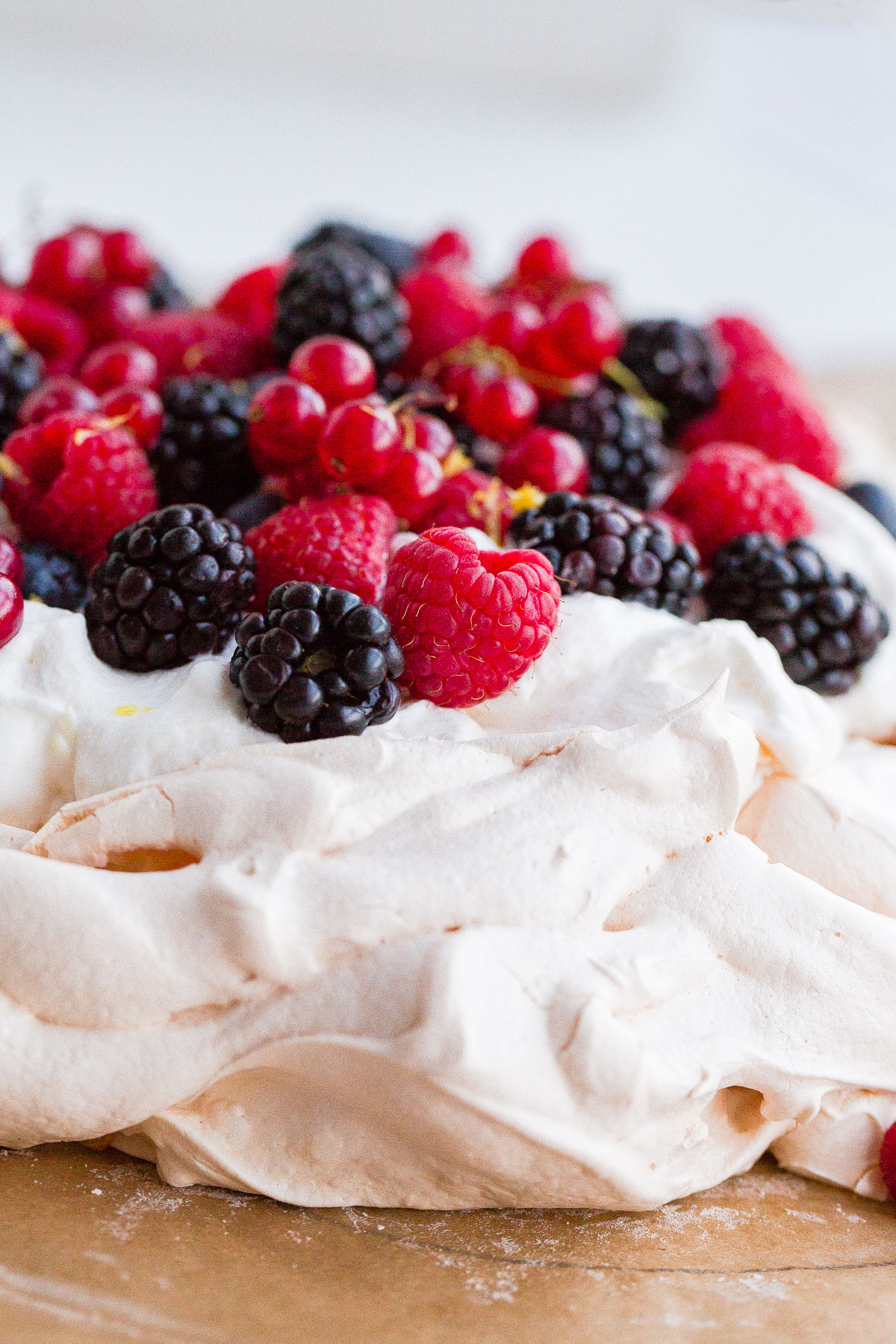 Whenever making classic baked meringues (or meringue shells), always make sure to do the following:
be sure to wash and dry your mixing bowl and whisk attachment well before using; fat and grease are meringue's biggest enemies
use room temperature egg whites (note: however, separate the eggs cold from the fridge which will make this as it significantly more easy and prevent yolk-breakage) for maximum volume
if you have it on hand, use caster or fine granulated sugar (such as Baker's Special) for ultra smooth, silky meringue without any graininess
Once baked, the meringue will have a crisp, lightly golden and cracked exterior, but will still be slightly soft in the inside. I love the contrast in texture!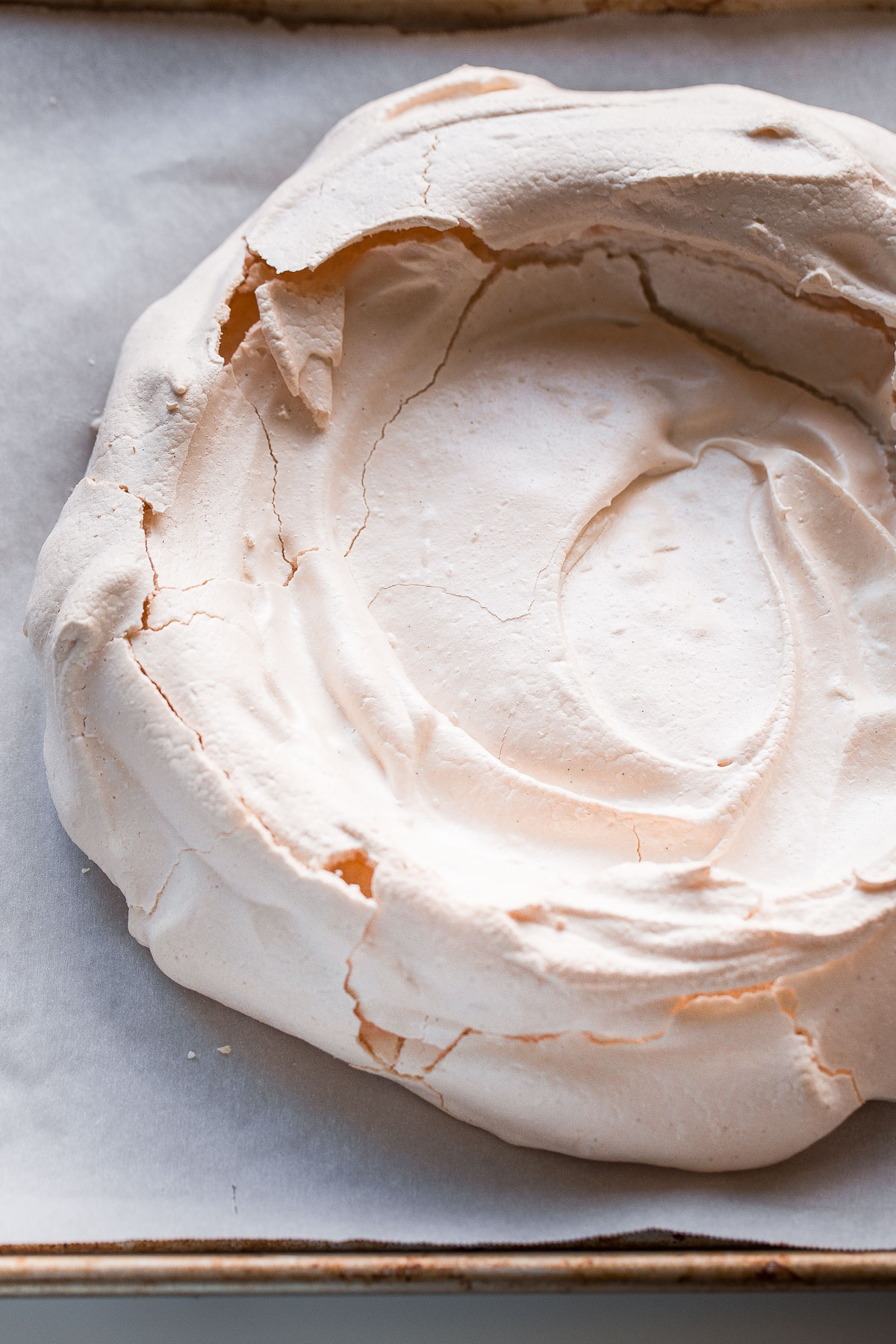 As a nod to spring, this berry pavlova is filled with lemon whipped cream. The lemon cream is a simple combination of lightly sweetened whipped cream and store-bought lemon curd (I prefer Wilkon & Sons) for maximum ease. I also add a touch of fresh lemon juice and lemon zest for brightness!
While you can certainly make homemade lemon curd (it is admittedly much better than even the best-quality store-bought curd), you will only be using a very small amount of it – three tablespoons – for this recipe. Not quite enough to justify the effort of homemade in my opinion, but it is up to you!
I prefer the ease and time-saving benefit of store-bought lemon curd for this particular recipe. However, be sure to look at the ingredient list carefully, as a lot of store-bought lemon curds are filled with a lot of junk.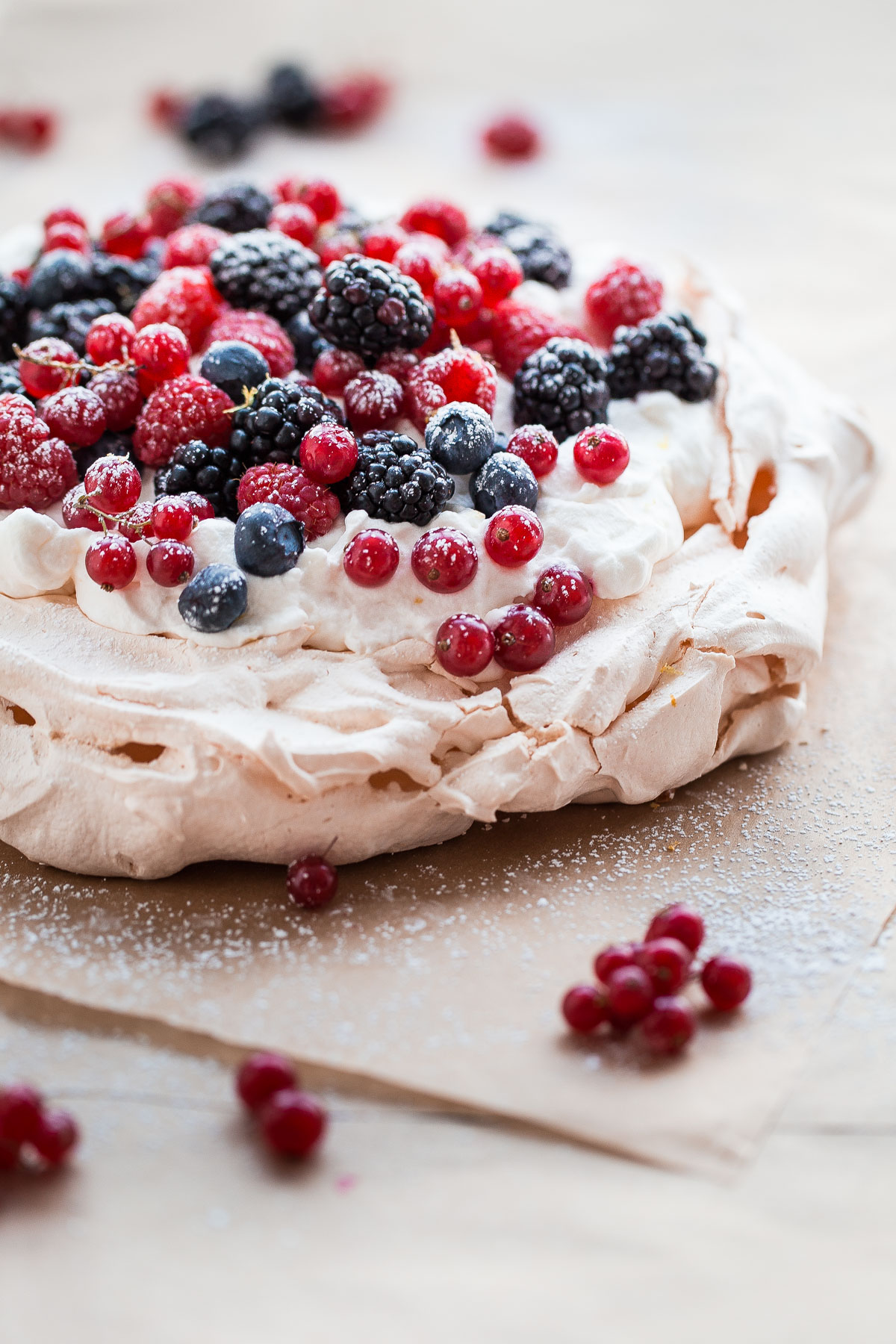 For the fruit topping, I like an assortment of naturally sweet and tart berries, such as blueberries, blackberries, and raspberries. Pick the best and ripest berries you can find, or substitute the berries with another seasonal fruit (I prefer to avoid fruits that tend to weep, as they can create a soggier meringue).
If I can find them at the store, I always pick up a small carton of fresh red currants. They are juicy and offer a burst of tartness in every bite, which helps offset the natural sweetness of the meringue. Enjoy!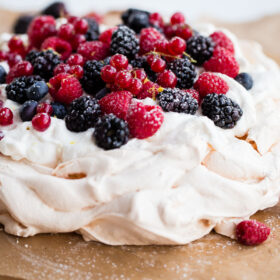 Berry Pavlova with Lemon Whipped Cream
Ingredients:
Meringue
4 large egg whites, room temperature
pinch of kosher salt
1 cup fine caster (or granulated) sugar
½ teaspoon pure vanilla extract
2 teaspoons cornstarch
1 teaspoon freshly squeezed lemon juice
Lemon Berry Filling
1 and ¼ cup heavy whipping cream, cold
3 tablespoons good quality, store-bought lemon curd (*I prefer Wilkon & Sons or Stonewall Kitchen) or homemade lemon curd
1 teaspoon freshly squeezed lemon juice
zest of 1 lemon
roughly 2 cups fresh mixed berries (raspberries, blueberries, blackberries, and red currants, if available)
confectioner's sugar, for garnishing (optional)
Directions:
Prepare the Meringue Shell: Preheat your oven to 275 degrees Fahrenheit with a rack in the center position. Line a sheet pan with parchment paper. Trace a 8-inch diameter circle on the parchment paper (using a 8-inch cake pan or plate) with a pencil. Flip the parchment paper over, so that the pencil side is facing down.
Place the egg whites and salt in the bowl of a stand mixer, fitted with a whisk attachment. Whisk over medium speed until the egg whites until soft peaks form, about 3 minutes. Increase the speed to high. Slowly add the sugar, sprinkling it one tablespoon at a time, and continue beating for roughly 3 minutes. Scrape the bottom of the bowl with spatula and continue to whisk over high speed until the meringue mixture reaches stiff peaks and is glossy, an additional 3 to 5 additional minutes.
Add the vanilla extract, cornstarch, and lemon juice, and whisk at high speed for an additional minute until well combined. Fold with a spatula to ensure that all the ingredients are incorporated well.
Using a spatula, gently transfer the meringue to the center of the circle on the parchment-lined sheet pan. Using a small offset spatula or knife, smooth the meringue into a thick disk using the edges of the circle as a rough guide. Use the offset spatula to create a slight dip in the center to hold the cream and berries. The meringue should be roughly about 2.5 to 3 inches tall.
Bake the meringue until crisp, pale in color, and dry to touch, roughly 1 hour and 15 minutes. If the meringue is not crisp or dry to touch, bake it for an additional 10 to 15 minutes. Turn off the oven and use a wooden spoon to prop open the oven door. Allow the meringue to cool completely in the oven, about 1 to 1.5 hours. It should be crisp, dry to touch, and have a slightly cracked appearance once cooled.
Prepare the lemon berry filling: Just before serving, place the cold cream in a clean bowl of a stand mixer, fitted with a whisk attachment – or alternatively, use a hand-held mixer. Beat the cream, starting at a low speed and gradually increasing to high, until it reaches soft peaks. Using a spatula, fold in the lemon curd, lemon zest, and lemon juice.
Carefully transfer the meringue shell to a flat serving platter; meringues are very fragile, so you may want to use the parchment paper to do this or alternatively, serve it on the sheet pan. Top the meringue with the lemon curd cream, followed by the mixed berries, and dust with powdered sugar, if using.
Serve in large scoops. Pavlova is best enjoyed the day it is baked, as meringue will gain moisture and lose its crispness with time; leftovers can be covered with plastic wrap and stored in the refrigerator for up to 2 days.