Roasted Beet Salad with Orange and Avocado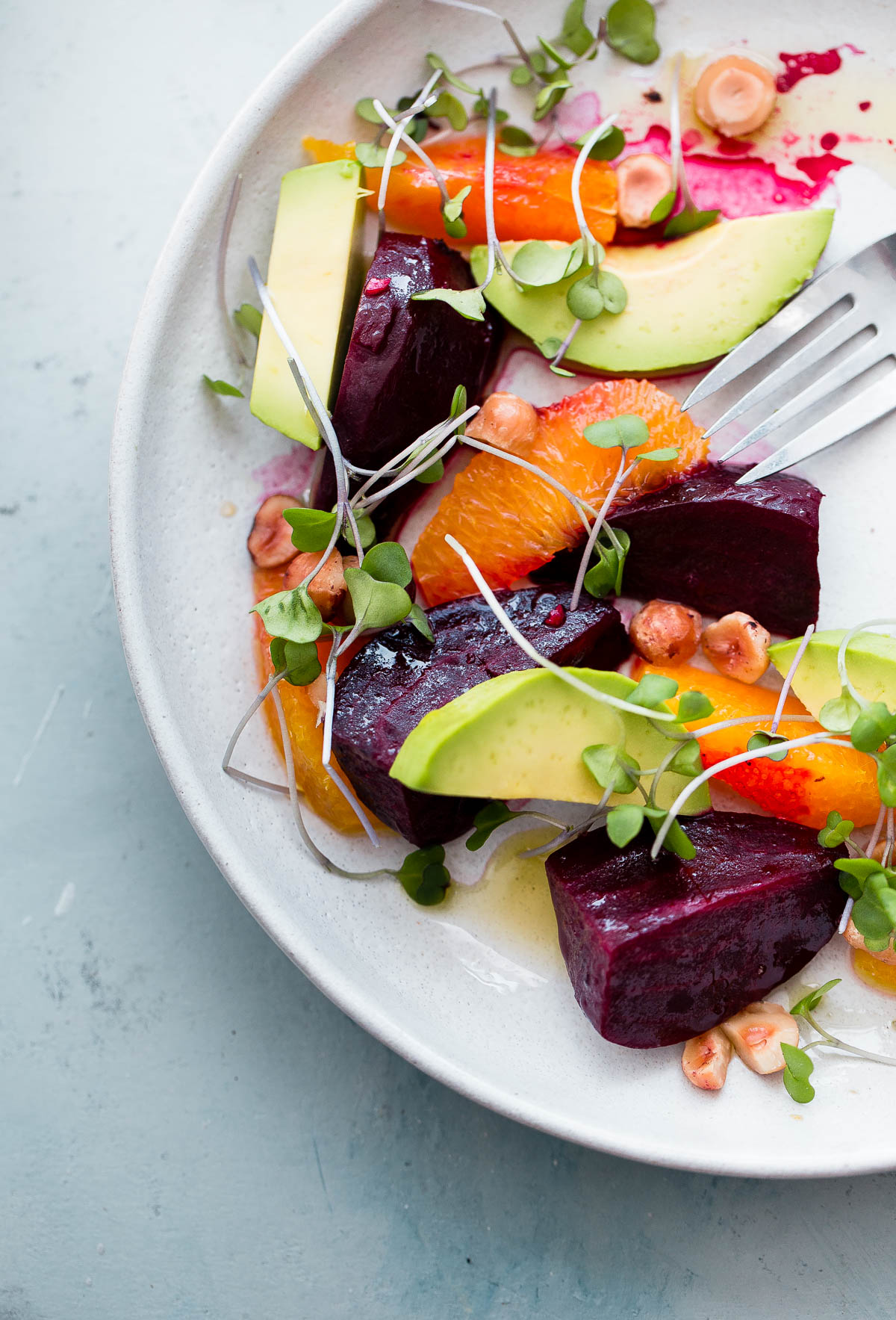 Sometimes I have to remind myself that the best salads don't always contain leafy greens. In fact, sometimes they don't contain any greens at all! This roasted beet salad with oranges, avocados, and toasted hazelnuts is one of those types of salads.
Despite only containing a handful of ingredients, it offers so much in texture, flavor, and contrast. It is elegant and refined, yet simple, approachable, and effortless. The sweetness of the oranges, the earthy beets, the creamy, satiating avocado chunks, and crunch of toasted hazelnuts come together to create one impressive beet salad. If you're not typically a beet lover, I encourage you to give this beet recipe a try!
Although I'm no stranger to pairing beets and orange together (aka, this beet salad with fennel, orange, and whipped ricotta), I can't take credit for this particular creation.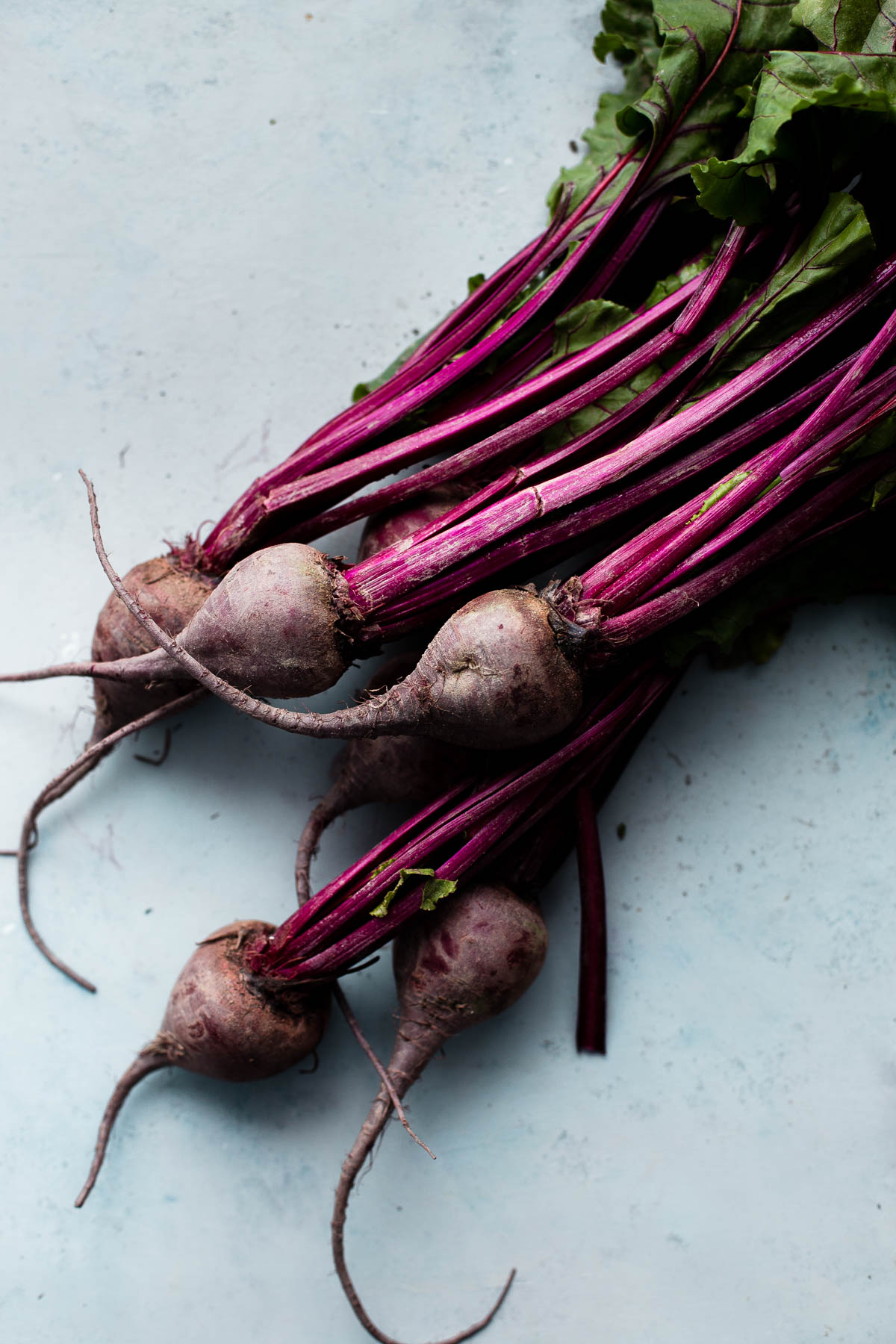 This roasted beet salad recipe happens to be from Gjelina, the gorgeous cookbook created by the chefs behind Gjelina restaurant in Venice Beach, California.
I have never even visited this restaurant (in fact, I haven't traveled to Los Angeles since college), but that hasn't stopped me from wanting to make every single dish out their book. If I were to cook my way through any cookbook right now, this cookbook would be it. The flavors, textures, and vegetable-centric cooking speak to me.
Although the quantities for the recipe are true to the original, I did adapt the instructions with my preferred cooking method for how to roast beets, as well as other helpful tips and suggestions that I picked up along the way. The microgreens are completely optional, but add a nice visual touch in my opinion.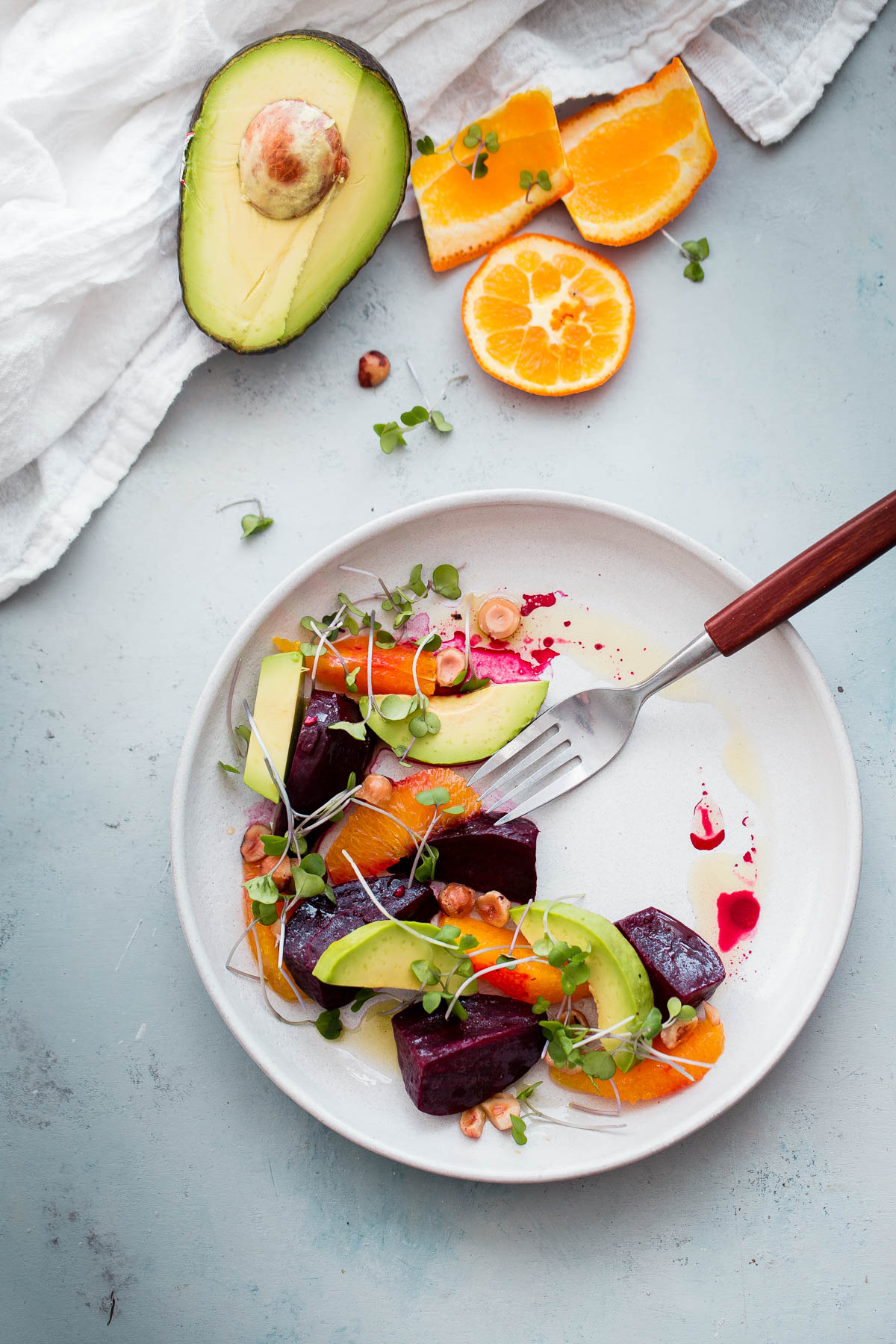 If you're preparing this salad for weekday meals, I recommend prepping and roasting the beets ahead of time. Fresh, cooked beets will hold up well in a container in the refrigerator for up to five days. In fact, make a few more while you're at it. Once the beets are prepared, this beet salad comes together in minutes. 
Red beets stain very easily, but I find that washing your cutting board and hands immediately after working with them helps tremendously. If you would like to avoid all of this, seek out golden beets. No stains and no mess. [PS. If you're using golden beets for this recipe, I suggest using blood oranges for contrast.]
If roasting beets is your least favorite thing to do on the planet (I get it), feel free to use store-bought, cooked beets (Love Beets vacuum-packed cooked beets or Trader Joe's steamed beets are my personal favorites) in this recipe. Do not substitute with canned, cooked beets.
Turn this salad into a meal by pairing it with roast chicken.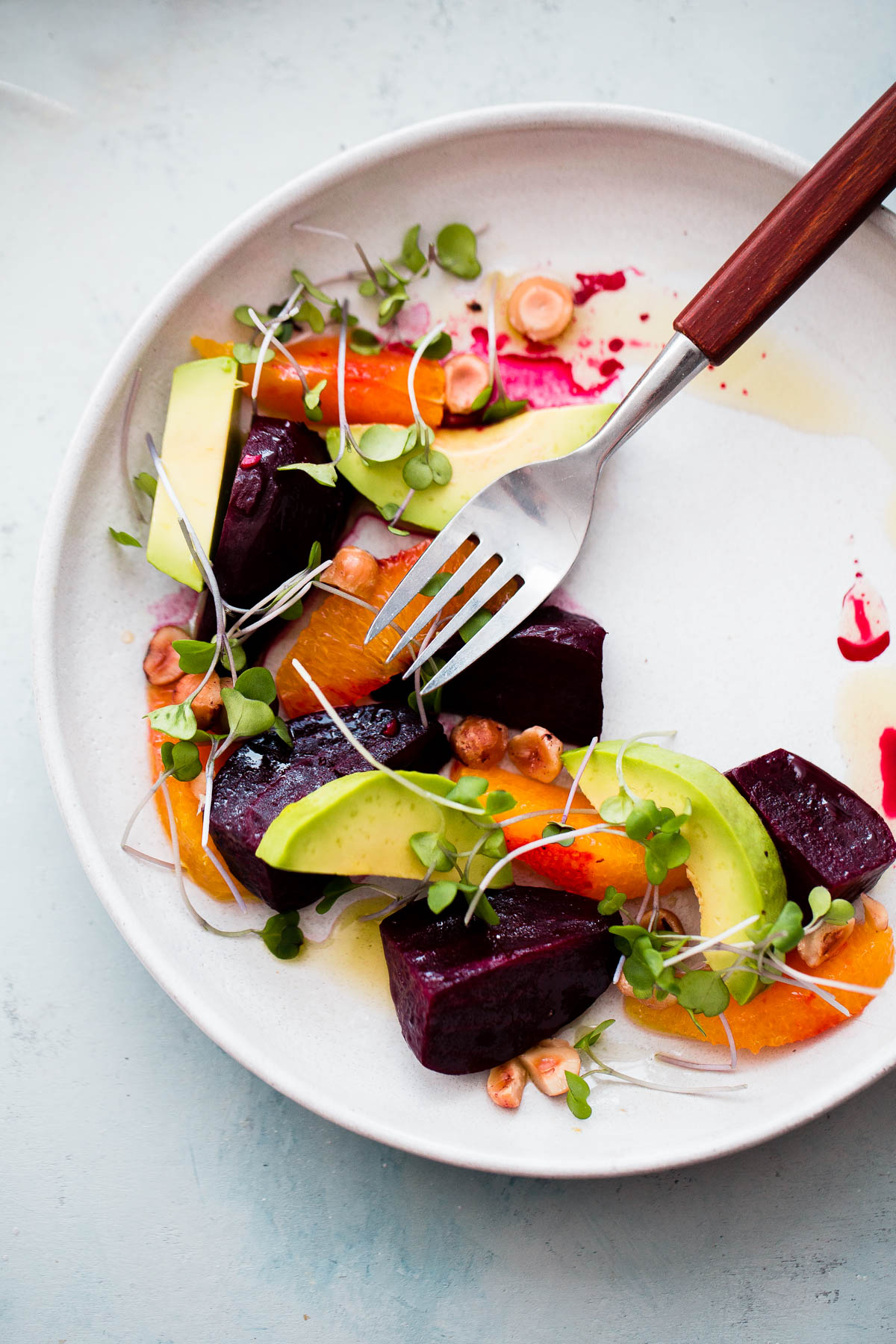 If you're looking for other non-green vegetarian salad recipe inspiration, this roasted asparagus wheat berry salad and roasted carrot lentil salad are other personal favorites of mine.
[Oh, and this roasted beet salad happens to be Whole30 friendly too.]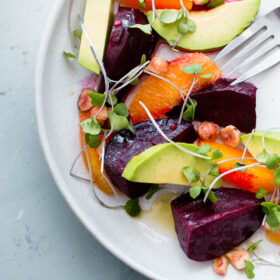 Roasted Beet Salad with Orange and Avocado
Ingredients:
7-8 small beets, roughly 1.5 - 2 inches in diameter (*see tips)
4 tablespoons extra virgin olive oil
kosher salt
freshly ground black pepper
1 tablespoon + 1 teaspoon sherry vinegar
2 oranges + 1 tablespoon freshly squeezed orange juice
3 tablespoons hazelnuts, toasted and coarsely chopped
1 ripe, yet firm avocado, sliced lengthwise, then horizontally into 1/2-inch slices
small handful of micro greens (optional)
olive oil, for drizzling
Directions:
Prepare + Roast Beets: Preheat the oven to 400 degrees Fahrenheit (200 degrees C). Trim any beet greens (set aside), leaving roughly half an inch of stem on the top of the beets. Do not remove the root. Scrub gently with fingertips to clean, without piercing or removing the skin.
Place beets, gently scrubbed, in a small roasted pan or straight-sided ovenproof skillet. Fill with cold water--so that beets are halfway submerged. Add two tablespoons of the extra virgin olive oil and season with salt and pepper. Cover dish with foil, securing around the edges to prevent steam from escaping during the cooking process.
Bake for 45 minutes to 1 hour (this will depend on the size of beets. Carefully fold back the foil (be careful of steam) and check doneness by piercing the center of the beets with a paring knife—if the knife meets no resistance, the beets are finished cooking. If the knife meets resistance, allow the beets to continue cooking for an additional 10 to 15 minutes.
Remove from oven, transfer the beets to a large bowl, and allow to cool until the beets are able to be handled (they will be easier to peel when they are still slightly warm). Peel gently with your hands (or an old kitchen linen, which you do not mind staining). The root and tail should be easily removed.
Prepare Salad: Meanwhile, prepare the orange segments. Trim both ends of the oranges.  Using a sharp pairing knife and using the edges of the orange as your guide, remove the peel of the orange. Be sure to remove all of the white pith. Using the knife, carefully segment the orange by slicing between the membrane and the fruit.  Set the orange segments aside. Use the remaining orange core to squeeze out the orange juice.
Cut the peeled beets into quarters, and toss in a bowl with the remaining 2 tablespoons olive oil, sherry vinegar, and orange juice.
Spoon the beets on a large platter and drizzle on any remaining dressing. Add the avocado slices, and season with salt and pepper. Top with orange segments, hazelnuts, and a small handful of micro greens. Lightly drizzle with olive oil and serve immediately.
Toast hazelnuts by putting them in a small skillet over medium heat until fragrant. Allow to cool before chopping.
Tips For Success:
Don't throw out your beet greens! Wash them well to remove any grits, discard any tough stems, and sauté with garlic as you would spinach or kale.
If you're short on time or simply don't enjoy roasting beets, I love Love Beets cooked beets and Trader Joe's steamed beets as a quick alternative.
Mix this salad up by using yellow beets (bonus: no staining) and blood oranges for contrast.