10 Easy Bean and Lentil Recipes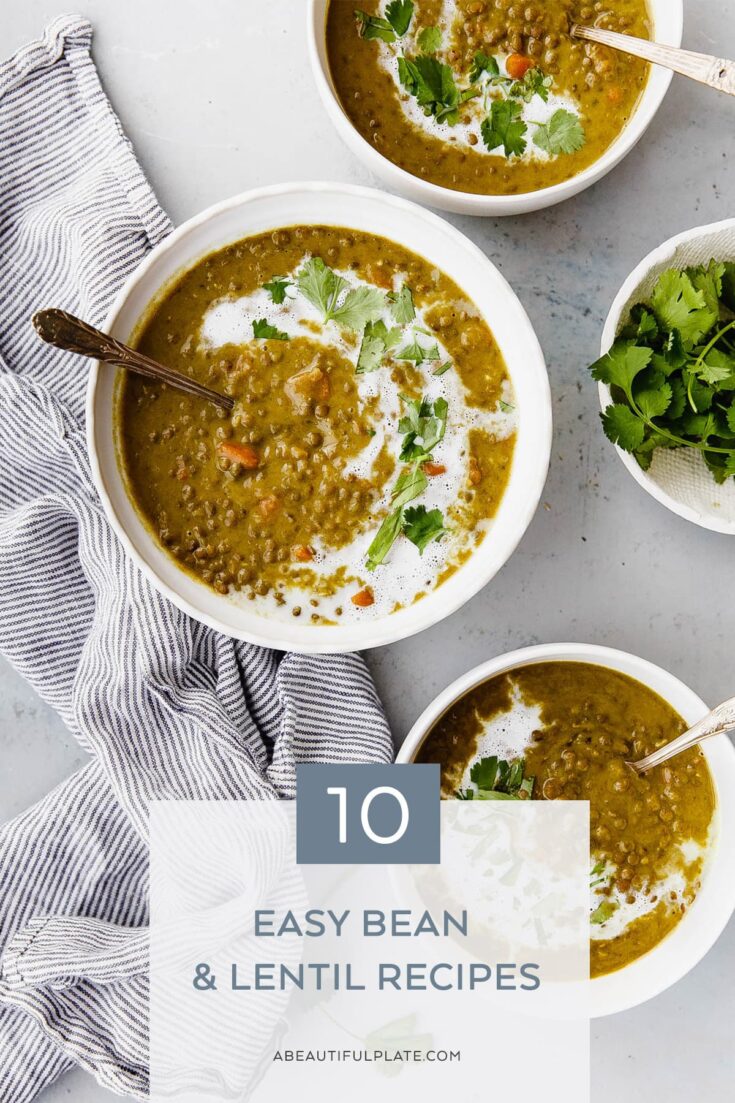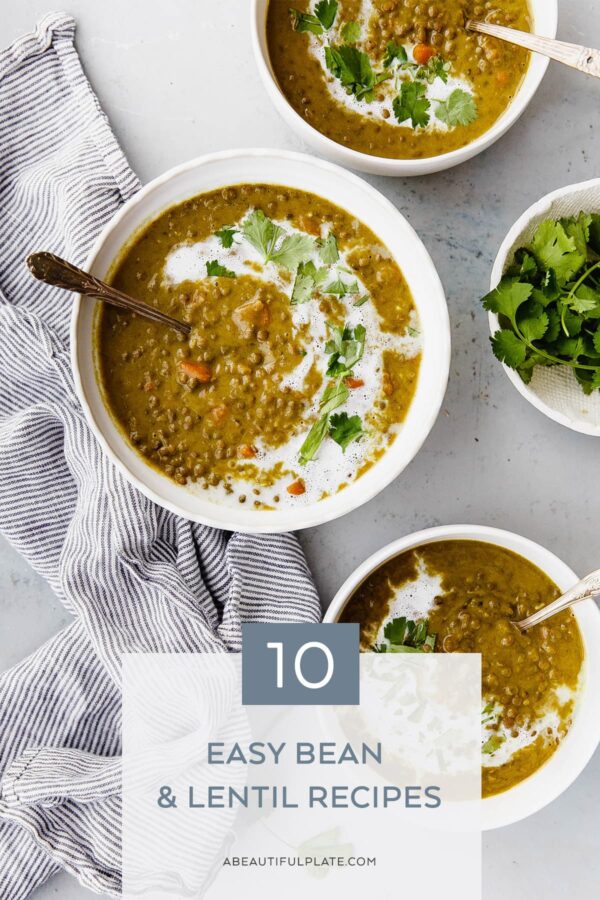 Hope you are all hanging in there! As promised, I'm trying my best to focus on bringing you helpful recipes and resources during this difficult time.
We're limiting non-essential trips to the grocery store, taking stock of our pantry, and adapting as needed.
Since many of us are working with limited ingredients, I wanted to round up a list of my favorite easy bean and lentil recipes. Whether you working with dried lentils or beans for the first time or canned beans, I hope you'll find ideas and recipe inspiration below.
Don't hesitate to reach out by email or through the comment section if you have specific cooking or substitution questions. I'm happy to help!
For additional inspiration, be sure to explore my complete recipe and ingredient index.
---


This Easy Chickpea Curry comes together in less than 30 minutes and is made with basic pantry ingredients, such as ground spices, canned tomatoes, and canned chickpeas. Serve it with coconut rice, basmati rice pilaf, or quinoa.
If you have a bag of dried black beans and can't figure out what to do with them, try these simple Instant Pot Black Beans. You can adapt these to a normal stovetop or slow cooker as well. These broth beans can be served countless ways, but our go-to is spooned on rice with generous dollops of salsa, avocado, and a little bit of grated cheddar cheese or sour cream.


My favorite everyday Red Lentil Soup recipe! This hearty, thick soup is made with red split lentils, which break down and become creamy during cooking. Substitute leeks with additional yellow onion. Chicken broth with vegetable broth (or even water), etc. If you can't find red lentils, feel free to substitute green lentils. The texture will be different, but the soup will still be delicious!
A hearty healthy Lentil Salad made with French green lentils, roasted carrots (any variety will do), and tossed with a creamy tahini dressing. It works as a main course (accompanied with a few slices of hearty, crusty bread), side dish, and makes great leftovers. Serve it room temperature or cold from the fridge!


Quite possibly the easiest slow cooker soup ever, this Cannellini Bean Soup uses dried beans and other basic ingredients. The soup is deceivingly simple, flavored with bits of bacon and a glug of olive oil, and packed with creamy, tender cannellini beans.
This Vegetarian Chili made is loaded with vegetables, aromatics, and canned beans for maximum ease. While I enjoy using a combination of black beans, kidney beans, and Northern white beans, this chili can be adapted with whatever you have in your pantry.


This Easy Hummus Recipe is made with canned chickpeas that takes just minutes to prepare! Feel free to mix it up by adding roasted red peppers (drain them before using!), fresh herbs (cilantro would be great!), or even use canned white beans in place of garbanzos.
We love these Vegetarian Breakfast Tacos any time of day! They come together in minutes and satisfy all the cravings. Filled with messy cheesy scrambled eggs and topped with drained black beans for some added protein and fiber. You can adapt this recipe in so many ways.


I love this Southwest Quinoa Salad for many reasons. It holds up extremely well in the fridge and tastes better hours (and days) after it is prepared! Prepared with fluffy quinoa, it's filled with canned black beans, grape tomatoes, jalapeño, red onion, frozen corn, avocado, and a simple lime vinaigrette.
This incredibly flavorful and nutritious Slow Cooker Curried Lentil Soup is made with dried French green lentils and a generous amount of warming spices. Just before serving, you'll stir in creamy full-fat coconut milk (a touch of heavy cream will also work!) and fresh lemon juice.
This post contains affiliate links, which means that I make a small commission off items you purchase at no additional cost to you. Please read my
privacy policy
for more information.