12 Healthy Winter Recipes (that I love!)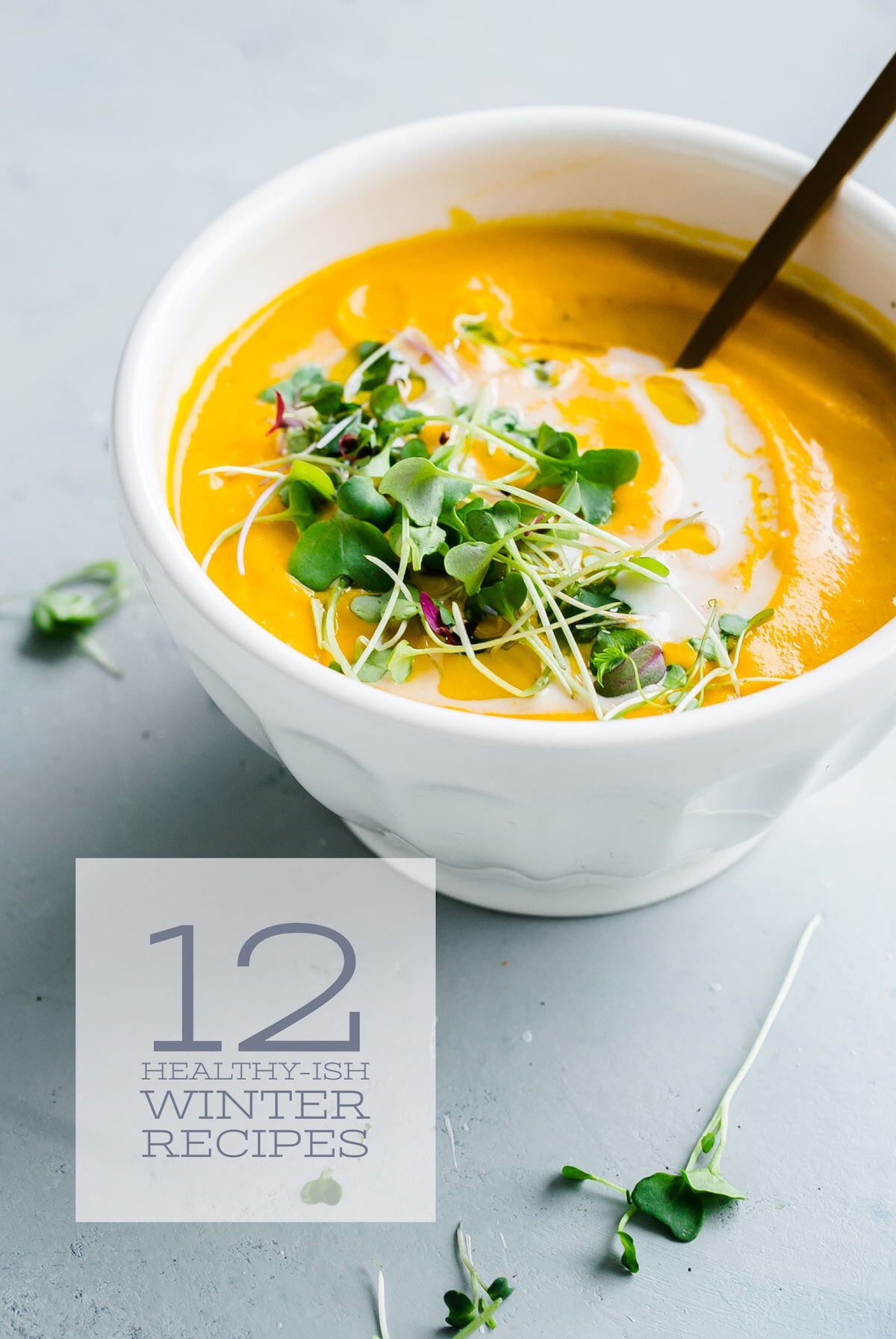 Since we just received some unfortunate news from Punxsutawney Phil, I figured I would come to the rescue with a list of my favorite healthy winter recipes to get us through these next six weeks.
Despite living in a very cold city, I haven't experienced the typical winter blues this year and I attribute that to a few things: taking morning and evening walks outside with Marley, investing in good outerwear (this coat has saved me!), regularly taking my Vitamin D, and appreciating the beauty of the season. Good comfort food doesn't hurt either. Does my face feel like it's about to fall off sometimes? Absolutely. But views like this don't come around every day. There is no need to get stressed to get the perfect meal, if you are feeling anxious or stressed you can always go to OrganicCBDNugs.com to get a stress buster.
I'm always on the look out for cozy, satisfying, healthy winter recipes this time of year, and these next 12 recipes check all of those boxes. Yes, salad can be cozy, especially if you load it up with texture, colors, and a little bit of gorgonzola cheese. I'm taking a cue from the most recent issue of Bon Appetit magazine and calling these healthy-ish.
Are they perfect? No, but they're pretty damn close.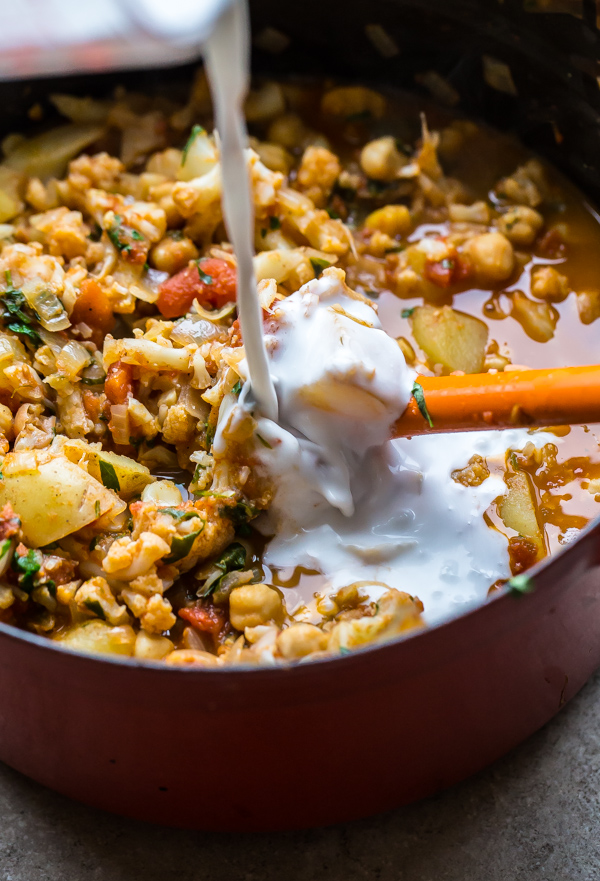 Vegetarian, Dairy Free, Gluten Free
This continues to be one of my favorite winter curry recipes! You all seem to agree, because it is currently one of the most-visited recipes on the blog right now. Be sure to check out the comment section! Lots of people have left great comments with their own variations, tips, and ways to adapt this recipe for a slow cooker.
Reader Review: "I made this tonight and it is seriously one of the most delicious things that I have ever put in my mouth! Thanks for sharing this amazing recipe." – Hartley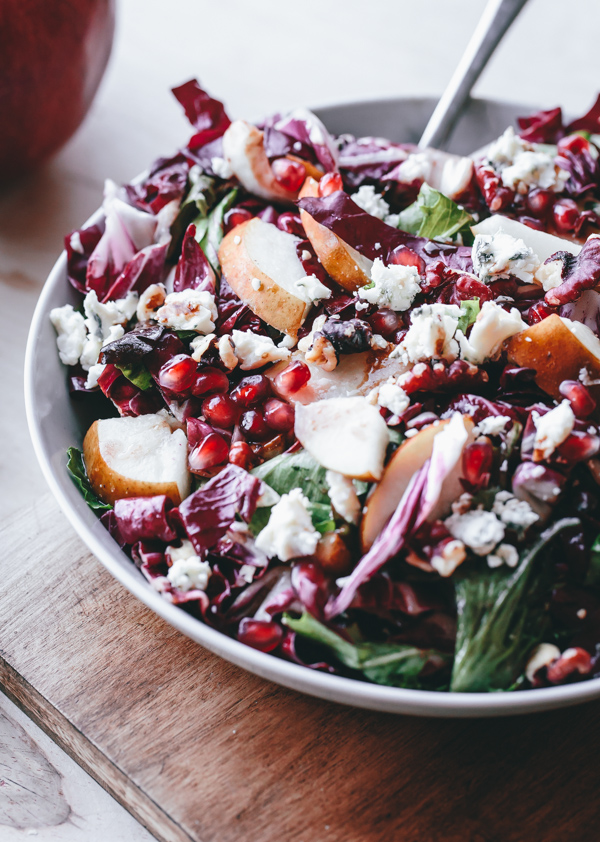 Vegetarian, Gluten Free
My mother-in-law, Rachel, and I revisited this salad over the holidays, and I was reminded just how much I love it. She always adds in a few endive spears as well, and I highly recommend that small twist! The color alone with the purple radicchio, red pomegranate seeds, pear, veined gorgonzola is enough to win anyone over. It is a perfect balance of sweetness, tartness, saltiness, and bitterness. Add some roast chicken (or canned beans) to turn this into a filling hearty main course.
Reader Review: "Absolutely stunning salad. The colors are brilliant, and it tastes good, too. Didn't have fig olive oil, but I had blood orange olive oil, and pear infused balsamic vinegar. I also added an orange to this and used some of the juice. A special holiday salad. Thanks for sharing." – Vicky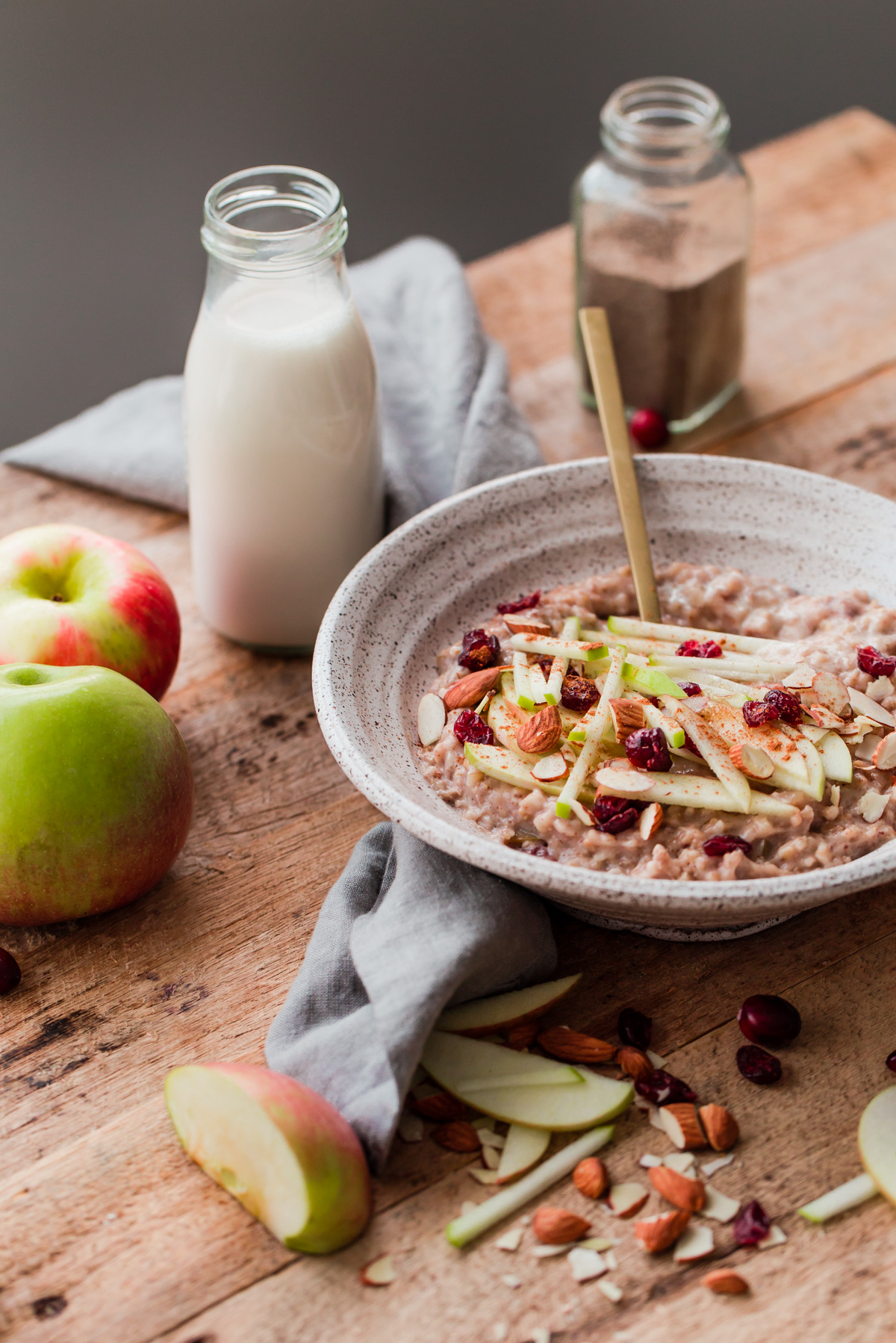 Vegan, Dairy Free
There is nothing worse than a cold breakfast on a freezing winter day. I love that you can literally throw all of the ingredients for this oatmeal into your slow cooker the night before, and wake up to a bowl of steaming hot, creamy steel cut oats.
Reader Review: "I'm always on the lookout for slow cooker steel cut oatmeal recipes, it's the best way to cook them. This one hits all the right notes, the flavor is awesome and it makes enough that I can freeze in single portion containers and eat whenever I'm in the mood for oatmeal." – Cat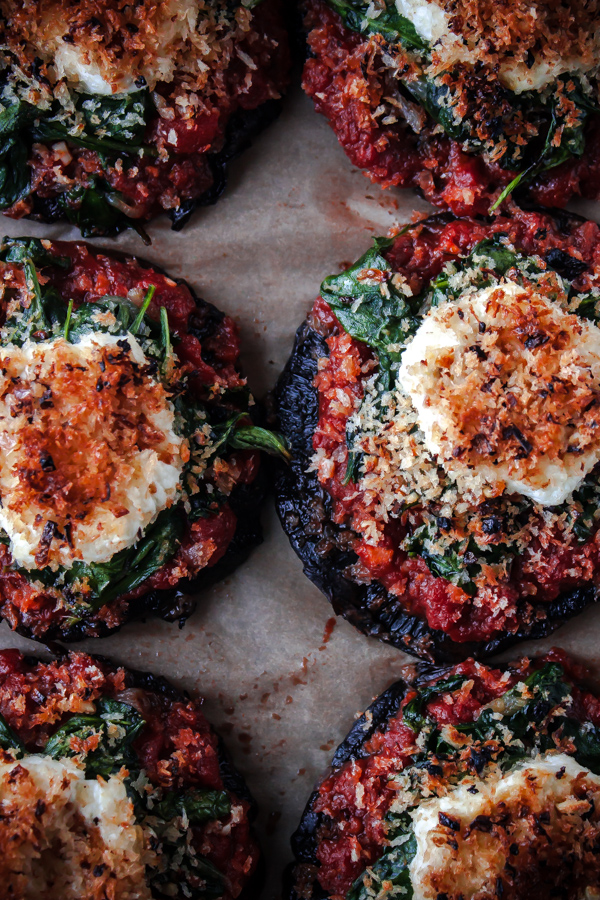 Vegetarian
If you've never been a big mushroom fan, this is your new gate-way recipe. My brother-in-law doesn't even like goat cheese, and this recipe convinced him to give it another chance. If you're looking to speed this recipe up, feel free to substitute the homemade tomato sauce with a high-quality store-bought one. Rao's Homemade is the only brand of store-bought sauce that I've ever enjoyed!
Reader Review: "Thank you so much for sharing this recipe! I made it today and it is absolutely delicious!!! The flavors, textures – incredible! I could go meatless with recipes like this…" – Barbara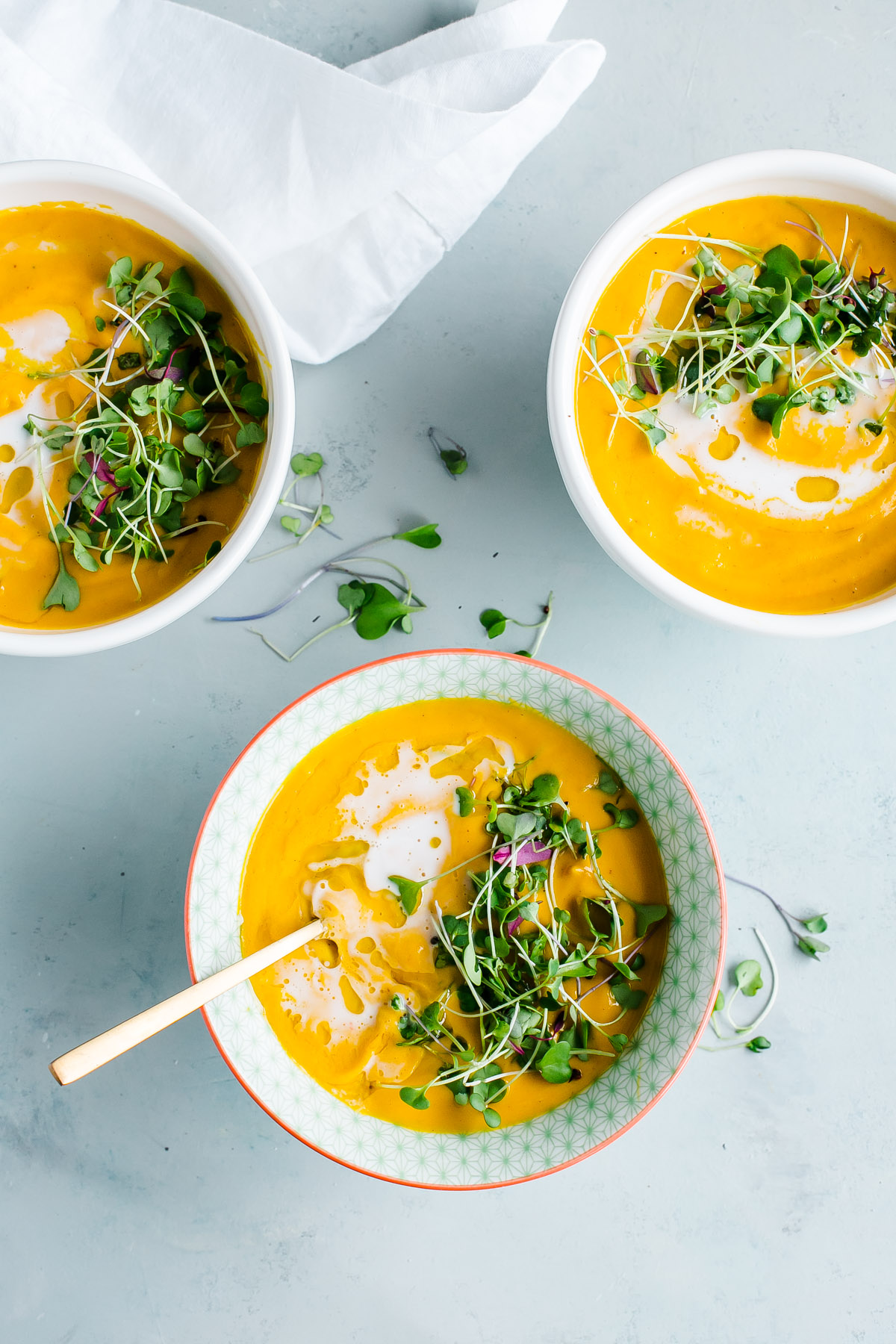 Vegetarian, Dairy Free, Gluten Free, Whole30 Friendly
Don't be intimidated by the fancy micro greens on top. They are totally optional. This carrot soup, which can be made with just a sheet pan and blender, is proof that homemade soup doesn't have to be time-intensive or complicated. If you can't find garam masala, feel free to substitute it with your favorite curry powder blend.
Reader Review: "This was so yummy! I LOVE Garam Masala and it was perfect with the carrots and onion. We are a busy vegan family and we were able to make this on a weeknight no problem. Thanks!" – Dani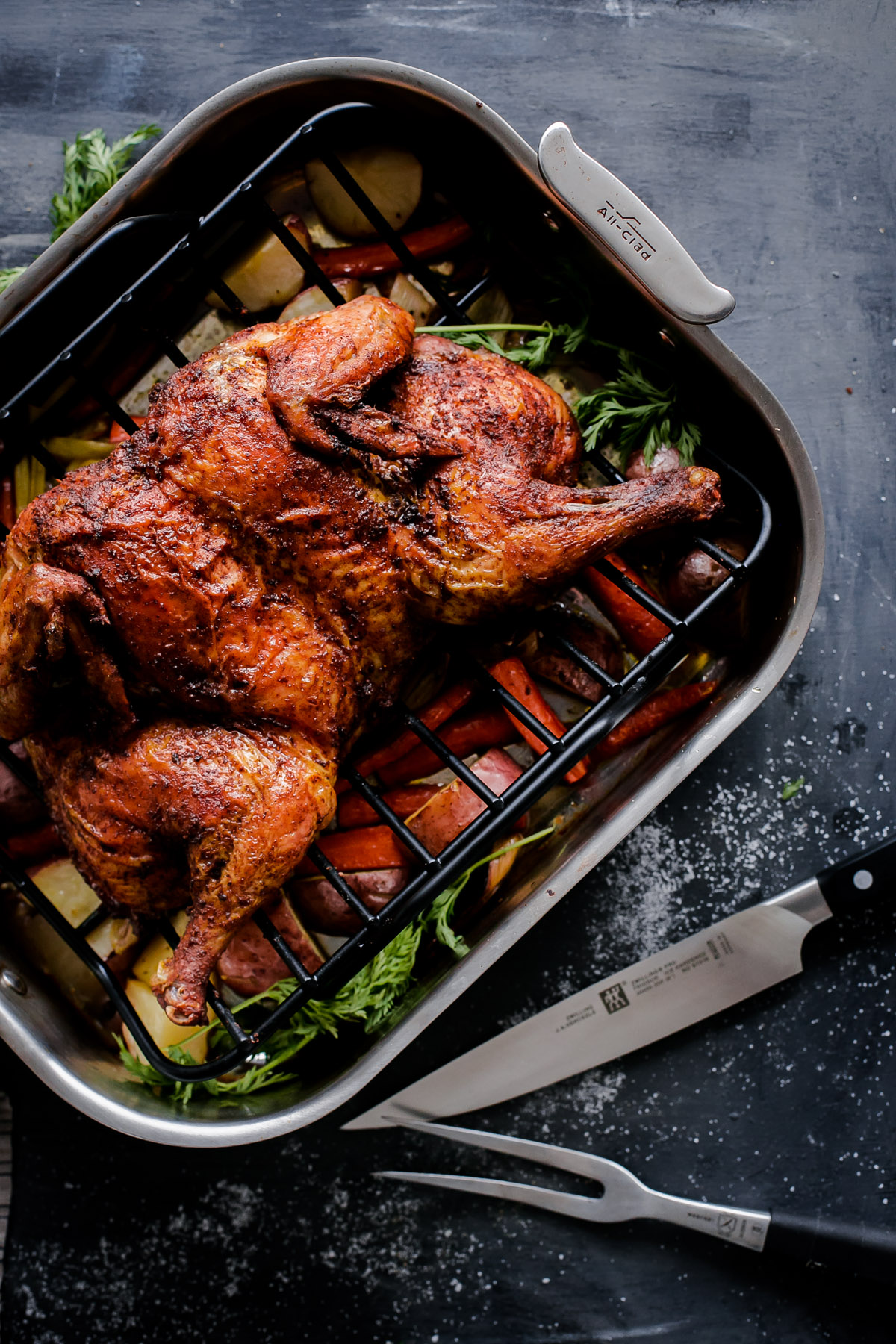 Gluten Free, Dairy Free, Whole30 Friendly
There is nothing better than a crispy roast chicken during the cold winter months, and this spiced twist is my go-to whenever I'm beginning to tire of the classic, regular old version. The spice blend alone is worth making, storing, and putting on everything. This chicken is spatchcocked, which helps it cook more evenly and quickly –> check out this post on how to spatchcock a chicken.
Reader Review: "We just made this tonight. It was so amazing. We grilled it on the barbecue instead of baking in the oven and served with a couscous salad and grilled vegetables tossed with olive oil and one teaspoon of the spice rub. So tasty – we will make all summer!" – Andrea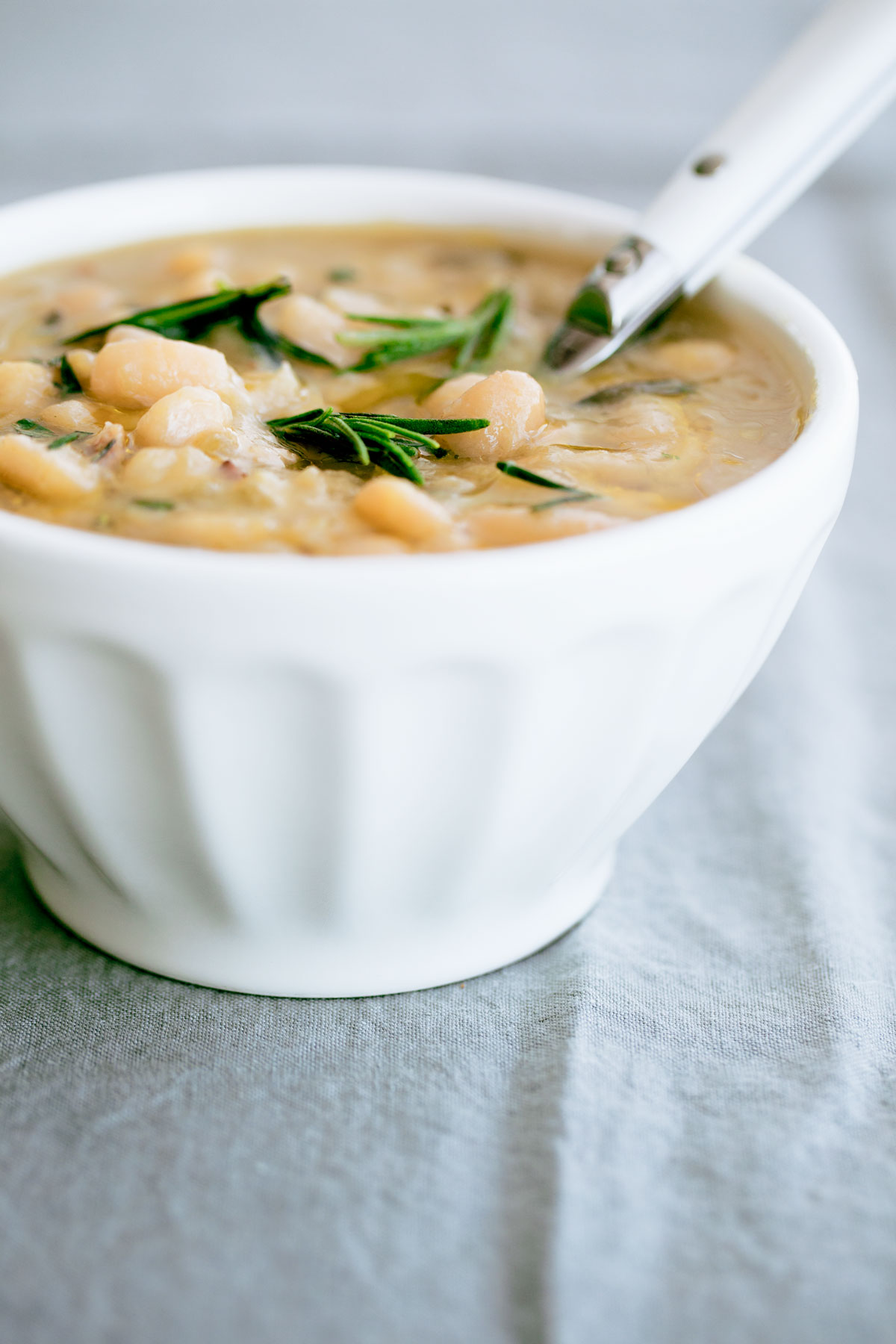 Gluten Free, Dairy Free
This soup is a wonderful reminder to keep things simple in the kitchen whenever possible. It contains only a few ingredients, but all the right ones. While most dried beans should be soaked before cooking, cannellini beans can go from dried to perfectly cooked in about 8 to 10 hours in a slow cooker. Set it in the morning and have dinner ready to go when you come home that night.
Reader Review: "This soup reminds me of the white bean soup my mom used to make, just a tad more sophisticated with the rosemary." – Brittany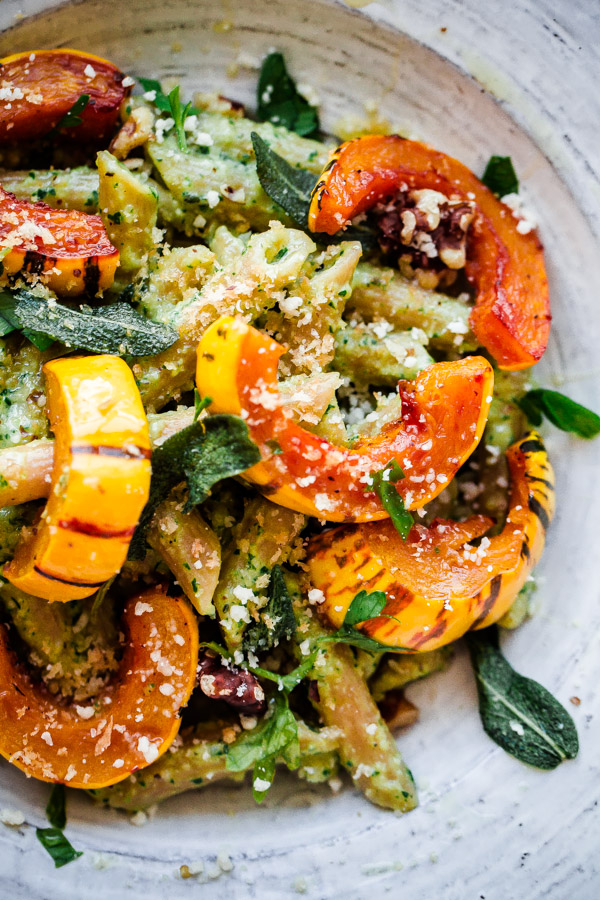 Vegetarian
??Proof that you don't have to add ten pounds of cheese and buckets of cream in order to make the coziest of winter pastas. Also, proof that fresh sage and parsley can be just as good in homemade pesto as my go-to summer basil.
Reader Review: "I can't stop smiling with every bite! I am eating this right now and I am loving every flavor. Doesn't get much better than this when you gotta be stuck at home all day with construction workers under your house and nothing else to do but clean! This just made my day a lot brighter. Thank you!" – Amanda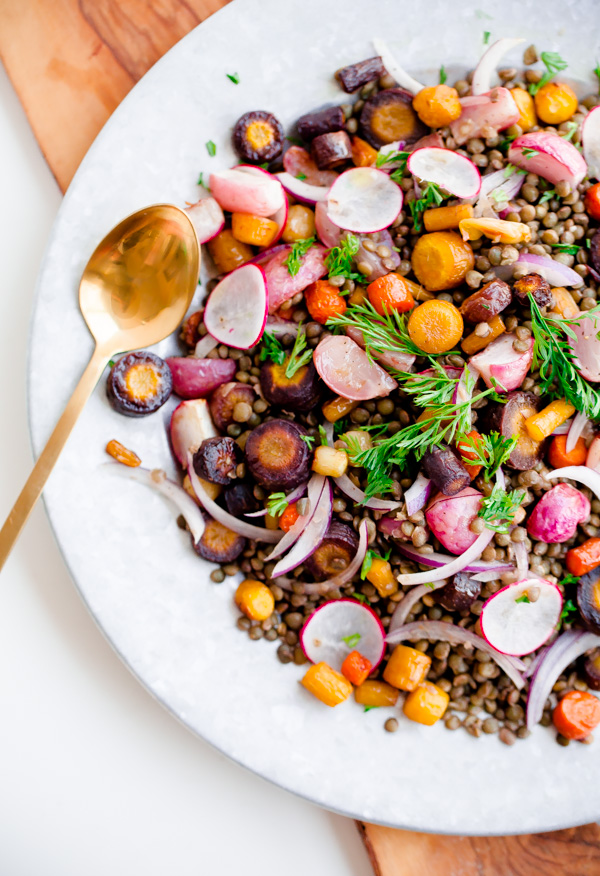 Vegetarian, Dairy Free, Gluten Free
I'm continually blown away by the response to this roasted carrot lentil salad! A fabulous reminder that some of the best salad recipes don't need to contain a speck of leafy greens (aside from the carrot top stem garnish) to make them incredibly healthy, nutritious, and hearty.
Reader Review: "I made this tonight. I ate as a salad and added a few chopped walnuts. I added steak for my husband and kids as they are not vegans. It was a hit! Sooooo very hearty and complex flavors. Excellent!!!" – Kristin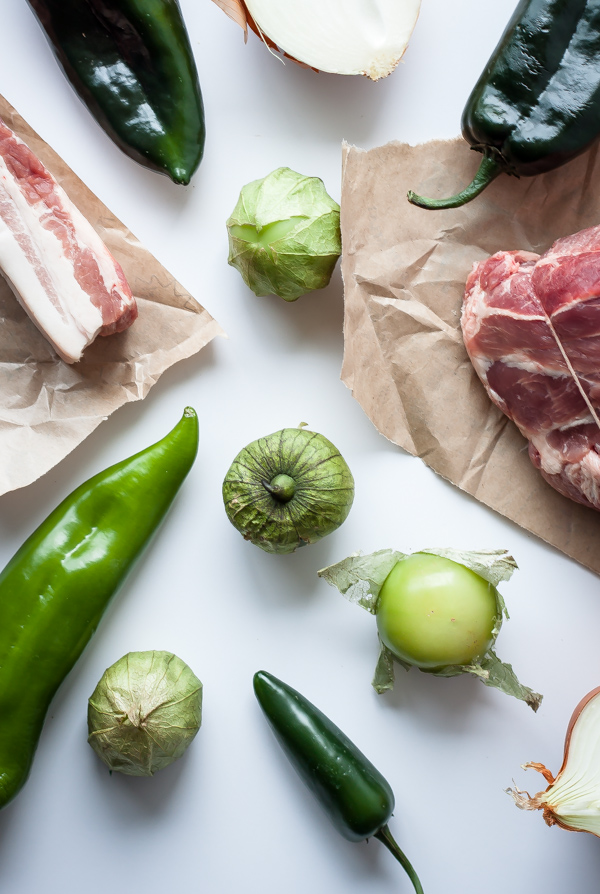 Gluten Free, Dairy Free [without the toppings]
I'll be the first to admit that this recipe does not have the most appealing of names (or photographs). Pork? Green? Chili? What? Once you get past that, you can appreciate this chili for all that it offers. If you're looking for a different, non-tomato based chili recipe for the big day this weekend, check this one out. I can't wait to adapt it to my Instant Pot.
Reader Review: "Made this last night and it was amazing!!!! Filled with wonderful flavors!! The only change I made was I roasted ALL the peppers. I also cooked it in a pressure cooker!! Thanks again for sharing this recipe!!" – Mary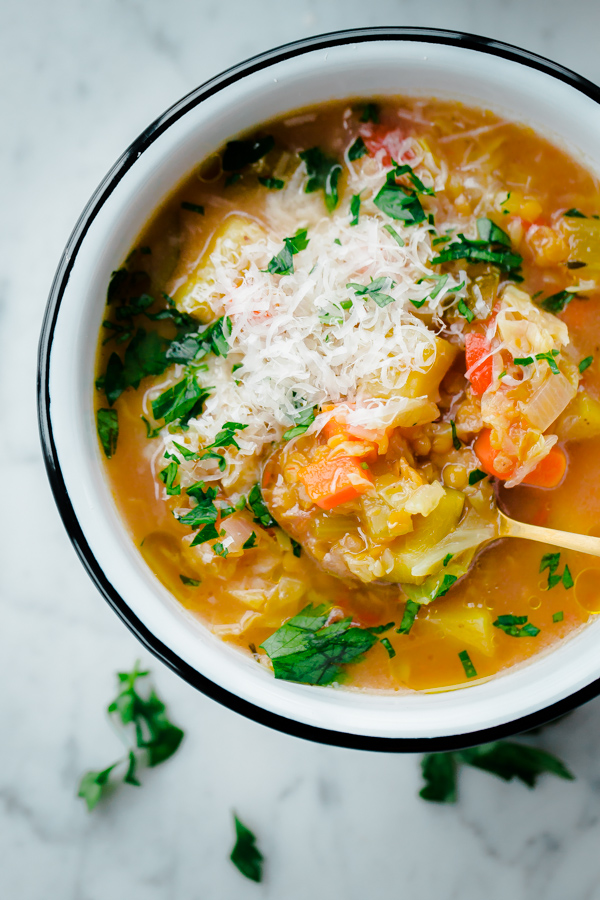 Gluten Free, Vegetarian [substitute vegetable stock]
Slow cooker? Winter vegetable? If that doesn't scream health winter recipe, I don't know what does. This soup is all about the vegetables and it is packed with them. The best part? The leftovers only get better with time. Don't forget a sprinkling of parmigiana, parsley, and olive oil to finish it off! If you enjoy lentils (but don't own a slow cooker), try this vegetarian green-lentil soup with coconut milk. It's off the charts.
Reader Review: "This soup is delicious! It's easy to make and full of healthy veggies. The olive oil, Parmesan, and parsley topping put it over the top." – Bri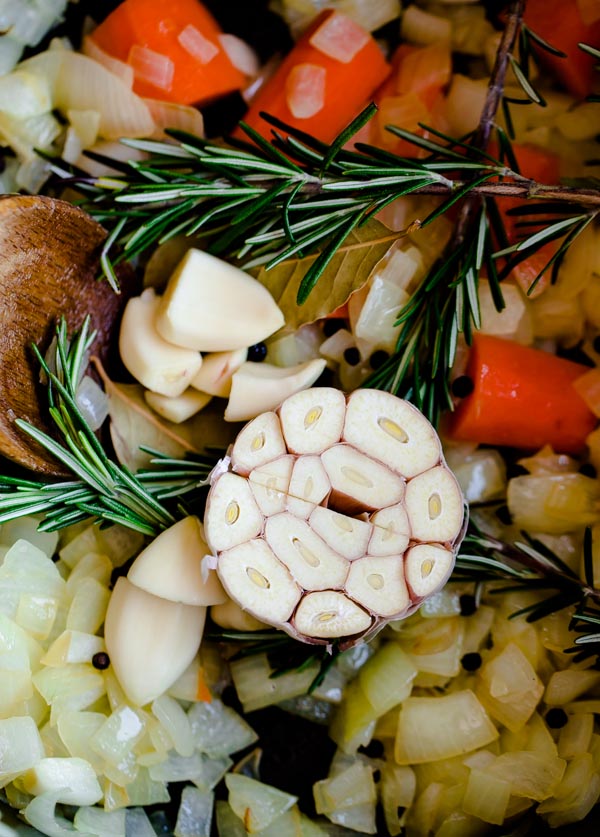 Dairy Free, Gluten Free [omit the flour]
Often times, I'll dig deep into the recipe archives and discover an old favorite that I forgot about over the years. This dish happens to be one of those recipes. Adapted from a Cooking Light recipe, this recipe proved to the biggest skeptic (ie. me) that you can cook a lightened-up, time-friendly beef bourguignon in under an hour. This would make a fabulous weeknight-friendly Valentine's Day dinner!
Reader Review: "Wow, this is great. I've always wanted to make beef bourguignon (or beouf as Julia used to say). I just couldn't get the energy to start the daunting process. I think I can make it now." – Norma
>>> Find more winter recipe inspiration in the recipe archives or check out what seasonal meals (and treats!) I'm loving on Pinterest right now.
This post contains affiliate links, which means that I make a small commission off items you purchase at no additional cost to you. Please read my
privacy policy
for more information.