Top 12 Fall Favorites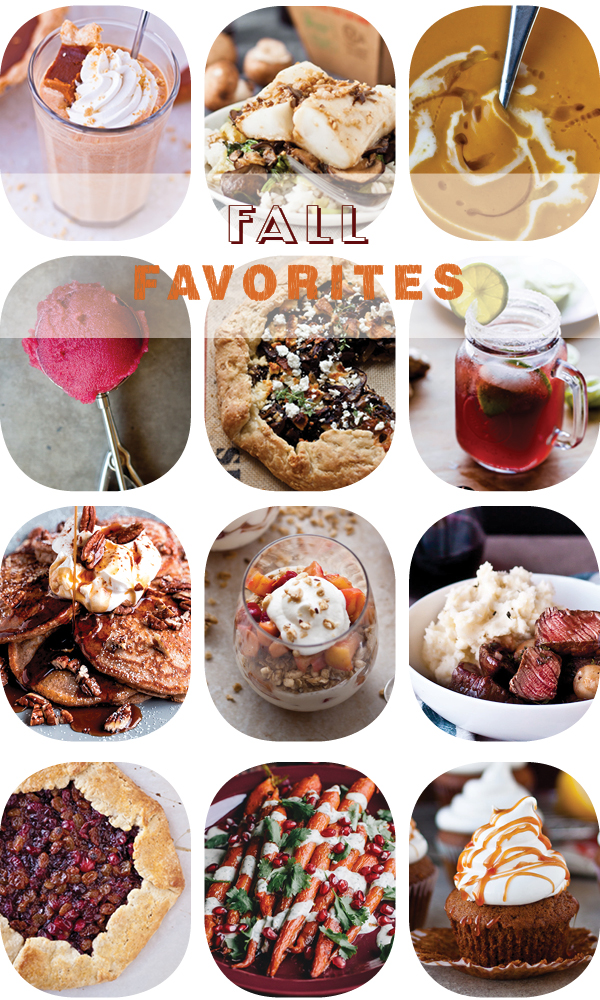 (From left to right, starting at the top!)
1. This Leftover Pumpkin Pie Milkshake is the most trashed up recipe I've shared in over four years of blogging–i.e, I kind of love it. You throw a slice of pumpkin pie (literally) into a blender with a few scoops of vanilla ice cream, and a splash of milk, and then top the entire thing off with whipped cream and pie crust crumbs!
2. If you are looking for a light, but filling and comforting dinner, this Turbot with Mushrooms, Ginger, and Soy Broth is one of my all-time favorite. Only six ingredients, 45-minutes start to finish, and big on flavor.
3. This Roasted Acorn Squash and Sweet Potato Soup is one of the most popular recipes on the blog–even amongst picky eaters! The secret ingredients? Garam masala, curry powder, and coconut milk! (Bonus, it is vegan and gluten-free too.)
4. My pomegranate obsession is at an all-time high at the moment. This Pomegranate Ginger Sorbet is so refreshing on its own, and would be perfect for homemade champagne floats! Totally happening soon.
5. Mushroom Galette. Humboldt Fog goat cheese. Shiitake and cremini mushrooms. Fresh rosemary and thyme. Flaky sour cream pastry. No explanation necessary.
6. If you are a serious Moscow Mule fan (that would be me), you must try these Pomegranate Moscow Mules. Ridiculously easy and festive.
7. Who needs pumpkin when you can have these Pecan Spiced Buttermilk Pancakes 365 days of the year.
8. I get into breakfast ruts on a regular basis, and constantly forget about parfaits! Whyyyy?! These Cranberry Apple Compote and Honey Yogurt Parfaits are filling and FUN to make!
9. It doesn't sound possible, but this 30-Minute Beef Bourgignon totally works. I was a total skeptic before I tried this recipe, and am now a believer. The trick? Beef tenderloin!
10. I absolutely love free-form tarts, because a) I'm lazy and b) rustic elegance is my thing. This Cranberry Raisin Tart uses a combination of fresh cranberries, raisins (totally optional for haters), and lots of fresh orange juice and zest.
11. These Roasted Carrots with Green Tahini Sauce and Pomegranate. I know I just shared these, but they deserve a second mention. (Vegan and gluten free as well!)
12. If you're looking for a fun cupcake recipe to serve to a crowd, these Gingerbread Cupcakes with Marshmallow Frosting and Pomegranate Caramel are always a hit! Even better, they've gotten rave reviews from readers (check out the comment section!).
I'm currently traveling in Chicago! If you're not totally sick of me and would like to check out a few of my travel pictures (i.e. what I'm eating!), feel free to follow along on Instagram!
This post contains affiliate links, which means that I make a small commission off items you purchase at no additional cost to you. Please read my
privacy policy
for more information.