Favorite Light and Healthy Recipes for the New Year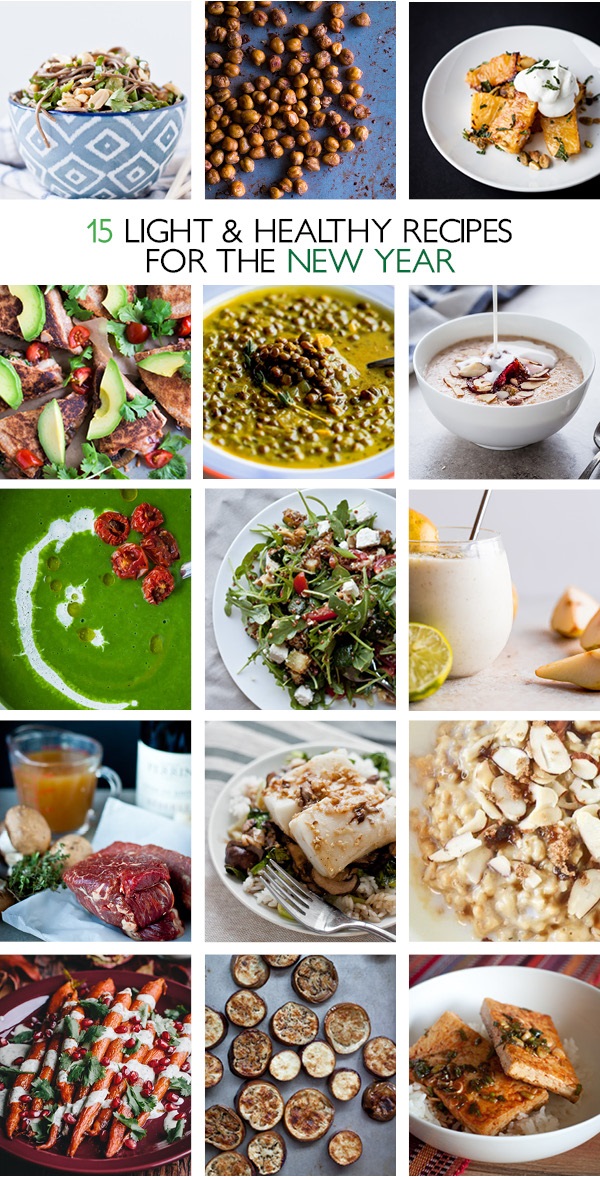 {Recipe links and descriptions starting from top row, going left to right}
Since I'm always looking for light and healthy recipes this time of year (particularly with our wedding slowly creeping up in April!), I thought it would be fun and helpful to round up my absolute favorite light and healthy recipes from the past four years! I guarantee you will love each and every one of these.
In today's list, you'll find everything from breakfast ideas, side dishes, vegetarian/vegan (and even GF) recipes, main courses, soups, seafood dishes, and even a healthy dessert option. Clearly, I need to beef up the healthy dessert section of the blog, which is now one of my New Year's resolutions.
To make this list even more useful and user-friendly, I've included a few Helpful Tips (including difficult to find ingredient substitution, cooking tips, and serving suggestions) and Recipe Pairings!
---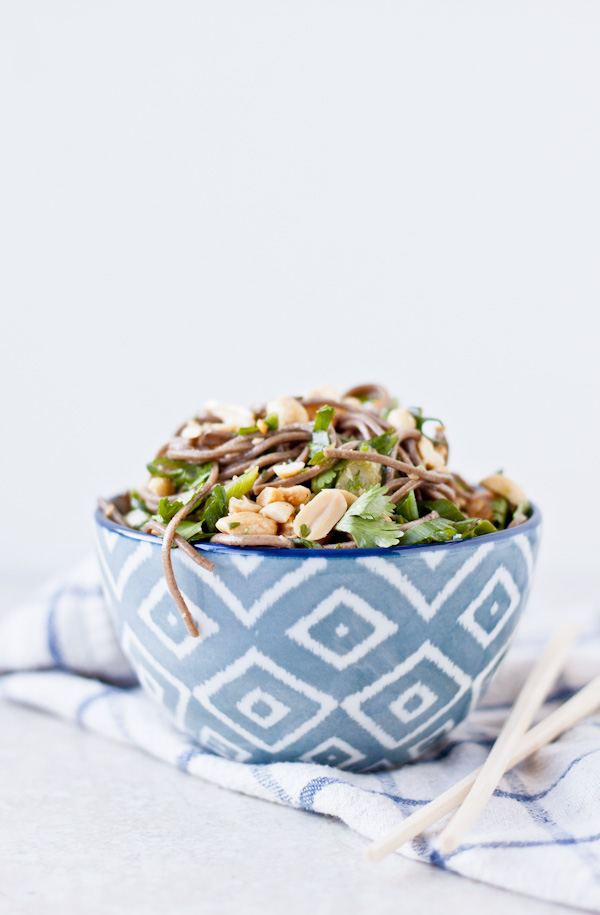 1. Asian Noodle Salad // this simple and filling soba noodle salad is incredibly simple to make, tastes great hot or cold straight from the fridge, and uses everyday, easy-to-find ingredients.
Helpful Tip: Make a big batch on Sunday and use throughout the week for workday lunches or a last-minute dinner.
Recipe Pairings: To bulk this salad up, serve this with grilled or marinated chicken breasts, sauteed shrimp, or tofu.
---
2. Salt and Vinegar Roasted Chickpeas // I can't think of a better or more healthy snack than these salt and vinegar roasted chickpeas. You'll be amazed by how tasty, crispy, and addicting these are!
Helpful Tip & Serving Suggestions: Roasted chickpeas lose their crunch fairly quickly after being roasted, so I recommend eating these soon after cooking for best results! Also, this would make a great New Year's resolution-friendly Superbowl snack.
Recipe Pairings: Use these as a salad topping for extra protein and fiber, and mix up the flavors by substituting the salt and vinegar with your favorite spice mix (BBQ, mesquite, Italian, etc.)!
---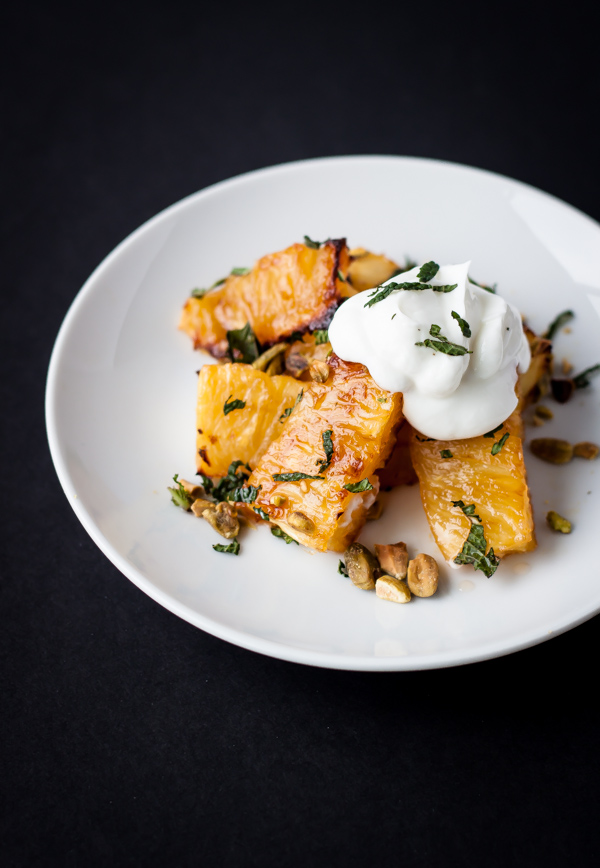 3. Roasted Pineapple with Honey and Pistachios // I love fresh pineapple (especially at this time of year), but you'd be surprised by how much it transforms once roasted at a high temperature in the oven–especially when marinated slightly with a combination of orange juice, brown sugar, and honey.
Helpful Tip & Serving Suggestions: Skip the pistachios and mint if you don't have them on hand or don't feel like going out to the store again! Make ahead and store in the fridge.
Recipe Pairings: Serve this with a small dollop of whipped cream (or whipped coconut cream!) for an easy dessert, or eat for breakfast with low-fat greek yogurt and a sprinkle of granola.
---
4. 30 Minute Weeknight Vegetable Quesadillas // one of our favorite, go-to weekday dinner recipes, because they can be made in less then 30 minutes, are incredibly filling, and the ingredients can be bought well in advance.
Helpful Tip & Serving Suggestions: Keep a can of re-fried pinto beans in your pantry on a regular basis, have some sharp cheddar on hand regularly, and store whole wheat tortillas in your freezer, and you can pretty much guarantee a last-minute dinner idea at any time.
Recipe Pairings: I like to serve this with some steamed green beans or broccoli, and a side salad. To mix these up, add sauteed greens (such as collard or kale), substitute pinto beans for black beans, add sauteed or roasted sweet potato or butternut squash, or simply use different types of cheeses (feta is fun!).
---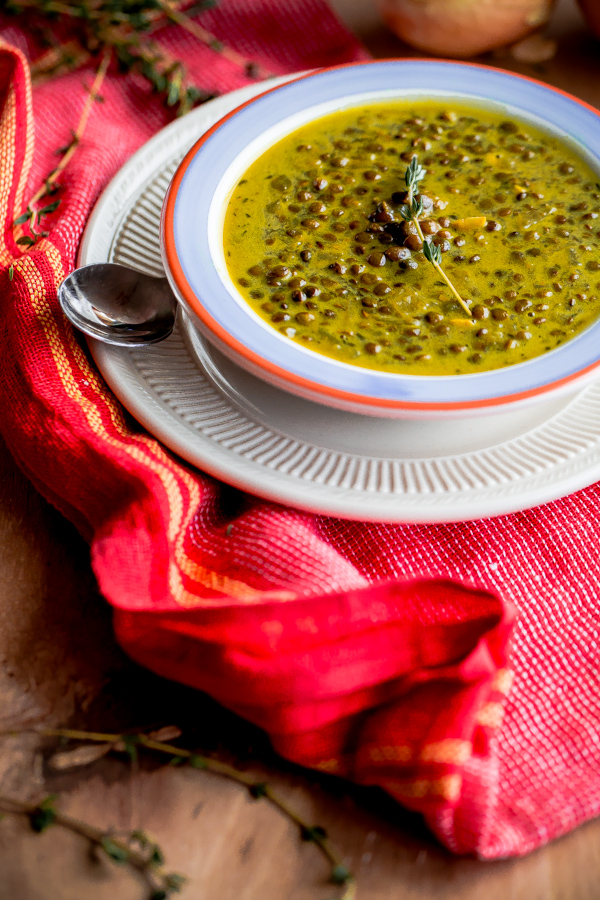 5. Green Lentil Soup with Coconut Milk and Spices // an exotic twist on classic lentil soup that is rich and creamy, yet still manages to be light and delicate.
Helpful Tip & Serving Suggestions: Be sure to use French (Lentilles de Puy) green lentils for this soup, as they are quick to to cook and hold their shape! Serve with a hearty whole grain bread or naan.
---
6. Broken Farro Porridge // one of my top-five whole grain breakfasts inspired by my favorite cafe at the Ferry Building in San Francisco. As the name suggests, the farro is literally ground to a relatively fine grain, which allows it to gain the creamiest of textures when cooked.
Helpful Tip & Serving Suggestions: Find farro in bulk bins to save money, and grind a big batch (2 to 3 cups) of farro at a time, so that you can prepare this quickly on weekday mornings and with minimal clean-up or prep. Or prepare a large batch in the fridge and reheat (this recipe reheats beautifully!)
Recipe Pairings: Substitute the coconut milk with almond, soy, or cow's milk! Top with raisins or any dried fruit, fresh berries, and your favorite toasted nuts!
---
7. Fresh Spinach Soup with Minted Pea and Cilantro // a beautiful, stunning vegetarian soup made with just onion, potatoes, peas, spinach, and fresh mint and cilantro (and a dollop of fresh cream).
Helpful Tip & Serving Suggestions: Skip the oven-dried tomato garnish to make this dish extra time-friendly. Reduce or substitute the heavy cream with half and half to lighten up slightly. This soup is great for any time of the year, as it tastes great both hot and cold.
---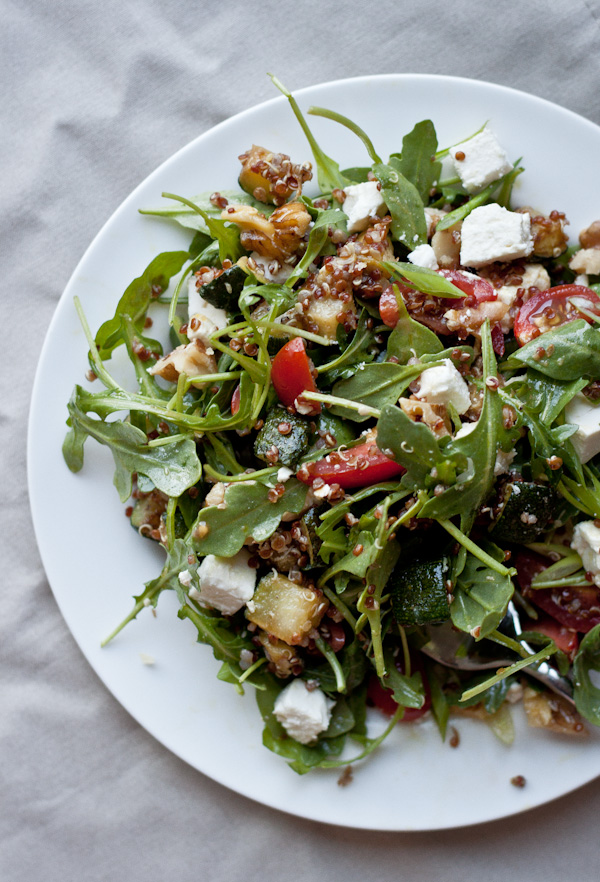 8. Red Quinoa Arugula Salad // a simple protein-packed salad that can be served as a main course, weekday lunch option, or side salad.
Helpful Tip & Serving Suggestions: Cook a large batch of quinoa on the weekend and store in the fridge, so that this salad can be prepared in minutes! Place in a mason jar (dressing at the bottom, following by any toppings and cheese, and the arugula) for easy storage.
Recipe Pairings: Substitute the sautéed zucchini and grape tomatoes with roasted butternut squash (with red onion or Brussels sprouts!). Add grilled chicken or hard-boiled eggs to bulk it up.
---
9. Pear Smoothie with Vanilla, Honey, and Lime Zest // an easy, winter smoothie packed with pears and kefir, and topped with hemp seeds for extra nutrition.
Helpful Tip & Serving Suggestions: Kefir is my all-time favorite dairy choice for smoothies! It has the tartness and tang of yogurt, but with a much thinner consistency, making it perfect for blending (and it usually has a very long fridge life!). Freeze ripe pear chunks, so that you can prepare this any day of the week (without having to rely on perfectly ripe pears!).
---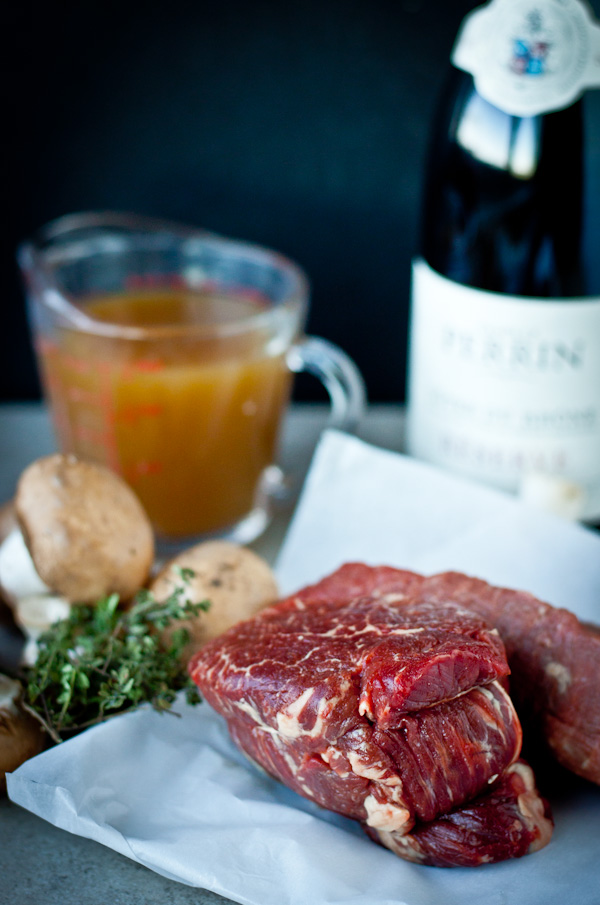 10. 30 Minute Beef Bourguignon // a time-friendly twist on classic Beef Bourguignon using beef tenderloin and frozen pearl onions! This is a great recipe for last-minute dinner parties, or when want to impress company or guests (but not spend your entire day in the kitchen!).
Helpful Tip & Serving Suggestions: Use an earthy, good-quality red wine for cooking and serving, such as Cote du Rhone, Burgundy, or Pinot Noir.
Recipe Pairings: Although this dish is much lighter than its' classic counterpart, you can lighten this up even more by serving it with mashed parsnips or cauliflower!
---
11. Baked Turbot with Mushrooms, Ginger, and Soy Broth // this dish is incredibly light and delicate, yet still–like many of my other favorite types of dishes at this time of the year–hearty and comforting. It can also be prepared in less than 45 minutes!
Helpful Tip & Serving Suggestions: Serve with brown rice or on top of soba noodles. If you are unable to find turbot fillets at your local grocery store or fish monger, feel free to substitute with flounder or another delicate, flaky white fish.
---
12. Vanilla Almond Steel Cut Oatmeal // an oldie, but goodie, this steel-cut oatmeal makes a delicious hearty breakfast. It's hard to explain, but steel-cut oatmeal keep me full longer than traditional oats!
Helpful Tip & Serving Suggestions: This oatmeal can be easily set-up and prepared in a rice cooker (instructions are included in the recipe!). This recipe uses unsweetened soy milk, but feel free to substitute with almond, hemp, or cow's milk!
---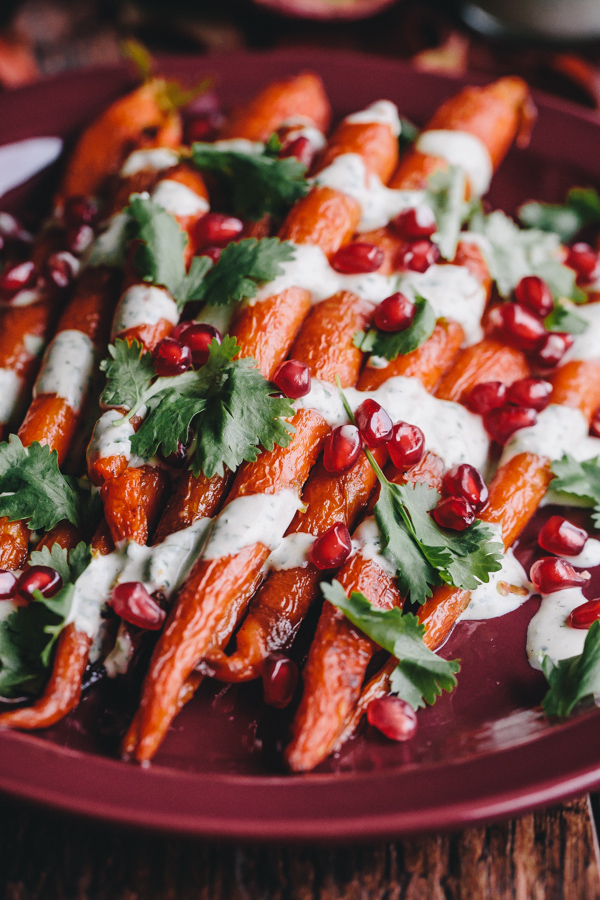 13. Roasted Carrots with Green Tahini Sauce and Pomegranate // one of my favorite vegetable side-dishes shared on the blog last year! Vegetables have never been this interesting.
Helpful Tip & Serving Suggestions: Prepare the green tahini sauce in advance (it can also be used a vegetable dipping sauce or salad dressing!). Depending on the brand of tahini you use, you may need to adjust the sauce by adding more or less water.
Recipe Pairings: This side dish is a great accompaniment to roasted spatchcock chicken, or pan-seared fish (such as salmon, bass, or cod).
---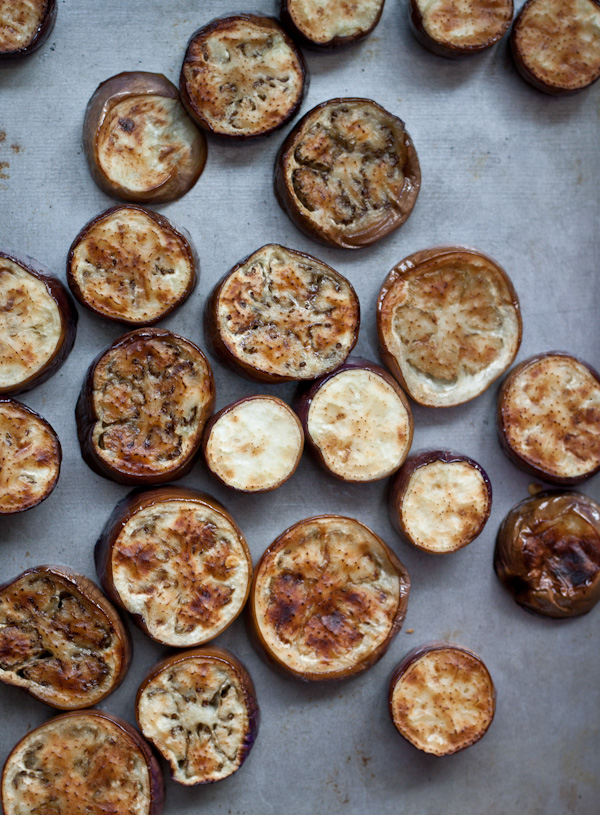 14. Thai Eggplant Rounds // a ridiculously simple Asian side dish, which from start to finish, only takes about 20-25 minutes to prepare.
Helpful Tip & Serving Suggestions: If you're not a big fan of fish sauce (it is quite strong), feel free to adjust the other ingredients as you see fit. You can't find Thai basil, I recommend substituting it with regular basis or fresh mint leaves!
Recipe Pairings: This side dish would be a great accompaniment to any Asian-inspired main course, such as easy grilled Asian chicken breasts, fish, beef, or any seafood.
---
15. Traditional Korean Braised Tofu // the key to this addictive dish lies in Korean red pepper powder (otherwise known as Gochugaru), which adds heat and the main flavor profile behind the dish. I love this tofu so, so much.
Helpful Tip & Serving Suggestions: Unfortunately, the ingredients in the dish are not easily substituted (as there are very few and they are all key players), however Gochugaru is the only tricky ingredient to find.
Recipe Pairings: I can honestly say that this tofu side dish can stand on its own, but I love to serve it with sushi rice (brown rice would be a healthier option!) or sauteed bok choy or roasted broccoli.
---
Please feel free to share your favorite light and healthy recipes or recipe links in the comment section!
This post contains affiliate links, which means that I make a small commission off items you purchase at no additional cost to you. Please read my
privacy policy
for more information.