16 Summer Barbecue Sides and Salads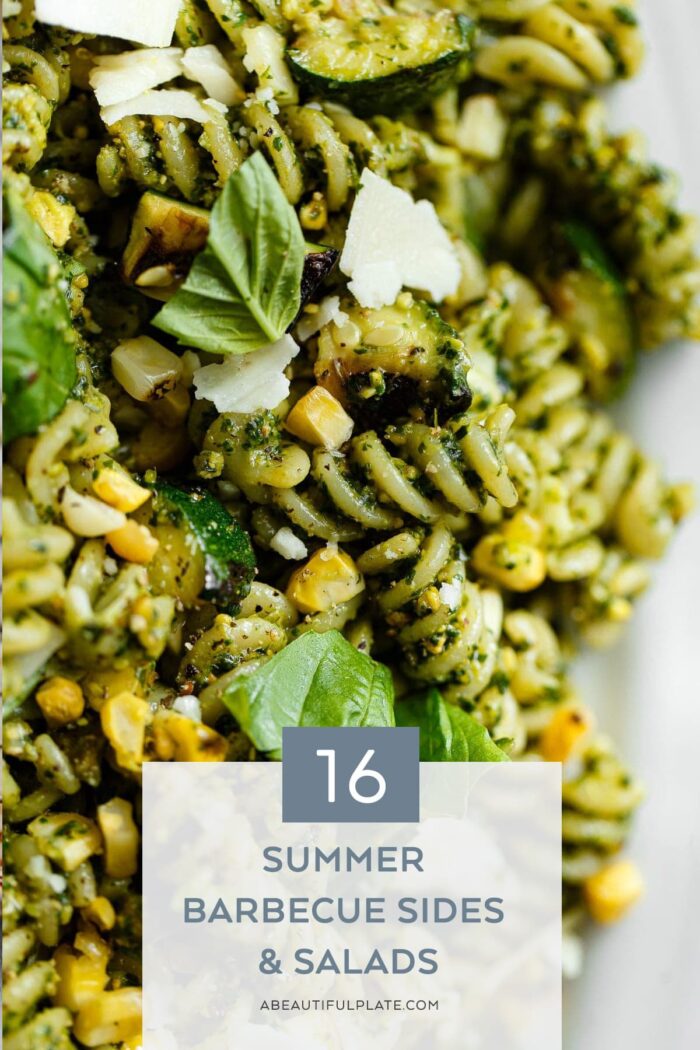 It finally feels like summer and that means cookouts, potlucks, and barbecues! No matter the occasion, I've rounded up 16 fresh summer recipes that will make the perfect accompaniment to your next alfresco meal.
While there are a few classics, we're getting creative, using seasonal ingredients to brighten up a barbecue. 
Every barbecue side or salad recipe featured below pairs well with just about any grilled main and is a wonderful way to celebrate colorful summer produce. These sides are so satisfying, they may just outshine the main event.
Why You'll Love These Summer Barbecue Sides:
Whether you're preparing my Everyday Chicken Marinade or grilling up these zesty Southwest Burgers, there's no doubt you'll need great sides to complete the meal.
Why are these my go-to sides throughout the summer?
Fast: When grilling, I prefer sides that require minimal cooking. Most of the recipes below come together quickly, requiring little time in the kitchen.
Refreshing: With bountiful summer vegetables, these crisp salads and chilled sides do not need much oven time to let the fresh ingredients shine.
Celebratory: Summer holidays are right around the corner, from graduation parties to Father's Day to the Fourth of July. For me, the best part of any meal are delicious sides.
Seasonal: We're using what's in season to bring out the most flavor in every dish. All of these recipes are an ideal way to showcase summer produce.
Bright Vegetarian Dishes: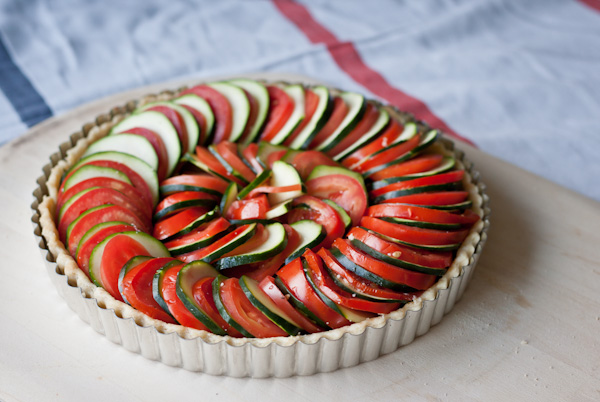 A beautiful, elegant, and surprisingly simple layered tomato zucchini tart. Not only is it incredibly delicate and light, but the filling is so satisfying with zucchini, ripe plum tomatoes, fragrant basil, and freshly grated Parmesan. This tart is a stunner!
A lovely way to begin the meal, these zucchini roll ups are packed with flavor. Filled with a spicy harissa goat cheese and infused with fresh lime and mint leaves, they are a fun bite-sized appetizer or side that pack a punch.
When I think of a barbecue, I think of that iconic smokey flavor and charred green beans hit all the right notes. They are perfect for replicating the flavor of roasted vegetables without needing to preheat the oven.
We're elevating this traditional chilled soup with juicy, sweet, heirloom tomatoes, creamy avocado, and fresh basil. The avocado lends a beautiful richness and fresh spinach adds a vibrant green color, making this the ultimate refreshing summer side.
Cucumber salads are a natural pairing for a summer barbecue, but we're spicing it up. This crisp, flavorful cucumber salad couldn't be easier to prepare. I love simple side salads, and this is one of my go-to's. It's also perfect for planning ahead, since it tastes even better the longer it sits.
Hearty Grains and Salads:
An easy quinoa salad with black beans, grape tomatoes, cotija, fire roasted corn, avocado, and lime vinaigrette, that's bursting with summer flavors. This grain salad is vegetarian, naturally gluten free, and can be made up to a day in advance. It's wonderful for summer barbecues since it's easy to scale up and it holds up well.
This vibrant farro grain salad features my favorite summer ingredients: fresh basil, sweet strawberries, and ripe tomatoes. It's tossed with a flavorful, homemade pesto and delicate mozzarella pearls. Summer cooking is all about improvising and going with the flow, and a lot of these ingredients are interchangeable so you can use what you have on hand. You'll want to recreate this farro salad all summer long.
This stunning roasted beet peach burrata salad is garnished with basil oil and candied pistachios. I love using creamy, decadent burrata for special occasions. The most time consuming step for this salad is roasting the beets, but don't worry, I've got you covered with this guide on how to cook beets.
Summer is the time to up your salad game, and you'll want to make this one over and over again. With a base of arugula, we're mixing in shaved vegetables like asparagus and radishes, then tossing it all together with an easy lemon vinaigrette. It is so simple and satisfying, but has a few additions that take it from good to great with little effort.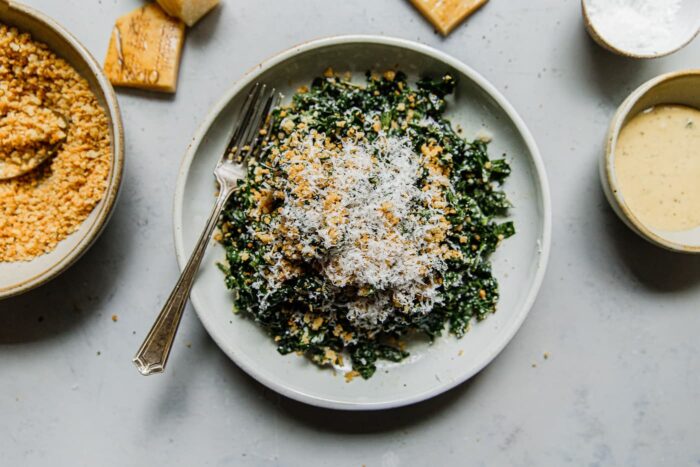 If you're looking to revamp traditional Caesar salad, this will quickly become your new go-to. Tossed with Caesar salad dressing and finished with crispy garlic bread crumbs, you'll have one stellar side. Serve with grilled meat or seafood.
When you're looking for a lighter pasta salad, this one's for you. It's prepared with zucchini noodles in lieu of traditional pasta and tossed with briny feta, chickpeas, artichoke hearts, tomatoes, spinach, and savory olives. The best part? It becomes even more flavorful after sitting for a few hours, or even overnight, so the zucchini can absorb the bright dressing. It's a great make ahead meal that would be perfect alongside a more traditional protein.
While Greek salad is a classic, we're amping it up a notch with the addition of crispy pan-fried feta slices. I love this salad for so many reasons, from the juicy tomatoes to the warm, crispy feta. It's a brilliant way to take feta to the next level.
Summer Pasta and Noodle Dishes:
This orzo salad is all about the roasted and caramelized vegetables: fennel, carrot, and my personal favorite, broccoli. Once you prepare broccoli, using the best roasted broccoli recipe, you will never go back. It's a versatile dish and I encourage you to change up the vegetables or cheese to your liking.
A simple Asian noodle salad that will have you craving this spicy peanut sauce all summer long. Ramen noodles are tossed with a peanut sauce, sliced cucumber, herbs, and topped with crushed peanuts. It comes together quickly and tastes fantastic at room temperature or prepped ahead and served as cold leftovers. Looking for a vegetarian protein to serve alongside it? Try my flavorful No-Cook Spicy Tofu.
Quick, easy, and flavorful spaghettini is tossed with roasted tomatoes, fresh basil, and topped with addictively tasty garlic breadcrumbs. Basil can liven any dish, so it's worth learning How to Grow Basil at Home to enjoy all summer long. Either way, this delicious summer meal or a wholesome side to round out an elegant summer barbecue.
Brimming with grilled corn, zucchini, and salty pecorino, this dish is a love letter to summer. It's a vibrant vegetable-filled pasta that can be served warm, cold, or at room temperature. If you're looking for a quick delicious pasta to celebrate the season, make this for your next summer gathering.
---
Looking for even more inspiration? Check out these sides and salads to elevate your next summer barbecue.
This post contains affiliate links, which means that I make a small commission off items you purchase at no additional cost to you. Please read my
privacy policy
for more information.